Tenesh Webber is a Canadian contemporary artist known for her black-and-white abstract photography. During the past twenty-five years she has explored large-scale imagery, negative layering and solarization with a medium-format camera. In her practice, Webber quests the intersection of such media as photography, drawing, and sculpture. Webber's recent series of work explore light, shadow and tone by using an all-over composition.
Recent Work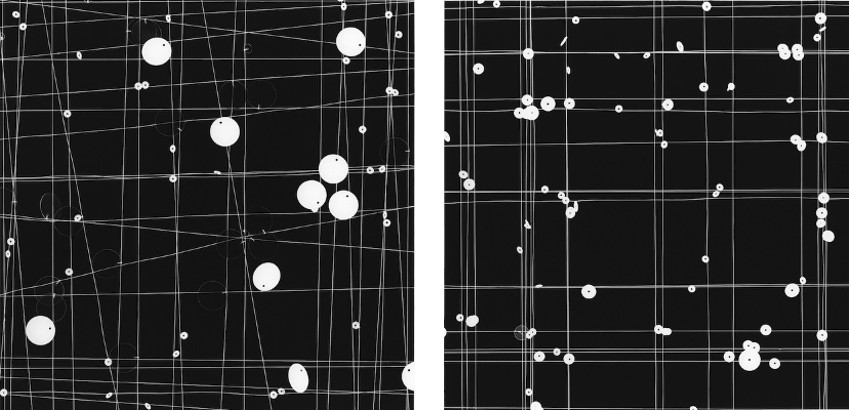 Although she uses both traditional and nontraditional photographic processes, the central point of her practice is making the photogram which represents a unique art form requiring only the action of light on a photosensitive substrate. To create an image without the aid of a camera she puts handmade objects, cut paper, thread, and aerosol-painted synthetic glass on a sheet of paper and exposes it to light. Each print is inimitable, with negligible variations that remind the viewer of marks more related with pen, pencil, and paper depicting rhythmic, intuitive compositions and creating a tension between the organic and rectilinear shapes.
Photographs by Webber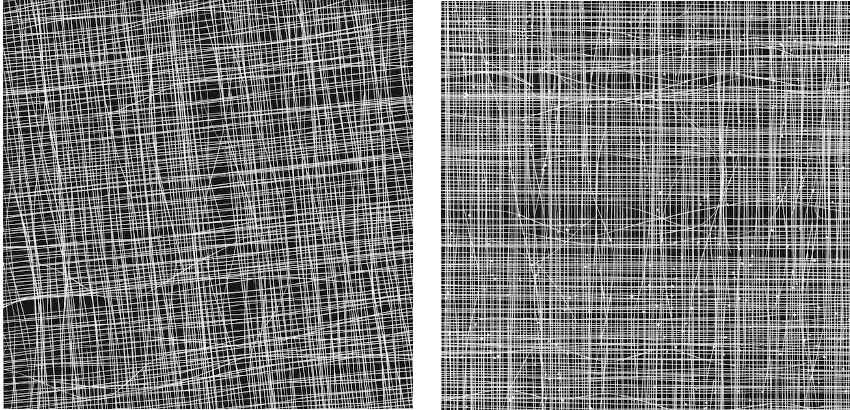 Born in 1963 in Toronto, Canada, she received her BFA in Experimental Arts from Ontario College of Art in 1985. She has been a full-time visual arts teaching artist at Lincoln Center Education since 1992. She also taught in art centers and museums throughout the five boroughs of New York City.
Her photographs were exhibited in many individual and collective shows at galleries throughout Canada, the United States and Europe including Yossi Milo Gallery, NY; Howard Yezerski Gallery, Boston; Storefront Ten Eyck Gallery, Brooklyn, NY; Gallerji Jan Colle, Ghent, Belgium; The Brooklyn Museum of Art, Brooklyn, NY; and Gallery 101, Houston, Texas, among others.
Her work is included in many public and private collections, including The Brooklyn Museum of Art, The Asian American Art Center, Center for Visual Communications, Miami, Galeria Spectra, Zaragoza, Spain, and Barclay Bank.
She is represented by IdeelArt since October 2015.
String Slant Series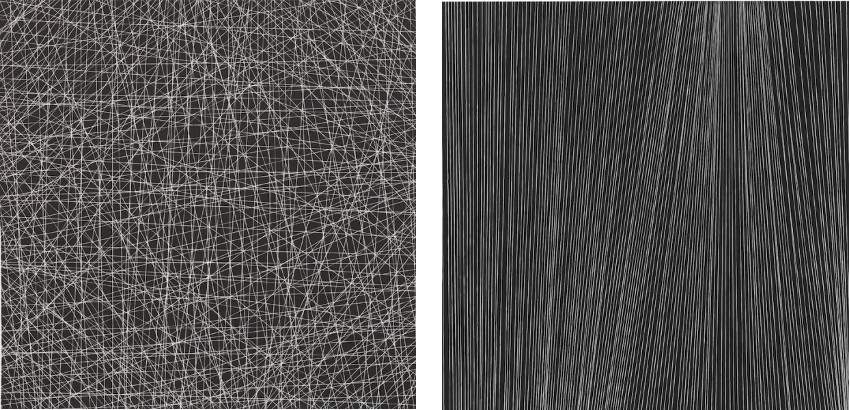 She lives and works in New York City, NY.
All images courtesy of IdeelArt and the artist
| Year | Exhibition Title | Museum/Gallery | Solo/Group |
| --- | --- | --- | --- |
| 2016 | Passing Through | Schema Projects, Brooklyn, NY | Group |
| 2016 | Reunion | QuadArt Dornbirn, Dornbirn, Austria | Group |
| 2015 | Tenesh Webber | Victory Hall Drawing Rooms, Jersey City, NJ | Solo |
| 2015 | The Big Small Show | Victory Hall Drawing Rooms, Jersey City, NJ | Group |
| 2015 | Minimax | Bullet Space, NY, NY | Group |
| 2015 | Sanctus | Curious Matter, Jersey City, NJ | Group |
| 2015 | The ESKFF Residency Program: Selections | Gallery 5, Mana Contemporary, Jersey City, NJ | Group |
| 2015 | On Paper | weathervane, Brooklyn, NY | Group |
| 2015 | Making History | Storefront Ten Eyck Gallery, Brooklyn, NY | Group |
| 2014 | D(raw) | Bullet Space, NY, NY | Group |
| 2014 | 100 Valentines | Kenise Barnes Fine Art, Larchmont, NY | Group |
| 2013 | In Form | 24-6-Space, NY, NY | Group |
| 2012 | Arcadia Now | Jersey City University, New Jersey | Group |
| 2011 | The Hatchery: East of Fresno | Badger, California | Group |
| 2011 | Wrong Place for the Right People | Bullet Space, NY, NY | Group |
| 2011 | Arcadia Now | Castleton State College, Castleton, Vermont | Group |
| 2010 | Floral | Photo Place Gallery, Middlebury, Vermont | Group |
| 2010 | The Perfect Crime | Bullet Space, NY, NY | Group |
| 2009 | Kuf Mold | Rotterdam, Holland | Group |
| 2009 | Paterson: The Provence of the Poem, The City as Metaphor | Ben Shahn Galleries, William Paterson University, Paterson, NJ | Group |
| 2008 | The History Show | Minus Space, Brooklyn, NY | Group |
| 2008 | To Square, Light | Signal Galleri, Malmo, Sweden, Curated by Fredrik Strid | Group |
| 2008 | Kuf-mold | Gallerji Jan Colle, Ghent, Belgium | Group |
| 2007 | Lateral Attitudes | RVC College, Somerville, NJ | Group |
| 2006 | (K)nots | NJ City University, Jersey City, NJ | Group |
| 2006 | Deck The Walls | John Cleary Gallery, Houston , Texas | Group |
| 2006 | Northener Obscura | Gallery 101, Houston, Texas | Group |
| 2006 | The Natural World | PhotoNewburgh, Newburgh, NY | Group |
| 2006 | Wish You Were Here 3 | AIR Gallery, NY, NY | Group |
| 2006 | Seid Show | Gerber Seid Fine Arts, NY, NY | Group |
| 2005 | Deck The Walls | John Cleary Gallery, Houston, Texas | Group |
| 2005 | Northerner Obscura | Gallery 101, Houston, Texas | Group |
| 2004 | The Natural World | PhotoNewburgh, Newburgh, NY | Group |
| 2004 | Wish You Were Here 3 | AIR Gallery, NY, NY | Group |
| 2004 | Seid Show | Gerber Seid Fine Arts, NY, NY | Group |
| 2003 | A Decade in Review: The Fellowship Program | AIR Gallery, NY, NY | Group |
| 2003 | Salon | Gerber Seid Fine Art, NY, NY | Group |
| 2003 | 07300 too | Jersey City, NJ | Group |
| 2002 | Tenesh Webber | Yossi Milo Gallery, NY, NY | Solo |
| 2002 | Tenesh Webber | Howard Yezerski Gallery, Boston, Ma | Solo |
| 2002 | Chicago Art Fair | Chicago, Ill | Group |
| 2002 | Salon | Stanhope Hotel, NY, NY | Group |
| 2001 | Fifty by Ten | Gerber-Seid Fine Arts, NY, NY | Group |
| 2000 | Tenesh Webber | Art Resources Transfer Inc, NY, NY | Solo |
| 2000 | 2000 Annos Luz | Galeria Leyendecker, Santa Cruz de Tenerife, Spain | Group |
| 2000 | Collectors Edge | NJ Center for Visual Arts, Summit, NJ | Group |
| 1999 | Tenesh Webber | Margaret Thatcher Projects, NY, NY | Solo |
| 1998 | What's on The Wall? | Margaret Thatcher Projects, NY, NY | Group |
| 1998 | Summer Group Show | The Vedanta Gallery, Chicago, Illinois | Group |
| 1998 | The Tip of The Iceberg | Fred Dorfman Projects, NY, NY | Group |
| 1998 | 25 Years of A.I.R. | Kingsborough Community College, Brooklyn, NY | Group |
| 1998 | Selected Photography | Kougeas Gallery, Boston, MA | Group |
| 1997 | Tenesh Webber | Art Resources Transfer Inc, NY, NY | Solo |
| 1997 | ART Santa Fe | Santa Fe, New Mexico | Group |
| 1997 | Photography Exhibit | Kougeas Gallery, Boston, MA | Group |
| 1997 | Generations: 25th Anniversary Show | AIR Gallery, NY, NY | Group |
| 1997 | Home | Bullet Space, NY, NY | Group |
| 1996 | Living It | 14E 4th Street, Apt #1118, NY, NY | Group |
| 1996 | Viewfinder | Bronx River Art Center | Group |
| 1995 | Tenesh Webber | AIR Gallery, NY, NY | Solo |
| 1995 | Tarrazona Foto | Tarrazona, Spain | Group |
| 1995 | Unknown | Arco 95, Madrid, Spain | Group |
| 1995 | Digitas | Jack Tilton Gallery, NY, NY | Group |
| 1994 | Smart Art | Printed Matter Inc, NY, NY | Group |
| 1994 | Gallery Group Show | AIR Gallery, NY, NY | Group |
| 1994 | All Out | Long Island University, Brooklyn, NY | Group |
| 1993 | Tenesh Webber | Mercer Union, Toronto, Canada | Solo |
| 1993 | A.I.M. Exhibition | The Bronx Museum of The Arts, Bronx, NY | Group |
| 1993 | Night of 1000 Drawings | Artist's Space, NY, NY | Group |
| 1992 | A.I.R. Invitational | AIR Gallery, NY, NY | Group |
| 1991 | Evocation | Home for Contemporary Theatre and Art, NY, NY | Group |
| 1991 | Selections | Center for Book Arts, NY, NY | Group |
| 1989 | CHINA: June 4... | PS 1 Museum, LIC, NY | Group |
| 1989 | The Printshop Comes of Age, The LES Printshops 21st Anniversary | La Mama Gallery, NY, NY | Group |
| 1989 | Women's Work | Bullet Space, NY, NY | Group |
| 1989 | If You lived Here... | Dia Art Foundation, NY, NY | Group |