Terry Arena, whose large-scale installation received the Board of Director's Award at this year's Baja Biennial, lives in the fertile agricultural region of Ventura, California, where she teaches the fundamentals of visual art. Her most recent work, meticulous representations of deceased honey bees rendered onto repurposed food tins, dwells in that mysterious region in between the corporeal and the ethereal. Given the work's subject matter, one would assume that the primary emotive response from viewers would be anxiety. However, whatever spectral status is hinted by the gray edges of the graphite, it is quickly recruited to aid contemplation, not mourning.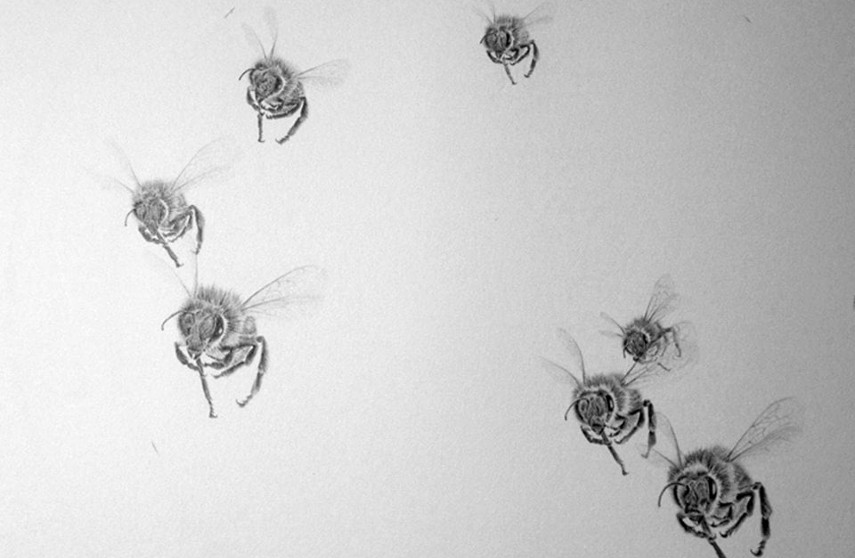 The Importance of Bees
Arena offers aesthetic respite and reconciliation. Fittingly, the recent inclusion of magnifying glasses in her installations serves to further invite viewers to literally pause and observe that which is most fragile and fleeting in today's commercially oriented intensive farming. Such a small and seemingly negligible creature as a bee is vastly misunderstood and much more crucial to the longevity of life on our planet than most know. Arena creates her renderings on concentric surfaces, closely grouped together as small systems – little ecosystems unto themselves – to invoke both the idea of interconnectivity and the impending destabilization and imbalance of nature's fragile symbiosis.
This artist is represented by Thinkspace Gallery.
Terry Arena lives and works in Ventura, California.
Featured image: Terry Arena – Photo of the artist – Image via squarespace.com
All images used for illustrative purposes only.
| Year | Exhibition Title | Gallery/Museum | Solo/Group |
| --- | --- | --- | --- |
| 2015 | Terry Arena: Simbiotic Crisis: Northeast | Lancaster Museum of Art and History, Lancaster, CA | Solo |
| 2013 | City & Self | Red Pipe Gallery, Los Angeles, CA | Group |