Considered as one of the world's most famous representatives of representational painting, Terry Rodgers made a name for himself by depicting what seems to be perfect. At first, the viewers are confused, as the paintings look like they are a part of some advertising campaign. They become trapped in this world and slowly begin to define themselves through media images they are exposed to on a daily basis. Strongly interested in film and photography, these two fields nudged the artist's style in the direction of representational realism.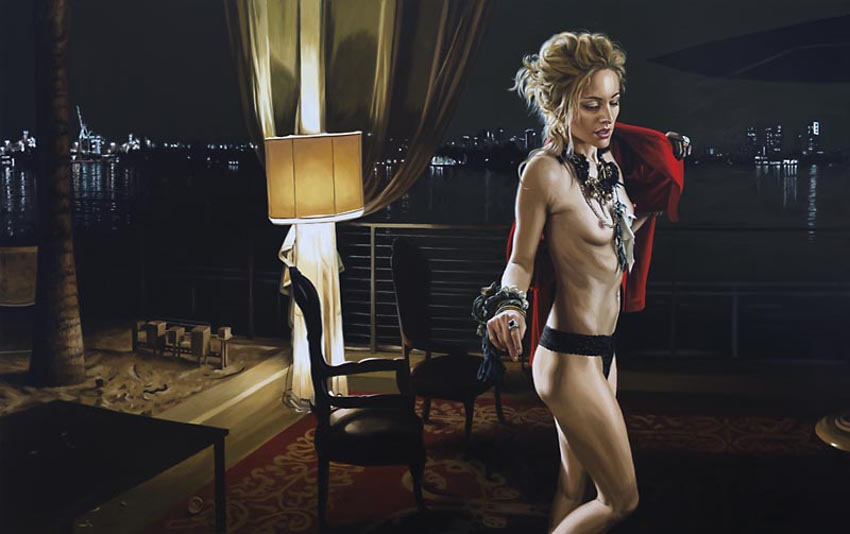 The Art of Terry Rodgers
Born in Newark, NJ, Terry Rodgers grew up in Washington, D.C. He studied Fine Art at the Amherst College in Massachusetts, where he graduated cum laude in 1969. Inspired by the American writers David Foster Wallace and Thomas Pynchon, musicians Bob Dylan, Jimmy Hendricks and The Rolling Stones, and influenced by David Salle, Max Beckman, Diego Velászquez, Otto Dix, but also Degas and Toulouse-Lautrec, Rodgers chose the oil paint as his favorite medium. It was a logical choice since it possesses greater viscosity and definition than everything but the film, but then, a film requires significant funding and a crew. Considering creativity to be the same as invention, he focuses on perception, making his surrounding the subjects of his paintings.[1] The seductive power of his work is unquestionable, as both man and women are depicted glamorous, their hair being perfect, full lips, and teeth that are sparkling white. As if he's trying to capture all those confusions to which we are all subjected, confronting the desires we all have with the realistic possibilities that are not that perfect.
His art is figurative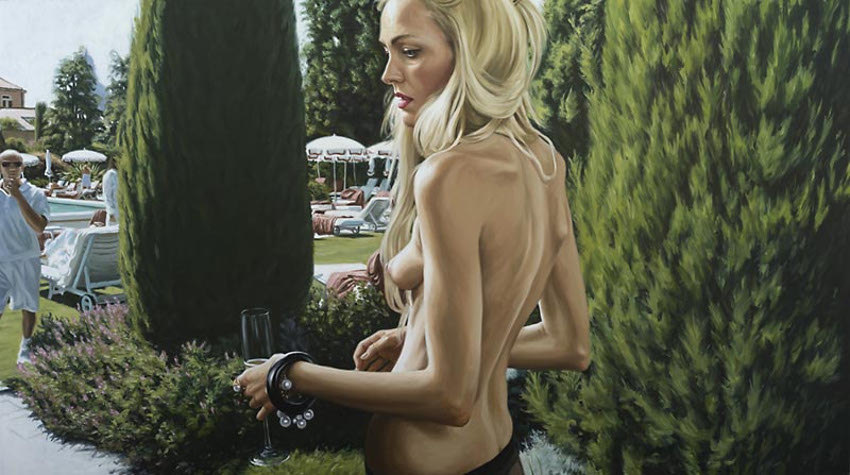 An Entire World in Paintings
However, as perfect as this world may seem, Terry Rodgers is fully aware there is no such thing as perfection. With no intention of criticizing anything, he paints what he sees – fragile humans trying to connect with the others. The parties, one of his favorite subjects, often depicted, show just how much it can all be superficial. Every single painting takes a considerable amount of time, and Rodgers manages to finish about 12 to 13 paintings per year. For each of those, he photographs dozens of people in his studio. Sometimes models, sometimes ordinary people, and sometimes celebrities – he finds them everywhere. At restaurants, clubs, streets, airports. One thing is common for them all. Something in their appearance, a detail in their faces, their posture, intrigues the artist, and he invites them to his studio. Rodgers then draws them, slowly drafting the final picture in his imagination. His assistant paints a first, rather a rough color version of the piece in acrylic, before the artist himself begin applying layer upon layer of translucent oil in a process that can last for months. One of the most important parts of the whole process is the thought of the viewers. Since he thinks of them as a part of the concept, Rodgers paints pieces with peculiar, attention-attracting details, or the dimensions of a small cinema screen. These immediately pull the viewers into the semi-imaginary world and make them members in the chain of connections between the figures in the painting. His solo show entitled Solo Spaces at Torch Gallery in Amsterdam was on display from October 29, 2016 until December 31, 2016. It marked a self-reflective turn in the artist's oeuvre. Rodgers' new work expands on the feelings of detachment and desire explored in his earlier work while emphasizing a contemporary disconnect between body and mind.
The artist creates paintings by depicting what he sees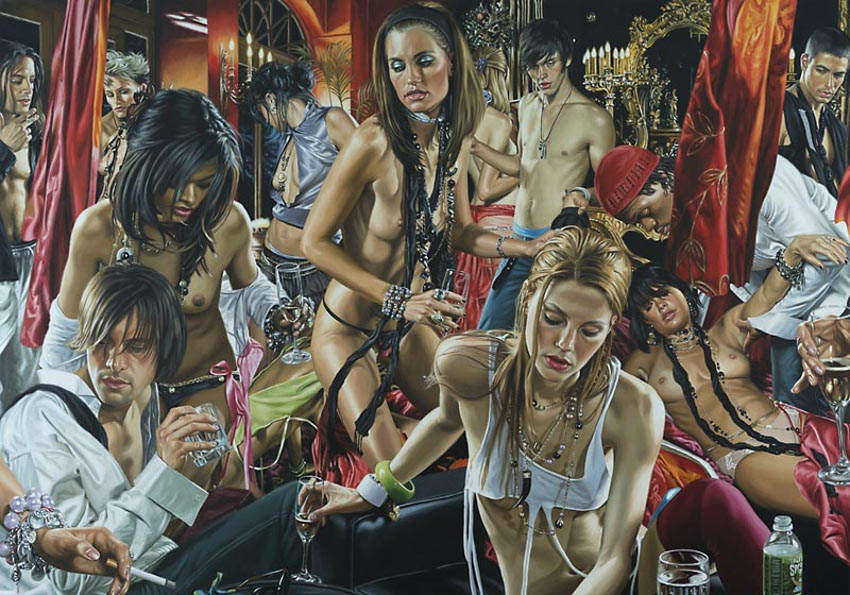 Angels and Boundaries of Desire
His first big and audacious show, in 2004 in Amsterdam, was called Angels of Desire. He then presented ten works of dramatic boldness and electrifying insight into the American and the entire Western culture simultaneously galvanized by terror and sated by technologically-driven ease. In 2009, the Scheringa Museum of Realist Art in Spanbroek organized the first European museum exhibition solely devoted to Terry Rodgers, titled Boundaries of Desire. With twenty large paintings and a number of sketches, the museum presented an overview of Rodgers' unique oeuvre as it has developed over the last decades. The initial allure of his luxurious fictional world serves only to veil the artist's true subject: the tension between desire and loneliness. The viewer sees a beauty that is as inviting as it is repugnant, in which the figures exude boredom, loneliness and a yearning for human contact.[2] His works is included in prestigious collections such as the Stedelijk Museum-Hertogenbosch, the Kunsthalle der Hypo-Kulturstiftung in Munich, the Museum Franz Gertsch in Burgdorf, the Museum Folkwang in Essen, the Scheringa Museum of Realist Art in Spanbroek, the Kunsthal Rotterdam, the Kunsthalle Krems in Austria, Kunsthalle Emden in Germany, Kunstmuseum Bern and Zentrum Paul Klee, me Berlin, the Helnwein Museum Galerie Rudolfinum in Prague, and the Kunsthalle Rotterdam.
Terry Rodgers lives and works in Columbus, Ohio.
Sources:
Parentela C. Interview with Terry Rodgers, The eXTra FinGer [October 7,2016]
Voyatzis C. Terry Rodgers – Boundaries of Desire, Yatzer [October 7,2016]
Feature image: Terry Rodgers – portrait
All images courtesy of the artist
| Year | Exhibition Title | Gallery/Museum | Solo/Group |
| --- | --- | --- | --- |
| 2016 | Solo Spaces | Torch Gallery, Amsterdam, Netherlands | Solo |
| 2016 | Art Miami with Torch Gallery, Amsterdam | Miami, Florida | Group |
| 2016 | Art Aspen with Zener Schon Contemporary Art | Aspen, Colorado | Group |
| 2016 | Art Southampton with Dean Project, Miami | Bridgehampton, New York | Group |
| 2016 | Divine Decadence | Kasteel van Gaasbeek, Lennik/Brabant, Belgium | Group |
| 2016 | Summer Daze | Mikel Hunter, Edgartown, Massachusettes | Group |
| 2016 | Lucca Art Fair with Davide Gallo Arte Contemporanea, Milan | Lucca, Italy | Group |
| 2016 | Forever | Bubox Art Space, Kortrijk, Belgium | Group |
| 2016 | Degrees of Separation | Kunstverein Heppenheim, Heppenheim, Germany | Solo |
| 2016 | Art Wynwood with Dean Project, Miami | Miami, USA | Group |
| 2016 | Likeness | Albertz-Benda New York, New York | Group |
| 2015 | Humble Me | Aeroplastics Contemporary, Brussels, Belgium | Group |
| 2015 | Krachtwerken | Gementemuseum Helmond, Helmond (NL) | Group |
| 2015 | Desire | Galerie Le Royer | Group |
| 2014 | Untitled | Aeroplastics Contemporary | Group |
| 2013 | Approximations of the Sublime | Aeroplastics contemporary, Brussels, Belgium | Solo |
| 2013 | Lieblingsbilder aus der Sammlung Grosshaus | Landesmuseem Schloss Gottorf, Germany | Group |
| 2012 | Post Tenebras Lux. Eine Uebersichtsausstellung | Galerie Nicola von Senger, Zürich, Switzerland | Group |
| 2012 | Eros & Thanatos | Scheublein Fine Art, Zürich, Switzerland | Group |
| 2011 | The Fluid Geometries of Illusion | Torch gallery, Amsterdam, The Netherlands | Solo |
| 2011 | Lust and Vice. The Seven Deadly Sins from Durer to Nauman | Kunstmuseum Bern and Zentrum Paul Klee, Bern, Switzerland | Group |
| 2011 | Much Ado About Everything | Haus Fuer Kunst, Uri, Switzerland | Group |
| 2010 | Radical Continuity | Aeroplastics contemporary, Brussels, Belgium | Solo |
| 2010 | Spellbound | Galerie Nicola von Senger, Zürich | Solo |
| 2010 | Decadence now, visions of excess | Galerie Rudolfinum, Prague, Czech Republic | Group |
| 2010 | Lust for Life & Dance of Death | Olbricht collection, Kunstalle Krems, Krems, Austria | Group |
| 2010 | Realism—The Adventure of Reality | Courbet-Hopper-Gursky, Kunsthalle der Hypo-Kulturstiftung, Munich, Germany | Group |
| 2010 | ME Collectors Room | Olbricht Collection, Berlin, Germany | Group |
| 2010 | The Alchemy of Delusion | Aeroplastics contemporary, Brussels, Belgium | Group |
| 2009 | Boundaries of Desire | Scheringa Museum of Realist Art, Spanbroek, The Netherlands | Solo |
| 2009 | Terry Rodgers | TORCH Gallery, Amsterdam, The Netherlands | Solo |
| 2009 | The Unforgettable Fire—25 Years TORCH Gallery | Kunsthal Rotterdam, Rotterdam, The Netherlands | Group |
| 2009 | Art in the Front Page | Benaki Museum, Athens, Greece | Group |
| 2009 | Untitled | von Liebig Art Center, Naples, Florida, USA | Group |
| 2008 | Terry Rodgers | Galerie Nicola von Senger, Zurich, Switzerland | Solo |
| 2008 | Holland Without Hurry | Scheringa Museum for Realism, Spanbroek, The Netherlands | Group |
| 2008 | Untitled | Cokkie Snoei Gallery, Rotterdam, The Netherlands | Group |
| 2007 | The Rhapsody of Eternal Dreams | Galerie Nicola von Senger, Zurich, Switzerland | Solo |
| 2007 | Rockers Island | Olbricht Collection, Museum Folkwang, Essen, Germany | Group |
| 2007 | Something to Write Home About | Stadsgalerij Heerlen, Heerlen, The Netherlands | Group |
| 2007 | Leve de Schilderkunst! | Terug naar de figuur, Kunsthal Rotterdam, Rotterdam, The Netherlands | Group |
| 2007 | Zuruch Zur Figur, Malerei der Gengenwart | Museum Franz Gertsch, Burgdorf, Switzerland | Group |
| 2007 | Creme de la Crème | Gemeentemuseum Helmond, Helmond, The Netherlands | Group |
| 2006 | Terry Rodgers. The Apotheosis of Pleasure | TORCH Gallery, Amsterdam, The Netherlands | Solo |
| 2006 | Creative Imaginings: The Howard A. and Judith Tullman Collection | Mobile Museum of Art, Mobile, Alabama, USA | Group |
| 2006 | Sweet Ecstasy | Galerie Nicola von Senger, Zurich, Switzerland | Group |
| 2006 | Zuruch Zur Figur | Malerei der Gengenwart, Kunsthalle der Hypo-Kulturstiftung, Munich, Germany | Group |
| 2006 | Do the Right Bling | Stedelijk Museum-Hertogenbosch, Hertogenbosch, The Netherlands | Group |
| 2006 | Untitled | Elga Wimmer Gallery, New York, USA | Group |
| 2006 | Untitled | Fay Gold Gallery, Atlanta, USA | Group |
| 2005 | Terry Rodgers | Marella Gallery, Milan, Italy | Solo |
| 2005 | American Rhapsody | Fay Gold Gallery, Atlanta (GA), USA | Solo |
| 2005 | Agua sin ti no soy (Water without you I'm not) | 3rd Bienal de Valencia, Valencia, Italy | Group |
| 2005 | After Nature | Aeroplastics contemporary, Brussels, Belgium | Group |
| 2005 | Untitled | MB Fine Art, Los Angeles, USA | Group |
| 2004 | Terry Rodgers | TORCH Gallery, Amsterdam, The Netherlands | Solo |
| 2003 | Terry Rodgers | Marella Arte Contemporanea, Milan, Italy | Solo |
| 2003 | Private Encounters: The Paintings of Terry Rodgers | Bakersfield Museum of Art, Bakersfield (CA), USA | Solo |
| 2003 | Skin: Contemporary Views of the Body | Jacksonville Museum of Modern Art, Jacksonville (FL), USA | Group |
| 2003 | SuperReal | Marella Arte Contemporanea, Milan, Italy | Group |
| 2003 | Untitled | Fay Gold Gallery, Atlanta, USA | Group |
| 2002 | Terry Rodgers | Thomas McCormick Gallery, Chicago (IL), USA | Solo |
| 2002 | Terry Rodgers | dfn gallery, New York (NY), USA | Solo |
| 2002 | Terry Rodgers | Louis Stern Fine Arts, Los Angeles (CA), USA | Solo |
| 2002 | Paintings by Terry Rodgers | Northern Michigan University Art Museum, Marquette (MI), USA | Solo |
| 2002 | Untitled | Dunedin Fine Art Center, Dunedin (FL), USA | Group |
| 2002 | Untitled | Fay Gold Gallery, Atlanta (GA), USA | Group |
| 2001 | Terry Rodgers | Fay Gold Gallery, Atlanta (GA), USA | Solo |
| 2001 | Untitled | Keny Galleries, Columbus (OH), USA | Group |
| 2001 | Untitled | Center for the Cultural Arts, Gadsden (Al), USA | Group |
| 2001 | Humanscapes by Terry Rodgers | Ellen Noel Art Museum, Odessa (TX), USA | Group |
| 2001 | Untitled | Louis Stern Fine Art, Los Angeles (CA), USA | Group |
| 2000 | Recent Paintings by Terry Rodgers | Erie Art Museum, Erie (PA), USA | Solo |
| 2000 | Terry Rodgers | Parkersburg Art Center, Parkersburg (WV), USA | Solo |
| 2000 | Terry Rodgers | Midwest Museum of American Art, Elkhart (IN), USA | Solo |
| 2000 | Untitled | Fay Gold Gallery, Atlanta (GA), USA | Group |
| 1999 | The Paintings of Terry Rodgers | Porter Butts Gallery, University of Wisconsin, Madison, (WI), USA | Solo |
| 1999 | The Good Life, Burroughs | Chapin Art Museum, Myrtle Beach (SC), USA | Solo |
| 1999 | Terry Rodgers | Keny Gallery, Columbus (OH), USA | Solo |
| 1999 | National Midyear Exhibition | Butler Institute of American Art, Youngstown (OH), USA | Group |
| 1998 | Terry Rodgers | Furlong Gallery, University of Wisconsin, Stout (WI), USA | Solo |
| 1998 | National Midyear Exhibition | Butler Institute of American Art, Youngstown (OH), USA | Group |
| 1997 | National Midyear Exhibition | Butler Institute of American Art, Youngstown (OH), USA | Group |
| 1994 | Terry Rodgers | Hammond Gallery, Lancaster (OH), USA | Solo |
| 1994 | National Midyear Exhibition | Butler Institute of American Art, Youngstown (OH), USA | Group |
| 1993 | Terry Rodgers | Nicolae Galleries, Columbus (OH), USA | Solo |
| 1993 | German Village Exhibition, Columbus (OH) | USA Hammond Gallery, Lancaster (OH), USA | Group |
| 1992 | Struve Gallery, Chicago | USA Katz & Dawgs Gallery, Columbus (OH), USA | Group |
| 1989 | Terry Rodgers | Partners Gallery, Bethesda (MD), USA | Solo |
| 1989 | Untitled | Neikrug Photography, New York (NY), USA | Group |
| 1988 | Untitled | Katz & Dawgs Gallery, Columbus (OH), USA | Group |
| 1987 | Untitled | Partners Gallery, Bethesda (MD), USA 1985 The Brandeis Exhibition, Rockville (MD), USA | Group |
| 1984 | Brandeis Exhibition | Rockville (MD), USA | Group |
| 1984 | Untitled | Arlington Arts Center Exhibition, Arlington (VA), USA | Group |
| 1983 | The Brandeis Exhibition | Rockville (MD), USA | Group |
| 1979 | Untitled | Mead Arts Gallery, Amherst College, Amherst (MA), USA | Group |