Los Angeles-based street artist Thrashbird is widely praised for his rebellious billboard takeovers wheat-pastes and political content. The artist uses humor and satire to portray relevant social issues such as our unhealthy interest in popular celebrities, selfie culture and our increasing reliance on new technological tools. The artist is known for his fierce, visually aggressive works, that question the status quo. His polarizing peaces deal with the important social issues of today and often provoke confrontation and dialogue.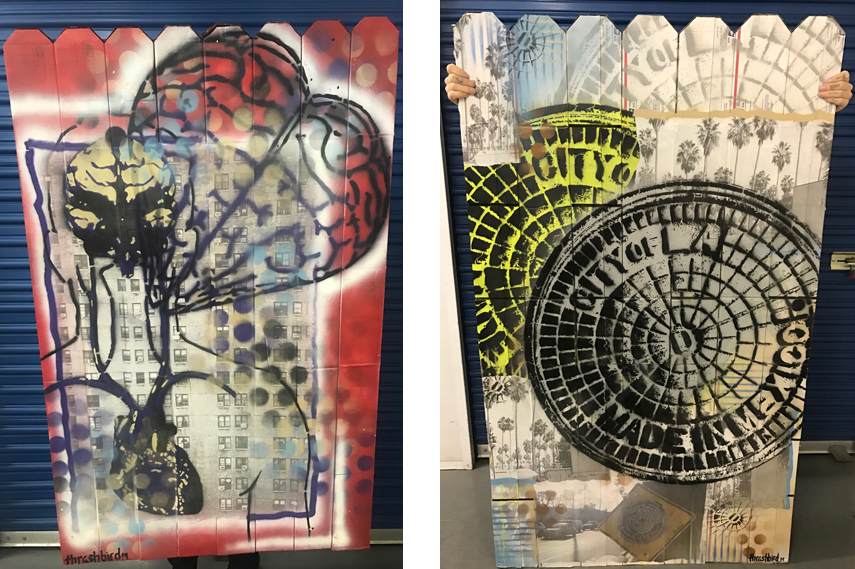 Thrashbird – Artist that Questions the Status Quo
Ever since he was a small boy Thrashbird wanted to create. He started his artistic career by playing with Legos and Lincoln logs but later on he went on to become one of the most authentic street artists of his generation. Gray walls inspire the artist to paint and enter the exciting world of graffiti. Throughout his childhood Thrashbird continuously subverted consumerist culture and world view. The inspiration for his work has changed through the years and now it usually consist of exploring taboos in the American life like sexuality and violence. The artist came into prominence after creating his most recognizable character named the Clone on the streets of Los Angeles. The slender figure obscured by a black hoodie is leaned inward and glued to its phone just like so many of us are every day. The character that's more concerned with digital word that the reality that surrounds him,represent a reference to our digital addiction and inability to function without our smartphones, tablets and Macbooks.
Thrasbird is known for his satirical comments about our consumerist society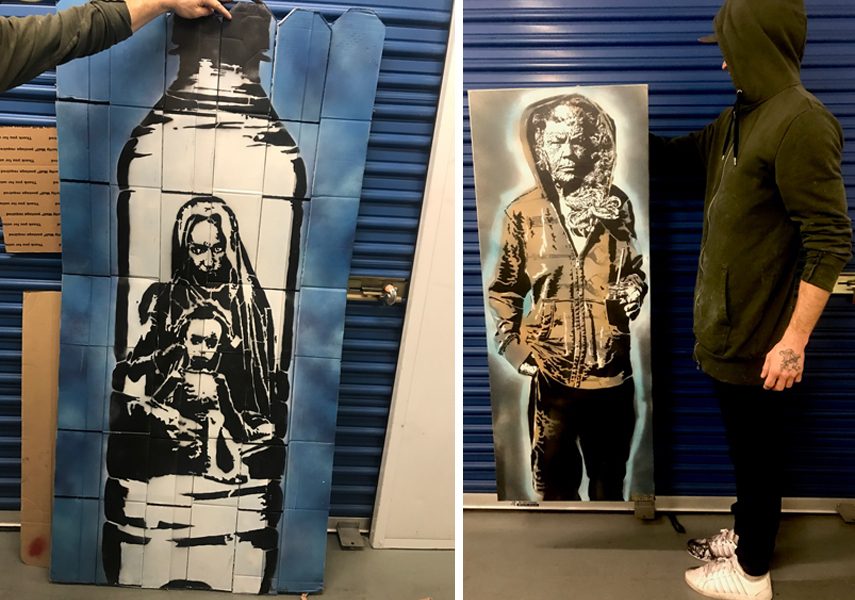 Stencil and a Plastic Figure
His Clone artworks are often stenciled on the ground so that the people who walk by texting of checking their phones can spot them and see their own urban reflection in the mirror. In 2017, the Clone was embodied in the form of the plastic figure created in collaboration with the toy production company Cadatonic. Thrashbird's artworks have been on view inside and outside of gallery walls. Recently the artist has taken his urban creations away from the streets and into the desert. By combining the natural landscape and the topography of the desert and the neglected building environments Thrashbird turns abandoned ruins around him into something joyful and nostalgic.
Thrashbird's artworks represent powerful tools for battling the status quo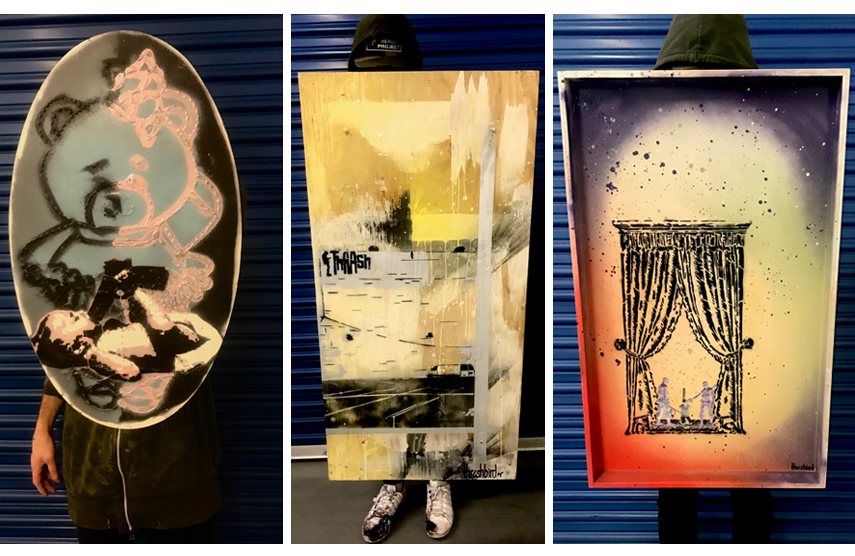 Commercialization of Street Art
The artist is also known for his negative attitude towards the commercialization of street art. In 2016 Thrashbird was a guest speaker at the panel on the Commercialization of Street Art at the LA Art Show. Apart from embellishing empty walls around the world Thrashbird is also known for painting on big advertising billboards. By questioning the necessity and the visual pollution brought to us by advertising the artist takes the public space away from the big companies and replaces them with art.
Thrashbird lives and work in Los Angeles, United States.
Featured image Thrashbird – Portrait
All images courtesy of the artist
| Year | Exhibition Title | Gallery/Museum | Solo/Group |
| --- | --- | --- | --- |
| 2017 | SUBWAY VS FREEWAY | 212 ARTS GALLERY MANHATTAN, NYC | Group |
| 2016 | Virtues and vice, | LA art show, LA | Group |
| 2016 | Cratedigger: The Lost Art of Album Cover Art | Gaba gallery,LA | Group |
| 2015 | WHAT WE DO IS SECRET | Stone Malone gallery,LA | Group |
| 2015 | Surplus candy LA | LA Mansion, LA | Group |
| 2015 | Outside Lies Magic | Gaba gallery,LA | Group |
| 2014 | Drop In | The Gabba Gallery and HRLA | Group |
| 2014 | Like Me" by Thrashbird & "More" by Bleep Bloop | Stone Malone gallery,LA | Group |
| 2014 | Let It Fly | Angel City Brewery , Los Angeles Arts District, | Group |
| 2014 | Untitled | Smile South Central, LA | Group |
| 2014 | Skate & Create | Flower Pepper Gallery, Pasadena, CA | Group |
| 2014 | Urban playground | Gabba gallery, LA | Group |
| 2013 | THRASHBIRD "A SOLO EXHIBITION" | Park Studio Hwood,Holywood | Solo |
| 2012 | Let It Fly | Jimmy Ray Flynn home, Burbank, | Group |