If we had to choose three words to describe paintings by Tian Xu Tong, we would definitely choose calmness, simplicity and peace. These words wouldn't be chosen accidentally as the Chinese artist creates paintings influenced by his interest in Zen philosophy and the Song Dynasty, a culturally rich and sophisticated age for his native country when ink painting became an important and popular genre. His meditating monks represent the stillness, perfection and co-existence with the totality of all things Zen. Using brushstrokes that seem bold and spontaneous, his paintings resonate simplicity but also reflect the meanings of peace and universality.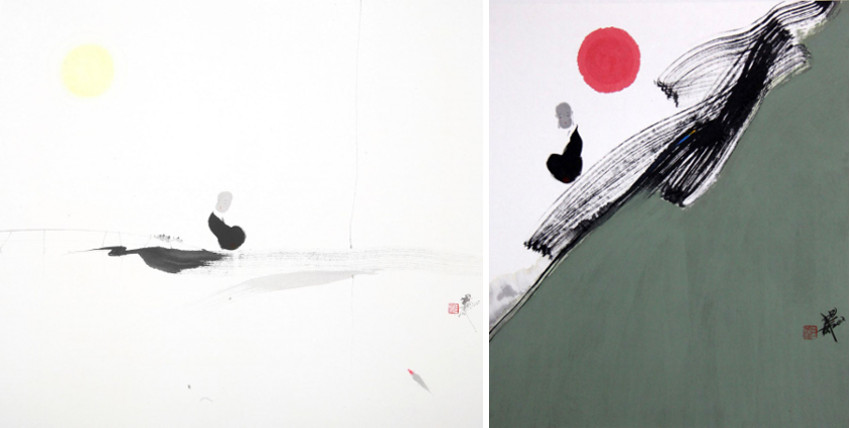 Art of Tian Xu Tong
Tian Xu Tong found a great source of inspiration in the way sagacious monks live their lives: the simplicity of their lives, the concentration, tranquility, and mindfulness of every activity, the calm and peace they find in their days. They are often depicted while meditating on boats on water or on mountain tops illuminated by the sun's or moon's light in plain, abstracted space. His paintings remind us that in today's world of ever-increasing responsibility and pressure, we all need to slow down, stop rushing, and enjoy the simple wonders of life.
Tian Xu Tong finds inspiration in the way sagacious monks live their lives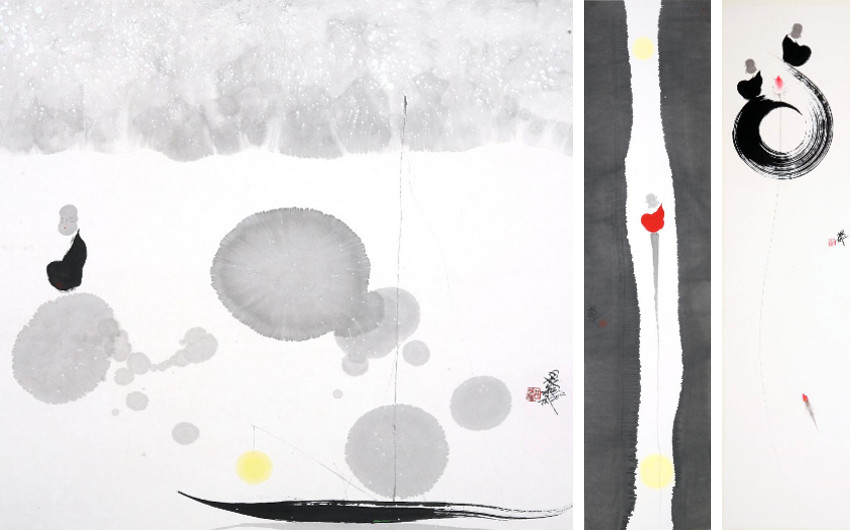 Zen Ink Paintings Exhibitions
Born in 1962, Tian Xu Tong graduated from the Central Academy of Craft and Design in Beijing in 1985 with a major in ink painting. His work has been included in many solo and group exhibitions and art fairs in Singapore, Hong Kong, China and the United States. Some of his recent solo shows include Tian Xu Tong: Zen Ink Paintings Asia (2014) and Tian Xu Tong – Zen (2012), both at HaKaren Art Gallery in Singapore. Amongst art career, Tian Xu Tong is a Professor at Tsinghua University in Beijing.
Tian Xu Tong lives and works in Beijing.
Featured image: Tian Xu Tong – Moonlight in the Heart (detail)
All images copyright of the artist
| Year | Exhibition Title | Museum/Gallery | Solo/Group |
| --- | --- | --- | --- |
| 2014 | Tian Xu Tong: Zen Ink Paintings Asia | HaKaren Art Gallery, Singapore | Solo |
| 2012 | Tian Xu Tong - Zen | HaKaren Art Gallery, Singapore | Solo |
| 2012 | Affordable Art Fair | Singapore | Group |
| 2011 | Affordable Art Fair | Singapore | Group |
| 2010 | Fine Art Asia 2010 | Hong Kong | Group |
| 2009 | Silence and Harmony | Beijing | Solo |
| 2008 | ArtBeijing 2008 | Beijing | Group |
| 2006 | ARTSingapore 2006 | Singapore | Group |
| 2004 | ARTSingapore 2004 | Singapore | Group |
| 2004 | The Door to Inner Peace | HaKaren Art Gallery, Singapore | Solo |
| 2002 | New York Art Expo | New York | Group |
| 2001 | Zen | HaKaren Art Gallery, Singapore | Solo |
| 2000 | China Art Expo | Beijing | Group |
| 1999 | China Art Expo | Beijing | Group |
| 1995 | The 4th Asian Art Exhibition | Beijing | Group |
| 1991 | Exhibition of Contemporary Installation Art | Singapore | Group |
| 1990 | Exhibition of Contemporary Chinese Art | Hong Kong | Group |