Tilman is a German artist whose comprehensive body of work includes painterly pieces, constructed environments and layered wall and floor-based objects. Regardless of the chosen medium in which he works, this author regularly relies on an abstract minimalistic language, leaving as much room as possible to the interpretations of the individual viewer. His technique investigates the ways of seeing and precepting, encouraging the observer to indulge in the fantasy of what may be beyond the surface of the piece. Besides working on his artistic creations, Tilman is also active as a curator. It should also be noted that Tilman is a founder and present curatorial advisor of Dolceacqua Arte Contemporanea (D.A.C.) in Italy, as well as a patron of Contemporary Non-Objective Art (CCNOA) in Brussels, Belgium.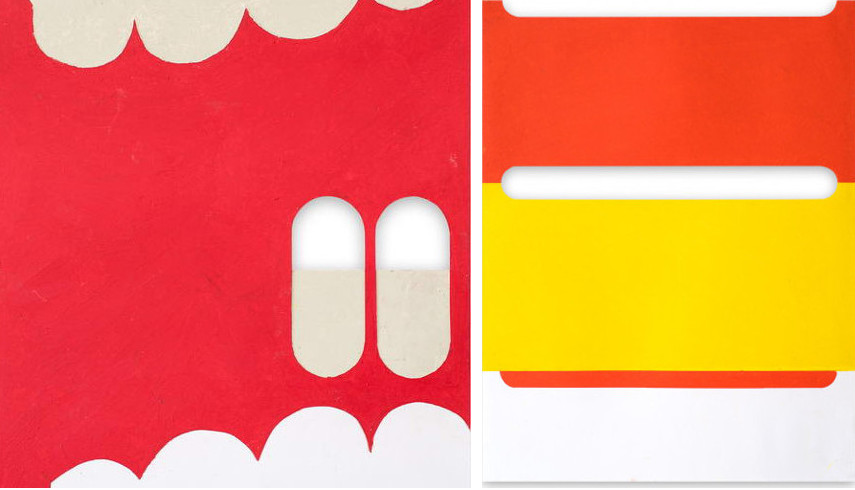 Surprisingly Complex Art of Tilman
Tilman acquired his artistic education by studying at the Munich University of Applied Sciences and Design where he graduated in the year of 1978. Additionally, he also studied under Günter Fruhtrunk and Hans Baschang at the Munich Academy of Visual Art where he spent the years between 1981 and 1985. Such experiences have provided Tilman with an incredible control over his artistic vocabulary, a feature that served him extremely well in the long run. As it was already mentioned in the opening sentence, his work has an incredible range as Tilman has been tirelessly creating various aesthetic objects over the years. He authored countless paintings, drawings, prints, three-dimensional wall hangings, floor-wall objects and built environments, all of which enjoyed success on the art market. Tilman's paintings, which can be interpreted as his ground-zero medium as it features most of this author's characteristics, incorporate various materials including paint, lacquer and crayons, as well as rely on numerous kinds of surfaces including vellum, MDF and aluminum. Tilman's three-dimensional wall hangings are also created upon MDF and aluminum surfaces. These pieces are mostly based on a concept of providing a primary frontal plane while also creating new spatial possibilities beyond that primary level. Interestingly, Tilman's vellum pieces offer similar visual arrangements of space as their compositions of color and form interact with light and have a tendency of re-ordering the visual environment. Tilman has exhibited extensively both in the solo and group exhibitions held across the galleries of Europe, Asia, Australia and the United States.
Tilman may have a seemingly simplistic way of painting his elements, but the concept behind them is far from oversimplified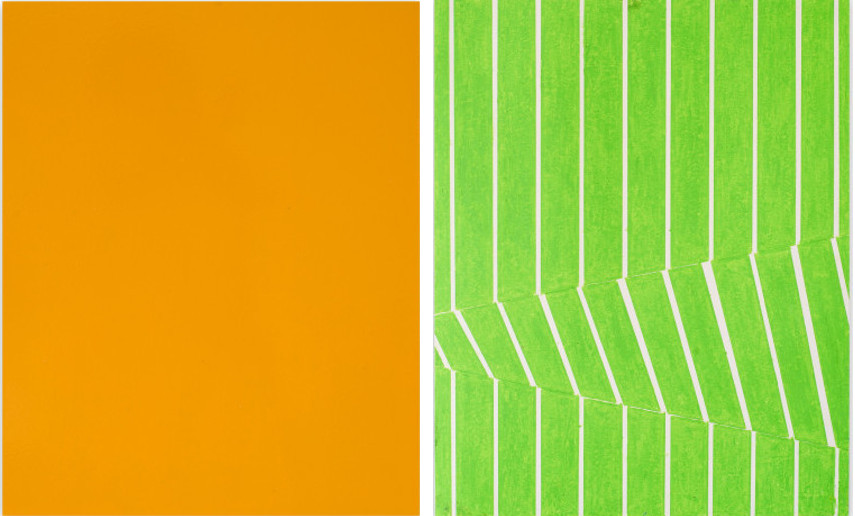 His Inspirations
Unsurprisingly, Tilman finds most of his inspiration within the concepts of Concrete Art and Minimalism. His pieces may use a seemingly simple vocabulary, but they are very effective at seeding curiosity within the minds of the audience, encouraging them to seek forms, compositions, colors and other sensory impressions. Via such a concept, Tilman allows for the elements of his pieces to take on a new, non-objective presence. This author's visual language does tend to get quite complex on a conceptual level, despite having a rather simplistic way of composing.
This artist is represented by IdeelArt.
Tilman lives and works in New York City and Dolceacqua, Italy.
Featured image: Tilman – Untitled (House of Colors), 2008 – Image courtesy of IdeelArt
All other images courtesy of the artist
| Year | Exhibition Title | Gallery/Museum | Solo/Group |
| --- | --- | --- | --- |
| 2016 | Run, Run, Run | Halle sud du chantier Sang neuf, Nice | Group |
| 2016 | On Paper | Minus Space, New York City, NY | Group |
| 2016 | Sculpture En Partage | Fondation Villa Datris, L´Isle-sur-la-Sorgue | Group |
| 2016 | Julian Dashper & Friends | Project Space, Amsterdam | Group |
| 2015 | Dessins Et Petits Formats | Galerie Djeziri-Bonn, Paris | Group |
| 2015 | Archi-Sculpture | Fondation pour la Sculpture Contemporaine, L´Isle-sur-la-Sorgue | Group |
| 2015 | Sunday in the park with Ed | Display Gallery, London | Group |
| 2014 | Autour Du Dessin | Galerie Djeziri-Bonn Linard, Paris | Group |
| 2014 | A 15 Years Anniversary Exhibition Deservicegarage | Project Space, Amsterdam | Group |
| 2014 | Greet Billet, Kjell Bjørgeengen and Tilman | Kunstverein Mönchengladbach, Mönchengladbach | Group |
| 2014 | 30-30: Iap Image Archive Project | A | B | C ontemporary, Zurich | Group |
| 2014 | Shelf Show | Galleri Tom Christoffersen, Copenhagen | Group |
| 2013 | Tilman | Galerie Djeziri-Bonn, Paris | Solo |
| 2013 | Vis-à-vis New York-Marseille | Galerie Arnaud Deschin, Marseille | Solo |
| 2013 | Radio Vallebona (Transmission #1) | Minus Space, New York City, NY | Solo |
| 2013 | Light Space Project: Rituals Of Exhibition II | H Gallery Chiang Mai, Chiang Mai | Group |
| 2012 | All I need | 6b, Elingen | Group |
| 2012 | Zomeropstelling | Galerie Rob de Vries, Haarlem | Group |
| 2012 | Mix 2012 | Galerie Rob de Vries, Haarlem | Group |
| 2012 | Accrochage | Gallery Sonja Roesch, Houston, TX | Group |
| 2011 | z.t. | Galerie Rob de Vries, Haarlem | Group |
| 2011 | Sugar Mountain, associations with an exhibition title | Galerie Van den Berge, Goes | Group |
| 2010 | Julian Dashper (1960-2009): It Is Life | Minus Space, New York City, NY | Group |
| 2010 | With your Eyes Only @ Yum | YUM, Brussels | Group |
| 2010 | My eyes keep me in trouble | Halle sud du chantier Sang neuf, Nice | Group |
| 2010 | composite visions | Centre d'Art Neuchâtel, Neuchâtel | Group |
| 2009 | Tilman | Eric Linard Editions, La Garde Adhémar | Solo |
| 2009 | WITH YOUR EYES ONLY. Display Reduktive Kunst | Kunstverein Medienturm, Graz | Group |
| 2009 | SIX YEARS | McBRIDE FINE ART, Kalmthout | Group |
| 2009 | Concrete Now! Introducing PS | Highland Institute of Contemporary Art, Dalcrombie, Inverness-shire, Scotland | Group |
| 2009 | plein tube sur la lumière et la couleur | Guy Ledune, Brussels | Group |
| 2009 | mypainting.nu | Lokaal 01 Breda, Breda | Group |
| 2009 | PS 1999-2009 | Kunstruimte 09, Groningen | Group |
| 2009 | Accrochage Reductive and conceptual art | Gallery Sonja Roesch, Houston, TX | Group |
| 2008 | Tilman | McBRIDE FINE ART, Kalmthout | Solo |
| 2008 | Tilman: objects, pictures | House of Art, Ceské Budejovice | Solo |
| 2008 | Minus Space | MoMA PS1, New York City, NY | Group |
| 2008 | International and National Projects Fall 2008 | MoMA PS1, New York City, NY | Group |
| 2008 | crox 269 | Croxhapox, Ghent | Group |
| 2008 | Leiden Assemblage No.1 | Galerie Le Petit Port, Leiden | Group |
| 2008 | MY EYES KEEP ME IN TROUBLE | Old Central Post Office Building, Christchurch | Group |
| 2008 | Subset (Conical gets Shaghai'd) | Conical Inc, Melbourne, VIC | Group |
| 2008 | la vie en rond | H29, Brussels | Group |
| 2008 | SNO 38 | Sydney Non Objective Group, Sydney, NSW | Group |
| 2008 | My Eyes Keep Me In Trouble | Sydney College of the Arts, Rozelle, NSW | Group |
| 2008 | UNDER THE SURFACE | RC de Ruimte, IJmuiden | Group |
| 2008 | Dan Walsh, and more… | La Salle de bains, Lyon | Group |
| 2007 | UND Jetzt | IS Projects, Leiden | Group |
| 2007 | SNO 32 | Sydney Non Objective Group, Sydney, NSW | Group |
| 2007 | Pas de soucis... | Non Objectif Sud (NOS), Tulette | Group |
| 2006 | Tilman: Look Awry | Kunstnernes Hus, Oslo | Solo |
| 2006 | Multimedia Space: Early Fabricated | Center for Contemporary Non-Objective Art, Brussels | Group |
| 2006 | Double Exposure : A Dialogue between abstract Painting & Photography | Center for Contemporary Non-Objective Art, Brussels | Group |
| 2006 | Matthew Deleget, Daniel Levine and Tilman | Gallery Sonja Roesch, Houston, TX | Group |
| 2006 | Non Objectif Sud 06 | Non Objectif Sud (NOS), Tulette | Group |
| 2006 | Take Off | Hebel 121, Basel | Group |
| 2006 | 2 Steps | Kunstnernes Hus, Oslo | Group |
| 2006 | Painted Objects | Center for Contemporary Non-Objective Art, Brussels | Group |
| 2006 | Und (groupshow by Billy Gruner En Jan Van Der Ploeg) | Chiellerie, Amsterdam | Group |
| 2005 | Tilman: Einsicht in die Werkreihe 'andenken' | Stiftung für Konkrete Kunst, Reutlingen | Solo |
| 2005 | Means Without End | Guild & Greyshkul, New York City, NY | Group |
| 2005 | PaintedObjects | Project Space, Amsterdam | Group |
| 2005 | Early Fabricated | Ocular Lab Inc., Melbourne, VIC | Group |
| 2005 | Marcus Bering, Tilman | H29, Brussels | Group |
| 2005 | SNO 2 | Sydney Non Objective Group, Sydney, NSW | Group |
| 2005 | Minimal Pop | Galerie les filles du calvaire, Paris | Group |
| 2004 | Main Spaces I &II: Molti Multipli | Center for Contemporary Non-Objective Art, Brussels | Group |
| 2004 | Yellow Pages et autre projects du Team 404 | Musée d´art moderne et contemporain, Geneva | Group |
| 2003 | PS 1999-2003 | RAID Projects, Los Angeles, CA | Group |
| 2003 | Main Spaces I & II: Tilman with Johan Vandermaelen | Center for Contemporary Non-Objective Art, Brussels | Group |
| 2003 | Yellow Pages | Turmgalerie 333, Helmstedt | Group |
| 2001 | WOP | Project Space, Amsterdam | Group |
| 2000 | Tilman: Constellations | Project Space, Amsterdam | Solo |
| 2000 | Main Spaces I & II: Tilman | Center for Contemporary Non-Objective Art, Brussels | Solo |
| 1999 | Project Space: Tilman | Center for Contemporary Non-Objective Art, Brussels | Solo |
| 1998 | Main Spaces I & II: 9 + 1: works on paper & sculpture | Center for Contemporary Non-Objective Art, Brussels | Group |