Tiptoe is an American street artist, based in New York. His mythology-inspired pieces have popped up throughout the US, and also in Barcelona, Berlin, Paris and Sao Paulo, to name a few. Born in Chicago, the Windy City helped him shape his artistic vision.
Tiptoe's practice is inspired by Greek mythology, as he compares it to Sisyphus. Just as the ancient Greek king was sentenced to roll a heavy boulder up a hill only to have it roll back down, so does the artist strive towards perfection, but never reaches it. Every piece he makes adds to his artistic development – makes him stronger.
Tiptoe's Art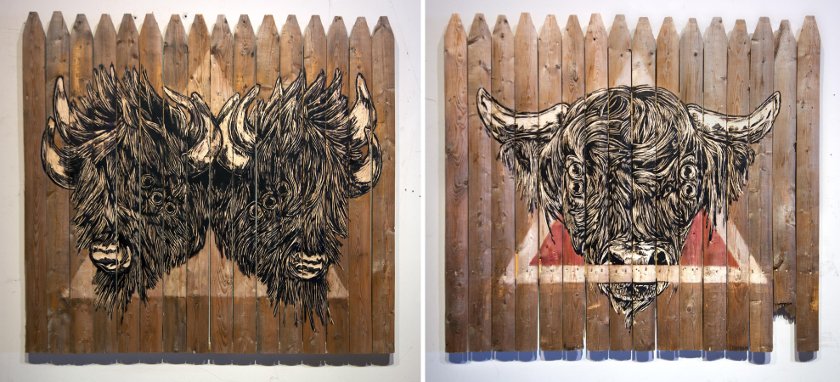 Tiptoe draws from numerous prominent artists, such as Jean-Michel Basquiat, Joan Miró, Jackson Pollock and Marcel Duchamp, although visual art is not the only place where Tiptoe searches for inspiration. He is often inspired by the Latin poet Ovid, and his description of Minotaur, which yielded several of Tiptoe's works. He also draws a parallel between street art and the myth of Minotaur and his labyrinth, where the labyrinth represents the city, and the bull-headed creature the street art itself. Like the creature, art should be stripped of all the inhibitions imposed on us by society.
Minotaurs by Tiptoe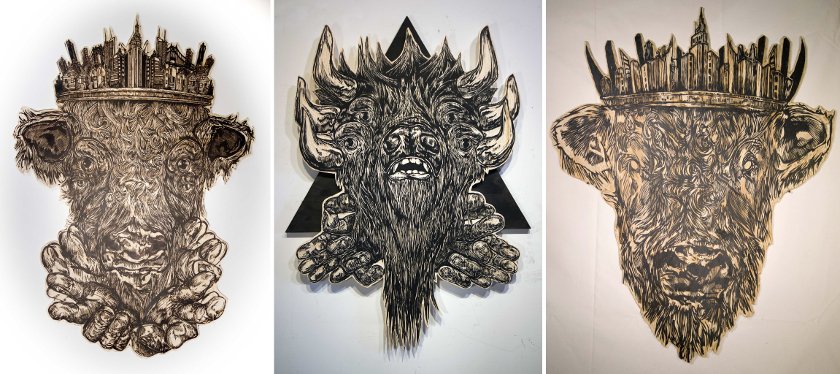 In general, Tiptoe's art juxtaposes the concepts of light and darkness, rebirth and destruction, order and chaos. His works were covered by some of the most prominent street art publications, such as Wooster Collective, Chicago Street Art and Brooklyn Street Art. He was featured in numerous exhibitions in the US and around the world. In April, 2015, Tiptoe participated in the exhibition titled 2 for 2 – Two Year Anniversary Group Show. The show was organized by the Vertical Gallery in Chicago, which represents the artist.
Tiptoe currently resides and works in New York City.
Featured image: Tiptoe – Untitled, 2015
All artwork images courtesy of the Vertical Gallery
| Year | Exhibition Title | Gallery/Museum | Solo/Group |
| --- | --- | --- | --- |
| 2015 | 2 for 2 – Two Year Anniversary Show | Vertical Gallery, Chicago, US | Group |
| 2011 | The Chicago Street Art Show | Chicago Urban Art Society (CUAS), Chicago, US | Group |
| 2011 | Pop Art / Punk Rock Explosion | Littlefield, NYC, Brooklyn, US | Group |