Tracey Adams is a contemporary artist that's known for creating artworks at the intersection of "art, math, and music."1 Being a former musician herself, Tracey Adams often uses rhythm to explore relationships between people and objects. The influence of music is visible in the artist's highly rhythmical artworks that often include visual intervals, patterns, and similar references. Mathematics, on the other hand, is employed to pre-determine a number of colors that will be used when creating an artwork, the number of times they will appear and the way they will be aligned in the compositions.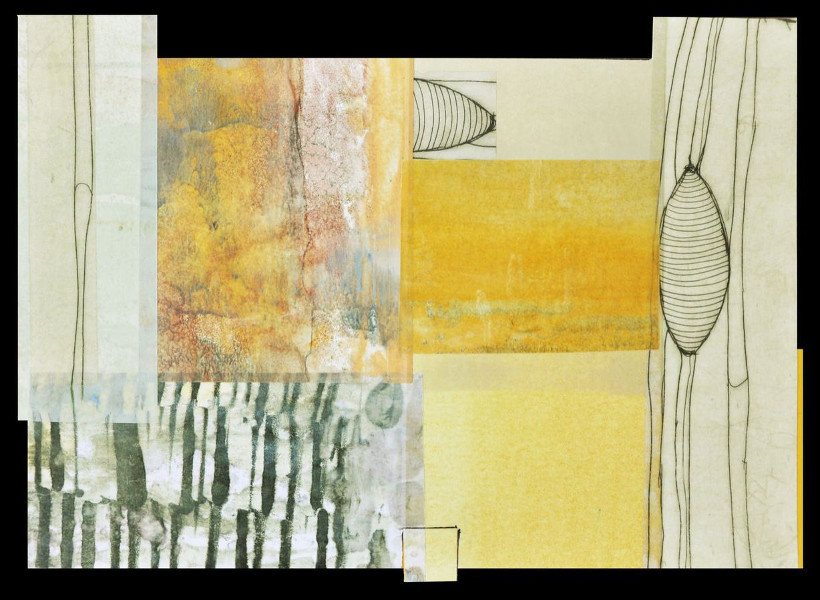 Tracey Adams' Life and Work
Tracey Adams is an American artist born in 1954. She studied painting at the School of the Museum of Fine Arts in Boston. Ever since she was three years old the artist felt a strong urge to create. Regardless whether she makes collages, paintings or monotypes all of her artworks share a common thread that separates them from works of other artists. Tracy Adams grew up in the house full of Japanese prints that she often uses in her adult life as inspiration for her works. Her acclaimed Folded series, for instance, is reminiscent of the ancient Japanese art of origami, as the artist used folded paper to represent time spent in the studio. Every paper was folded a number of times that corresponds with the date in the month – once for the first day of the month, two times for the second, etc.
Ever since she was three years old the Tracey Adams felt a strong urge to create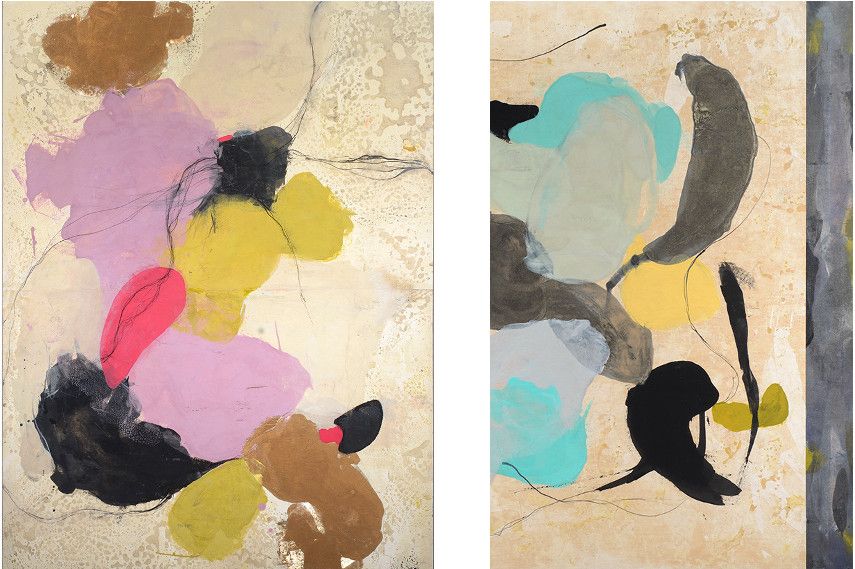 Deeply Personal Imagery by Tracy Adams
In a way, Tracy Adams is a creator of her own world. Deeply personal, her work represents a unique type of visual diary as the artist externalizes her internal thoughts and emotions trough her abstract paintings and prints that will be exhibited in the gallery. Tracy Adams is inspired by contradictions, like the tension between organic and the geometric that's often visible in the artist best works. In 2014 around the same time that her folded series, was born she also begun to experiment with the technique of creating monotypes. She was attracted by the possibility of creating beautiful new works momentarily by pressing one surface against the other and produced hundreds of monotypes by employing the same technique.
The artist's is known for employing a variety of tools to externalize her internal world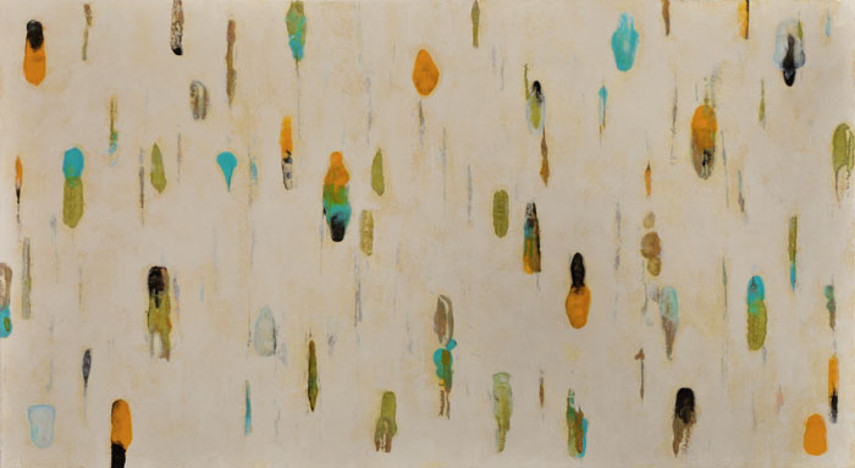 California as a Source of Inspiration
In her interviews, Tracy Adams often states that her neighboring coasts of California are one of her main influences as she often depicts wonders of the sea in her images. Her new project about medicines from the sea was inspired by scientific researchers of micro-organisms collected during ocean dives. These organisms are being researched for medical purposes as scientists believe that they can make a big break-trough in curing some of the hardest medical lines of young and adult population such as cancer, malaria, AIDS, and similar diseases. The artist was awarded Pollock-Krasner Foundation Grant for this particular project.
Tracey Adams is represented by IdeelArt gallery.
She lives and works in northern California.
References:
Seed J.

Tracey Adams: Everything in My Life Is Interconnected

, Huffington Post [Novembar 20, 2016]
Adams T.

Statement

, Tracey Adams Art [Novembar 20, 2016]
Featured image : Tracey Adams Portrait
Images courtesy of the artist
| Year | Exhibition Title | Gallery/Museum | Solo/Group |
| --- | --- | --- | --- |
| 2016 | New works on paper | Bryant Street Gallery, Palo Alto, CA | Solo |
| 2016 | Works on Paper, | Robert Allen Fine Art, Sausalito, CA | Group |
| 2016 | Art on Paper | K. Imperial Fine Art, San Francisco, CA | Group |
| 2016 | In the Abstract | Anne Loucks Gallery, Glencoe, Il | Group |
| 2015 | Anniversary Group Show | Patricia Rovzar GallerySeattle, WA | Group |
| 2015 | eXXpectations | The Cornell Museum, Delray Beach, FL | Group |
| 2015 | The Space Between | Butters Gallery, Portland, OR | Group |
| 2015 | Adaptations | Patricia Rovzar Gallery, Seattle, WA, | Group |
| 2015 | 2015 In the White Room | Bryant Street Gallery, Palo Alto, CA | Group |
| 2015 | Art on Paper, | Pier 26, NYC, NY | Group |
| 2015 | Momentum Transferred, | Bruce Lurie Gallery, Los Angeles, CA | Group |
| 2014 | SJICA Auction | San Jose Institute of Contemporary Art, San Jose, CA | Group |
| 2014 | Over the Edge: Paperworks Unbound, Yuko Nii, Curator | Williamsburg Art & Historical Center, Brooklyn, NY | Group |
| 2014 | Anniversary Exhibition | Patricia Rovzar Gallery, Seattle, WA | Group |
| 2014 | Red Dot Art Fair Miami | Bruce Lurie Gallery | Group |
| 2014 | Outside/In | K. Imperial Fine Art – San Francisco, CA | Group |
| 2014 | Over the Edge: Paperworks Unbound, Part 1 | WAH Center (Williamsburg Art & Historical Center), New York City, NY | Group |
| 2014 | Obscure/Reveal | James Gallery – Pittsburgh, PA | Group |
| 2014 | Annual Group Exhibition | Patricia Rovzar Gallery, Seattle, WA | Group |
| 2014 | Abstract Works on Paper | Robert Allen Fine Art • Sausalito, CA | Group |
| 2014 | The Circle Game | Tucson Museum of Art – Tucson, AZ | Group |
| 2014 | Ninth Annual Encaustic Invitational, | Conrad Wilde Gallery – Tucson, AZ | Group |
| 2014 | Swept Away: Translucence, Transparence, Transcendence in Contemporary Encaustic | The Hunterdon Museum of Art – Clinton, NJ | Group |
| 2014 | artMKT San Francisco | K. Imperial Fine Art – Fort Mason Center, San Francisco, CA | Group |
| 2014 | SHIFT: Five Decades of Contemporary California Painting | Monterey Museum of Art – Monterey, CA | Group |
| 2014 | Patterns of Infinity | Bryant Street Gallery, Palo Alto and Winfield Gallery, Carmel | Solo |
| 2013 | The Elephant in the Room | Laconia Gallery, Chicago, IL | Group |
| 2013 | Eclectic | Fresno Art Museum, Fresno, CA | Group |
| 2013 | Blurring The Line | Anne Loucks Gallery, Glencoe, IL | Group |
| 2013 | Facing Forward -New Acquisitions, 2000 to the Present | Monterey Museum of Art, Monterey, CA | Group |
| 2013 | RED | A Gallery , Provincetown, MA | Group |
| 2013 | Natura Viva: Flora, Fauna and Us, | ArtCurrent Gallery, Provincetown, MA | Group |
| 2013 | Swept Away: Translucence, Transparence, Transcendence in Contemporary Encaustic, | The Cape Cod Museum of Art, Dennis, MA | Group |
| 2013 | Abstractions | Mark Gallery – Englewood, NJ | Group |
| 2013 | Lumenis, | Winfield Gallery – Carmel, CA | Solo |
| 2012 | Scissors, Paper, Glue: Bay Area Collage | Bryant Street Gallery, Palo Alto, CA | Group |
| 2012 | Action Abstraction | Mark Gallery, Englewood, NJ | Group |
| 2012 | Affordable Art Fair | Patricia Rovzar Gallery, Seattle Center – Seattle, WA | Group |
| 2012 | Untitled | Aqua Art Miami K. Imperial Fine Art – Miami, FL | Group |
| 2012 | Oblique Intention | Patricia Rovzar Gallery, Seattle and Bryant Street Gallery, Palo Alto | Solo |
| 2011 | Group Show | Gebert Gallery , Venice, CA | Group |
| 2011 | Perspectives in Balance | Anne Loucks Gallery, Glencoe, IL | Solo |
| 2010 | Group Show | Gebert Gallery , Venice, CA | Group |
| 2010 | Elements of Harmony | Mark Gallery , Englewood, NJ | Solo |
| 2010 | V essels | Bakersfield Museum of Art – Bakersfield, CA | Group |
| 2010 | Working with Wax: Contemporary Encaustic Painting in Northern California | Santa Rosa Junior College, Santa Rosa, CA | Group |
| 2010 | Anniversary Group Show | Gebert Gallery , Venice, CA | Group |
| 2010 | Spontaneous Meditations | Anne Loucks Gallery, Glencoe, IL | Group |
| 2010 | Between Gesture And Geometry | Gebert Gallery , Venice, CA | Solo |
| 2009 | Diverse Impressions: Bay Area Abstraction | Triton Museum of Art, Santa Clara, CA | Group |
| 2009 | 225°F: Encaustic Encounters | Turchin Center for the Visual Arts – Boone, NC | Group |
| 2009 | Mindful Inversions | Bryant Street Gallery, Palo Alto, CA | Group |
| 2009 | Patterns, Paradigms and Persuasions: Works by Six Contemporary Artists | Strohl Art Center, Chautauqua Institution, New York | Group |
| 2009 | Tracey Adams – Mindful Inversions: New Encaustic Paintings and Scrolls | Santa Cruz Museum of Art & History at the McPherson Center, Santa Cruz, CA | Solo |
| 2009 | 4th Annual Encaustic Invitational | Conrad Wilde Gallery, Tucson, AZ | Group |
| 2009 | Tracey Adams | Patricia Rovzar Gallery, Seattle, Seattle, WA | Solo |
| 2009 | New Encaustic Paintings | Patricia Rovzar Gallery, Seattle, WA | Group |
| 2009 | Synapse / Synapses | Monterey Peninsula College – Monterey, CA | Solo |
| 2009 | Group Show | Gebert Gallery , Venice, CA | Group |
| 2009 | Anniversary Group Show | Gebert Gallery , Venice, CA | Group |
| 2008 | Trans+lucent | Gebert Gallery , Venice, CA | Group |
| 2008 | Relative Geometries ll | Conrad Wilde Gallery, Tucson, AZ | Group |
| 2008 | New Encaustic Paintings | Julie Nester Gallery, Park City, UT | Group |
| 2002 | Tracey Adams Intervals: Gesture to Icon | Kathryn Markel Fine Arts, New York City, NY | Solo |