Troels Carlsen is a Danish artist who works in a wide range of media including collage, illustration and installation. Inspired by skateboarding culture, Carlsen discovered graffiti in the mid-eighties. Primarily focusing on skating, he didn't take his drawing seriously until his early twenties.
Troels Carlsen's Figurative Paintings
Inspired by the human condition, especially how art has captured human life over the last couple centuries, Copenhagen-based artist has developed a figurative, sublimely precise and intimately surreal style which often revolves around our historical and biological heritage. With an emphasis on paper works and installation, Carlsen is focused on human relation to the animal world. His multi-level pieces combine elements of landscape, science and portraiture, and are made in an almost poetic way.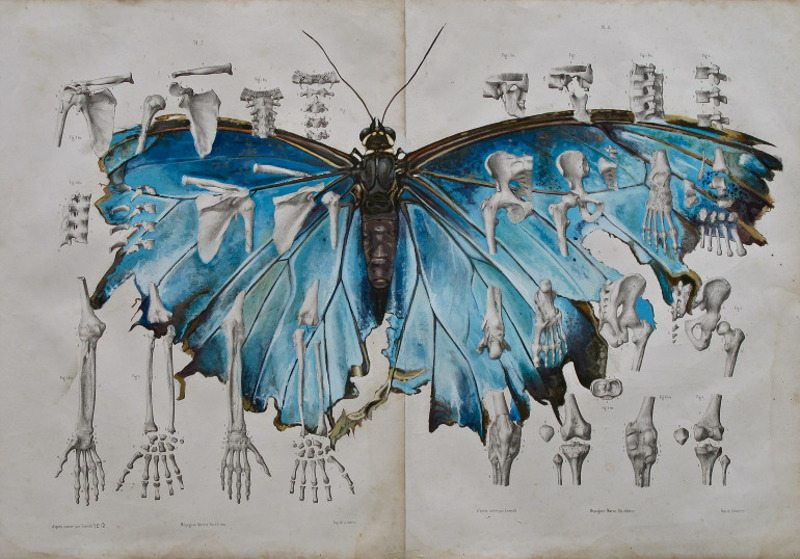 Carlsen's Paintings within Paintings
Starting with vintage anatomical charts, maps and antique book pages, Troels doesn't just cut them out and use as a collage, but rather utilizes them as a canvas on which he adds painted forms and figures building images. Looking as if one piece bursts out of the next, his works usually include images within images. Though he uses scientific illustrations, the artist adds his own imagery, attaching his painting as a window into a new world of unusual anthropological images.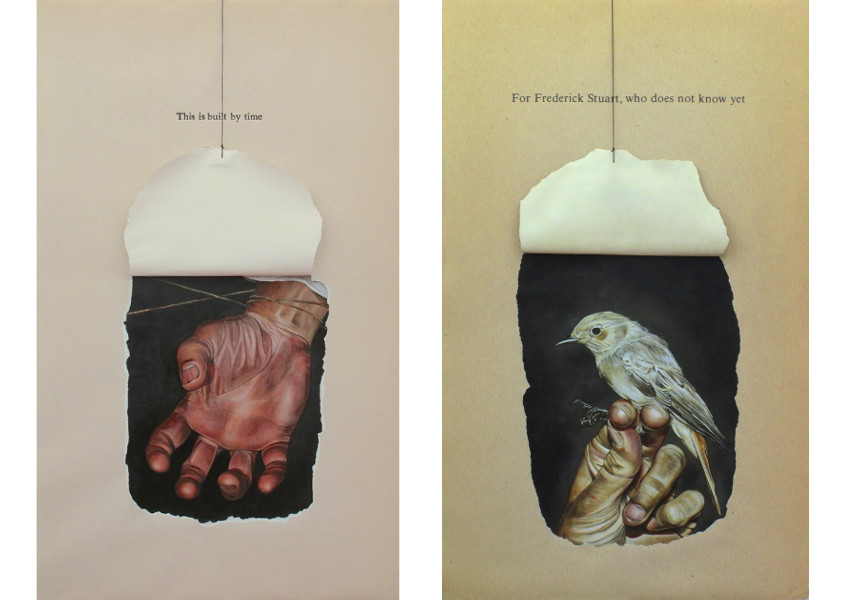 Sipping from the Mirrors
In 2012 Troels Carlsen presented his collection of lithographs at the V1 Gallery in Copenhagen. Entitled Sipping from the Mirrors, a series of 12 lithographs highlighted the skilful, unique detailing and distinctive style that Carlsen has perfected during his career. Juxtaposing monkey and man, the artist explores ideas of humanity, nature and duality, incorporating his early creative intrigue with a symbolical monkey figure, and exposing the fragility in the idea of a unified truth. Fascinated with monkeys, these creatures feature quite a lot in a range of Carlsen's oeuvre.
Another limited edition of these lithographs were originally shown at the VOLTASHOW art fair in Basel in 2010.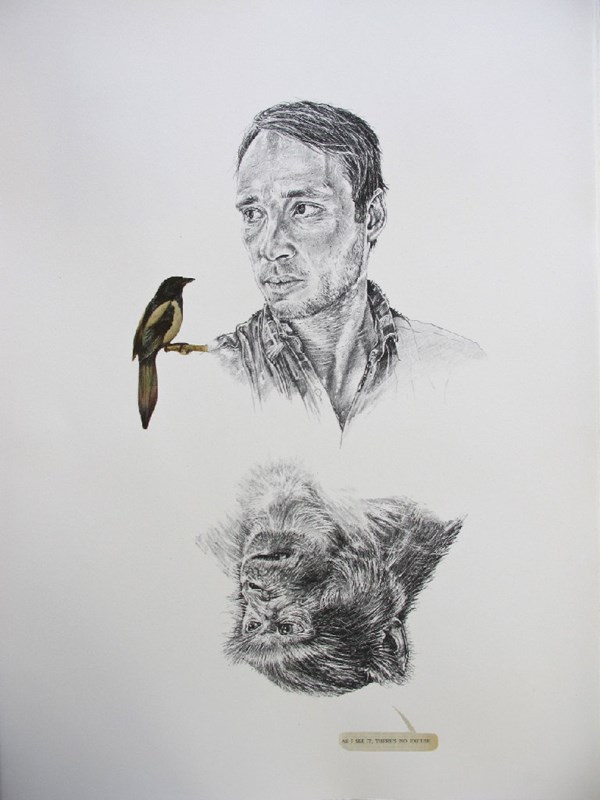 Insight & Illusion at the Museum Krydsfelt
In February 2015, Troels Carlsen held his first museum exhibition of retrospective character Insight & Illusion at the Museum Krydsfelt in Skive, Denmark. Presenting paintings, installations, collages and works on paper which has been made since the early 2000s, it was also Carlsen's first museum exhibition and the first major presentation in Western Denmark.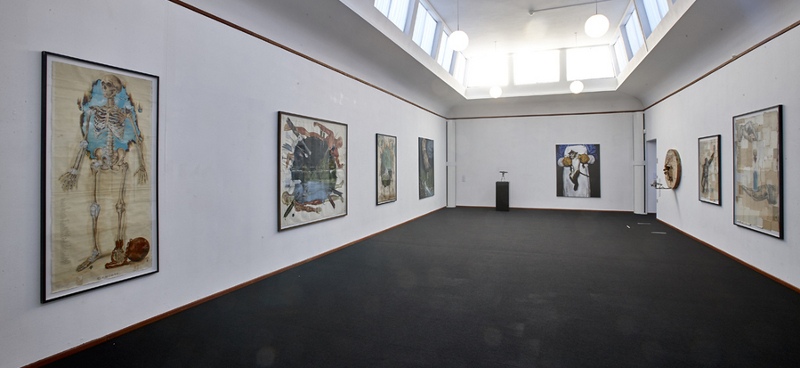 Represented by V1 Gallery in Copenhagen, Troels Carlsen has participated in many solo and group shows at galleries worldwide, including Galerie Jarmuschek+Partner, Berlin, Gallery Chips, Copenhagen, Galeria Valle Orti, Valencia, Y Gallery, New York, Torrance Art Museum, Los Angeles, and Guerrero Gallery, San Francisco.
Carlsen's work has been praised and collected around the world. In 2014, he has been shortlisted for the Carnegie Art Award 2014.
Troels Carlsen lives and works in Copenhagen, Denmark.
| Year | Exhibition Title | Museum/Gallery | Solo/Group |
| --- | --- | --- | --- |
| 2015 | The Remains of Disappearance | Foundation Aldega, Amelia, Italy | Solo |
| 2015 | Insight & Illusion ( Retrospective) | Museum Krydsfelt, Skive, Denmark | Solo |
| 2014 | The Ten Thousand Things | Y Gallery, New York, USA | Solo |
| 2014 | My Treasure - Art in private collections | Holstebro Museum of art, Holstebro, Denmark | Group |
| 2014 | Et Brask Spark, works from an art collection by art collector Jens Peter Brask | Munkeruphus Museum, Denmark | Group |
| 2014 | Paper | Munch Gallery, New York, USA | Group |
| 2014 | Django | Franz Pedersen Gallery, Horsens, Denmark | Group |
| 2014 | PARC | w. Y Gallery, Lima, Peru | Group |
| 2014 | Art Herning | w V1 Gallery, Herning, Denmark | Group |
| 2014 | VOLTASHOW | w V1 Gallery, Basel, Switzerland | Group |
| 2013 | Mute Appeal | V1 Gallery, Copenhagen, Denmark | Solo |
| 2013 | Summer Reading | The Hole, New York, USA | Group |
| 2013 | Chicken or Beef | The Hole, New York, USA | Group |
| 2013 | In Case We Don`t Die | The Torrance Art Museum, Los Angeles, USA | Group |
| 2013 | Nudes | Guerrero Gallery, San Fransisco, USA | Group |
| 2013 | Works of Paper | Davidson Contemporary, New York, USA | Group |
| 2013 | Kill Two Birds With One Stone | Charlotte Fogh Gallery, Aarhus, Denmark | Group |
| 2013 | ARCO | w. Galeria Valle Orti, Madrid, Spain | Group |
| 2013 | Art Herning | w V1 Gallery, Herning, Denmark | Group |
| 2012 | Sipping From the Mirror | V1 Gallery, Copenhagen, Denmark | Solo |
| 2012 | The Armory Show | V1 Gallery, New York, USA | Group |
| 2012 | ARCO | w. Galeria Valle Orti, Madrid, Spain | Group |
| 2012 | MACO | Galeria Valle Orti, Mexico | Group |
| 2012 | Art Cologne | V1 Gallery, Cologne, Germany | Group |
| 2012 | VOLTA SHOW | V1 Gallery, Basel, Switzerland | Group |
| 2012 | Art Copenhagen | V1 Gallery, Copenhagen, Denmark | Group |
| 2012 | Tonight we won`t be bored | V1 Gallery, Copenhagen, Denmark | Group |
| 2012 | Art Herning | w V1 Gallery, Herning, Denmark | Group |
| 2011 | My Life Has It | Galeria Valle Orti, Valencia, Spain | Solo |
| 2011 | Fate Takes a Hand | V1 Gallery, Copenhagen, Denmark | Solo |
| 2011 | Con Amore-Djurhuus Collection | AROS Museum, Denmark | Group |
| 2011 | A Paper Trail | De Warande, Turnhout, Beligium | Group |
| 2011 | VOLTASHOW | V1 Gallery, Basel, Switzerland | Group |
| 2011 | Art Copenhagen | V1 Gallery, Copenhagen, Denmark | Group |
| 2011 | Volta | V1 Gallery, Basel, Switzerland | Group |
| 2011 | Art Amsterdam | Galerie Jarmuschek+Partner, Berlin, Germany | Group |
| 2011 | MACO | Galeria Valle Orti, Mexico | Group |
| 2011 | ArtBrussels | V1 Gallery, Copenhagen, Belgium | Group |
| 2011 | OneShot | Kulturhuset, Ikast. Denmark | Group |
| 2011 | Whats He Building In There | Fuse Gallery, New York, USA | Group |
| 2011 | Status - Somewhere Between Position and Condition | V1 Gallery, Copenhagen, Denmark | Group |
| 2011 | ARCO | w. Galeria Valle Orti, Madrid, Spain | Group |
| 2010 | Man You All | Galerie Jarmuschek+Partner, Berlin, Germany | Solo |
| 2010 | Preview Berlin | Galerie Jarmuschek+Partner, Berlin, Germany | Group |
| 2010 | Art Copenhagen | V1 Gallery, Copenhagen, Denmark | Group |
| 2010 | MACO | w. Galeria Valle Orti, Mexico City, Mexico | Group |
| 2010 | VOLTASHOW, Officially Selected Artist Edition | V1 Gallery, Basel | Group |
| 2010 | Paper Moon | Voges Gallery, Frankfurt, Germany | Group |
| 2010 | OneShot | Allmanna Galleriet 925, Stockholm, Sweden | Group |
| 2010 | The Mentor Show | Group Larm Gallery, Copenhagen, Denmark | Group |
| 2010 | ARCO | w. Galeria Valle Orti, Madrid, Spain | Group |
| 2009 | Volta NY | V1 Gallery, New York, USA | Solo |
| 2009 | OneShot | Werkstette Group, Copenhagen, Denmark | Group |
| 2009 | Art Copenhagen | Copenhagen, Denmark | Group |
| 2009 | Edition Copenhagen Retrospektiv 1959-2009 | Den Frie Udstillingsbygning, Copenhagen, Denmark | Group |
| 2009 | ARCO | Galeria Valle Orti, Madrid, Spain | Group |
| 2009 | ArtBrussels | V1 Gallery, Brussels, Belgium | Group |
| 2009 | VOLTASHOW | V1 Gallery, Basel, Switzerland | Group |
| 2008 | At Most Sphere | V1 Gallery, Copenhagen, Denmark | Solo |
| 2008 | Destruction of Atlantis | Union Gallery, London, UK | Group |
| 2008 | Art Copenhagen | V1 Gallery booth, Copenhagen, Denmark | Group |
| 2008 | ZOO Art Fair | V1 Gallery booth, London, UK | Group |
| 2008 | VOLTA SHOW | V1 Gallery booth, Basel, Switzerland | Group |
| 2007 | What Can a Desert Island Do? | Seventeen Gallery, London, UK | Group |
| 2007 | Mad Love - Young Art in Danish Private Collections | ARKEN Museum of Modern Art, Ishoj, Copenhagen, Denmark | Group |
| 2007 | Spitting Image | V1 Gallery, Copenhagen, Denmark | Group |
| 2007 | ZOO Art Fair | V1 Gallery booth, London, UK | Group |
| 2007 | Preview Berlin | V1 Gallery booth, Berlin, Germany | Group |
| 2007 | Art Copenhagen | V1 Gallery booth, Copenhagen, Denmark | Group |
| 2007 | VOLTA SHOW | V1 Gallery booth, Basel, Switzerland | Group |
| 2007 | Paper Trails - New Adventures in Drawing | V1 Gallery, Copenhagen, Denmark | Group |
| 2006 | Ape Savant | V1 Gallery, Copenhagen, Denmark | Solo |
| 2006 | The Gift | Beaver Project, Copenhagen, Denmark | Group |
| 2006 | There is a U in Us | V1 Gallery, Copenhagen, Denmark | Group |
| 2006 | EXPORTABLE GOODS | Gallery Krinzinger Projekte, Vienna, Austria | Group |
| 2006 | Preview Berlin | V1 Gallery booth, Berlin, Germany | Group |
| 2006 | Art Copenhagen | V1 Gallery booth, Copenhagen, Denmark | Group |
| 2006 | Stay Inn | w. V1 Gallery, Copenhagen, Denmark | Group |
| 2006 | DUNK. i DURUP | Durup, Denmark | Group |
| 2006 | Wish You Were Here 5 | Gallery A.I.R., New York, USA | Group |
| 2006 | The End, My Friend | Spielhaus Morrison Galerie, Berlin, Germany | Group |
| 2006 | 3D WONDERS | DUNK., Copenhagen, Denmark | Group |
| 2005 | Lithographies | Edition Copenhagen, Copenhagen, Denmark | Group |
| 2005 | Art Copenhagen | V1 Gallery booth, Copenhagen, Denmark | Group |
| 2005 | DNA | Gallery Edition Copenhagen, Copenhagen, Denmark | Group |
| 2005 | Wish You Were Here 2 | A.I.R. Gallery, New York, USA | Group |
| 2005 | Framed | V1 Gallery / Turbinen, Copenhagen, Denmark | Group |
| 2005 | Psionic Distortion #2 | Plum Blossoms Gallery, New York, USA | Group |
| 2004 | Psionic Distortion | Gallery Super Deluxe, Tokyo, Japan | Group |
| 2004 | Dagen Efter #2 (The Day After #2) | The Danish Radiohouse P2 Kunstmagasinet, Copenhagen, Denmark | Group |
| 2004 | Art Copenhagen | V1 Gallery booth, Copenhagen, Denmark | Group |
| 2004 | Summer Sucks - Art Rocks | V1 Gallery, Copenhagen, Denmark | Group |
| 2004 | Wish You Were Here | Gallery A.I.R., New York, USA | Group |
| 2003 | So Why So Sad | Gallery Chips, Copenhagen, Denmark | Solo |
| 2003 | Unknown | Revolver Gallery, Copenhagen, Denmark | Group |
| 2002 | Troels Carlsen | Revolver Gallery, Copenhagen, Denmark | Solo |
| 2002 | Faces of King Alcohol | Rundetaarn, Copenhagen, Denmark | Group |
| 2001 | REMIX en Scene | U. Dybolsbro, Copenhagen, Denmark | Group |
| 1998 | TUBE | Kunsthallen Nicolaj (Copenhagen Contemporary Art Center), Copenhagen, Denmark | Group |
| 1996 | Recy | Gallerie B, Montpellier, France | Group |