Viky Garcia is a Spanish photographer and visual artist, born in 1980 in Santiago de Compostela, Spain.
When Theater Meets Photography
As a versatile artist interested in photography, performance and theater, Viky Garcia's education includes studies in Photography at IDEP and Gris Art in Barcelona, the certificate in General Photographic Studies at the International Center of Photography in New York, and a MA in Art Therapy and Human Development at ISPA, in Barcelona. In addition, Viky Garcia was a part of the experimental theater in the Lab School of Dramatic Body Expression, in a class directed by Jessica Walker. In 2010, she received her Postgraduate education in Sensory Language and Poetics of the Game at the Theatre Company Teatro de Los Sentidos.
Viky Garcia's education allowed her to experience different work environments. For a period of three years, Viky worked as a photojournalist for El Correo Gallego and Galicia Hoxe newspapers, based in her hometown. As an art therapist, Garcia worked and helped people with cerebral palsy to express themselves through art, and created individual methodologies for communicating with patients with extreme handicaps. Also, she was active in projects created to help the elderly by poetry readings, photo collages, and finger painting.
Viky Garcia now primary works as a freelance and fine art photographer. Her art has been featured in festivals, and also exhibited internationally in group and solo shows. Atmosphere and aesthetics of her photography is greatly influenced by her previous theatrical experiences.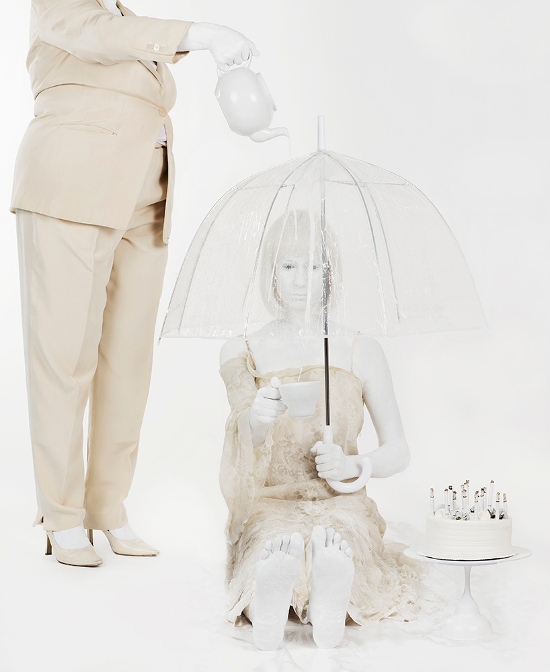 Mothers Milk Project
Created as an investigation of mother – daughter relationship, Mothers Milk project represents Viky Garcia's most successful photo series by now. Highly symbolical, surreal and theatrical, the project tells a story of process of motherhood and all the complications that comes with it. Arising from the fusion of experiences, memories, ambitions, and fears, Mothers Milk project is very personal for the artist. In monochromatic tableaux, using herself and her mother as models, Garcia constructed narratives that address psychological conflict.
The creative process behind Mothers Milk had several stages. At first, Viky Garcia spent months collecting vintage furniture and different everyday objects off the streets of New York and thrift shops. The sessions were laborious and complicated. As a portrayed subject, Viky had to prepare the scenery of each photograph, and get into the shot with a remote control. The series was made in a collaboration with a body painter, who painted their bodies and all of the scenery in white.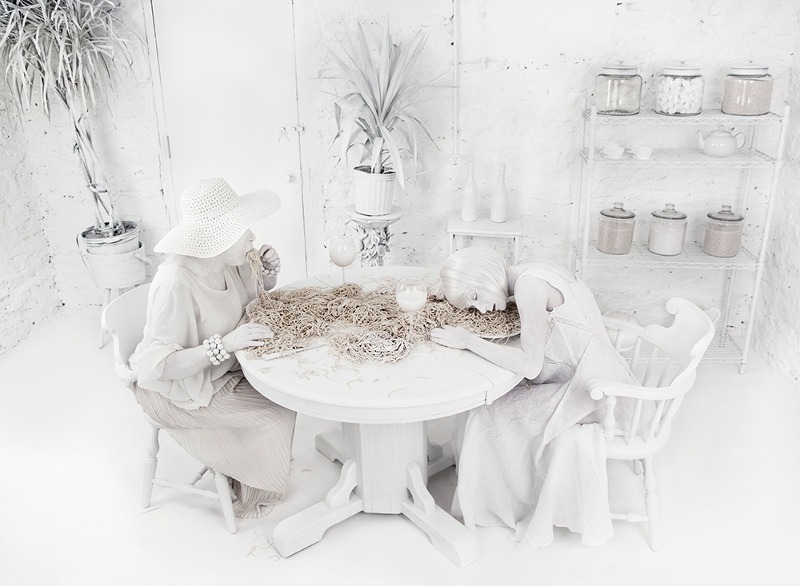 Photographs from the Mothers Milk project were exhibited at Viky Garcia's first solo show at the Subject Gallery in New York. This one-day event also included multiple performances by the artist. With the performances Garcia wanted to recreate the universe she has been inside in each shot, in order for viewers to experience everything that lies behind the photographs.
Viky Garcia is currently based in Brooklyn, New York.