Post-race, post-black, and post-apartheid, as well as being synonymous with imagery that depicts jarring iconographies and a provocative usage of medium and technique are some of the terms used to describe the work of Vusi Beauchamp, a South African contemporary artist. Well known for his non-conformist visual style, for his political commentary and for the deeply satirical nature of his works, he's been creating pieces by means of painting, spray-painting, and stencils to comment on social issues and on the politicians and events that make up the social landscape of his homeland. In the recent years, he's been using silk screening in order to bring critical observation of people and circumstances closer to a media-based technique. Often controversial, the works are artistic versions of satirical journalism and social critique. However much the subject matter is grave and serious, humor remains an important ingredient in his work.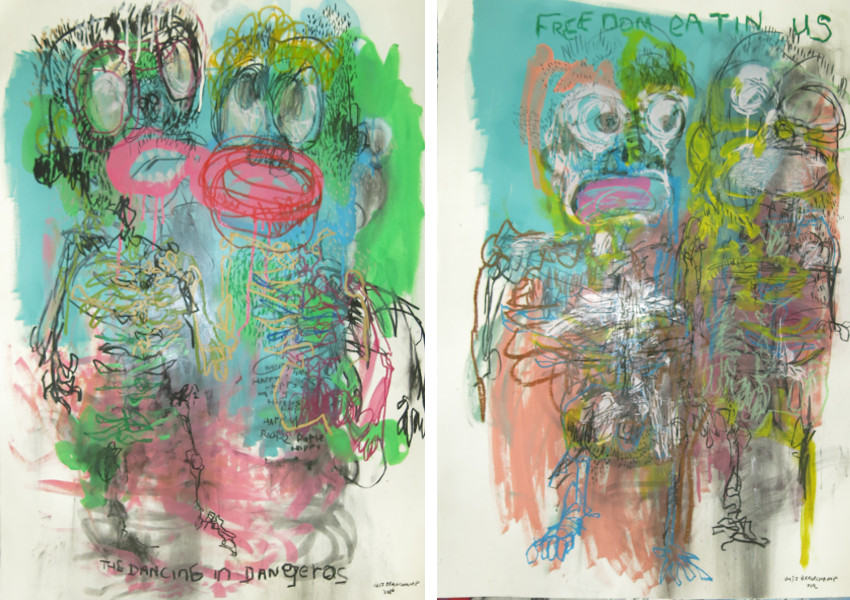 Vusi Beauchamp – Biography
Born and raised in Mamelodi Pretoria, Beauchamp, as an extremely observant child, quickly became aware of the socio-political situation, despite failing to comprehend it. One of his earliest memories includes white people who carried guns, as they were shooting in the streets. It was a scary feeling he's never felt before. Coming from a family of four kids, he was the eldest. From an early age, he showed interest in art. Since his parent's house didn't have any paintings on the walls, he would go to his grandmother, who had hanged paintings on the walls of her house. After seeing these, Beauchamp would go home and attempt to recreate them, using glue intended for shoes as a mean paste drawing on the wall. He eventually went on to study printmaking and painting at the Tshwane University of Technology and Graphic Design at Damelin and has since worked as an artist, art director, and multimedia designer.
He is a popular contemporary painter and master of stencil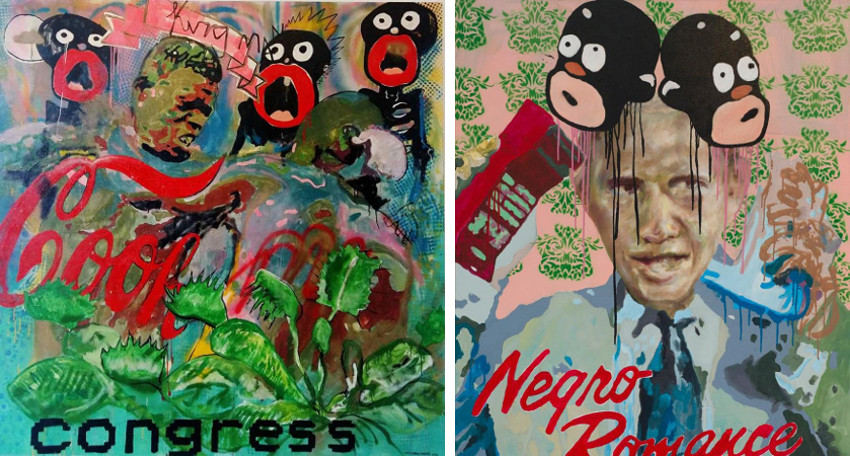 Latest Solo and Group Exhibitions
Beauchamp has been very active in terms of exhibiting his work. His participation in numerous group shows has been duly noted as he was making a name for himself. Some of the group exhibitions that the artist had been involved in: Goodman Gallery group show in 2014, Twenty: Art in the time of democracy, Pretoria Art museum in 2015, Protest at Cape Town art fair in 2016. His solo exhibitions include Woordfees, Stellenbosch (2016), Paradyse of the Damned, Pretoria art museum (2015), and Smoking Cheese, Obert Contemporary, Johannesburg (2009). Beauchamp's latest solo exhibition is entitled Terrorist and will be on display from October 6th until October 26th, at Kalashnikovv art space. In his latest exhibition, the artist aims to capture the duality of various ideologies that surround the history and politics of South Africa. The subtitle "One man's terrorist is another man's hero," describes how history and current times are perceived differently by opposing factions and how history has always been written by those that hold power, however temporary that power may be.
He is represented by Kalashnikovv Gallery.
Vusi Beauchamp lives and works in Johannesburg.
Featured image: Vusi Beauchamp – Take Us for a Ride (detail)
All images courtesy of Kalashnikovv Gallery