Waldemar Kolbusz approaches his canvas and, without any preliminary idea, paints from the depth of his perception. His moves are strict, his colors are vivid, and his brush strokes are unscrupulously sharp. His abstract art evokes different feelings in every viewer. That is also his original intention – to be able to express himself and to portray what is out there, and if by doing that he finds the comparable recognition, even better. Born in Perth, Western Australia, this artist went on the road to truly find himself. While visiting Tokyo, Europe and traveling through America, he realized he needed to make painting more than his hobby – it became his real profession. This transition was done gracefully and his work is now praised worldwide.
From Finance to Painting
He started Visual Arts Studies and then transferred to Finance. Kolbusz completed a Bachelor of Commerce and worked in accounting for years. While working he caught himself gazing at the sky, looking at the ocean, feeling fascinated by the landscape around him. He then decided to quit his job and start a new career. He started painting in 1996, and in 1997 his most celebrated series, called Freeway, had begun. There is a special story behind this amazing set. He began his journey through the USA at Las Vegas, leaving artificial lights, plastic, kitsch and pleasures of short life span, behind him. Waldemar then continued to travel through deserts of Arizona and Nevada. There, he was smitten by the beautiful nature around him. He knew he had to leave accounting and start painting full time.
Waldemar uses sharp edges and hard visible lines and combines them with gorgeous colors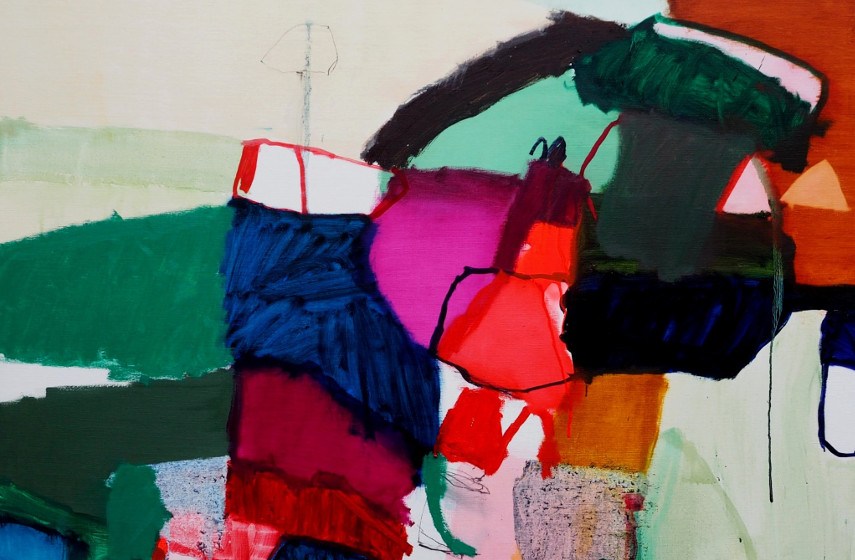 Made of Color
His paintings are made of heart and color. Waldemar Kolbusz always addresses his work from a double perspective. He is the artist and the audience, the viewer of art, the one who has to be touched by the painting. That is why he sometimes catches himself staring at the paintings, feeling deeply affected by his work, by the choice of colors, or the brush technique he used, or maybe feeling something entirely new. A mix of positive energy and stabilizing feeling of content are being transmitted from his abstract paintings. Waldemar uses sharp edges and hard visible lines and combines them with gorgeous colors and balancing texture. There is no hidden meaning behind his paintings. There is just a history of sentiment. This art is not be analyzed, it is to be enjoyed.
Waldemar uses sharp edges and combines them with gorgeous colors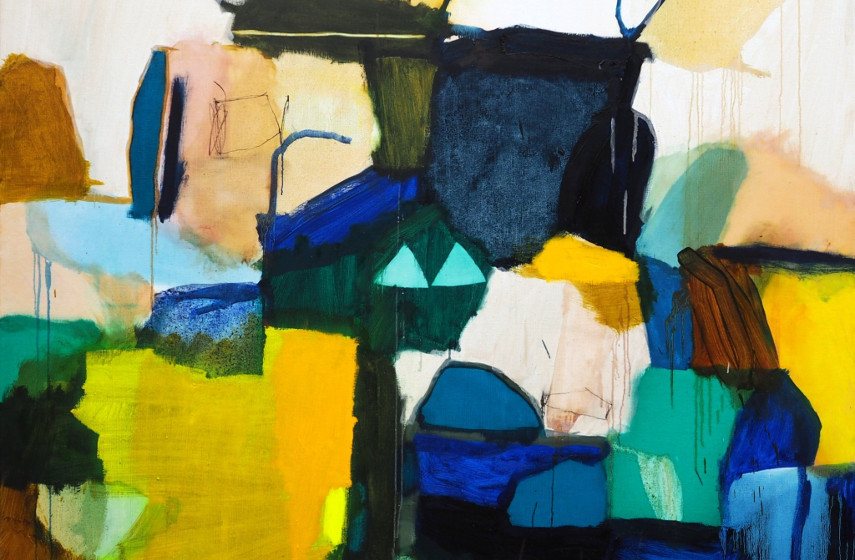 Disclaiming One Hit Wonders
Expressionist paintings do not offer one-time enjoyment. They continue to amaze and submit reiterated effect. This is the case with Kolbusz abstract art. He starts with simple moves, then he adds color and leaves a painting as it is. When he comes back to it he continues to paint under the influence of the emotion he felt after just looking at those few brush strokes. This how a live painting is created, the one that can make a powerful impact on the audience. The paintings Waldemar make cannot be subsumed under a strict concept. They need to be given freedom to live, released from all definitions. While receiving critical acclaim worldwide, Kolbusz never got off his Freeway. He stays engaged in this metaphorical journey because he has a lot more to offer. The game of color and texture never ends.
The artist is represented by The Cat Street Gallery.
Waldemar Kolbusz lives and works in Perth, Australia.
All images © Waldemar Kolbusz
| Year | Exhibition Title | Gallery/Museum | Solo/Group |
| --- | --- | --- | --- |
| 2016 | Waldemar Kolbusz | Richard Martin Art, Sydney | Solo |
| 2016 | Waldemar Kolbusz | Melbourne Art Fair with FLG, Melbourne | Group |
| 2016 | Waldemar Kolbusz | Richard Martin Art, Sydney | Solo |
| 2016 | Waldemar Kolbusz | Aptos Cruz Galleries, Adelaide | Solo |
| 2015 | Waldemar Kolbusz | The Cat Street Gallery, HONG KONG | Solo |
| 2015 | Waldemar Kolbusz | Flinders Lane Gallery, Melbourne | Solo |
| 2015 | Waldemar Kolbusz | Richard Martin Art, Sydney | Solo |
| 2014 | Waldemar Kolbusz | The Cat Street Gallery, HONG KONG | Group |
| 2014 | Waldemar Kolbusz | Flinders Lane Gallery, Melbourne | Solo |
| 2014 | Waldemar Kolbusz | Melbourne Art Fair with FLG, Melbourne | Group |
| 2014 | Waldemar Kolbusz | Richard Martin Art, Sydney | Solo |
| 2014 | Waldemar Kolbusz | Aptos Cruz Galleries, Adelaide | Solo |
| 2013 | Waldemar Kolbusz | The Cat Street Gallery, HONG KONG | Group |
| 2013 | Waldemar Kolbusz | Richard Martin Art, Sydney | Solo |
| 2012 | Waldemar Kolbusz | Greenhill Gallery, Perth | Solo |
| 2011 | Waldemar Kolbusz | Richard Martin Art, Sydney | Solo |
| 2011 | Waldemar Kolbusz | Aptos Cruz Galleries, Adelaide | Solo |
| 2011 | Waldemar Kolbusz | Anthea Polson Art, Gold Coast | Solo |
| 2010 | Waldemar Kolbusz | Richard Martin Art, Sydney | Solo |
| 2010 | Waldemar Kolbusz | Axia Modern Art, Melbourne | Solo |
| 2009 | Waldemar Kolbusz | Axia Modern Art, Melbourne | Solo |
| 2009 | Waldemar Kolbusz | Libby Edwards Galleries, Brisbane | Solo |
| 2008 | Waldemar Kolbusz | Richard Martin Art, Sydney | Solo |
| 2008 | Waldemar Kolbusz | Axia Modern Art, Melbourne | Solo |
| 2007 | Waldemar Kolbusz | Mausell Wickes at Barry Stern Galleries, Sydney | Solo |
| 2006 | Waldemar Kolbusz from 2006 to 2014 | Gunyulgup Galleries, Margaret River | Solo |
| 2006 | Waldemar Kolbusz | Barry Stern Galleries, Sydney | Solo |
| 2006 | Waldemar Kolbusz | Mahoneys Galleries, Melbourne | Solo |
| 2005 | Waldemar Kolbusz | Barry Stern Galleries, Sydney | Solo |
| 2005 | Waldemar Kolbusz | Amelia Johnson Contemporary, Hong Kong | Group |
| 2004 | Waldemar Kolbusz | Gunyulgup Galleries, Margaret River | Solo |
| 2003 | Waldemar Kolbusz | Gunyulgup Galleries, Margaret River | Solo |
| 2003 | Waldemar Kolbusz | Libby Edwards Galleries, Sydney | Solo |
| 2003 | Waldemar Kolbusz | Libby Edwards Galleries, Melbourne | Solo |
| 2003 | Waldemar Kolbusz | Agora Galley, New York | Group |
| 2002 | Waldemar Kolbusz | Libby Edwards Galleries, Sydney | Solo |
| 2002 | Waldemar Kolbusz | Libby Edwards Galleries, Melbourne | Solo |
| 2001 | Waldemar Kolbusz | Gunyulgup Galleries, Margaret River | Solo |
| 2001 | Waldemar Kolbusz | Indigo Arts - Momentous Arts, Singapore | Solo |
| 2000 | Waldemar Kolbusz | Warren de Maria Gallery, Sydney | Solo |
| 1999 | Waldemar Kolbusz | Warren de Maria Gallery, Sydney | Solo |
| 1999 | Waldemar Kolbusz from 1999 to 2006 | Pearlers Row Galleries, Broome | Solo |
| 1998 | Waldemar Kolbusz | Code Red Art, Perth | Solo |
| 1997 | Waldemar Kolbusz | Gadfly Gallery, Perth | Solo |
| 1996 | Waldemar Kolbusz | Gadfly Gallery, Perth | Solo |