Warren J Fox is an Australian artist, who crafts photo-realistic illustrations, based on detailed photography. His eye lends itself to capturing his own photography, but he's best known for his Two Originals. This concept creates an original photo-realistic drawing from an identical print, and overlays both to rip both in half. Tearing both illustration and photograph combines one half of each to create brand new artworks. By blending two separate mediums (illustration and photography prints) into one, he crosses the boundaries of traditionally conceived art fields. Why rip up an original? It hasn't been done like this. Transformation happens by ripping the originals in half. When you let go of what you believe, and rip it, a new creation emerges.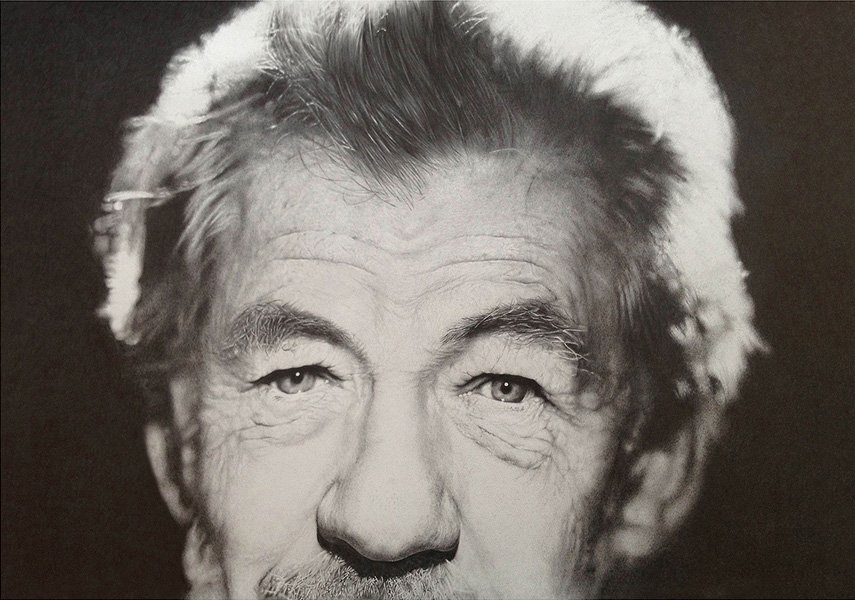 Jazz and Street Art Influences on Warren J Fox's Body of Work
Hyper-realist artist Warren J Fox was born in Australia as a descendant of a UK-born father and a Sri-Lankan mother. He was attracted to drawing early on in his life and has continued to develop his talent during his school years before life lead him to the world of advertising. He spent over 20 years in the realm of graphic design, branding and print media before he picked up ink and a pencil and returned to his true love – drawing. His culturally diverse background is one of the many influences that formed the style of the hyper-realist alongside Jazz music and the exciting world of street art. He is particularly influenced by the likes of Sofles, Aryz, Etam Cru, Belin, Smug, Nychos whose art inspired the Australian to continue to develop his art by pushing the boundaries further and further. Recently the artist was inspired by the comprehensive world of social media that exposed him to numerous interesting and fresh types of illustrations.
YouTube Video of The Owl an Artwork by Warren J Fox
Two Original – Pushing the Boundaries of Traditional Art
Warren J Fox first drew the attention to himself in 2008 with his photo-realistic drawings of famous Jazz figures based on the photographs by Herman Leonard. Love and magic evident in these photographs captured Warren J Fox's attention immediately and inspired him to give new life to these artistic images. These pieces marked with exceptional detail and depth came as an embodiment of the artist's profound love toward the music genre that pulled him out of reality and into a place of exploring details. This and other portraits were pitched to BAFTA and suggested for the new collection that should be showcased on the walls in Piccadilly. After his attempt to exhibit his art at Piccadilly was overthrown by photography the artist has begun to explore the possibilities of merging the two arts to one. That's how the first two original piece was born. Warren J Fox collaborated with German photographer Martin Schoeller on a large pointillism illustration of Jay Z. Warren J Fox created a photo-realistic drawing of the picture and then combined the two artworks together by overlaying one with another and ripping it in half. Since then he continued to create "two original" artworks a drawing and a print and merge them to create the depth of content. Upon creation of both the artist usually places the original drawing over the archival print of the same artwork and tear it up to create something that can be described as half photo- half illustration. By tearing and merging prints and drawings upon their completion the artist is exploring the concept of what it means to finish the artwork. After his drawings and prints are seemingly finished and signed, a shock arrives embodied in the act of their tearing and recomposing.
Warren J Fox collaborated with photographer Martin Schoeller on a portrait of Jay Z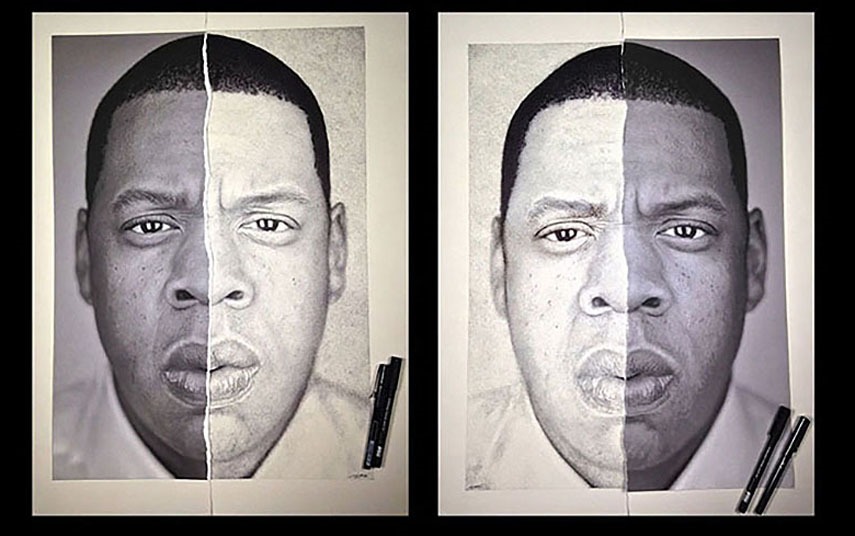 Nature as an Inspiration for Hyper-realistic Drawings
After his journey from the English capital of London to his home country of Australia, the artist continued to create his original works in collaboration with Australian photographer Gary Heery. The main themes of the artworks shifted however, as the artist turned to portraying birds and other animals rather than human faces. Subsequently two hyper-realistic art series were born entitled BIRD and ZOO. Recently the artist is opening up an additional dimension in his work adding color and experimenting with mix media artworks. This will undoubtedly result in another chapter in the artist's work that was till now marked with an intricate play of black and white. His future works will consist of merging his craft with free flowing paint applied on large canvasses.
Warren J Fox lives and works in Australia.
Featured image : Warren J Fox – Portrait
Images courtesy of the artist