William Monk is a British artist best known for his riddled imagery, kinked with shifts in perspective and pitted with bizarre objects.
William Monk: Royal Award for Painting and Jerwood Painting Prize
Monk was born in Kingston upon Thames, UK. He graduated in Fine Art at Kingston University in 2000. His further schooling included two years he spent at the residency De Ateliers, in Amsterdam, where he won the 2005 Royal Award for Painting, which resulted in widespread, ongoing institutional recognition in Northern Europe. Also, in 2009 he was a recipient of the Jerwood Painting Prize in the United Kingdom. This award was followed by a yearlong national touring exhibition.
Soon, London "hip" Grimm Gallery started to represent him and his ouevre just kept growing. Monk then moved to Paris, from where he was selling his big paintings to collectors who already owned artworks by major artists such as Gerhard Richter. Recently, Monk has moved back to Britain.
"Painting is a slow medium. Slow to make and slow to release and reveal forms and meanings. Although I use and manipulate imagery, it is with the desire to replace momentary certainty with something more physical and with a slower burn. How important the originating models are to the finished work is perhaps less interesting than what is left. Having a statement of intent can only offer false security and I like ambiguity". William Monk
Digital Reality VS Traditional Painting
William Monk creates his art by combining the information he hears or reads with existing images in newspapers, magazines and digital media. Monk's work has no recurrent theme apart from the integration of our digital reality into traditional painting. The combination of organic forms and the emphasis on masterful paintwork proves it. His acute interest lays in both the way painting is experienced and the ways in which he as an artist can guide those experiences. William Monk's paintings are densely physical: they are actually anti-conceptual explorations where figuration and abstraction play together, morphing in and out of one another. In the same time, they are engaged equally with image and paint so that Monk's paintings can remain true to both.
"Digital images are becoming the de-facto way we perceive and process the world, with surface and superficial virtuosity defining momentary meaning. This creates a problem. How to ensure that painting is experienced as a very different form of engagement, and framing as more than the inferred edges of an iMac screen? Although I have taken from the digital world, it is to confront this imagery with physical, organic paintings. Both image and materiality are explored to a point where the final object becomes painting that expresses its origin as much as its conclusion."
William Monk has incorporated, over the past few years, a wide range of images – starting from aerial views, even concrete structures and mysterious scenes set against contrasting backgrounds such as an industrial zone or a glade… In most cases, the motif is an excuse more that it is a goal itself – it allows an increased awareness of the painterly material and the process whereby it was applied on the canvas.
"Rather than have a human presence in the work in a traditional narrative sense, I want the viewer to be aware of their own presence in front of the object. I feel to include the human form would act as a barrier to that. "
A first milestone of William's work is a game he used to play with his brother:
"One would do a doodle; the other would make something else out of it. This is how I make my paintings: putting paint down and then finding something. I camouflage the content of my paintings. I want to be cryptic."
Furthur Planetarium!
In 2013, Monk held a solo exhibition titled Furthur Planetarium! at Grimm Gallery, London. He presented a selection of large oil paintings but also a work in woodcuts and watercolors. The word 'furthur', is misspelled on purpose, and it is inspired by bus that Ken Kesey, an American author, best known for his novel One Flew Over the Cuckoo's Nest (1962), took across America during the early 1960's. As always, the principal interest of Monk's painting at this show lies in between the physical presence of the painting and the viewer's experience.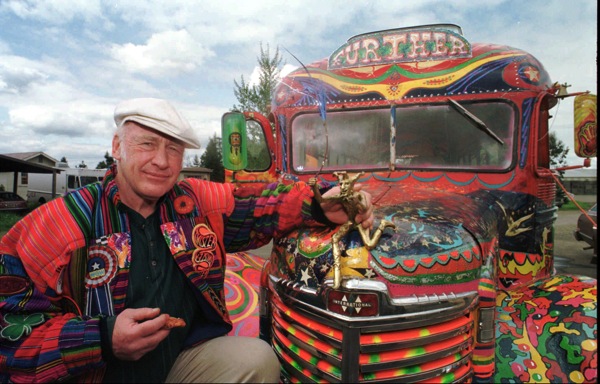 The painting Furthur Planetarium! presents the viewer with an ambiguous perspective of Earth, the Universe and its repeating shapes, patterns and fractals that appear throughout our world and beyond.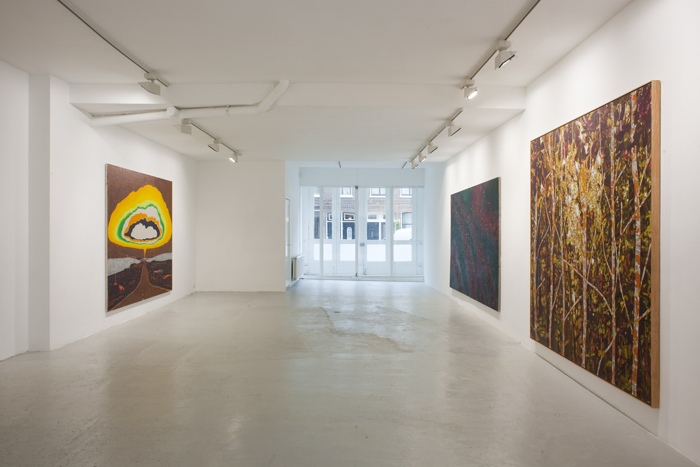 The Cloud is Growing in the Trees
In 2015, Kohn Gallery in Los Angeles, US presented William Monk's first exhibition in California: The Cloud is Growing in the Trees. This exhibition could be considered as the culmination of Monk's work over the last few years. While examining the relationship between the object and spectator, William Monk has created different universes within his paintings.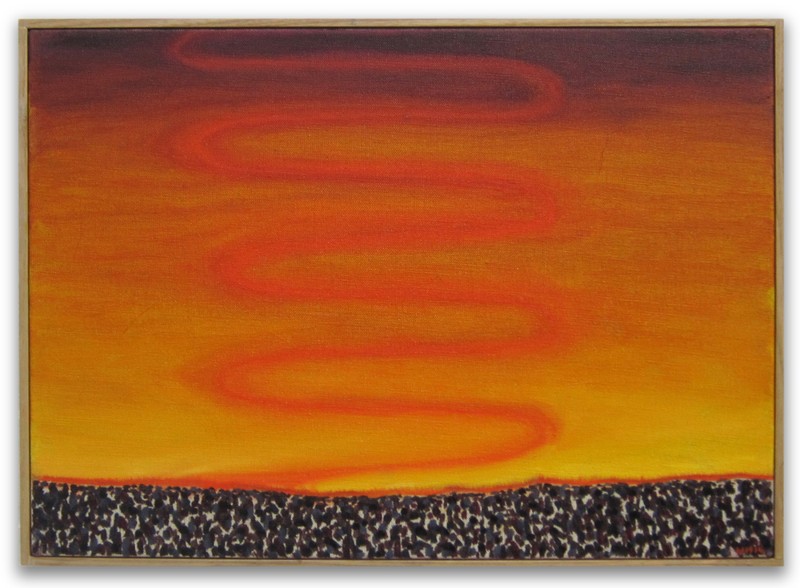 Monk's unique relationship to his artworks took him to enigmatic subject matter such as forests, galaxies, and the open road. The Cloud is Growing in the Trees underscores this mysterious, almost psychedelic relationship that invites the viewer in as an active participant.
A sense of repetition presented in the works exhibited in LA, created visual mantras in which the human scale of the work increases this subtlety rather than amplifying the model. With a mysterious atmosphere and energy, William Monk's paintings are creating an initiative for a more direct physical connection, drawing in the space between our inner and outer realms of experience – it is almost a psychedelic relationship that invites the viewer in as an active participant.
Monk's work is included in the collection of the Gemeentemuseum Den haag and in the Fries Museum, leeuwarden and was most recently included in the tom Morton curated group show Recent British Painting.
William Monk lives and works in London.