Figuration is a style known for being able to capture the form of its subjects. And yet, what often lacks from the works is the very essence of those subjects. Xanda McCagg is an American classically trained painter, who once painted influenced and inspired by the figurative. However, upon finding herself in search of evoking the essence of humans, she abandoned that style and turned to abstraction. Given a closer look, her paintings give hints and show traces of her traditional figurative training from 30 years ago. McCagg's decision to paint expressionistically came after years of classical study, and this shift came not from a flat-out rejection of those modes of working but rather from a "strong curiosity" to push herself further and to explore the full potential of the medium. In the abstract, she found a way to break free from the strict techniques that, while invaluable to a deeper understanding of the origins of painting, limited her ability to fully realize her vision.
Technique
She works in oil, graphite, and collage on canvas and paper. As mentioned above, despite beginning as a figurative painter, she abandoned the figure in searching for more intimacy in portraying what she considers as the essence of humans. Nonetheless, her work remains well informed and influenced by formal elements such as space, which provide an underlying vocabulary for her compositions. The focus on composition is evident when she works in a square format. For instance, in the painting Tear (2015), as soon as she made the red mark across the canvass, she was forced to suddenly rethink the space – creating a new space that she had not been working with. This spontaneity and response to each new mark is at the core of her working process and reflects her ideas about the interaction between people. In Blue White Line (2014), McCagg simplified the composition by playing with layering to create a space that invites the viewer to continue making their own connections and articulations. The experience then goes beyond the painting.
She works in oil, graphite, and collage on canvas and paper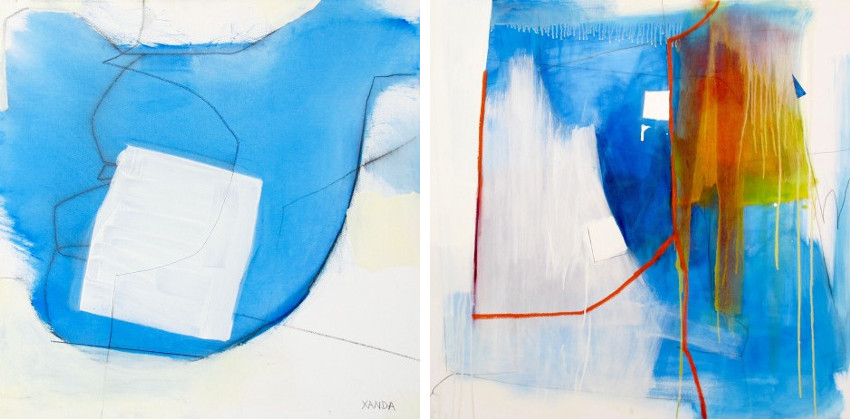 Freedom, Evolution, and Inspirations
Aside from acquiring more intimate portrayals of human essence, what drawn McCagg to abstraction was its endless freedom. Each person can move from what is presented to other ideas or references within the individuals' feelings at the moment or deeper within one's life experience. The exploration of the small and large ways relations can 'shift' is integral to her process. She articulates these subtle evolutions through the expressive layering of thin and impasto color, and delicate and rough-hewn lines. Rather than planning precisely where her composition will lead her, she intuits throughout her process the minimum amount needed to manifest the essence of what she calls "the fine line between perception and imagination of these relationships." McCagg finds inspiration in human experience, in particular the behaviors that arise from, and correlate to relationships between people. Larger systems usually emerge out of those relationships and often serve as an inspiration on some other level. In her own words: "As an artist, I am observing and commenting on the human condition on both a global and an intimate level." Cultural issues like poverty, government, religion and war, cultural phenomena like mythology, and dichotomies such as strength and weakness often manifest in her work on an intimate scale.
Abstraction offers endless freedom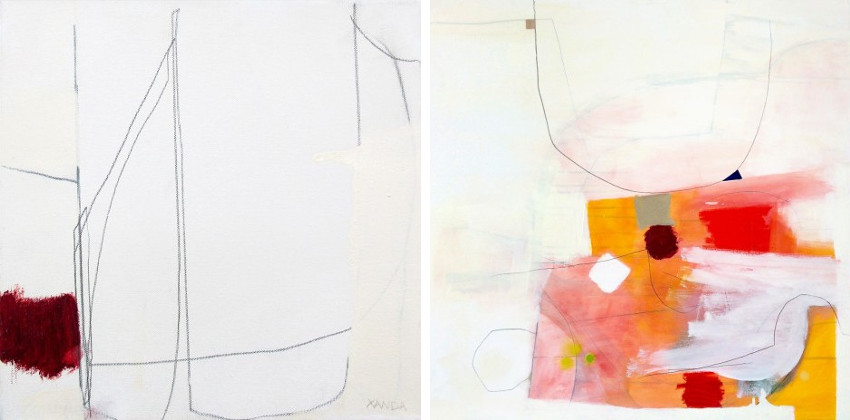 Xanda McCagg – Education and Personal Life
The painter attended Boston University, where she earned her BFA in 1986. She has also studied at the New York Studio School and the Haystack Mountain School in Deer Isle, ME, and taught at the New School in New York and at the Bronx Museum. Aside from artistic endeavors, McCagg is quite busy with her Art Introductions – an institution that offers things like gallery tours with a social twist. It is ideal for those who are seeking a new and dynamic social venue with a cultural spin. Also, McCagg's skills as an artist were amplified to the extent when she created this alluring social activity designed to introduce people to the arts.
She is represented by IdeelArt.
Xanda McCagg lives and works in New York.
Featured image: Xanda McCagg in her studio – image via canserratart.com
All other images courtesy of IdeelArt