The ongoing fascination with natural phenomenon seems to determine the art of Yellena James as an environmentally charged practice. Namely, her works are devoted to the strange beauty of hidden worlds behind ecosystems. The artist is dealing with imaginary natural constellations and pushes the boundaries of her fancy by introducing new forms. As a matter of fact, James attempts to create a hauntingly exotic place without spatial or time coordinates, sort of utopia in which tranquility and different kind of order dominate.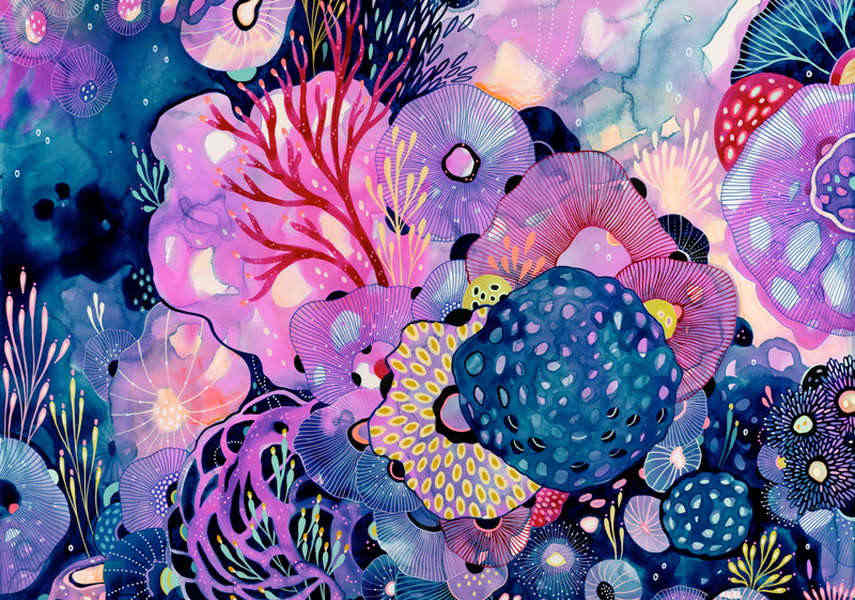 The Artistic Development
Yellena James was born in 1977 in Sarajevo. She grew up and attended art school in that city and at the age of 18 she moved to the U.S. Shortly after gaining her BA in painting and graphic design at UCF, she eventually made her way to Portland, OR. The artist has participated in shows around the U.S. and overseas, including solo exhibitions at Giant Robot (San Francisco and Los Angeles, CA), the Here Gallery (Bristol, UK), the Hijinks Gallery (San Francisco, CA) and more. She also has done illustration work for Anthropologie, Crabtree and Evelyn, Crate and Barrel, Relativity Media and many others.
Gentle and highly imaginative approach to coloring and forms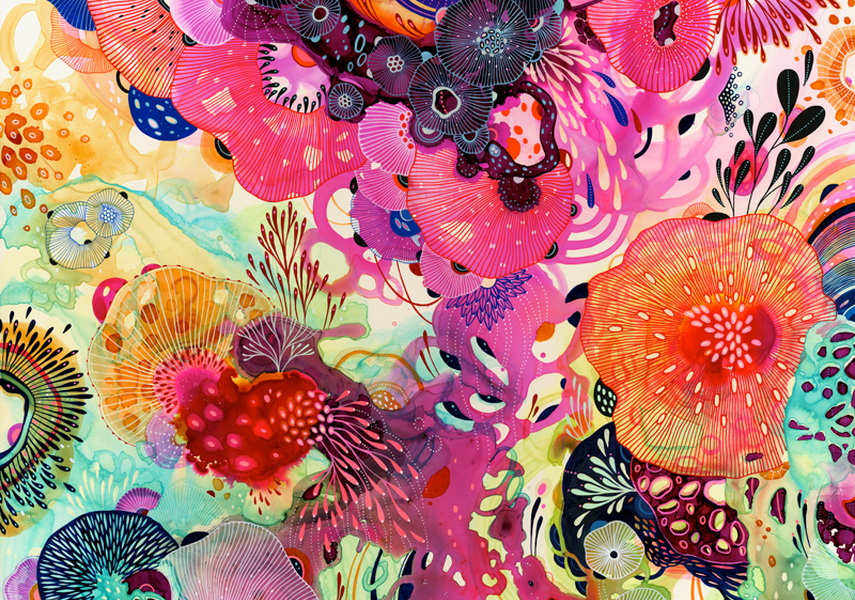 The Peculiar Style of Yellena James
The artist usually uses pens, inks, markers, and acrylics, in order to express complex abstract forms into dazzling images which take on lives of their own. James's work is far removed from average still life and her colorful compositions of organic shapes and tangled lines are at the same time floral and alien, organic and futuristic. It seems that each work represents the hidden intimate world with its own ethos and special ability to radiate peculiar emotion. The intricacy and high detail, along with hints of existing organic shapes accentuate the intimacy and fragility of depicted motifs.
The works of Yellena James are charged with delicacy and vigor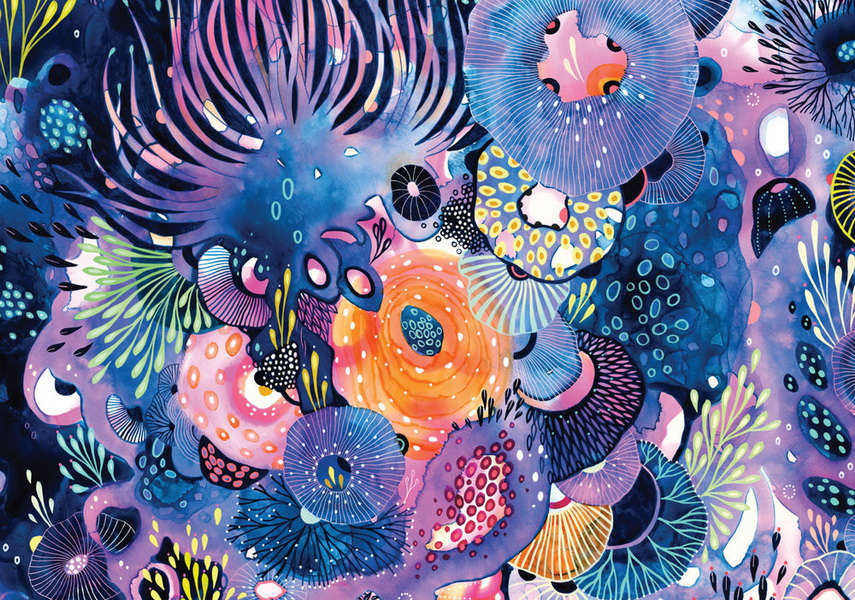 Drawing From Nature
The first book of Yellena James is titled Star, Branch, Spiral, Fan: Learn to Draw from Nature's Perfect Design Structures and is dedicated to, as the title suggests, the impeccable source of inspiration which comes from nature. The whole book introduces a reader with peculiar organic forms. It is thought to be of great help to anyone prone to creative processes, especially to designers. James used her own nature-based drawings to guide readers toward looking closely at the design of each form and the places where it occurs. As a matter of fact, this book is just a continuation of her work which she expresses not only through drawings, but commercial design as well.
The forms effect and expand the observers gaze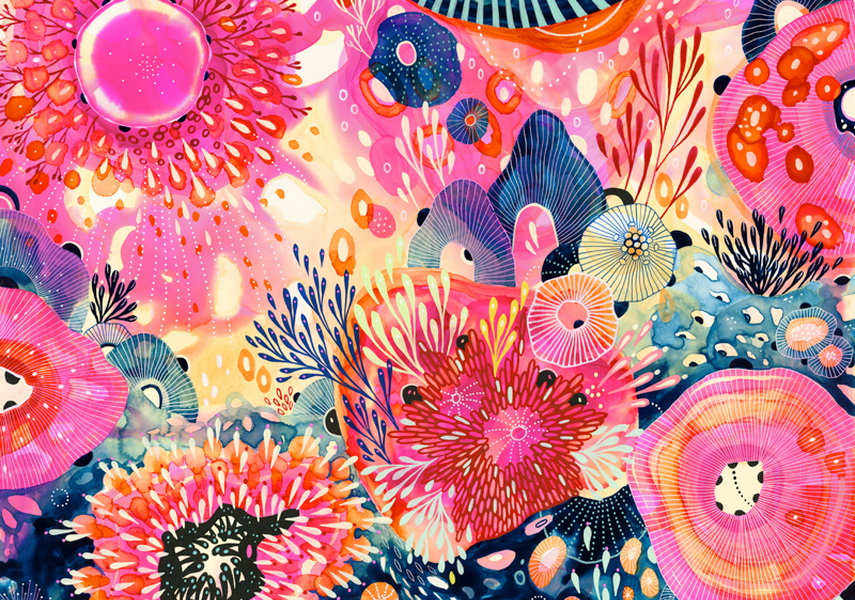 The Powerful Organic Arrangements of Yellena James
By reinventing flora and fauna which is twisted and floats together in a magical dreamscape, James constructs her own vision of the world after tomorrow. Although they are naive, bubbly and almost childish, these works are questioning the very future of our ecosystems and can be perhaps perceived as a reaction to the furious climate changes and human recklessness. Therefore, the rising success of the artistic practice of Yellena James is not surprising since she runs both her commercial and artistic work on the same frequency of subtle, yet well-thought messages.
Yellena James lives and works in Portland.
All images used are courtesy of the artist
| Year | Exhibition Title | Gallery/Museum | Solo/Group |
| --- | --- | --- | --- |
| 2016 | Straight Outta Portland | Stephanie Chefas Gallery, Portland | Group |
| 2016 | Suture | Helikon Gallery, Denver | Group |
| 2016 | Salut! | Nucleus Gallery, Portland | Group |
| 2015 | Harvest | Screaming Sky, Portland | Solo |
| 2015 | Radiance | LeQuivive Gallery, Oakland | Solo |
| 2015 | Wish List | Feather and Bone, Appleton | Group |
| 2015 | Muses of Mount Helikon III | Helikon Gallery, Denver | Group |
| 2015 | 11 Year Anniversary Show | Nucleus, Alhambra | Group |
| 2015 | Project Pear | Stephanie Chefas Gallery, Portland | Group |
| 2014 | Terra: Artwork Inspired by Nature | Nucleus, Alhambra | Group |
| 2014 | Vivify | Madelife, Boulder | Group |
| 2013 | I Believe in Unicorns | WWA Gallery, Culver City | Group |
| 2013 | Neu Folk Revival | LeQuivive Gallery, Oakland | Group |
| 2012 | Instill | Hijinks Gallery, San Francisco | Solo |
| 2012 | Medium Small | Big Medium gallery, Austin | Group |
| 2011 | Realms - with Ako Castuera and Elsa Mora | Giant Robot, Los Angeles | Group |
| 2011 | Recent Work - with Betsy Walton | Together, Portland | Group |
| 2010 | Immerse | Dialect Gallery, Los Angeles | Solo |
| 2010 | Biosynthesis | Hijinks Gallery, San Francisco | Solo |
| 2010 | Elemental (with APAK, Betsy Walton and Jill Bliss) | Together, Portland | Group |
| 2009 | Aquarium | Grassy Knoll Gallery, Portland, OR | Solo |
| 2009 | Parity | Here Gallery, Bristol, United Kingdom | Solo |
| 2009 | Zoetic | GR2, Los Angeles | Solo |
| 2009 | Limited Run II | Open Space, Beacon, NY | Group |
| 2009 | First Things First | 111Minna Gallery, San Francisco | Group |
| 2009 | Catalyst | Nucleus Gallery, Los Angeles | Group |
| 2009 | Sasquatchtenial | Grass Hut Gallery, Portland | Group |
| 2009 | Devils in Details | GRNY, New York | Group |
| 2009 | Tree Show | Giant Robot, San Francisco | Group |
| 2009 | Idle Ties | Together Gallery, Portland | Group |
| 2009 | Kokeshi: from folk art to art toy | Japanese American National Museum, Los Angeles | Group |
| 2008 | Periphery | Giant Robot, San Francisco | Solo |
| 2008 | Succulence | Life+Limb, Portland | Solo |
| 2008 | Stasis | Fenario Gallery, Eugene | Solo |
| 2008 | Printed Matter IV | Giant Robot, San Francisco | Group |
| 2008 | Post-It Show III | Giant Robot, Los Angeles | Group |
| 2008 | Itty - Bitty Invitational | Yes Gallery, Warren | Group |
| 2008 | Even Dwarves Started Small | Here Gallery, Bristol | Group |
| 2008 | Game Over | Giant Robot, San Francisco | Group |
| 2008 | Suggestion Box | Giant Robot, Los Angeles | Group |
| 2008 | Tree Show | Giant Robot, San Francisco | Group |
| 2008 | La Femme | Nucleus Gallery, Los Angeles | Group |
| 2008 | Year of The Rat | Giant Robot, Los Angeles | Group |
| 2008 | Printed Matter III | Giant Robot, San Francisco | Group |
| 2007 | Kokeshi | Subtext, San Dieg | Group |