Yosuke Ueno is a self-taught Japanese artist, working in the style of pop surrealism. Born in Japan in 1977, he has been creating his unique and colorful world since his early age, and as a result Ueno's first solo exhibition was in 1994 in Yamaguchi, when he was just 16 years old.
From Darkness to Light
As a teenager, Yosuke used to create mostly dark and negative paintings, about death, sadness and psychopathology. But then, in his early 20s, he decided to take another path and create works overwhelmed with positive energy, love and light. The decision was made after a realization that his works are messages to people, and that there is already enough suffering, death and negativity in the world. Ueno switched to his present style recognized by the use of vibrant colors, symbolism and innocent-looking characters. Even though sometimes his current art portrays dark imagery, it also depicts, in its own unique way, that there is always light at the end of the tunnel. Yosuke Ueno's art was further shaped by the earthquake, and resulting Tsunami, that devastated Japan in 2011. After this tragedy, his works became an attempt to summon love and hope.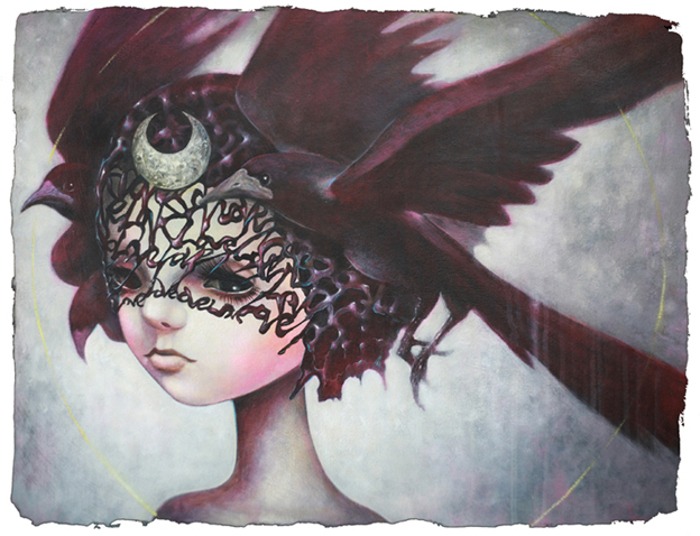 The World of Shinto
Yosuke Ueno's art is inspired by a combination of many elements – from traditional Japanese culture, Tokyo's street fashion, to great artworks all over the world. As an art lover, he admires masterpieces from history of art by reproducing them in his own style, such as the Johannes Vermeer's famous painting, Girl with a Pearl Earring.
The Japanese culture, including manga, anime and Buddhist statues, are the main influences in Yosuke's works. His world is inhabited by thousands of original characters, which he created over a period of time. This multiplicity of characters in Ueno's works draws from Shinto – the traditional Japanese system of spiritual beliefs, populated by millions of individual god figures. When in quest for inspiration, Ueno just looks upon this world and seeks the elements of his next unique character. The world of Shinto was created from the polytheistic spiritual tradition in Japan that worships the greatness in all small things in nature. In this belief system, people express their gratitude towards nature by turning its forces into many gods and goddesses, seeking the presence of the divine in each individual part.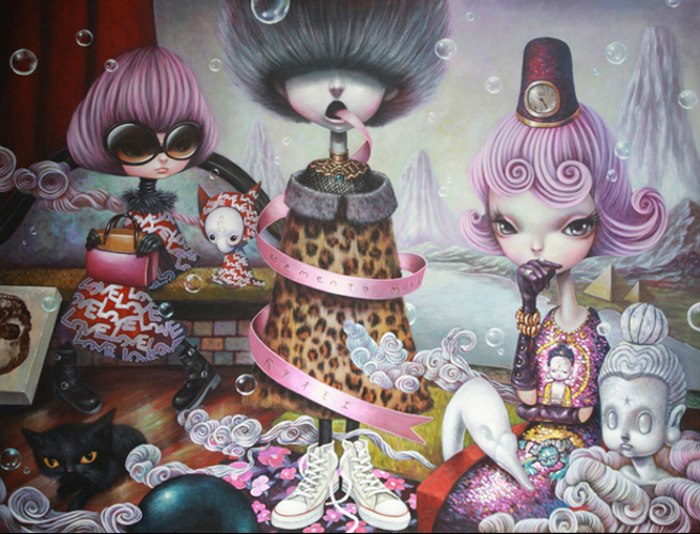 Process of Creation
Yosuke Ueno's highly stylized and beautifully imaginative art takes the viewer on a strange and surreal adventure, to a world inhabited by weird and beautiful animals, characters and creatures. While creating, he starts his new piece without any detailed design. He allows his paintings to evolve intuitively, not knowing what the end result will be. As a process of discovery and a sort of therapy, he hopes the painting will complete itself, beyond his guidance and imagination. This becomes clear in his following quote:
"When I am working, I get to the point where I can't even imagine the outcome, and then suddenly see a brand-new, beautiful path. I sometimes say that artists are parallel to scientists. Scientists have no way of knowing the result of an experiment beforehand. The same can be said about creating art" – Yosuke Ueno
Elements and Symbolism in Yosuke Ueno's art
Some of the reasons why Yosuke Ueno's works stand out are interesting juxtapositions, hidden symbolism and recurring metaphors. His symbolic system builds an alternate reality, a tightly knit universe featuring a recurring cast of characters and repeated motifs. Contemporary and highly graphic, Ueno's universe with infinite possibilities is described with elements such as skulls, scissors, swans, AOL characters, clouds, Buddha's head, and many others. The motif often used in his works are four basic colors – red, green, yellow and blue. These colors represent the four bases of DNA – adenine, thymine, guanine and cytosine, or A, T, G and C. As a molecular elements that all living beings share, Ueno uses ATGC to describe and represent love, with an idea that these bases carry a symbolism of universal existence among all of the nature's creatures.
All of the previously described elements are incorporated into a triptych entitled Cloud Dragon, including the doll-like girl with colorful hair that represents ATGC, the skull-like character from his NNA painting, the walking couple sculpture, and others. Symbolism of this painting is seen in the girl standing at the front of a cloud dragon, pointing at a number 8 – the number which represents that the painting is Ueno's eighth work in Positive Energy series, but also the number whose shape symbolizes infinity.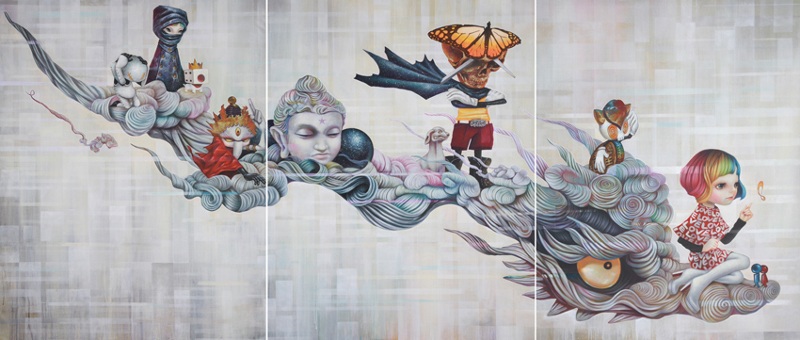 From Yamaguchi to the US
After an initial success of his works as a teenager, Yosuke Ueno's art has been featured in venues such as Shimoni-Seki Museum, Museum of Contemporary Art Tokyo, Dorothy Circus Gallery in Rome, and Thinkspace Gallery, Los Angeles.
Recently, he launched a limited series of figures depicting his skeleton-like NNA character, which is produced by Mighty Jaxx.
Yosuke Ueno lives and works in Japan.