Inspired by the people he meets and the beauty found in the natural environment, Young Jarus strives to make people closer to art and to encourage them to look at things in a new way. Recognizable by his realistic portraits often painted on trains, the main feature that reveals his skill is the painterly quality of his stroke and smooth play of the light and shadow particularly noticeable on the faces of his subjects. The speed and the ease with which he paints are quite opposite to the result he achieves that rather resemble technique of fine oil paintings.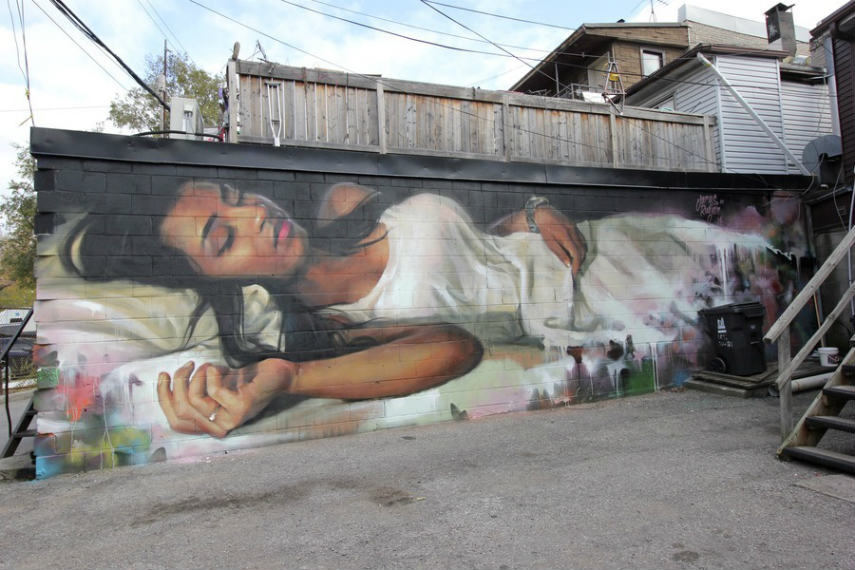 Street Artist from Canada and Europe and Mexico
Emmanuel Jarus was born in 1992 in Regina, Saskatchewan and earned his degree at the Academy of Realist Art Toronto (2011). In his works the subject matter for his pieces are figures and portraits that are often caught in thoughts and meant to look not photorealistic but living and lifelike. His pieces tend to reflect not only what he is feeling but also stay relevant to the environment, area, and the community. Jarus' work is influenced by the realist masters such as Bouguereau, Sargent, Zorn, and many others. Inside his studio, and when painting murals, Jarus uses a combination of mediums that include acrylic, oil and spray paint. His spray paint techniques are his modern adaptations of classical oil painting technique[1]. He focuses on color and figure compositions that fit the walls and surroundings he paints upon. His pieces are scattered throughout walls on the streets of the cities in Canada, The United States, and Mexico.
Young Jarus' spray paint approach on street is the modern adaptations of classical oil painting technique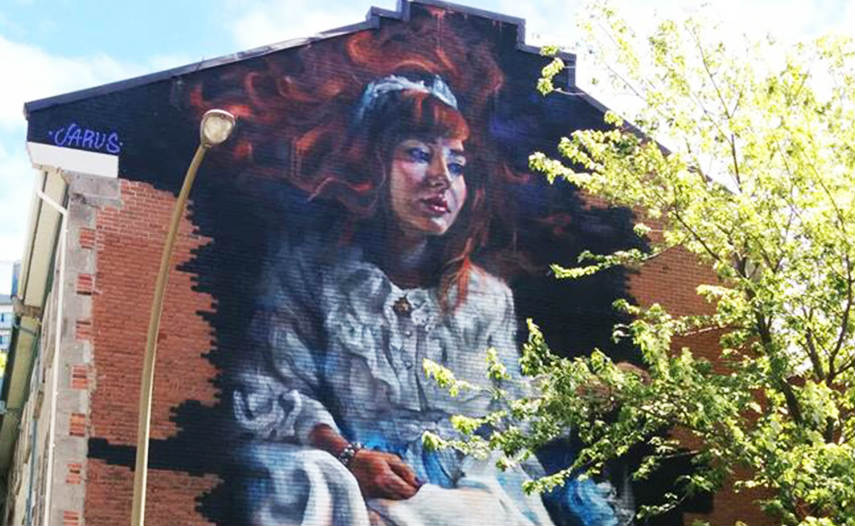 Spreading the Idea of Graffiti Art
Jarus has contributed to many benefits and group shows but currently he spends most of his time traveling to paint murals. He hopes his pieces make people ask questions about what they previously thought about art or graffiti. Jarus enjoys leaving things in very public spaces for many to see as well as hidden gems that are unlikely to find. His future plans are to paint more walls around the world, as well as participating in residencies and beautifying communities. In 2015, he took a participation in the Roskilde Graff-Camp at the Roskilde Festival in Denmark[2], near Copenhagen where he worked for two weeks. This is the largest North European culture and music festival that exists more than four decades.
Young Jarus lives and works in Toronto, Canada.
Sources:
Anonimous. About Jarus, Inner State Gallery [August 25, 2016]
Anonimous. Jarus, Vantage Point Radio [August 25, 2016]
Featured image: Young Jarus – Image via artist's Facebook profile
| Year | Exhibition title | Museum/Gallery | Solo/Group |
| --- | --- | --- | --- |
| 2015 | Roskilde Graff-Camp | Roskilde Festival, Copenhagen | Group |
| 2014 | Ducks Unlimited, live painting | Canada | Group |
| 2013 | Young Jarus | The Mascot, Toronto, Canada | Solo |
| 2013 | Ducks Unlimited, live painting | Canada | Group |
| 2013 | Canadian Wildlife Federation, live painting | Canada | Group |
| 2012 | Toronto International Film Festival, live painting | Toronto, Canada | Group |
| 2011 | The Mayors art and business awards, live painting | Canada | Group |