Living his artistic life exclusively online, Yung Jake is the primarily virtual persona, then an artist, rapper, programmer and videographer. Born on the internet, 2011, his first big viral success was in March next year with interactive HTML5 music video E.m-bed.de/d, which was even nominated for the MTV Music Award for Best Interactive Music Video. He also creates digital drawings, like portraits of celebrities made out of emojis, or transforming white lighted canvases. Making a personal performance of preoccupation with technology, Jake has no interest in distinguishing between his rap and art practice.
White pannels are transformed into the digital drawings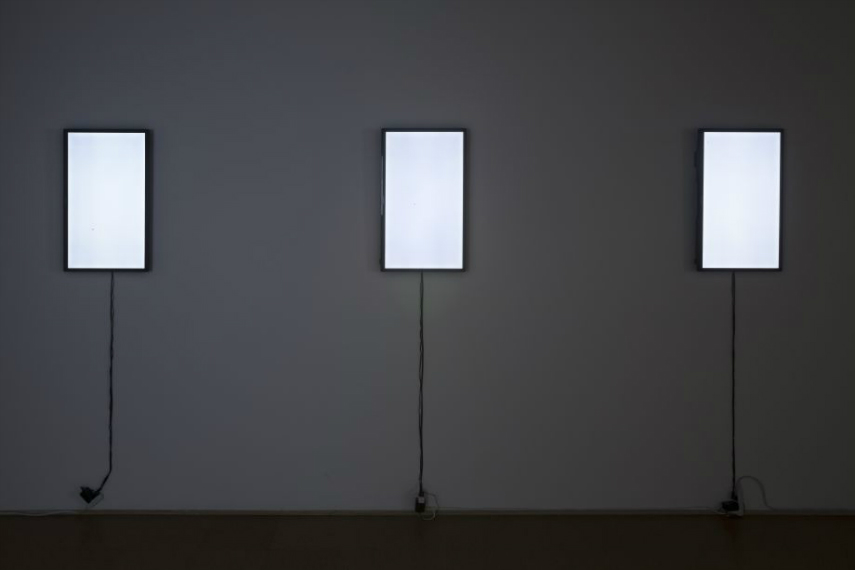 Conquering the Online World
Born as Jake Patterson, he attended the prestigious California Institute of Fine Arts in Valencia, received his BFA and gained the knowledge in traditional mediums, like drawing and painting. Having the frustrations in the art world where his work was labeled as African-American art, he took an interest in rap and started to make songs and spots cruising around in a car with his crew, like people expected from one African American. His blackness suddenly wasn't the issue anymore and Jake was overrunning art, rap and internet world, erasing the lines between all three.
Portraits of celebrities are made of emojis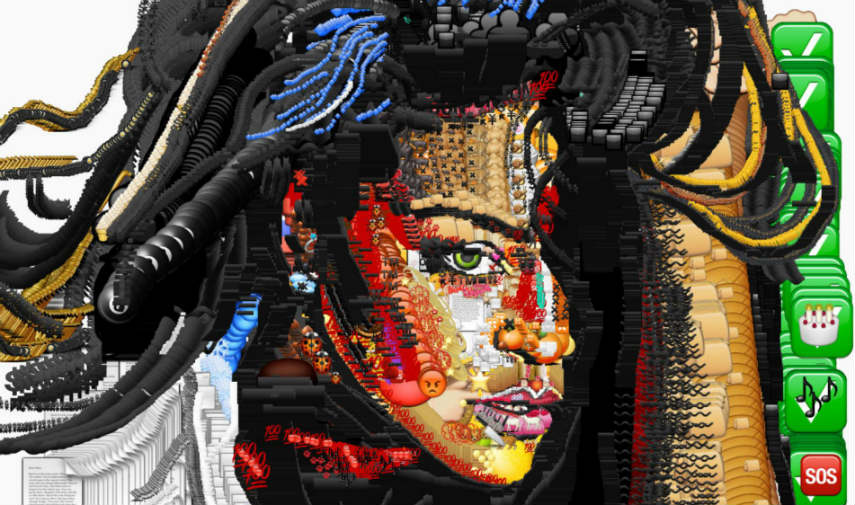 Digital World of Presence
Placing the series of lighted white canvases into the totally dark room, Jake named this exhibition Drawings. Having the closer look, these canvases transform into digital drawings, containing a computer cursor in motion, resembling a brushstroke that never finds its place, or just furiously running over the screen. The other interesting work consists of portraits of celebrities, made only out of emojis. Joining together these two iconic things of our age, his ironic expression reveals the senselessness of nowadays culture and interests.
Yung Jake – Datamosh, 2011
Techology, Hip-Hop and Contemporary Art
Best known for his rap videos that connect hip-hop lyrics, social media, technology and contemporary art, using the parody as a main way of expression, Jake provokes the common sense of the viewer with his jokes and special digital techniques that distort the images. In Datamosh, for example, he raps about the common internet trend of images that crumble into a colorful tide of pixels. Jake's work has been exhibited at two solo shows with Steve Turner and a solo project at 2014 fair, Art Berlin Contemporary. It has also been screened at Sundance, and he has performed in Los Angeles at the Hammer Museum and Redcat and at MOCA.
Yung Yake lives and works in Los Angeles.
Featured image: Artist portrait, photo via uncvr.net
All images used for illustrative purpose only