Yuriy Zakordonets is a talented painter from Ukraine whose passion for art is in symbiosis with his passion for healing and nurturing. Yuriy got his primary education in Medical Science and later, for a second degree, he studied Arts ad Odessa Pedagogical University. Yuriy still works as a reputable M.D. in Odessa. In the early 1980s, he took part in various exhibitions dedicated to painting, graphic and design, and his career took off. At times he was a curator, coordinator or artist. Since then, Yuriy has proven he can successfully combine multiple leaderships in the world of art community with his personal exhibitions.

Proof of Origin
This Ukrainian artist's style is very peculiar. His art is known for being on different materials, such as wood, metal, and canvas. But his signature sign, what we can say is just about his "proof of origin" is the use of leather in his artworks. Not only is this interesting and rare, but also has an innate symbolic given that in Ukraine, farming is well integrated into the economy. Connections to rural life are something that a lot of people are familiar with. Because of all this, leather is a symbol of hard work, originality in crafting, stability and local business.
This Ukranian artist's style is very peculiar in its acrylic tones and approach to art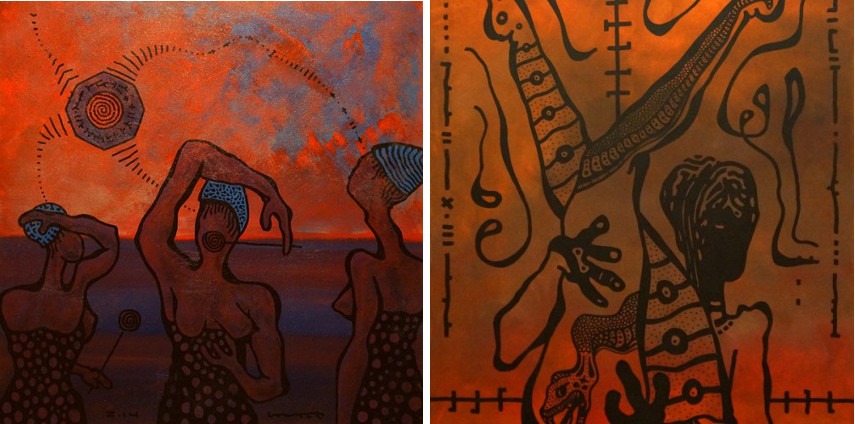 Effortless Paintings
In his artworks, Yuriy includes elements of cave paintings. His art reminisces a time long gone, maybe a simpler time. With soft lines, and human bodies rather symbolic, and tattooed the artist takes us back to a period of primordial needs. The imagery in Yuriy's paintings is graphic and effortless. With lines forming a labyrinth, the spectator can easily get lost in this mesmerizing maze, just as he would in a sensual summer day, the artist often depicts.
Yuriy's soft lines depict tattooed and symbolic human bodies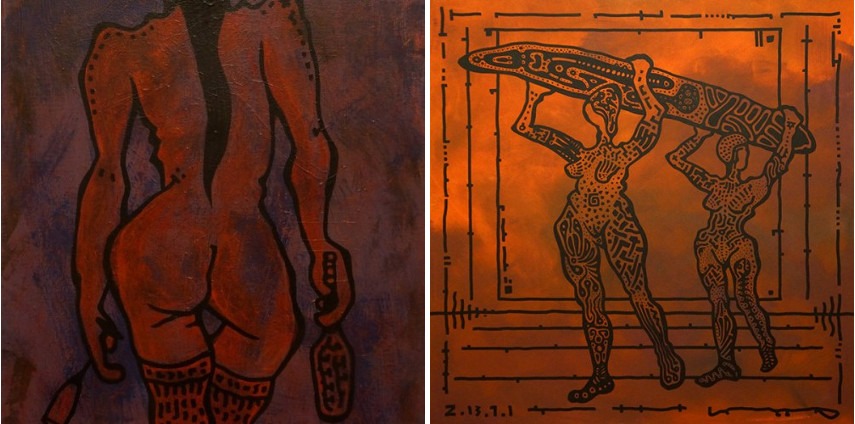 The Artist is Inspired
The aesthetic appeal of Yuriy's paintings has the power of traditional art. Its decorative magic is authentic as it relates to the viewer on a deeper lever, communicating with essential parts of the being. The artist depicts famous beaches in Odessa, their relaxing days and active nights. Beautiful people enjoying this atmosphere are personified with simple lines and ancient-like figures. Yuriy often paints deities, lovers in romantic hugs, but with the least amount of attention to detail, bringing our focus to the emotional side of the painting, and not the motif itself.
The paintings have the power of traditional art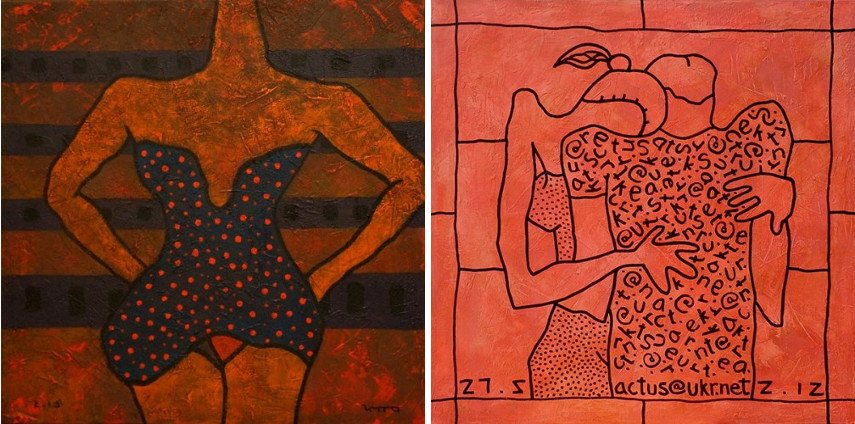 Female Characters
Zakordonets renders Roman goddesses as well as gods from the Vedas. His art resonates with everyone on a subtle level, colored with our mutual history, with the origins. Female characters that he portrays celebrate love, beauty, sex, desire, fertility and prosperity. Life by the sea in Odessa has inspired the Yuriy to create artworks as light as a summer day with all its simplicity and allure.
The artist is represented by Art Acacia.
Yuriy Zakordonets lives and works in Odessa, Ukraine.
Featured image: Yuriy Zakordonets – Ideal (detail), 2013 – photo via artacacia.com
All images via artacacia.com