Zhao Zhao is a very bold and innovative Chinese conceptual artist born in 1982, in Xinjiang. In his paintings, sculptures and videos Zhao address realities in China, as well as documenting his life and lives of people close to him. He earned his BFA from the Xinjiang Institute of Arts, Department of Oil Painting in 2004.
Zhao Zhao and Ai Weiwei
After graduating, Zhao worked for seven years as an assistant for Ai Weiwei, the well-known artist and activist who was imprisoned for 81 days in 2011. Ai Weiwei persuaded Zhao to set aside oil painting and instead assist him with conceptual and documentary projects. Although of different generations, both of them had grown up in Shihezi, a city in western China's Gobi Desert dominated by the paramilitary farming and development corps known as the "bingtuan".
Social Critical Oeuvre
Working for Ai Weiwei, Zhao Zhao soon discovered performance as a medium aptly suited to expressing his concerns. In addition to create social critical art works, Zhao transforms public events into personal and individual ones. He uses art to engage people and trigger direct reactions and processes that heighten self-consciousness. Playfully and provocatively, Zhao questions art as an established system – a stance with a particular poignancy in the context of the Chinese market. His pieces are often inspired by serendipity, evoking art history allusions, or presenting classic parables of socio-political events.
Cobblestone
Zhao played a large role in Ai's studio, helping him, but at the same time he built up an important body of his own work. He took the Ai's advice to create works using the materials that surrounded him and began to appropriate small objects around him into his pieces.
In 2007 he realized the site-specific performative installation Cobblestone, in which he glued a tiny stone on the ground of Tiananmen Square, causing passersby to stumble. The scale of a small stone and large city square in the centre of Beijing in comparison with each other leaves a powerful impression on viewers. In that way, Zhao demonstrates against the control of Chinese government in Tiananmen Square which embodies the authority of Chinese government, as well as against the restrictions in contemporary China.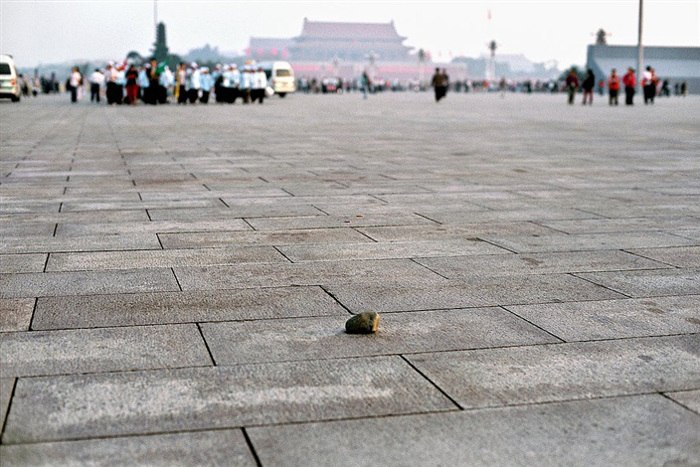 Zhao's video Happening
At the same time Zhao filmed a video titled Happening. It was made during one night when he was walking around with a camera. People who saw him thought he was a secret police agent and throw stones at him. Zhao get to the police station and, as nobody was there, he took the police caps and put it on his head. He filmed everything expressing through video his dissatisfaction with the pressure created by the Chinese government.
Officer
In 2008 Zhao had his first solo show at the China Art Archives and Warehouse. Show was well visited and he was invited to participate in group exhibitions increasingly often. During 2010, Zhao participated in more than 30 group shows. Zhao's second solo show was held at the Alexander Ochs Gallery in Berlin in 2011 and featured dozens of scattered, independent oil paintings.
Ai Weiwei was arrested in 2011, but Zhao Zhao was not discouraged, and continued to work. Soon after Ai was released, Zhao showed new pieces at Chambers Fine Art in Beijing, including a limestone statue of a Chinese police officer. More than eight meters tall Officer whose badge number corresponds to the date of Ai's arrest was displayed knocked down, lying in pieces on the ground.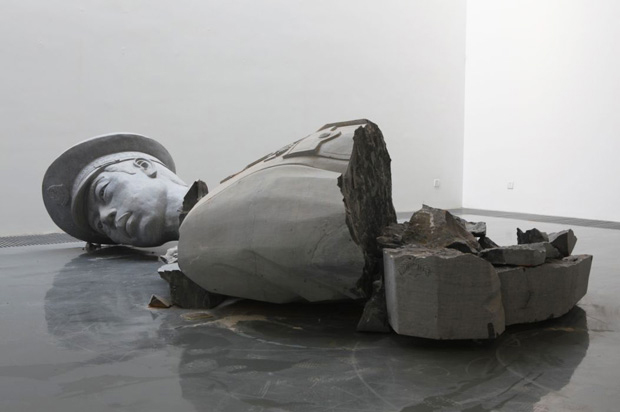 The State Harassment
Like Ai Weiwei, Zhao Zhao has become a target of the same state security apparatus. In 2012, Zhao was supposed to have a major solo exhibition in New York, at a gallery owned by Christophe Mao, an art dealer active in both Beijing and New York. Zhao packed up a large number of his works to be shipped by sea but customs police confiscated it at the port in Tianjin. The same year, he was held in investigative custody for 12 days by the Chinese government, without any official explanation.
Regardless of the fact that he has experienced the persecution at the hands of the Chinese government—arrest, travel bans, confiscation of artwork, Zhao Zhao continues to questions the role of authority in China through his conceptual art.
Zhao Zhao currently lives and works in Beijing, China.
| Year | Name of the exhibition | Museum/Gallery | Solo/Group |
| --- | --- | --- | --- |
| 2015 | Zhao Zhao: Omnipresent | Roberts&Tilton, California, USA | Solo |
| 2014 | Zhao Zhao: Uncertainty | Chambers Fine Art, Beijing, China | Solo |
| 2014 | Zero Tolerance | MoMA PS1, Long Island City, USA | Group |
| 2014 | My Generation: Young Chinese Artists | Tampa Museum of Art, Florida, USA | Group |
| 2014 | Time is a Saw: Established and Emerging Contemporary Chinese Artists | Crossman Gallery, University of Wisconsin-Whitewater, Wisconsin, USA | Group |
| 2014 | 19th Biennale of Sydney | Sydney, Australia | Group |
| 2014 | The Armory Show 2014, China: Focus | Chambers Fine Art, Pier 94, New York | Group |
| 2013 | Zhao Zhao: Constellations | Chambers Fine Art, New York, USA | Solo |
| 2013 | On|Off: China's Young Artists in Concept and Practice | Ullens Center for Contemporary Art, Beijing, China | Group |
| 2012 | Nothing Inside | Alexander Ochs Gallery, Beijing, China | Solo |
| 2011 | According to Zhao Zhao: New Works | Chambers Fine Art, Beijing, China | Solo |
| 2011 | Walking Naked | Alexander Ochs Galleries, Berlin, Germany | Solo |
| 2011 | Catching the Moon in the Water | James Cohen, New York, USA | Group |
| 2011 | 5 x 5 Castello 11, Premi International d'art contemporani Diputacio de Castello | Castello, Spain | Group |
| 2011 | 1 x 1: A Cross-strait-four-regions, Artistic Exchange Project | He Xiangning Museum, Shenzhen, China | Group |
| 2011 | Freestyle Li Space | Bejing, China | Group |
| 2011 | 51 m2: 16 Emerging Chinese Artist | Tai Kang Space, Beijing, China | Group |
| 2010 | Reflection of Minds | MoCA Shanghai Envisage III, Shanghai, China | Group |
| 2010 | Conception as Enzyme | A4 Gallery, Chengdu, China | Group |
| 2010 | Sharism, Get it Louder 2010 | Beijing, China | Group |
| 2010 | 3 + X, Kunsthalle Lophem | Center for Contemporary Art, Lophem, Belgium | Group |
| 2010 | No-Name Station-China, Australia Contemporary Art Exhibition | Iberia Center for Contemporary Art, Beijing, China | Group |
| 2010 | Interpret Out of Context | T Space, Beijing, China | Group |
| 2010 | Moving! | Li Space, Beijing, China | Group |
| 2010 | The Burden of Representation | Osage Gallery, Hongkong, | Group |
| 2010 | Also Space | C Space, Beijing, China | Group |
| 2010 | Archives | Osage Gallery, Hongkong, | Group |
| 2009 | 5113, 51 Square Meters Project | Taikang Space, Beijing, China | Solo |
| 2009 | Art Economies Beyond Pattern Recognition | Osage Gallery, Shanghai, China | Group |
| 2009 | Personal Space | 24 HR Art-Northern Territory Contemporary Art Centre, Darwin, Australia | Group |
| 2009 | Work in Progress - How Do Artists Work | Iberia Center for Contemporary Art, Beijing, China | Group |
| 2008 | Da Quan Gou | China Art Archives and Wavehouse (CAAW), Beijing, China | Solo |
| 2008 | Delirious Beijing | PKM Gallery, Beijing, China | Group |
| 2008 | Insomnia | Bizart Art Center, Shanghai, China | Group |
| 2008 | Landscape Topology | Magee Art Gallery, Beijing, China | Group |
| 2008 | Chinese Freedom | T Space, Beijing, China | Group |