Zhou Siwei is a Chinese contemporary artist best known for his ability to extract both everyday objects from reality and lively personal symbols from his own imagination and then put it all together in a abstract form of art.
Sichuan Fine Arts Institute
Zhou was born in 1981, in Chongqing, China and where he studied and graduated in 2005 at the influential Sichuan Fine Arts Institute. Chongqing is considered as one of centers of innovative art in China.
Zhou is coming from the generation that has none, or very little, interest in the China Cultural Revolution (even less experience of it) – a theme that provided so many imagery to the first wave of contemporary Chinese artists, something that Western audiences immediately accepted and welcomed.
Today we are witnesses of a very a strong emphasis on concept in art. In that climate, Zhou Siwei's work seems so very natural and harmonious in its demonstration of a sort of innate sensitivity and a grasp of the artistic language. He converted his passion for design to an artistic goal to create in a wild and beyond imagination method. His undeniable exceptional creativity and artistic intelligence are helping him to blend all the different elements together: effortlessly and in a simple, yet powerful form. And all that is done without any restriction to the subject matter, medium or technique used.
Fairytales and Cartoons: A Cartoon Nostalgia and Twilight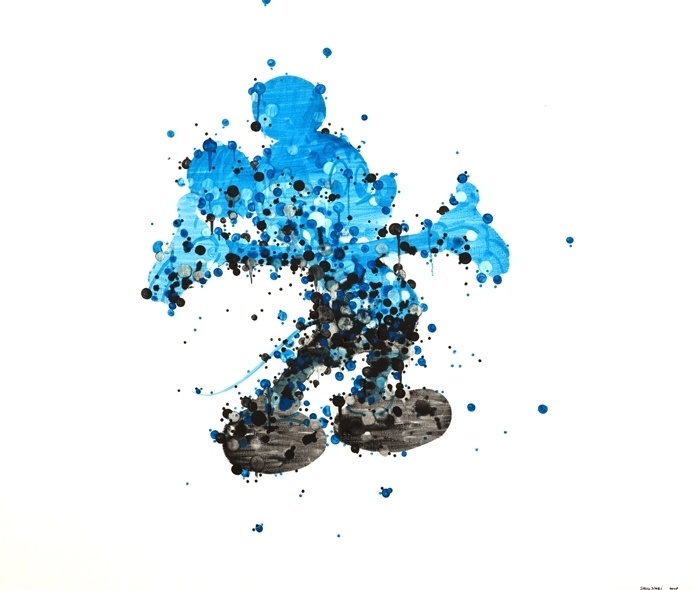 Throughout his artwork, he aims to use his wits and the finest technique to depict and build on a wild idea or a complex philosophy; only to destroy it thoroughly in order to leave a trace for people's admiration.
A birth of each Zhou's single work is not an easy task – as the artist sets some very high goals for himself. Zhou Siwei makes and remakes the shapes and lines of a work until they become formless and almost unrecognizable to the first version. That repetitive and painstaking practice best reflects Zhou's artistic power.
Zhou constructs his works using earlier predetermined sets of forms, sequences or colors (such as logos or other designs), which then, through a process of repetition and randomness, acquire a completely new context.
Zhou Siwei says he is interested in schematic depictions because of their effect on the beholder. Just like when he had fun destroying the lovable image of classic children's cartoons scenes and characters by portraying them with a 'cartoon nostalgia' (which includes 'Infection Mickey' and 'Infection Astro Boy'). Bambi appears to be decomposing, so the work rather suggests the impossibility of returning to that charmed childhood state, and instead suggests that popular culture is toxic to those who consume it. Twilight is one of his solo exhibitions with this theme and it took him one step closer into the international art circle, in 2007. Regarding to this show, he once said:
"The indescribable feelings transmitted by both interior and exterior elements in this series of paintings are akin to a cinematic montage. The outer contours of the objects in the paintings are sharp and bold; creating a rational boundary; and within this boundary the haphazard images are unpredictable as the weather. When two irreconcilable elements appear on the same canvas, the effects of a destructive yet magical chemical reaction are like that of "Twilight" – beyond imagination."
Since then, Zhou continues to work his magic and his work has been showcased at various art fairs in the region. No wonder than that this young artist's work are scattered all around the world in a private collections from Australia to Hong Kong, Japan, Singapore and United Kingdom.
Ministry of Truth II: The Factitious and its Realm
In 2014, Zhao exhibited in the group exhibition, Ministry of Truth II: The Factitious and its Realm together with artists, aaajiao (Xu Wenkai), Chen Xi, Liao Guohe, Wan Yang, Wang Ningde and Yang Xinguang. The show took place at Boers Li Gallery in Beijing, China.
The first exhibition titled Ministry Of Truth was dedicated to artist who were analyzing and researching components of the politics in their own artistic practices. The second episode aimed to explore some practices founded on the factitious reality through representing its texture, surface and spatial relations in painting, photography and media art.
A Round Studio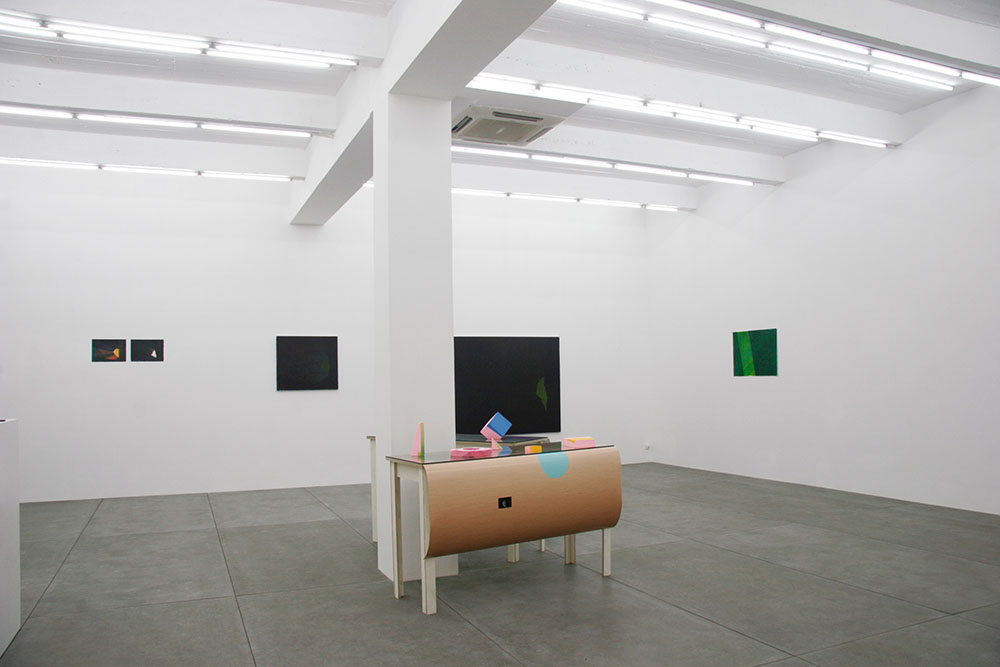 That same year, A Round Studio exhibition at AIKE-DELLARCO was Zhou's first solo exhibition in Shanghai, where he presented a series of recent paintings and installation pieces. Its title A Round Studio derives from the artist's notion of his own practice, which he views as a cyclical journey of repetition, evolution, and progression.
The idea behind this show was that all the pieces have an identical method for simultaneously; each work is the beginning and the end of another. That kind of process entails both repetition and randomness, something very familiar to this artist. The outcome of each image does not conceal the artist's subjective input to differentiate them. In Zhou's works the layering the colors of the same forms may appear differently given different lighting conditions.
For this show the artist created an ideal space embedded in a Möbius Loop, for viewers to parse out the relationships between one work and another, and each single part within the whole.
SCHEMATIC
In 2015, Galerie Urs Meile in Lucern presented Zhou Siwei's first solo exhibition in that Swiss town, where he introduced his recent paintings and sculpture, as well as works in other media, such as photography, drawings, and installation. The works on display are certain kind of sequel of the Zhou Siwei's previous exhibition, Round Studio, in 2014, when he presented the idea that the relationship between the individual works is apparent. For Zhou Siwei, these sculptural objects, tangible as they are, are his connection to reality. And not only that, he emphasizes the fact that his sculptures are created by hand and that they seem more concrete than the transcendental space he creates with diluted oil colors. His sculptural works takes the abstract designs back into three dimensions and by doing so, the sculpture is transformed back into a concrete object that again belongs in the realm of the senses.
Zhou Siwei still lives in his native town, Chongqing.