Zoer is a French artist, painter and product designer. Utilizing his talents as a painter, Zoer has pushed his idea of graffiti onto the wall and off pages and canvas. The hybrid style of Zoer satisfies the letter enthusiasts as well as those keen for more representational imagery on walls.
Zoer: From CSX Crew to the Illustrative and Abstract Art
Zoer was born in the 80's in Sicily and grew up in Lille, Northern France. As a child he liked to destroy burn and crush objects out of curiosity, just for the sake of discovering new forms and states and play with space and time. Zoer observed in detail each of the things that attracted him and ended up forming his own environment.
Zoer's drawings always incorporated stacks of objects and vehicles, which revealed the depths of technicality. Zoer went from drawing to painting in 2002 and that became the mission of his life.
Zoer studied an Industrial Design formation and had learned colors and painting up to Michel Raby and painting on walls with Kryo/Velvet, Asom, B612 , Peams and Elvis. He was always thinking about himself as an artist and the last few years he is freely on his own projects. He created CSX (Chômeurs Sans eXpérience – Unemployed Without eXperience) in 2004 with his partner Kryo in order to discover the vast spectrum of cultures and personalities from painting in countless places.
Inspiration for his works Zoer finds in the memory, most of the time – his childhood, neighborhood, on the streets, in techno culture and Rock'n'Roll. Zoer's technique only has to serve his subjects, so he tries to find the best technique to express quickly his ideas. He is open to a lot of graphic territories: "What is now the most important to me is to produce with sense."
According to Zoer, painting is more something to drive ideas and visions than just creating nice or well composed pictures. As he claims, he is trying to keep a designer eye when working on a painting.
Zoer connects his idea of illustrative and abstract art with abandoned places. He often rummages through abandoned areas, exploring urban, industrial wasteland. Zoer's unconventional approach mixes his skills representing imagery, and fuses them together creating one of the today's most unique and progressive styles. Deconstructed forms of letters and images fight for their place in beautiful compositions. He concentrates on two variations around his lettering, a simplistic and childish look for the root of the spontaneity of graffiti, and a more technical, industrial and precise style, including complexity inspired by mechanical structure and architecture. Zoer masterfully creates dialogue through his murals, utilizing his strength as both an artist and a writer.
Zoerism
In a Graffiti world, Zoer's skills with lettering and everything involving transportation and vehicles are considered impressive. Many of his classical Graffiti are marked with Zoerism – a certain tag/signature but an entire Graffiti philosophy by Zoer as well.
DRAW A LINE and Zoer's Limited Edition Print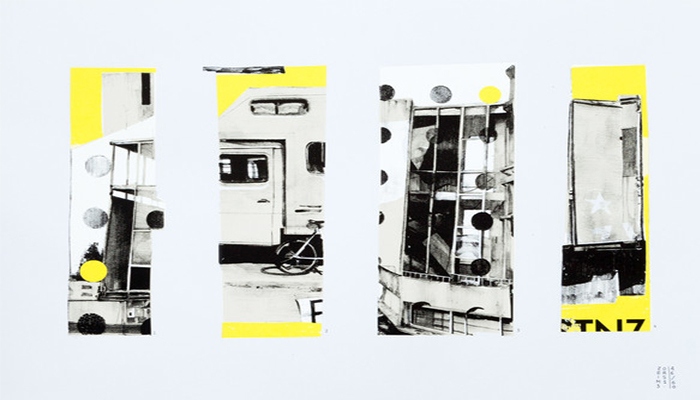 Based in Berlin, DRAW A LINE was established in 2013 as an art publisher dedicated to publishing limited edition prints. Soon after the appearance on Urban Art scene, DRAW A LINE released an exclusive print designed by ZOER – more precisely, 5 color silk screen print in limited edition of 60.
The print tells a story about places, often industrial places that he had visited and that were recently abandoned due to the crisis. "Former places of employment and living environments that are emptied. It's about ghosts of life. People that had to move and change their lives because the work disappeared. They leave lots of witnesses, marks, tools, and objects behind, relative to their past activities. The grayscales are talking about this abandonment, that no-more-activity. The bright yellow is here to suggest the potential of renewal and to focus the attention on things that no one wants to see" Zoer says.
Zoer and Velvet at Takashi Murakami's GEISAI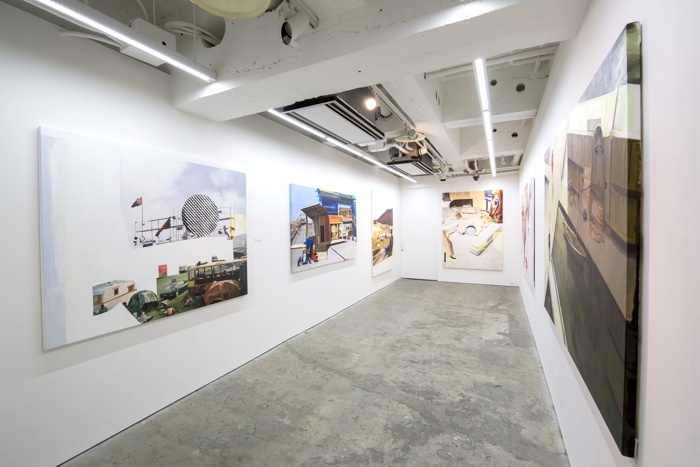 Zoer and Velvet have been collaborating together for years on murals as well as paintings, ever since the beginnings of CSX crew. They first met in design school and became fast friends due to their shared passion for graffiti and three- dimensional objects. By sharing and competing with one another through their artwork, they have been able to take their skill and creativity to new heights. Zoer and Velvet, the long-time collaborators have backgrounds in traditional graffiti and their experiences in painting in urban settings inform the subject matter of their studio work, which often deals with the chaos of city life. Working together, they have created a substantial body of work for their 2015 exhibition "L'ETAT LIMITE" in Tokyo's Kaikai Kiki's Zingaro Galleries. The exhibition is part of Takashi Murakami's curatorial project with Takumi "Kasenyan" Kaseno, "GEISAI infinity," a series of short exhibitions spotlighting various artists from Europe and Asia. For fourteen years, the art event GEISAI has helped many young artists debut and showcases their works. The title and core theme of their show, "L'etat Limite," is a reference to addiction, though in this case, the addiction they speak of is a particular phenomenon which results from breaking down the relationship between humans and material things. Under normal circumstances, humans and objects are separated by an invisible yet still substantial border. However, if we are able to intensify their relationship, that border begins to disappear and we find ourselves led to a new universe free from the constraints of reality. The comfort of that reality thus becomes, in the artists' minds, an addiction.
In 2014, Pener, Velvet and Zoer teamed up for a massive mural loosely titled "Vertical Farming". The Mural was painted in Turek, Poland, as Poland continues to push the medium through large scale murals. Vertical Farming references the architectural elements of Pener's work while mixing in the realist work of Velvet and Zoer.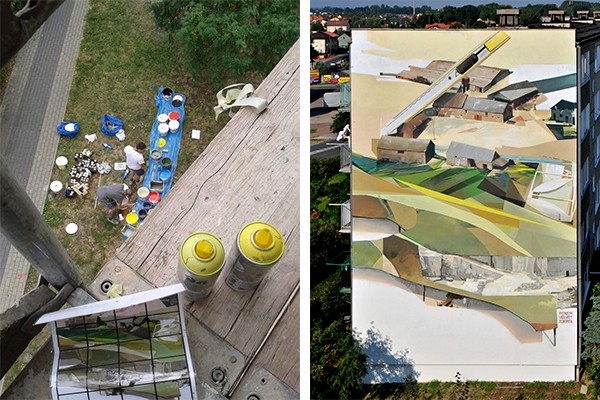 Freedom
Zoer traveled the world extensively, having visited such places as Mexico, Russia and Southeast Asia within the last years.
"Sometimes I feel like a bear. Noises, pollution, sometimes people make me leave the urban centers. I like Paris but not all the time. So, in order to keep appreciating it I have to get away from time to time. I need to find myself a quiet place so that I can create with more freedom".
Following his Zoerism, Zoer quit Lille city life choosing to spend more time in the countryside.