Artists of the Week – CYRCLE.
LA's street art shooting stars CYRCLE. have been extremely busy these last couple of weeks. The result of it all is an outstanding mural, a beautiful print and an innovative exhibition. The trip to POW! WOW! Street Art Festival Hawaii produced a massive mural that is made up of sprayed circles in black, grey and orange. Together the molecular structure forms an ancient Greece imagery that thematically hints in the direction of their print release and exhibition. The print release is outcome of CYRCLE.'s participation in 1 Run's POW WOW Festival 2014 Art Series prints. The print CYRCLE. produced is titled Rape of Sabine and is created in the same way as the mural. This all goes hand-in-hand with OVERTHRONE! Pooring Reign, their solo exhibition at StolenSpace Gallery in London. The solo show that uses the theme of overthrowing the power will open March 7th. Like we said the boys of CYRCLE. are busy; busy producing amazing artwork that we all enjoy. Therefore, our artists of the week are CYRCLE.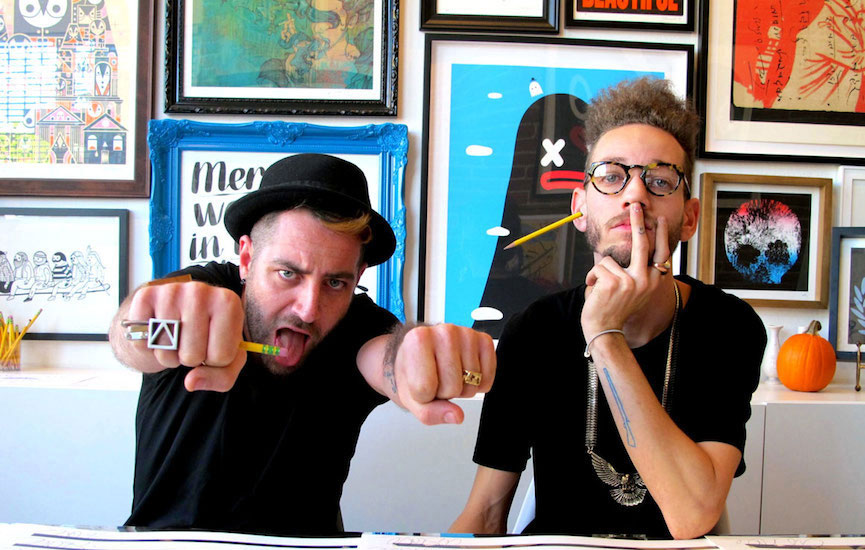 About CYRCLE.
Originally CYRCLE. had three members… Davey, Rabi & Devin… now it is just Davey & Rabi. Cyrcle had been friends and fellow artists for years and one day realized their purpose to form a unity and create something new and powerful collectively… October 10th, 2010 CYRCLE. was born. They choose the name first and foremost because they had tried working together in the past to no avail, try fail, and now they had come the  full circle hence the name CYRCLE. with a "Y" instead of an "I" because there is now "I" in CYRCLE. it is a "we" thing. The all-caps represent power and the period suggests finality… CYRCLE. is here to stay. The deeper meaning of CYRCLE. is rooted in Alchemic mythology, more specifically the inspiration came for the Ouroboros, a self-sustaining creature of perfect balance.