Artists of the Week – Lek & Sowat
In late 2013 Lek and Sowat contributed an extensive in situ installation for the largest street art exhibition to date: 'La Tour Paris 13'. The two DMV Crew members collaborated with Legz and Roti to create an outstanding black-light installation entitled "Minotaur". One of the most innovative urban art installations we've seen. Invited and supported by David Bloch Gallery they continued their pioneering journey in Marrakech in February. Collaborating with Arnaud Liard produced two significant murals in Medina and a brilliant exhibition titled "Contrebande". With the precise placement of canvases, murals and installations Lek, Sowat and Liard completely reimagined the David Bloch exhibition space. In the most recent past the two collaborated with yet another urban artist: Jacques Villeglé. For the art fair 'Drawing Now Paris' Lek, Sowat and the urban art legend Villeglé drew a large-scale fresco.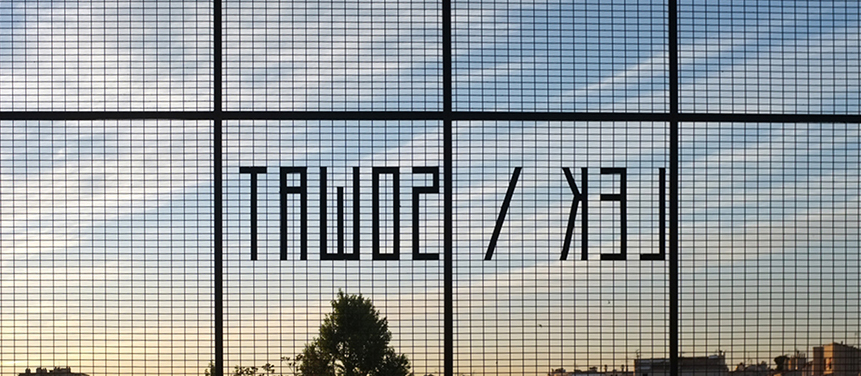 In the near future Lek and Sowat will reunite with DMV Crew for their exhibition at BC Gallery in Berlin. Da Mental Vaporz will create an exhibition specific mural and present a new body of work. What stands out is that Lek and Sowat's work is, in the most positive sense, universal and integrated. It makes no difference with whom they collaborate the final output is always aesthetically sophisticated and appealing. It also makes no difference where they stage their interventions, their artwork always beautifies its surrounding and relates directly to its environment, culture or history. Like no one else the two artists transform dilapidated locations into works of art.
For these any so many other reason the 'Urbex' duo Lek and Sowat are our Artists of the Week.
About Lek and Sowat
Lek is one of the first generation of Parisian graffiti artists who learnt his craft in the legendary area between La Chapelle and Stalingrad where French street culture emerged. Sowat is a Franco-American graffiti artist who matured in the surroundings of Marseille and Los Angeles, inspired by Chaz Bojorquez, one of the major figures in Californian graffiti who developed "Cholo writing", a calligraphy created in the 1940s and intended to mark out the territories of Latino gangs.
Lek and Sowat are jointly involved in the practice of Urbex, taking over places that are derelict but with a powerful history. In their large-scale frescos, the typographical motifs traditionally used in graffiti are taken toward a form of architecturally influenced abstraction. Following the succes of their "Mausoleum" project, Lek and Sowat have been in the spotlight for putting together two major group shows with 40 of their peers at the Palais de Tokyo in 2013, "Dans les entrailles" and "Terrains Vagues", both of which gaining international recognition.
After being invited by the Centre Pompidou to discuss their work with Jacques Villeglé, they pursued their collaboration with the modern art legend, secretly filming him and 20 historical French Graffiti writers on one of the Palais de Tokyo's blackboard for a film called "Direct Outlines".