Daniel Pacifici aka 0707 is an Italian street artist and graphic designer who explores the interaction between humans in his works.
Humanizing the City
Self-taught, 0707 started his artistic career in 2012 by painting portraits of people in the street of Italian capital Rome.
"My artist side was born as a 'therapeutic' expression of inner feelings and need after a tough period of my life. What is curious about it, is that you soon realize how art starts like an hobby, at least for me, and soon became a need, translating feelings and thoughts in something frantic and vivid." – 0707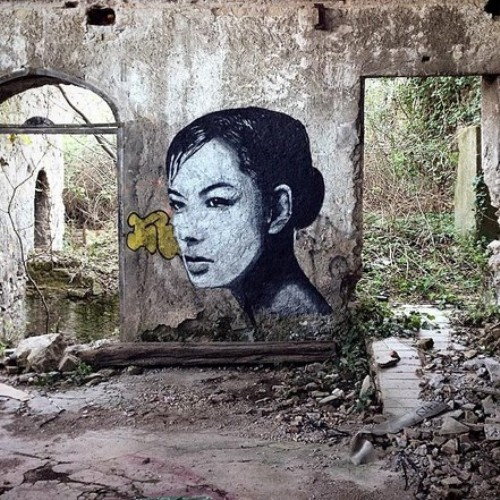 Using multilayer stencil technique, 0707 transforms the street elements such as road signs, wooden panels and letterboxes, in a canvas.
This is A Good Kiss Spot
0707 is also known as the originator of the This is A Good Kiss Spot project that went viral and has a goal to spread a message around the globe. Since 2013 when the project started, it has covered five continents and over 80 countries with the help of hundreds of volunteers and one simple element: a sticker. The simple messages aimed at couples have been installed and photographed in some of the world's most iconic sites including monuments, scenic outlooks, and the occasional Subway stop, as well as on bridges, benches, and even on cars.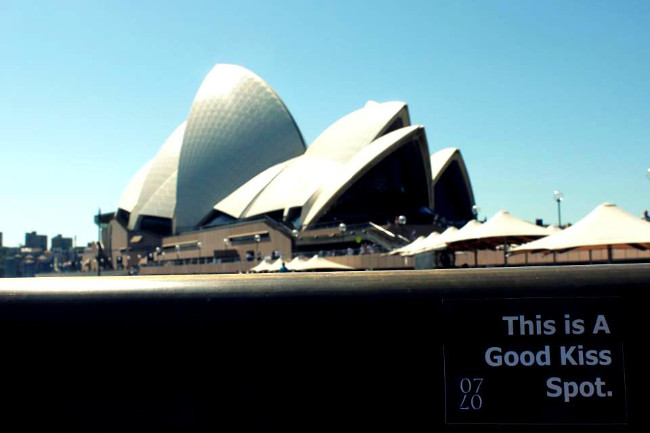 0707 in London
In 2014, 0707 moved to London, UK, where he started a series of new experimental portraits on the street. He is involved in several viral o guerrilla projects with the common theme of communication and dialogue between different individuals, trying to break the social urban conventions.