1010 (correctly pronounced as ten-ten) is a Hamburg-based contemporary artist widely renowned for his obscure street pieces underlined by amazing effects of optical illusion. This artist creates his urban confusions on walls all around the world, giving them unique aesthetics that make them seem like they are portals to other worlds. Although he has been active for more than a decade, 1010's identity is shrouded in mystery, despite many attempts to find out who he exactly is - fortunately, this fact only makes his art seem more mysterious and adventurous.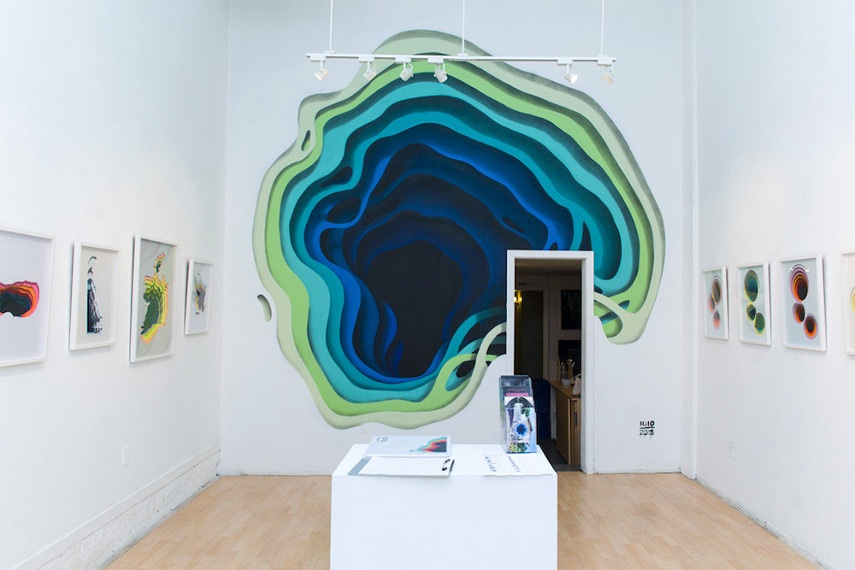 Op-art Murals
Due to his decision to stay anonymous, not much is known about this artist's past. Originally from Poland, 1010 came to Germany with his parents when he was about eight years of age. Interested in the digital world of creation, he explored the possibilities behind textures with an almost computer generated smoothness. Later, he started creating abstract birds and snakes via papercuts, relying on street art ideas to publicize his work. After much artistic experimentation, he finally found his true calling in 2010 when he began developing his concept of abstract holes on the walls. 1010 made a practice out of creating three-dimensional damage-like shapes on walls, producing amazing pieces that trick the viewers into believing that there's an actual hole set before them. These often huge op-art murals are so realistically done that it is hard to believe they do not have the depth of the third dimension. The process of making these kinds of artworks is very specific, which comes as no surprise when you consider the quality and complexity they possess. Firstly, 1010 selects a pattern which indicates the nature of the building it is painted on and that the mural would fit perfectly on the chosen wall. The artist then starts his thing, beginning to paint from the dark center of what will eventually become his image of a hole. Layer by layer, 1010 reaches the lightest shades of color, placing them on the periphery of his piece. Ultimately, he creates breathtaking shapes that burrow their way into the sides of buildings, joyfully playing with concepts of time and space. Furthermore, he goes a long way to ensuring that the incorporation of his piece within the urban landscape goes perfectly, making sure that the inclusion almost seems to be a hand in glove fit. Therefore, choosing the right location is a big deal and a true necessity for this artist. One of his largest street-portals to date was painted on the closed section of highway in Paris, measuring over 4500 square meters.
Although 1010 usually paints his portals on vertical surfaces, one of his most tremendous 3D pieces of art to date was actually made on flat ground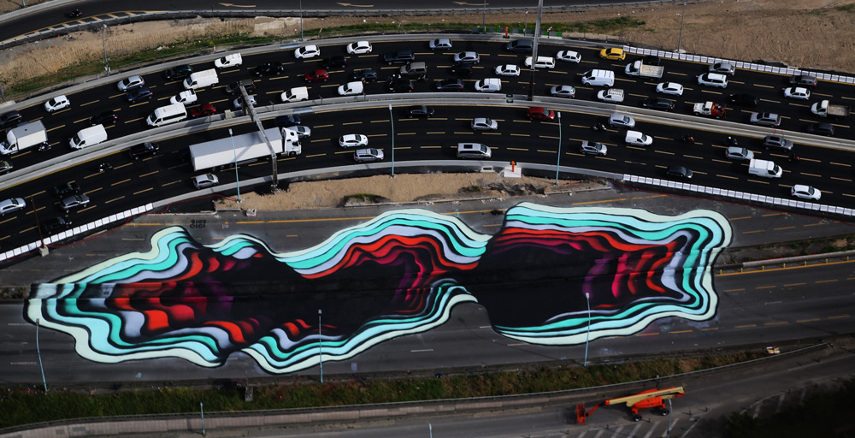 Between the Streets and Galleries
Over the course of the last ten years, 1010 authored some extremely significant and impressive projects. It should be noted that although this artist primarily focuses on making street pieces, 1010 is also quite open to the concept of exhibiting his pieces within the confinements of a gallery space. For such occasions, he often minimizes his oversized murals into smaller designs of acrylic paint on hand-cut paper - like he did with his famous Abyss[1] series. Another important indoors show of which 1010 was the focal point of was Limbus, an exhibition held at the Hashimoto Contemporary Gallery, San Francisco. This show presented a new body of works on paper and panels, announcing some alternative courses 1010's career might eventually take.
This artist is represented by Hashimoto Contemporary and Galerie Soon Bern.
1010 lives and works in Hamburg, Germany.
References:
Anonymous, 1010 Interview, Hashimoto Contemporary, 2015
Featured image: 1010 – Mural for Memorie Urbane in Fondi, Italy, 2015 - Image via streetartnews.net
All images used for illustrative purposes only.