Guido Bisagni aka 108 is an Italian multidisciplinary artist and muralist, best known for his large abstract geometrical black wall pieces. He also works with painting, sculpture and site-specific installations. 108's murals can be seen on the streets of Europe's art capitals, such as Milan, Amsterdam, Paris, London, Berlin, and also in the United States – in New York.
108's murals are characterized by large abstract geometrical black shapes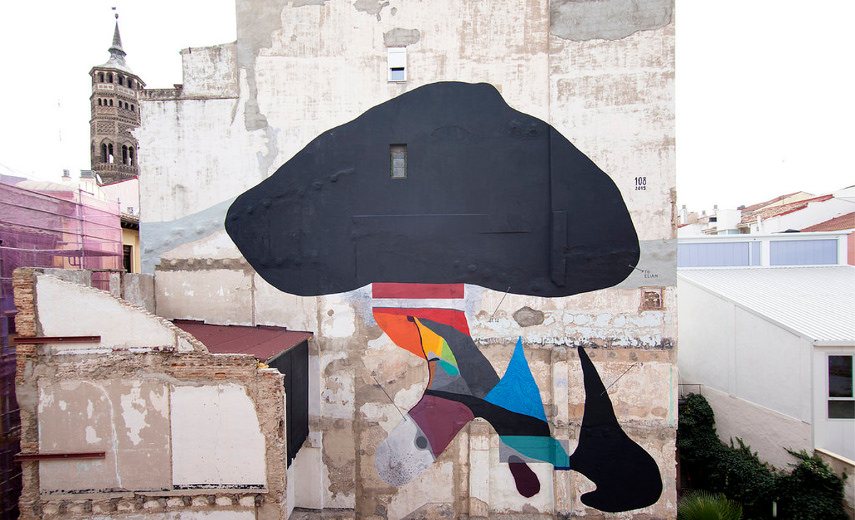 Born in 1978 in Alessandria, city in Piedmont, Italy, the artist began his street art career from the abandoned buildings and the neglected and often overlooked industrial spaces characteristic of his hometown. Over the course of years, 108's art has developed and his style has moved from traditional graffiti art to unique abstractions of black forms merged with simple, yet detailed bursts of color.
At some point in his career, 108 decided to break away from the pop trend which is dominant in the contemporary and urban art, and shifted his focus towards introspective journey and began experimenting with pure form and its symbolic meaning, influenced in a way by primitive art. As a result, and much like his pseudonym, his work is simple and mysterious. Devoid of most or any detail, 108's black hole-like shapes are frequently scattered with colorful details and forms.
The artist experiments with pure form and its symbolic meaning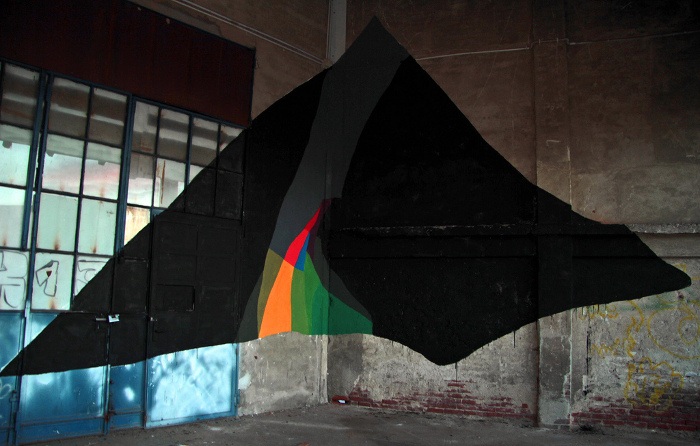 The art of 108 is at the same time captivating, engaging and challenging. The power of his work can be seen while observing the large triangular constructions which possess an effect of warping and playing with the room's dimensions.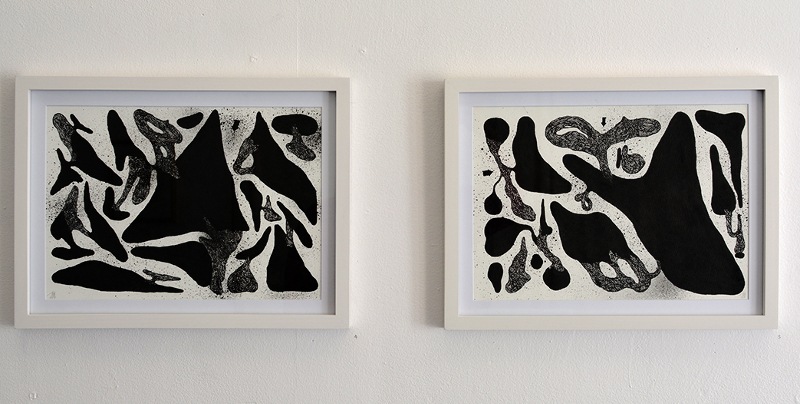 108 exhibited his work in numerous projects, festivals and group and solo shows. He participated at the Venice Biennale in Italy as a part of Walls project, along with fellow artists JR and DAIM. Other exhibitions include Nusign 2.4 in Paris, Urban Edge Show in Milan, Segundo and Tercer Asalto in Zaragoza, and many others.
108 is represented by Antonio Colombo Arte Contemporanea in Milano, and Galerie SOON in Bern.
Featured image: 108's mural in Milan, Italy, 2013
All images courtesy of the artist