One of the main creative wings behind the visual wonders of Italian Futurism, Carlo Carrà was an influential artist who helped shape one of the most important avant-garde movements of the early 20th century. Many of his works were the ideal representation of what Futuristic concepts stood for - Carra's iconic piece titled as The Funeral of the Anarchist Galli (1911) quickly became a symbol of dynamic action and powerful visual violence Italian authors of Futurism represented. Carlo also pioneered the style of painting called Pittura Metafisica. Later in his life, Carra started combining his artistic ideas with the norms of Cubism. However, he remained a symbol of Futurism for the entirety of his career.
Carlo Carrà and Futurism
Carlo Carrà was born in Quargnento, near Alessandria, in the year of 1881. When he was at the age of 12, he left home in order to work as a mural decorator. Soon, painting became his only preoccupation in life as young Carlo dreamed of becoming an influential artist others would marvel at. In the year of 1900, Carra was in Paris decorating pavilions at the Exposition Universelle where he became acquainted with contemporary French art. He also spent a few months in London that year where he was exposed to the influence of Italian anarchists who were exiled from their native country. Soon, Carlo started to feel fascinated with anarchism and fascism, a factor that will play a big role in years to come. In 1906, Carlo started attending classes at the Brera Academy and studied under the guidance of Cesare Tallone. Four years later, Carra decided to launch a new artistic movement alongside his friends Umberto Boccioni, Luigi Russolo and Giacomo Balla. Gathered behind a common goal and mutual artistic ideas, they signed the Manifesto of Futurist Painters in 1910. This marked the most important chapter of Carlo's artistic career.
Carlo Carrà was one of the key artists whose sculpture and painting artworks were responsible for the radical changes behind the movement of Futurism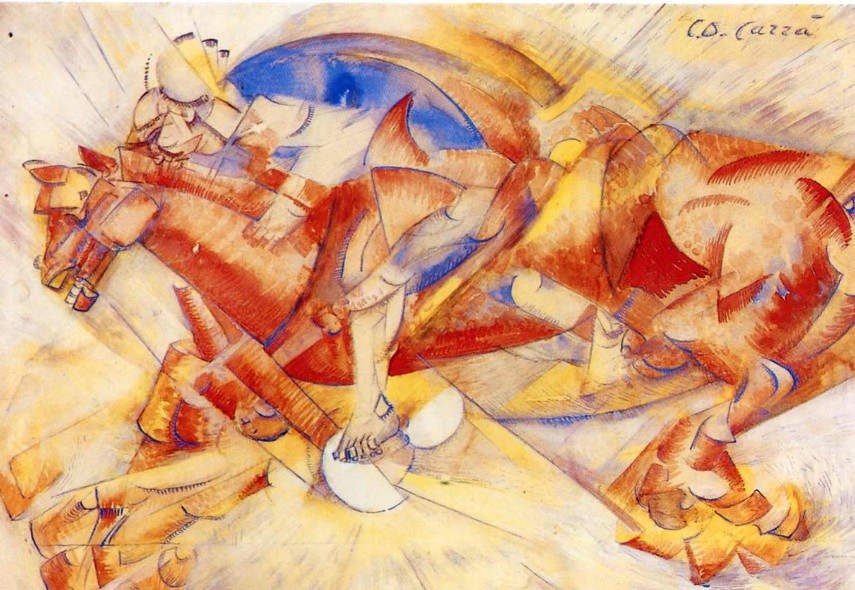 After the Peak of 1911
Carrà's Futurist phase ended around the time World War I began. He continued to use Futurist elements in his works, but a definite turn towards pictorial stillness was obvious. Inspired by the aspects of Trecento painting, children's naive art and the unique works of Henri Rousseau, Carrà soon began creating still lifes in a simplified style that emphasized the reality of ordinary objects. In 1917, he met and started to collaborate with Giorgio de Chirico in Ferrara - the duo worked together for several weeks and the two became the innovators of a style they called metaphysical painting of Pittura Metafisica. Throughout the duration of the 1920s and 1930s, Carlo concentrated mainly on landscape paintings and developed a more atmospheric style that was unlike anything from his previous portfolio - the best example of this type of painting is the work called Morning by the Sea. The artist took a step back from the spotlight in his later years, becoming a more private person than when he was a young man fascinated by anarchism and fascism. Carrà died in the city of Milan in 1966. He never stopped painting until the last day of his life.
In his later life, Carlo Carra emancipated himself from the boundaries of Futuristic models but still relied heavily on them in everything he painted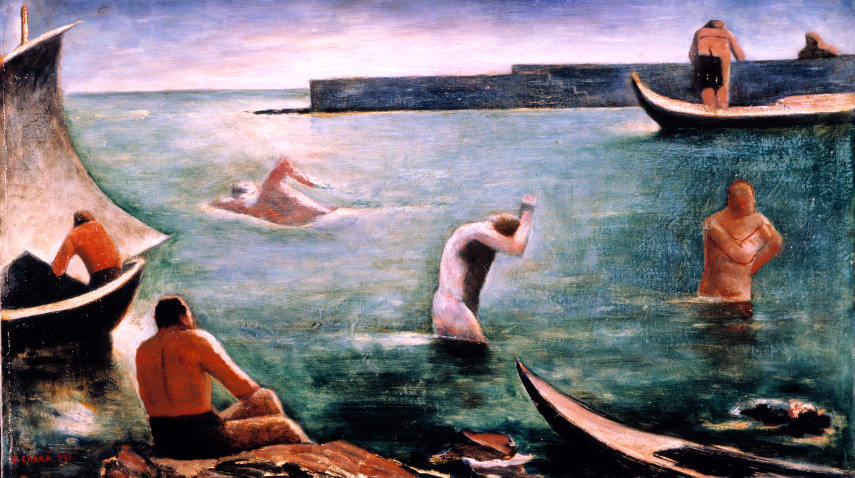 Consequences on Avant-garde Art
Although he strayed away from visual concepts on a regular basis for the majority of his career, Carlo still managed to leave his mark within every movement he ever worked in. Carrà pioneered concepts, visual vocabularies and artistic movements that changed the face of European art, playing roles in what will turn out to be a key moment in modern art history. He painted, experimented and contributed to many aspects of avant-garde societies, engraving his name as one of the most crucial authors of the early 20th century.
References:
Raimondi, G., Carlo Carrà, Ulrico Hoepli, 1942
Carra, L., Coen, E., di Linguaglossa, E. B., Kidd, T., Carlo Carra: Metaphysical Spaces, Blain|Southern; First Edition - Limited edition, 2016
Featured image: Carlo Carra - Uomini al mare, 1941 (detail) - Image via pinterest.com
All images used for illustrative purposes only.