Christopher Ofili, known as Chris Ofili, is an English Turner Prize-winning painter and a member of Young British Artists movement. His works are recognizable for their vibrant palette and a variety of applied textures, such as glitter, magazine cut-outs, resin and even elephant dung. When it comes to the main topic of Ofili's work, it is the exploration of both contemporary and historical black experience through challenging racial stereotypes.[1] Because of his use of elephant dung in paintings, the well-known controversy has arisen over the Ofili's work entitled The Holy Virgin Mary.
[caption id="attachment_299770" align="aligncenter" width="855"]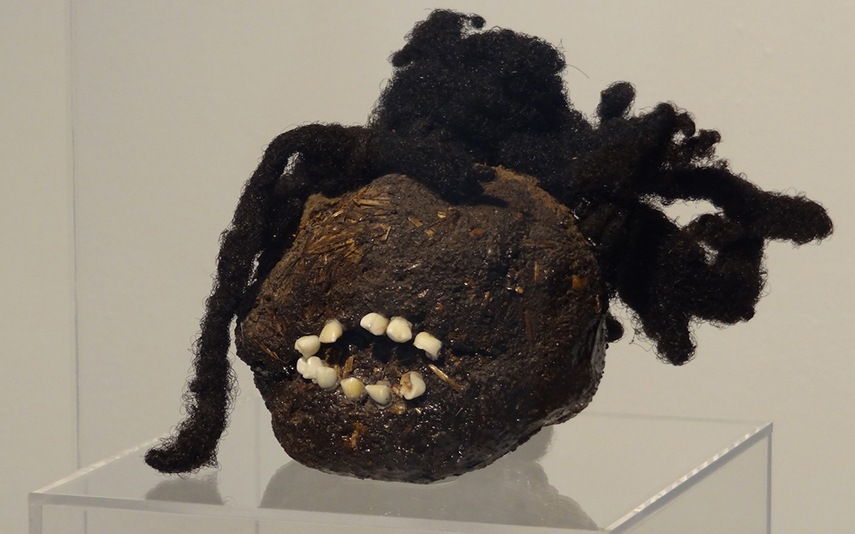 Chris Ofili - Shithead, 1993 - image via hyperallergic.com[/caption]
Ofili and His Artworks Questioning New Stereotypes
Chris Ofili was born in Manchester, Great Britain but his family is originally from Nigeria. The artist has attended St. Pius X High School for Boys and later studied in London, at the Chelsea School of Art and at the prestigious Royal College. In 1992, he got a one-year exchange scholarship to Universität der Künste Berlin and also additional scholarship that allowed him to travel to Zimbabwe. It is important to mention that Ofili showed a keen interest in African cave paintings there, which had a certain effect on his style. His artworks often make references to blaxploitation films and gangsta rap, questioning racial and sexual stereotypes in a clever and humorous way. For instance, in a series of faces that Ofili called Harems, each work consists of one man with as many as four women around him.
Ofili's work typically consists of layers of paint, resin, glitter, dung and other materials suitable for collage. His early paintings were heavily influenced by artists such as the legendary Jean-Michel Basquiat, Georg Baselitz, Philip Guston, and George Condo. Chris Ofili has also been the founder of the short-lived Freeness Project, which involved the gathering of artists, producers, and musicians of minority ethnic groups, like Asian and African. The goal was to expose and give voice to the creativity of lesser known contemporary British ethnic minority artists. Ofili himself became established through exhibitions by Charles Saatchi at his gallery in north London and through the traveling exhibition from 1997, called Sensation.
Ofili's work often makes references to black films, culture and new gangsta rap, questioning racial and sexual stereotypes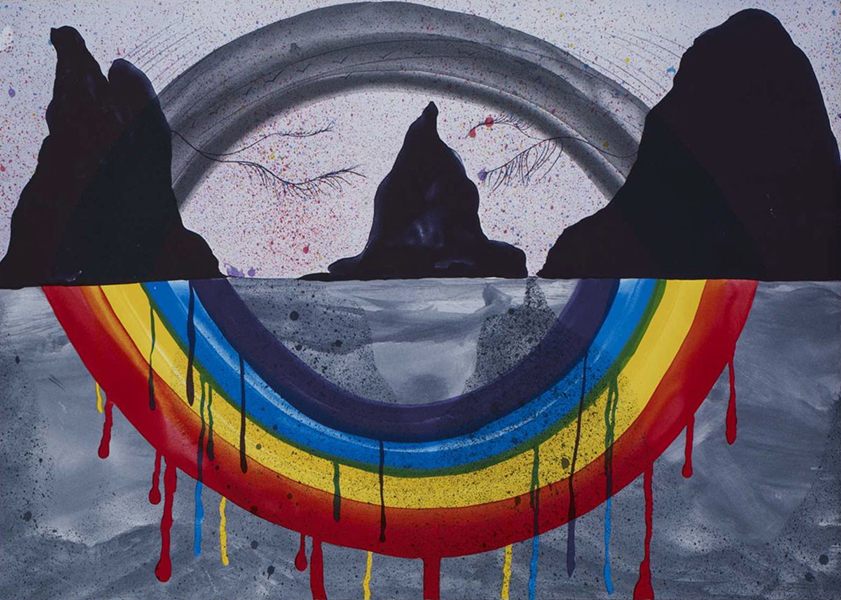 The Holy Virgin Mary Controversy in the Brooklyn Museum
One of Ofili's most famous paintings called The Holy Virgin Mary, initiated a lawsuit between the mayor of New York City, Rudy Giuliani, and the Brooklyn Museum of Art. The controversial artwork was exhibited in 1999, as a part of the Sensation traveling exhibit. This painting represents a Black Madonna surrounded by small images from blaxploitation movies and close-ups of female private parts from pornographic media and magazines. There are also lumps of elephant dung which look like the cherubim and seraphim found in the imagery related to the Immaculate Conception and the Assumption of Mary. Ofili's so-called scandalous painting was ranked No.86 in 100 People Who Are Screwing Up America.[2] However, not everyone was against Ofili - Red Grooms showed his support and open-mindedness by purchasing one of Ofili's artworks in 1999. The Holy Virgin Mary was eventually bought by a collector and it is now on display at the Museum of Old and New Art in Hobart, Tasmania. Despite this incident, Chris Ofili became renown as one of the few artists of African descent from the Great Britain who got recognized as a member of the Young British Artists. His work can be found in the important permanent collections of the Museum of Modern Art, New York; the Tate Gallery, London; the Museum of Contemporary Art, Los Angeles; the Carnegie Museum of Art, Pittsburgh; the Saatchi Collection, London; the Walker Art Center, Minneapolis; and the San Francisco Museum of Modern Art, among others. The artist has moved to the island of Trinidad in 2005, where he still resides and works.
The controversial artwork The Holy Virgin Mary was exhibited in 1999, as a part of the Sensation, a popular traveling exhibition and a triumph of Ofili's career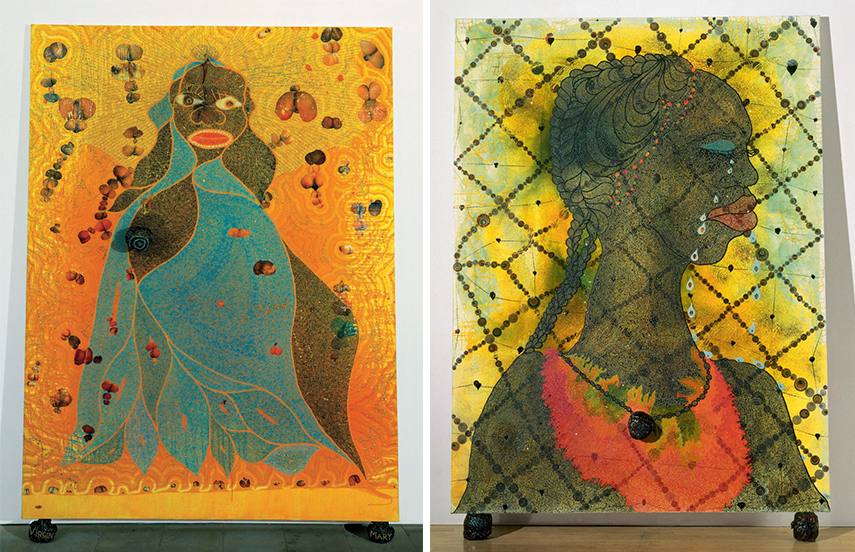 Mixing Sacral Ideas with Black History
By using various references from African music, culture, religion and textiles, Chris Ofili became the master of experimenting with unconventional techniques, materials and subject matter. His vibrant, technically complex and meticulously executed collage works were awarded Turner Prize in 1998 because of their boldness, audacity, and innovative nature. Through his intricate and highly original paintings, Ofili explores widely diverse and historically important themes, such as sacred ideals, identity issues, black history, high and low culture as well as universal self-awareness.
The artist is represented by D. Zwirner London, D. Zwirner 19th Street and D. Zwirner 20th Street.
Chris Ofili lives and works in Trinidad.
Sources:
Vogel, Carol (2005) Chris Ofili's Watercolors, New York Times [August 28, 2016]
Benett, Will (2002) Elephant Dung Artist Gives a Little Back, The Telegraph [August 28, 2016]
Featured image: Chris Ofili's Portrait - image via ianallenphoto.com