Having the long painting career that started from the Impressionist and Fauvist visual language, Georges Braque found himself at the forefront of the revolutionary and progressive art movement of Cubism. Side by side with one of the greatest names of the 20th-century art, George Braque collaborated along with Pablo Picasso creating iconic works that were used as the direction for the future generations of artists. Always focused on the overview of the objects seen from different perspectives depending on color, line, or texture, it was natural that his acquaintance with Picasso resulted in such an explosion of innovations. Although same in the palette, style, and themes, their pieces differed for Braque's deprivation of iconological commentary and interest only in pictorial space and composition. Searching for harmony and balance through the new technique of collage with the use of pasted paper named papier collés, the painter went one step further by incorporating advertisements clippings into his canvases.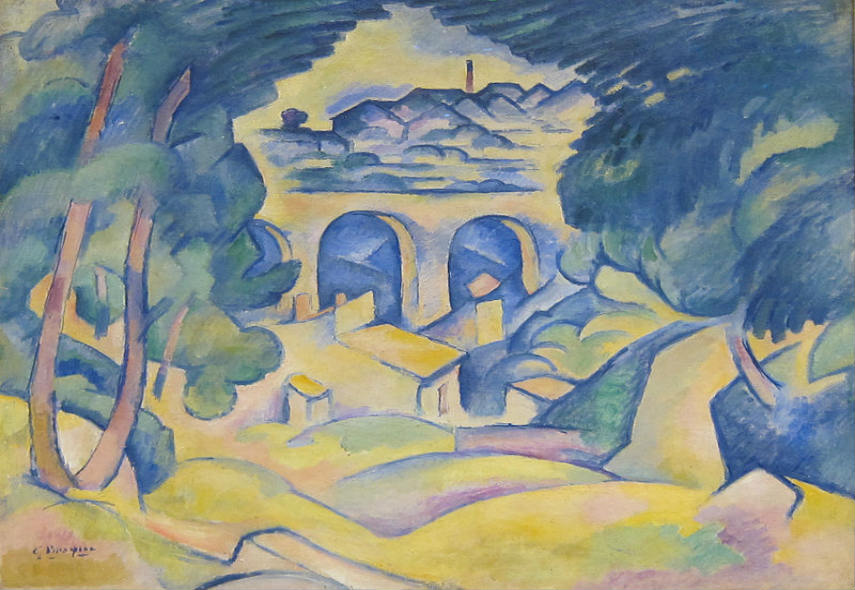 Early Life and Acquaintance with Picasso
Braque was born in 1882 in Argenteuil, Val-d'Oise and grew up in Le Havre where his father managed a decorative painting business. Working with him as a decorator, he developed his first interests in art, starting to study painting during evenings at Ecole des Beaux-Arts. At the age of 17, he moved to Paris to attend the Academia Humbert until 1904. During this period, he created his first paintings in a Fauvist style, under the influence of Henry Matisse and debuted at the exhibition at the Salon des Independants in 1906. Progressively changing the style, he was under the impression of Paul Cezanne's works which he saw on a large retrospective show held one year after his death. After the visit to Picasso's studio, Braque became totally fascinated by his Les Demoiselles d'Avignon, developing a close friendship and artistic collaboration with the already famous artist: "We would get together every single day to discuss and assay the ideas that were forming, as well as to compare our respective works"[1]. From 1908, he started to show interest in geometry and simultaneous perspective, exploring the effects of light and techniques used for achievement of these effects. Reducing the architectural structures to a geometric form on his paintings, he shaded it making the illusion of both flat and three-dimensional image. One faced with Picasso's approach, Braque began to use more expressive implementation of constructive elements along with Fauvist visual language. His distinctive landscapes from this period, reduced to basic shapes and colors, inspired French art critic Louis Vauxcelles to call them the "bizarreries cubiques" which later resulted with the term Cubism, for the first time officially used in 1911 with reference to the exhibition at the Salon des Indenpendants[2]. Braque's and Picasso's collaboration and mutual influences were marked with both similarities and differences, but the fact was that they equally contributed to the development of Cubism in 1908, using the monochromatic palette and complex patterns of faceted form in their paintings that would be later named Analytic Cubism. During summer 2011, two artists painted side by side, producing almost identical pieces. One year later, they started revolutionary experimentation with collages, inventing the papier colle technique.
Picasso's influences were of the crucial importance for the art of Georges Braque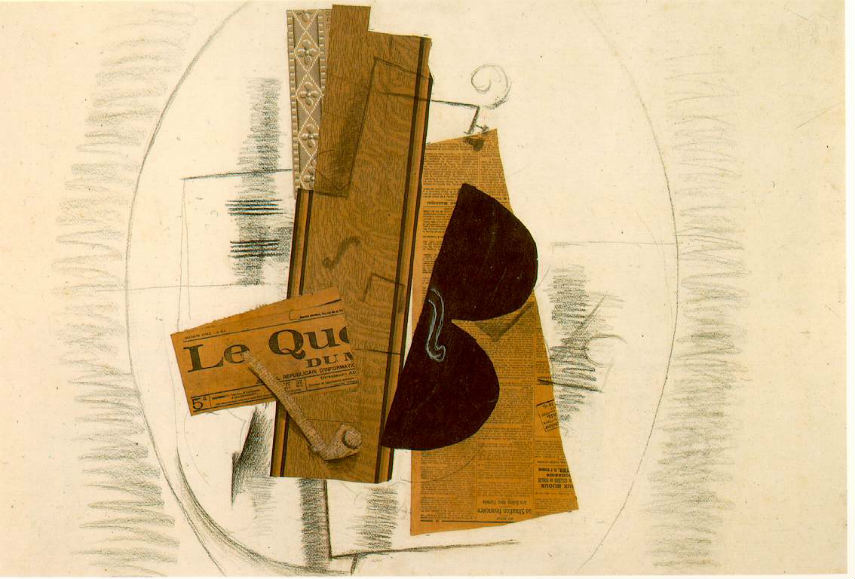 Collages as the Announcement of the Cubist Sculpture
When the World War I began, Braque joined the French Army where he suffered the head injury in a battle and experienced temporary blindness as a consequence. After the long period of recuperation, he noticed the change in his friend's style who started to paint figuratively. Taking it as a betrayal of their Cubist convictions, Braque decided to continue on his own. "The things that Picasso and I said to one another during those years will never be said again, and even if they were, no one would understand them anymore. It was like being roped together on a mountain"[3]. Still, the artist continued to be influenced by Picasso's work, creating collages of pieces of musical instruments and furniture that were crucial for the later development of the Cubist sculpture. Feeling the saturation with this technique, by 1918, Braque has returned to still lifes. His first postwar solo exhibition held in 1919 showed the change of palette toward limitations of tones and strict adherence to the Cubist rules of multi-faceted geometrical shapes. Completely dedicated to the exploration of perspectives and depicting space in different ways, Braque was even designed sets and costumes for theater performances during the 1920's. Over the time, his style became more personal, showing the tendencies toward human figure after his move to the Normandy seacoast. He again started to explore the landscape, now using bright colors influenced by Picasso and Matisse. After the 1930's he focused on portraits of Greek mythology heroes, deprived of the symbolism, seen through a purely formal lens, considering these works for exercise for line and shape. Haunted by the themes of death and suffering, the artist painted Vanitas series which have reflected his obsession with the physicality of paintings when he searched the new techniques of the brushstrokes and colors to emphasize the subject matter. Braque's selection of subjects was always the expression of his personal convictions, often with a hidden meaning[4]. His last series Atelier, made from 1948 to 1955 consisted of eight canvases imbued with the objects from his inner thoughts rather that the observations of the world around. Shortly before his death, he painted birds repeatedly, reflecting his obsession with space and movement.
Braque remained dedicated to the Cubist ideas for the rest of his career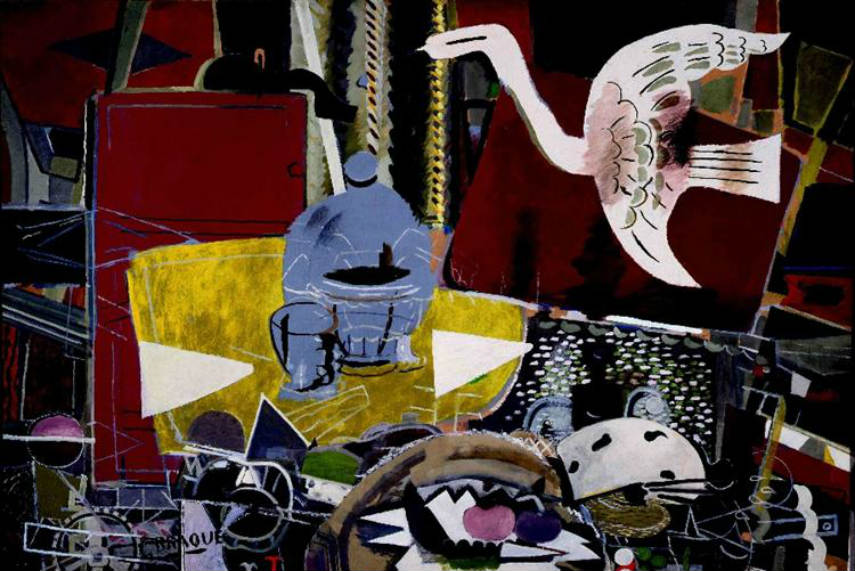 George Braque - The Father of Cubism
Recognized and celebrated as the father of Cubism, Georges Braque's approach was both rational and sensuous, deeply committed to his convictions that he followed during his whole career. His technique was characteristic for the use of pigment blended with sand and copies of wood grain or marble with the aim of achieving more convincing impression of dimension. His still lifes were so abstract that they seemed more like an indication of the object but its direct representations. Braque died on August 31, 1963, in Paris and was buried in the cemetery of the Church of St. Valery in Varengeville-sur-Mer in Normandy whose windows he designed.
References:
Anonymous. Georges Braque Biography, Bio [September 1, 2016]
Butler, K., Maurer, R., Favero, P., Georges Braque and the Cubist Still Life, 1928-1945, Prestel, 2013
Arianna, S. Picasso: Creator and Destroyer, Simon and Schuster, New York, 1988
Monod-Fontaine, I., Shiff Dieter Buchhart, R., Georges Braque: Pioneer of Modernism, Acquavella, 2011
Golding, J. Braque: The Late Works, Yale University Press, 1997
Featured image: Georges Braque's portrait - Image via britannica.com
All other images via wikiart.org