Henri Matisse was a French painter and printmaker, as well as one of the most influential artists of the twentieth century. His stylistic innovations fundamentally altered the course of modern art and greatly affected the works of several generations of younger painters that followed. Matisse's brilliant use of color and exaggerated form was truly groundbreaking at the time and it's quite impossible to overstate his importance to contemporary painting. The bitter rivalry he shared with Pablo Picasso and the movement of Cubism led Matisse to the creation of a whole new moment in art history - Fauvism.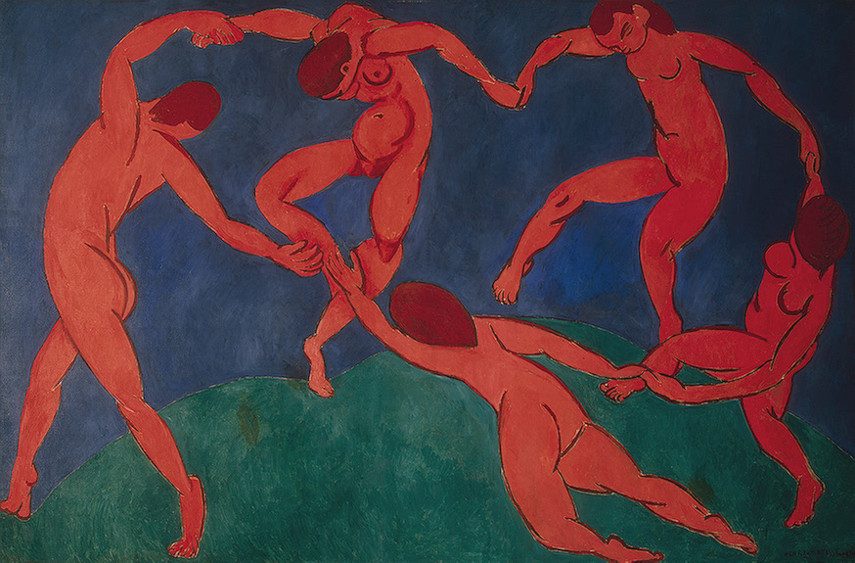 Matisse As A Young Man
Henri-Émile-Benoît Matisse was born on the New Year's day of 1869 in a small industrial town of Bohain-en-Vermandois, France. Like the most people from this northern French town, almost every member of his family was employed in a local grain company. However, Matisse did not choose this life for himself as he was much more interested in studying law. He found a job of a legal clerk and ultimately went to Paris to learn the trade at the law university. After graduating in 1889, Matisse got a position in a law office in the town of Saint-Quentin. Interestingly enough, he did not show any significant sign of artistic tendencies before coming to Saint-Quentin.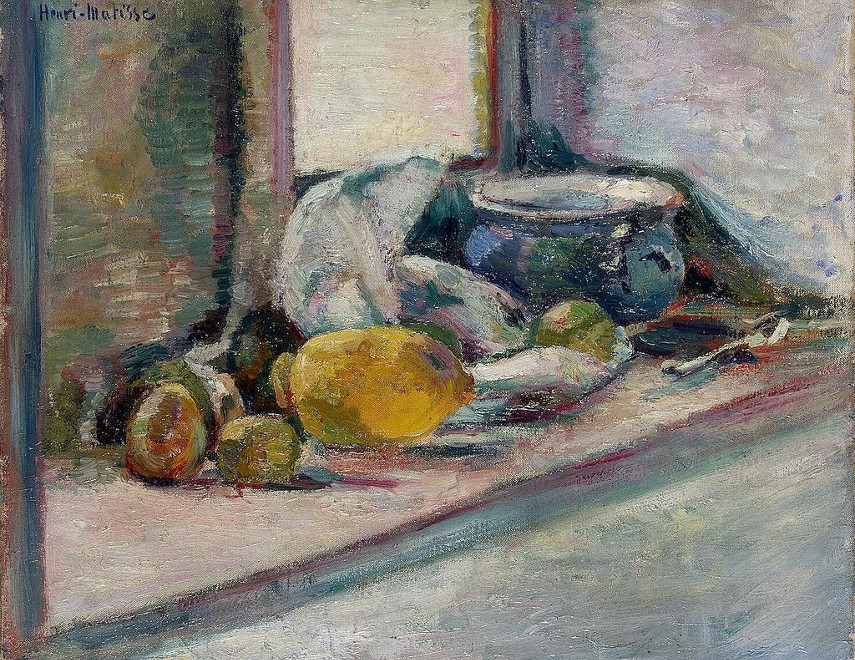 First Artistic Steps
Trying to brighten up the dull days of working in a law firm that did not turn out to be as interesting as he previously expected, Matisse started attending drawing classes. After a few months, when he was the age of 21, he suddenly got diagnosed with an illness that prevented him from going to work for a while. All the time he was tied to bed, Matisse spent painting. Soon after he got better, Henri realized he felt more happy while sick and painting then when he was well and working. He quit the job and made a choice to go to Paris and seek further artistic education. Being financially well off, he was able to afford studies at such institutions as the Académie Julian and the École des Beaux-Arts.
Matisse's earlier work did not look like anything he will paint later in life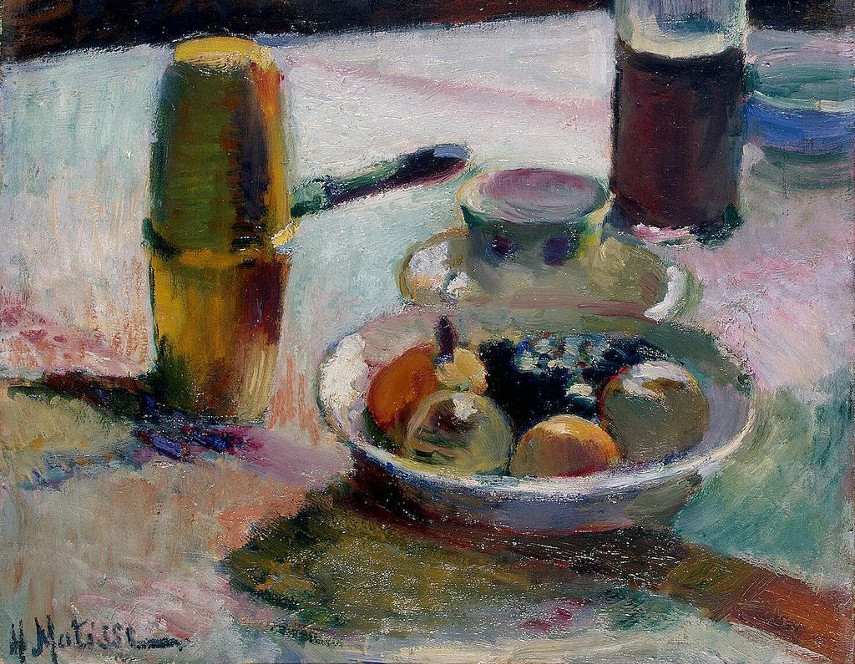 Early Days In Paris
Learning at prestigious schools meant working by academic principles and Henri was fine with that up until the day he was exposed to the recent Post-Impressionist work of Paul Cézanne and Vincent van Gogh. This had an enormous impact on young Matisse who was still undecided if he will take modern or traditional painter's steps. He began to show his work in large group exhibitions in the mid-1890s - including a show at the dreaded Salon, with whom aforementioned Cézanne had many issues. He received some favorable attention and positive reviews from the critics. Soon he married Amélie Parayre, with whom he would have three children.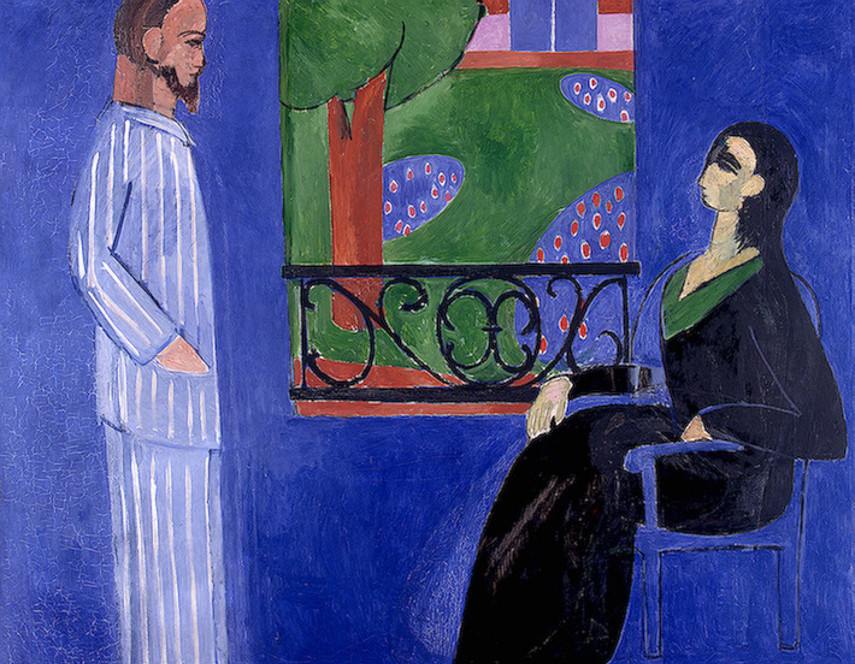 Cutting Ties With The Salon
Where Cézanne and van Gogh failed to fully attract young Matisse, Georges Seurat and Paul Signac were more successful. By the turn of the 20th century, Henri began painting in the Pointillist style - a method of painting in which an artist uses small dots of color rather than full brushstrokes. Soon he cut ties with the Salon and turned towards the more progressive Salon des Indépendants. In 1904, he had his first solo exhibition at the gallery of the art dealer Ambroise Vollard.
At the start of the 20th century, Matisse started to drift further away from the academic art circles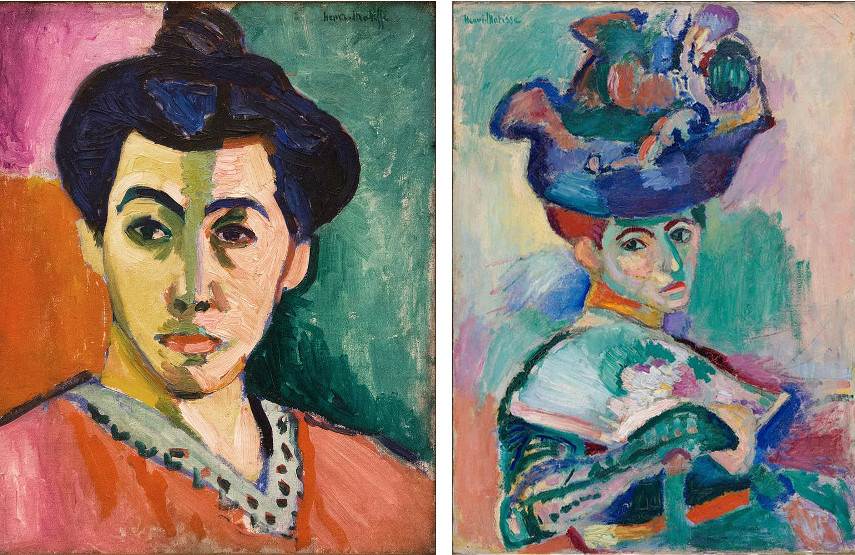 The Breakthrough
Matisse had an impressive creative breakthrough in the years 1904 and 1905 when his color palette suddenly turned much brighter. This can be attributed to a journey he had at the time in which he visited Saint-Tropez in southern France and a Mediterranean commune of Collioure, where he painted two major pieces - Open Window and Woman with a Hat. He exhibited both paintings in the 1905 Salon d'Automne and a contemporary art critic wrote an article about them, stating the boldness and distortion of images created by a certain artist he nicknamed fauves - wild beasts.
Matisse's true mature work came from the inspiration he found in the Collioure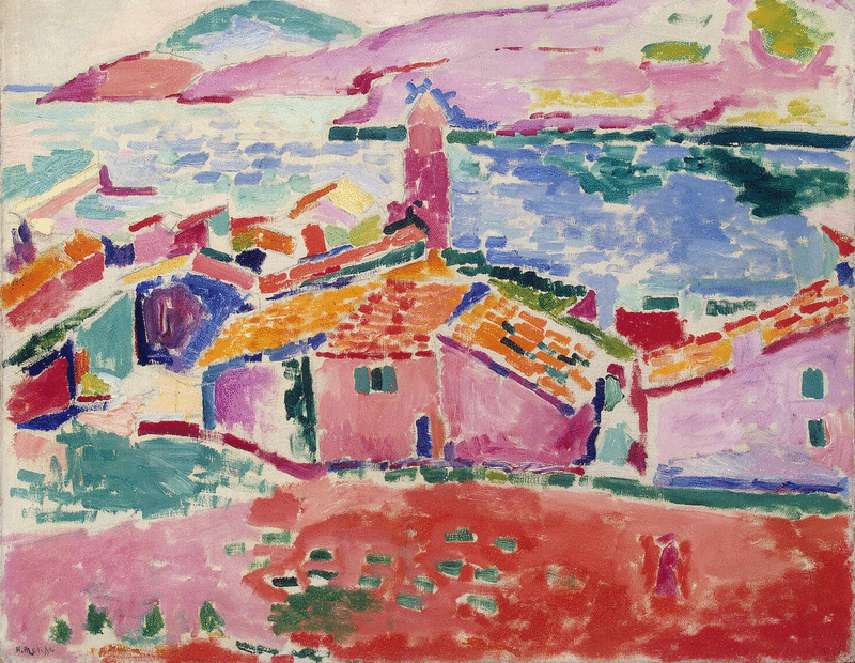 The Fauvism
Accepting the term used by the Parisian critic, Matisse continued to emphasize the emotional power of curved lines, powerful brushwork and acid-bright colors - all obvious in his masterpiece The Joy of Life. Like much of Matisse's mature work, this painting captured a mood rather than simply trying to depict the world as we see it. After creating his own personal style, Henri Matisse enjoyed a great deal of success. This allowed him to travel extensively, visiting Italy, Germany, Spain and North Africa - all very usual as sources of inspiration. He bought a large studio in Paris and signed a contract with the prestigious art dealers of Galerie Bernheim-Jeune.
Matisse's later paintings tried more to capture the mood then to realistically depict subjects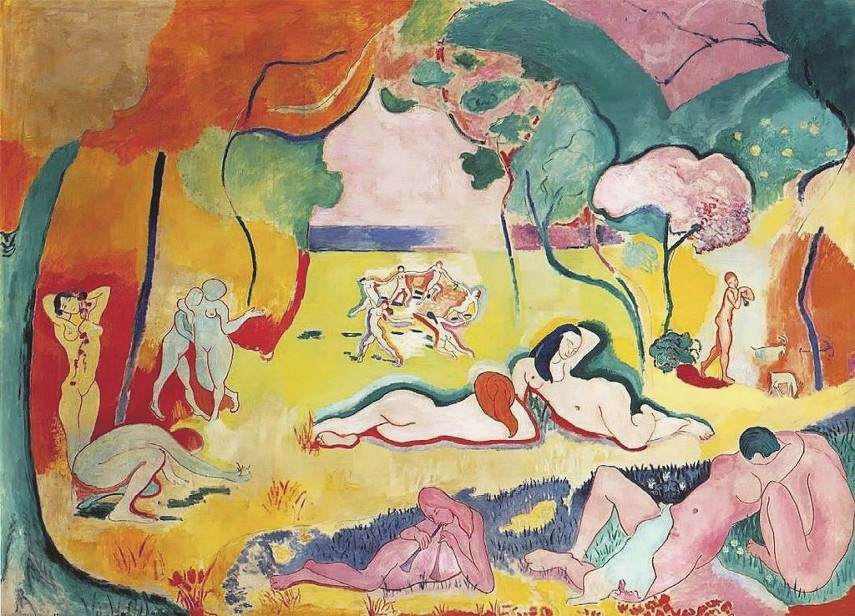 Artistic Peak
During the year of 1909, Matisse created an important pair of paintings - Dance I and Music. With these, he continued to delight audiences with the signature elements of saturated color, flattened pictorial space, limited detail and strong outlines. All of the above became trademarks for Matisse's art. Some of his works from this period had Cubistic elements (like the Piano Lesson from 1916), but not much. This was almost certainly down to the relationship Matisse had with Pablo Picasso as the two were considered lifelong archrivals. They were both extremely successful and wealthy thanks to their art but had complete opposite ideas of color and form.
Matisse is known for his bright colors, strong outlines and flattened pictorial space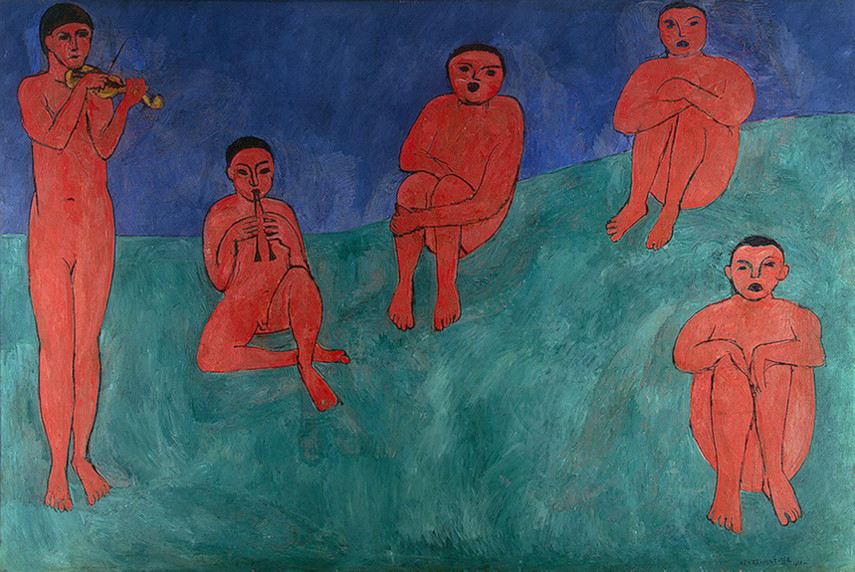 Later life
In 1917, Matisse began spending his winters on the warm Mediterranean and in 1921 he moved to the city of Nice. From 1918-30, Henri mostly painted female nudes in carefully staged settings, but also spent a lot of time printmaking and illustrating books. He received several major commissions, such as a mural for the gallery of collector Dr. Albert Barnes, titled Dance II, in 1931. He was forced to undergo surgery in 1941 and after the procedure was mostly bedridden - making full circles, as his career started the same way, by painting in the privacy of his own bed. Until the end of his life he continued to experiment with painting, he loved writing and illustrating his books, decorating interiors and creating images out of colored paper cutouts. Matisse died on November 3, 1954, at the age of 84.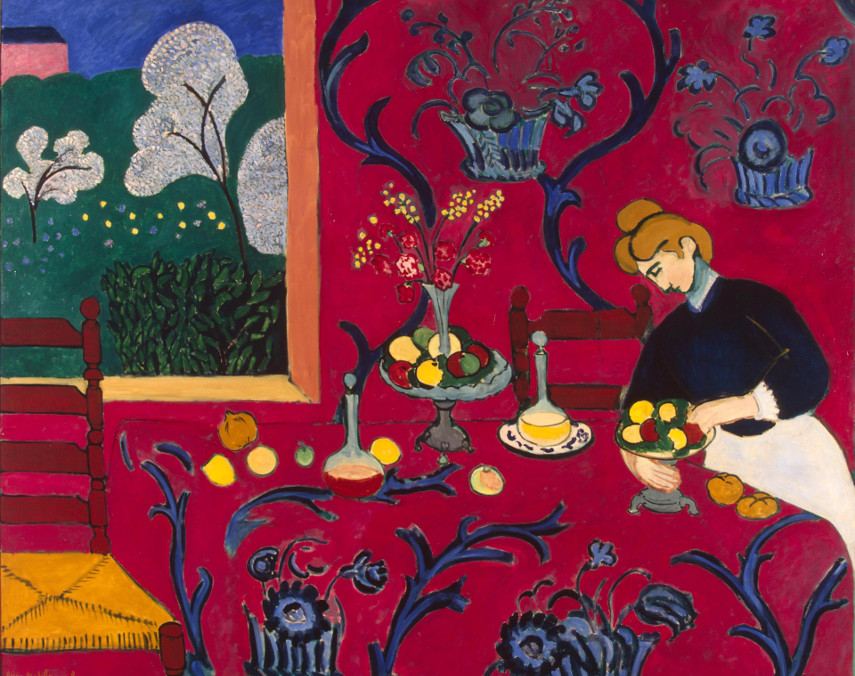 A Man That Shook The Art Scene
The first scholarly book about Matisse's importance to art history came out in the year of 1920 - when Henri was still in his early fifties. This speaks enough of how much appreciation there was (and still is) dedicated to Matisse's work, as he was marked as a vital part of modern history while it was still taking place. Only one other man had the same treatment and that was his already mentioned rival, Pablo Picasso. As was said before, you really can't overestimate the influence Matisse had on the painting scene. He developed a whole art movement that was literally a one-man show and it opened the door for all the modern painters that followed after him.
The artist is represented by Puccio Fine Art in New York, US.
Featured Image: Henri Matisse - Photo of the artist - Photo Credits Business Destinations
All Images Photo Credits Wikipedia