Joan Mitchell was a famous American painter and important member of the American abstract expressionism, despite the fact that much of her career took place in France. Just like her fellow artists Lee Krasner, Grace Hartigan and Helen Frankenthaler, Mitchell was one of her era's few female artists who gained a lot of public appreciation. She was a tough and disciplined person, always courageous and ready to sail against the wind in the masculine art world, at the time when no one believed that women could paint. I try to eliminate clichés, extraneous material. My painting is not an allegory or a story. It is more like a poem, said Joan Mitchell about her work. [1]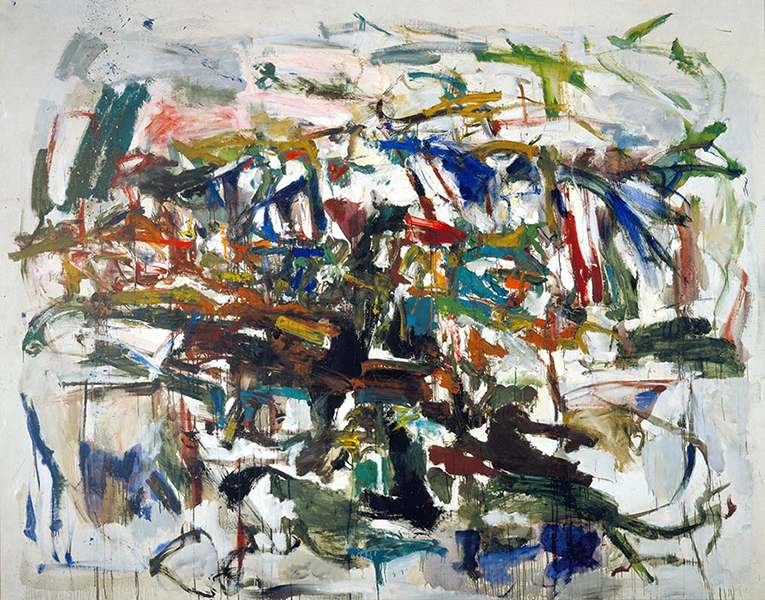 Joan Mitchell and Her Life Between America and Europe
Joan Mitchell was born in Chicago in the mid-20s. Even though her parents weren't visual artists, they were into fine arts and poetry. Her father was a physician who enjoyed drawing while her mother was a successful writer. The younger of two daughters, Joan grew up in a family where both art and literature were highly appreciated. She went to high school at Francis W. Parker School, which was a very progressive institution. After she graduated from high school, she enrolled at Smith College. Joan Mitchell also studied fine arts at the summer school organized by the Art Institute of Chicago. These summer lessons were held in Saugatuck, Michigan, where the young artist could enjoy an interesting mix of personal freedom and strict artistic guidance. Mitchell attended another summer school program in Guanajuato, Mexico, in the mid-40s. She proved to be an outstanding young artist and in 1947 she won a Ryerson Traveling Fellowship, which allowed her to visit New York and later on Europe. She lived in Europe for two years, from 1948 to 1950, when she decided to come back to the United States in order to marry Barney Rosset, a future publisher. They were both originally from Chicago, but they moved to New York City in the 1950s.
Joan grew up in a family where both art and literature were highly appreciated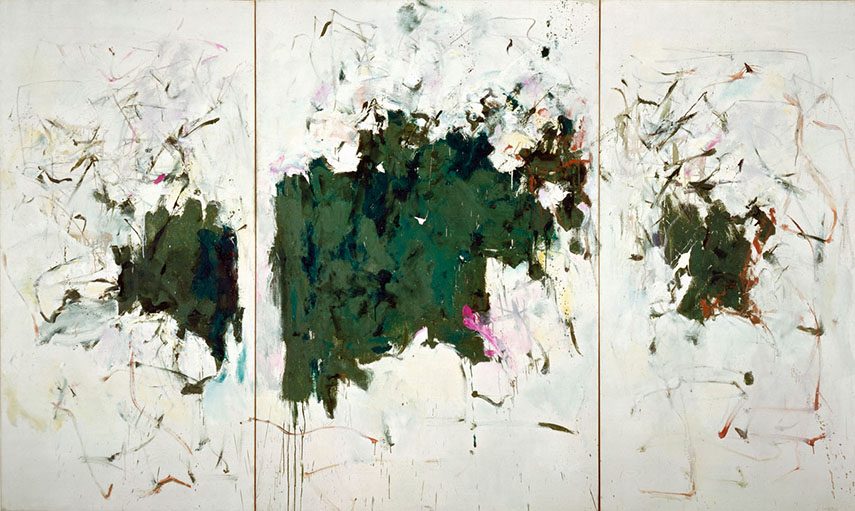 Education in New York and American Exhibitions
In 1950, the artist kept working on her education – she started taking courses at the prestigious Columbia University and NYU, in order to complete requirements needed for an MFA degree. Joan Mitchell befriended the circle of abstract expressionists as soon as she settled down in NYC and she started attending various events with them. For instance, she was a frequent visitor of Cedar Bar, a popular spot for aspiring creatives, and she also participated in important group exhibitions featuring abstract expressionists, such as the legendary 9th Street Show in 1951. Already a year later, in 1952, she had her first solo show, followed by another one in 1953, held at Stable Gallery. After the great initial success, Mitchell continued showcasing her works at Whitney Museum and the Museum of Modern Art in 1955. In 1957, Mitchell took part in one of the most important exhibitions in her career – it was called Artists of the New York School: Second Generation and it was held at the Jewish Museum. The term Second Generation was coined to describe creators such as Mitchell herself, Norman Bluhm, and Sam Francis, who were young painters all belonging to the same movement which resembled expressionism. When it comes to Mitchell's style in the mid and late 1950s, it was based on strong and rhythmical brushstrokes and her works were dynamic, bold and even impulsive. In 1959, Joan Mitchell came back to Europe and she opened a studio in France, located first in Rue Fremicourt in Paris before transferring to Vétheuil in 1968. Vétheuil is a small yet famous town in the French countryside, where the legendary impressionist Claude Monet worked in the 1880s. Mitchell has permanently moved to Vétheuil until her death in 1992.
The term Second Generation was coined to describe ideas of creators such as Mitchell herself, Norman Bluhm, and Sam Francis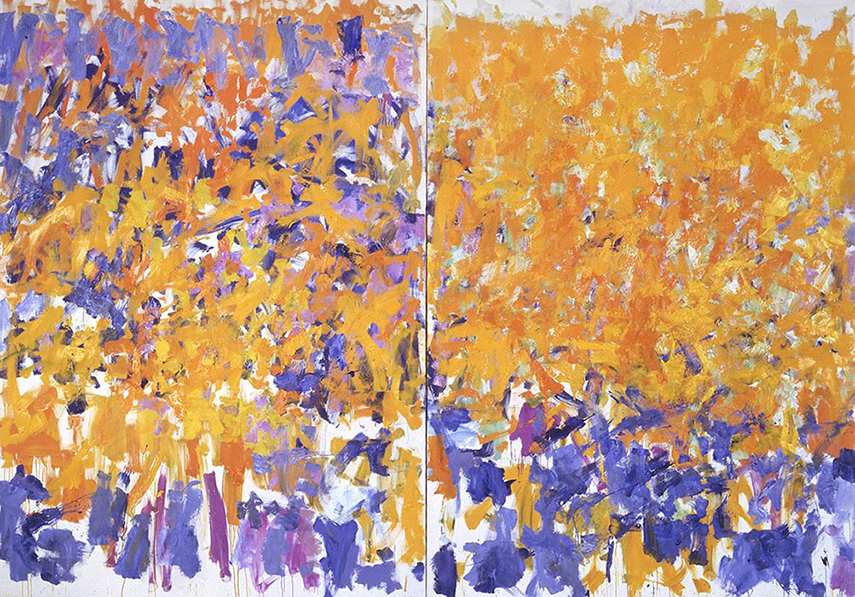 Exploration Related to Composition and Form
Pop and conceptual art which were taking over abstract expressionism starting from the 60s didn't prevent the artist from continuing to work in her own, independent style. During this revolutionary era, she kept exhibiting regularly in solo and group shows throughout the United States and France. In the 1980s, when the interest in conceptual art gradually diminished, Mitchell was discovered by a new generation of painters. She participated in the American Art Biennial Exhibition held at the Whitney Museum of American Art in 1983, with a group of popular young artists including big names such as Jean-Michel Basquiat and Julian Schnabel. She also took part in numerous annual shows at the Corcoran Gallery in Washington, D.C. and Carnegie Institute in Pittsburgh. Joan Mitchell's exploration of form and composition was rather refreshing as she expanded the previous expressionist tradition. Her bold colors and gestures created a uniquely compelling language, where ideas and feelings are represented through versatile patterns and shapes. Because of the tumultuous energy of her approach, Mitchell's work has been often described by art critiques as truly breathtaking. Of all the museum retrospectives she had at the Whitney Museum, the one from 2002 was most memorable. It included a wide range of her paintings from different periods of her career, which allowed the viewers to fully understand Joan Mitchell's artistic achievements.
Mitchell's exploration of form and composition was rather refreshing as she expanded the previous expressionist tools and tradition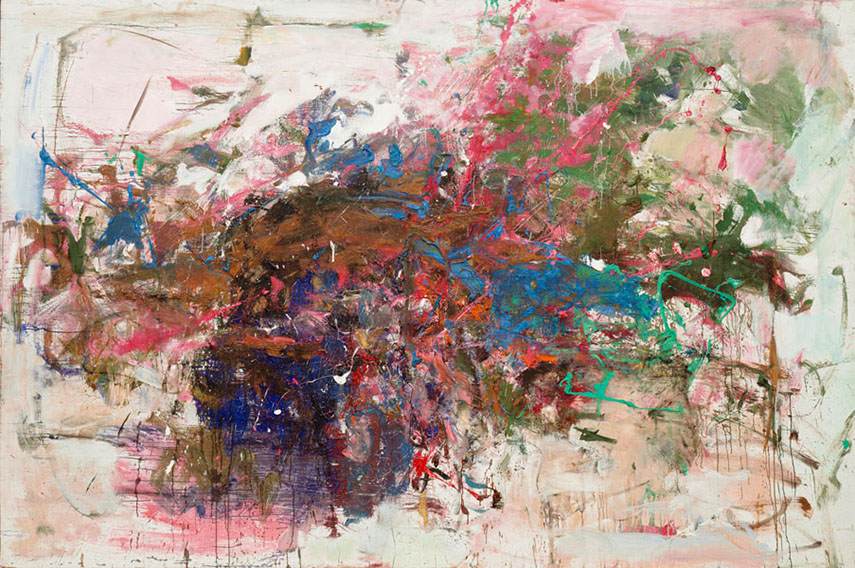 Collections, Awards and Art Market
Mitchell's paintings can be found in various prestigious collections, including The Museum of Modern Art and The Solomon R. Guggenheim Museum in New York and The Art Institute of Chicago in Illinois. There is also the Joan Mitchell Foundation, which was established in 1993 as a non-profit organization. This foundation is still active and it gives numerous awards, grants, and stipends to talented creatives. It is important to mention that already during her lifetime, Mitchell has achieved a lot of commercial success, more than any other female painter of the same generation. Between 1960 and 1962, she has earned over $30,000, while in 2007, the Art Institute of Chicago sold one of Mitchell's work from 1957 at Christie's New York for astounding $3.8 million.[2]
Between 1960 and 1962, Mitchell has earned over $30,000 from the sales of her works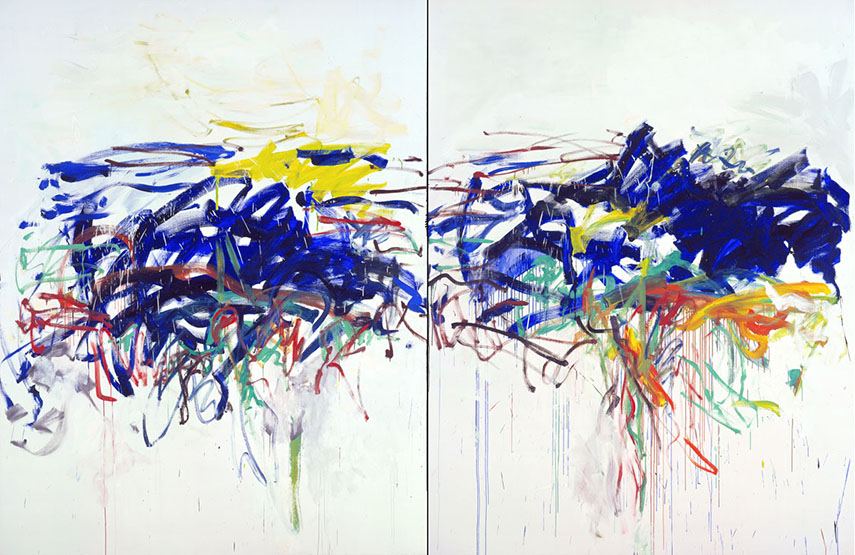 Outpacing Her Male Counterparts
Joan Mitchell was one of the rare women among the best-ranked abstract expressionists. She proved to be more successful than the majority of her male mentors and fellow painters, with Lee Krasner being her only female rival.[3] Even though she was well-received by the most influential critics and artists, her great achievements didn't receive full recognition during her lifetime. For instance, her paintings haven't been shown in New York City for roughly 20 years, because of her different style which made it even harder for her to excel in the art world led primarily by male creators. Throughout her life, the artist was deeply committed to autonomous abstract works, which allowed her to express her immense love for the craft and technique of contemporary painting.
The artist is represented by Hauser & Wirth, Weng Contemporary and Woodward Gallery.
Joan Mitchell died on October 30, 1992.
Sources:
Pagel, David (2010) Art Review: Joan Mitchell , Los Angeles Times [September 4, 2016]
Albers, Patricia Joan Mitchell: Lady Painter, Knopf, 2011.
Livingston, Jane The Paintings of Joan Mitchell, University of California Press, 2002.
Featured image: Joan Mitchell - Untitled, c. 1957 (detail). Oil on canvas. 14 3/8 x 21 7/8 in. 36.5 x 55.6 cm. Photo courtesy Berry Campbell Gallery
All images © Joan Mitchell Foundation