If the word "art" was to be presented to any individual regardless of his or her involvement in the world of art or knowledge of the subject, there's a high chance that they'll think of a very specific name. Pablo Picasso was one of the most known and influential artist of his time whose expertise spanned painting, sculpting, stage designing, poetry, playwright, and other areas.  With a Spanish origin, his long career is filled with unparalleled achievements of creating not just brilliant artwork but art movements themselves. Redefining artistic practice and its purpose, his name resonates not only through the 20th century, but the history and future of art.
Pablo Picasso was one of the most known and influential artists of his time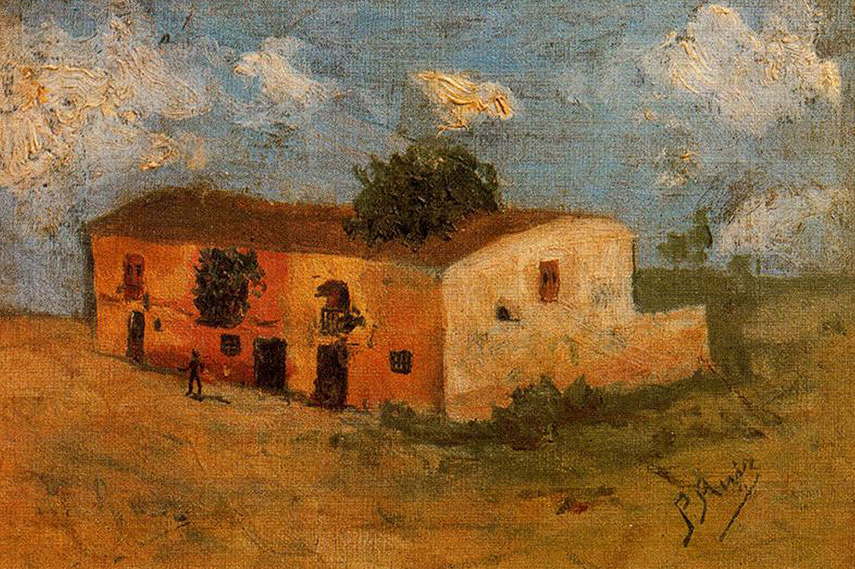 Picasso's Background
Pablo Ruiz y Picasso was born in Málaga, in the Andalusian region of Spain. His real name was pretty gargantuan - Pablo Diego Jose Santiago Francisco de Paula Juan Nepomuceno Crispin Crispiniano de la Santisima Trinidad Ruiz Blasco Picasso y Lopez - Pablo was named after various saints and relatives. Even though he was baptized a Catholic, Picasso would later on become an atheist. When he was born, the midwife thought he was stillborn; it was a difficult birth and he was such a weak baby that the midwife even left him on the table to attend his mother. It was thanks to his uncle, a doctor named Don Salvador, that Pablo was saved: "Doctors at that time used to smoke big cigars, and my uncle was no exception. When he saw me lying there he blew smoke into my face. To this I immediately reacted with a grimace and a bellow of fury."
His mother was Maria Picasso y Lopez (the artist used her surname from around 1901 on) and his father, José Ruiz y Blasco, was a painter and a professor of art. He started teaching art to Pablo when the boy was seven years old. Pablo completed his first painting, Le Picador, when he was only nine years old and it depicted a man riding a horse in a bullfight. Pablo's father vowed to give up painting when Picasso was 13 years old because he felt his son was already a better painter than himself. Ruiz Blasco continued to teach at art schools, but could never bring himself to paint again.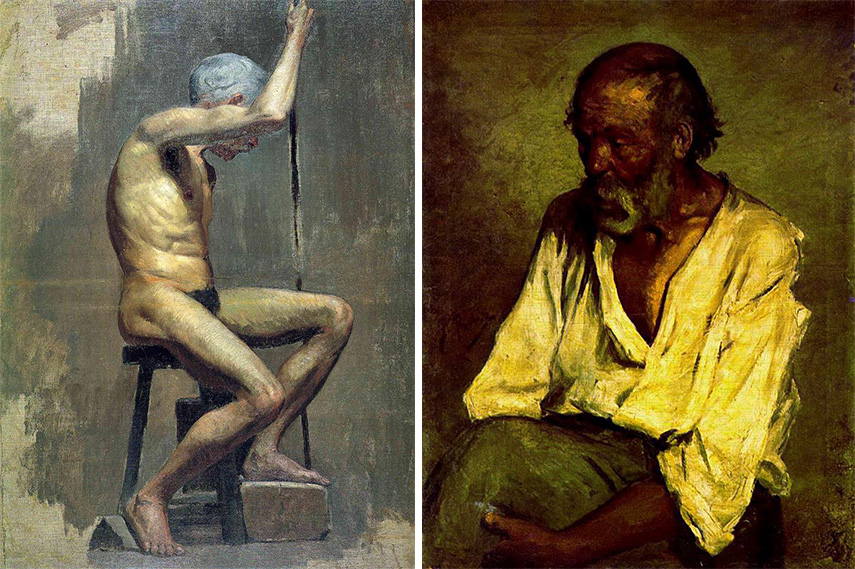 First Exhibition and Early Works
In 1895, when Picasso was a teenager, his younger sister died from diphtheria. After this traumatic event (that would also influence his later work), the rest of the family moved to Barcelona. Pablo had his first exhibition when he turned 13 and it was in the back room of an umbrella store. His artistic progress can be seen at the Museu Picasso in Barcelona as a collection of early works that provides one of the most comprehensive records of any major artist's beginnings. At the time, Pablo's father worked at the La Llotja School of Fine Arts where he persuaded the officials to let young Pablo take an entrance exam. Only 13 years old, Pablo surprised the entire board by doing more than well on the exam and he was enthusiastically admitted into the school, taking the advanced classes in classical art and still life.
It was there where Pablo's first major painting was painted – his first "academic" work is titled First Communion, featuring a portrait of his father, mother, and younger sister kneeling before an altar. Picasso was only 15 when he finished it. The work was exhibited at the Third Exhibition of Fine Arts and Artistic Industries in 1896 in Barcelona and attracted the attention of the local press. His second large oil painting, Science and Charity, won a gold medal.
Picasso's first "academic" work is titled First Communion, made in 1896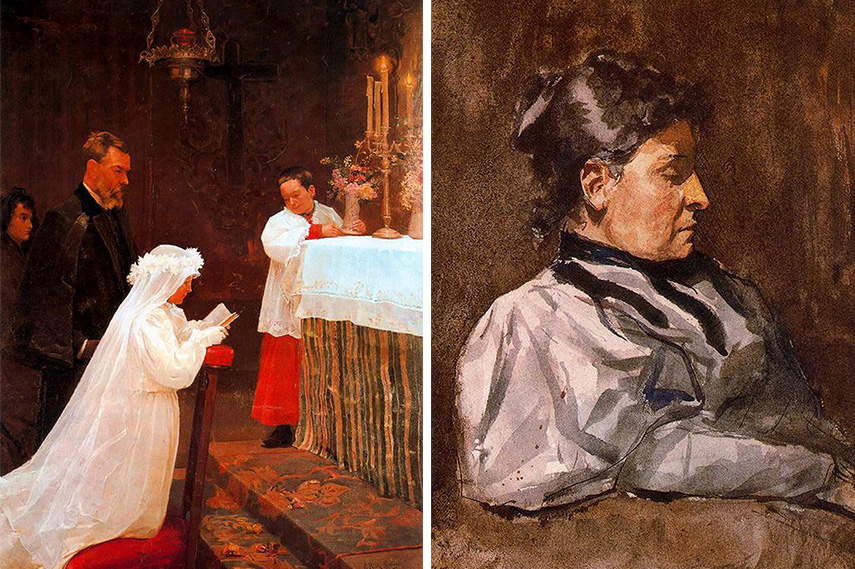 Picasso's Madrid Days
Pablo Picasso continued his art education at the Royal Academy of San Fernando in Madrid just to get back to Barcelona after less than a year to enroll in the School of Fine Arts. The students in Madrid drew from plaster casts and copied works of the old masters - something that was not enough for a talented genius Picasso with his rebellious behavior, long hair, and strange clothes. Regardless of his nature and appearance, while working with live models and plaster casts of Greek and Roman sculptures, Picasso displayed a well-developed and precise skill over the academic draftsmanship (best seen in his Study of a Torso from 1893-94), one that is notable throughout his career and that served as a base for more original work.
Copying works of the old masters was not enough for young Picasso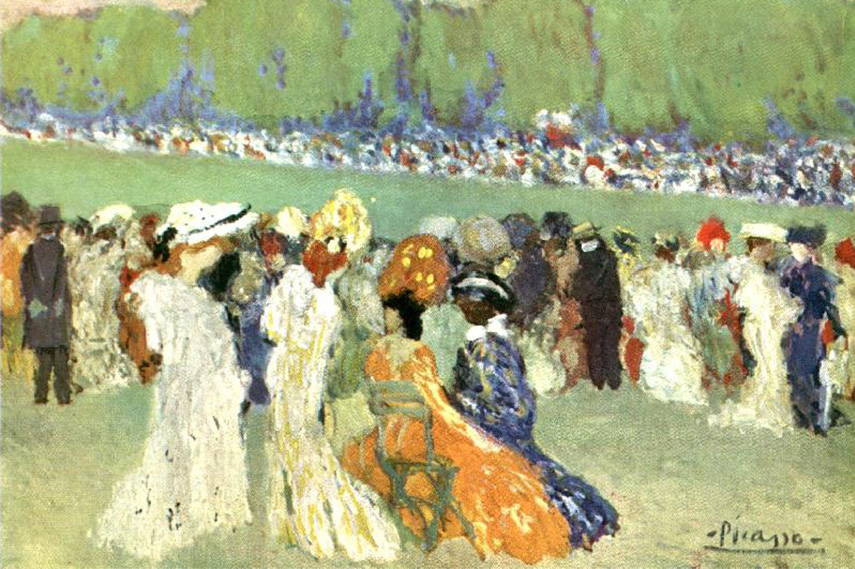 Picasso's Modernist period at Els Quatre Gats
In 1898, when he came back to Barcelona, he got down with scarlet fever. What followed his illness was his first, Modernist period, considered to have spanned between 1899 and 1900. Notable by his classicism and realism becoming enriched with the influence of Symbolism, it was best expressed through a series of landscape paintings rendered in non-naturalistic violet and green tones. Picasso rejected the academic study and changed his artistic direction by joining the circle of young avant-garde artists and writers (known as modernistes or decadentes) who gathered at a local tavern, Els Quatre Gats. Adopting this new modern style, Picasso produced numerous portraits of friends and acquaintances from Els Quatre Gats, among them Carles Casagemas and Jaime Sabartès.
The work of Rossetti, Edvard Munch, Toulouse-Lautrec and Steinlen, combined with Picasso's fascination with his favorite old master El Greco, led him to create works resembling modernism that he instilled with a nuance of his own. Illustrating and overcoming, in a way, the issues existing in modernist art, they represent a necessary step towards abstraction that Picasso also implemented in other areas of his work.
Picasso took a necessary step towards abstraction after joining Els Quatre Gats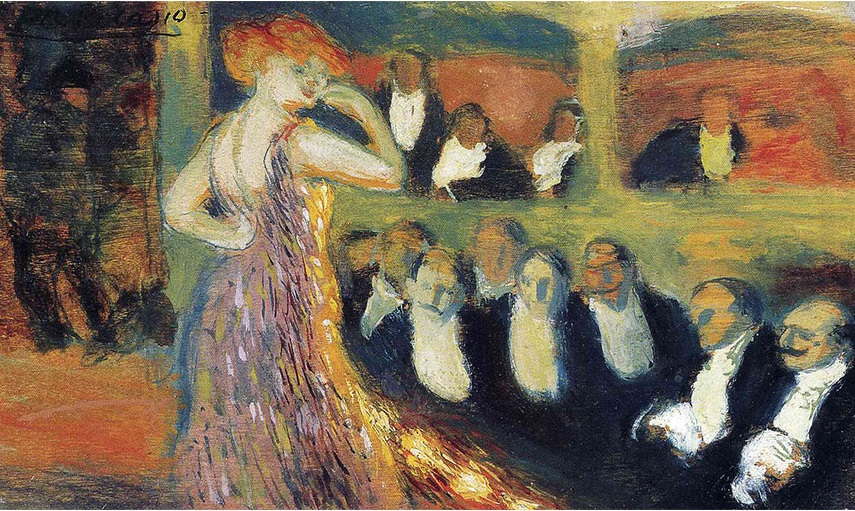 Paris Days: La Banda Picasso
In 1900, Picasso had left for Paris - the center of the art world where he opened a studio in Montmartre. It was then that he decided to stop signing his work with his name Ruiz Blasco and decided to use his mother's name, thus being known as Pablo Picasso. In the beginning of his days in Paris, he met his first Parisian friend, Max Jacob, a poet and journalist who helped him learn the language and its literature. Soon, his circle of friends included Guillaume Apollinaire, Gertrude and Leo Stein, as well as two dealers, Ambroise Vollard and Berthe Weill. They called themselves La Banda Picasso, and together they were pushing the boundaries of traditional art and stylistic experimentation - one could say of contemporary culture in general.
Between 1900 and 1901, his work reflected a variety of new styles and techniques - like the introduction of bright, unmixed colors. Works from this period mirror the influence of post-impressionist painters such as Van Gogh, Cézanne, Seurat, and Gauguin. Picasso was depicting typical scenes of Parisian nightlife: dance hall Le Moulin de la Galette and portraits, such as a poster-like image of Pere Mañach, an art dealer who promoted Picasso's work at the time.
Between 1900 and 1901, Picasso's work reflected a variety of new styles and techniques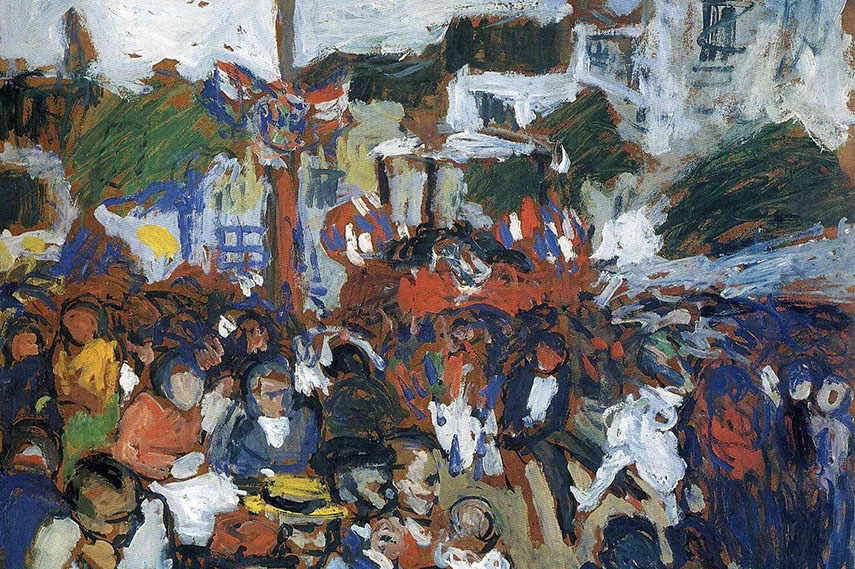 Blue Period
Following the 1901 suicide of his best friend and fellow painter Carlos Casagemas from Els Quatre Gats with whom he moved to Paris, he entered his Blue Period. It is characterized by essentially monochromatic paintings in shades of blue and blue-green, only occasionally warmed by other colors. Haunted by nostalgic feeling about his friend and their homeland, all of these paintings are inspired by Spain.
In 1903, when he produced most of his Blue Period works, Picasso experienced relative poverty and instability and it influenced his work as he was depicting beggars, street urchins, the old and frail and the blind. Sad truth is that during that time Picasso even had to burn many of his paintings to stay warm! One of the paintings from Blue Period, The Blue Room from 1901, hides another painting beneath. Due to the poverty or discontent with a work, a bow-tied man with his face resting on his hand is forever lost; or saved, depending on perspective. In 2014, scientists and art experts have used advances in infrared imagery to reveal the hidden painting.
The Blind Man's Meal painted in Barcelona in the autumn of 1903 summarizes the stylistic characteristics of Picasso's Blue Period, together with one of his most known Blue period paintings: The Old Guitarist. Both of them are more than mere portraits of a blind man or old, sad guitarist - they are also Picasso's commentary on human suffering in general. At the time when The Old Guitarist was created, the literature of the Symbolist movement often included blind characters that possessed powers of inner vision.
For three years (1901-1904), he painted as if he was viewing the world through cold blue spectacles. The choice of this color was not accidental - cold blue was associated with representations of melancholy or despair. Before him, no other artist had ever done this.
Following the suicide of his best friend and fellow painter, Picasso entered the Blue Period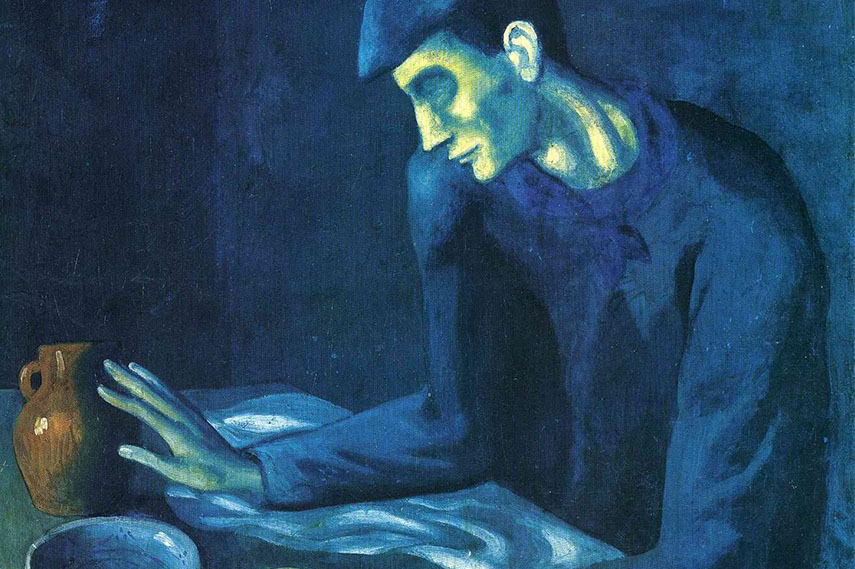 Rose Period
By 1905, his style had evolved from the Blue Period to the Rose Period. Although the Blue period of his career is generally more popular, the Rose period holds a more important position in relation to art and history as it presented distinct aspects of style that came to be unmistakably tied to Picasso. As the Blue one, this period's color also coincides with the personal, internal state of artist's emotions - the time of increased personal joy and romance as Picasso met Fernande Olivier, a French artist and model who became his muse and mistress.
It is said that their relationship is the main reason he changed his somber color pallet and subject matter. Almost instantly, the pallet of red, pink, and orange hues appeared as well as a subtle use of line, idealized forms, and more spirited subjects, such as circus performers, as he began to convey these saltimbanques and harlequins within his works. Showing them in most of his pieces - paintings, gouaches, drawings, and prints - Picasso tended to depict these circus performers at rest, often in isolation or in the presence of fellow performers. A comedic harlequin character depicted in checkered patterned clothing even became a personal symbol for Picasso. In the spring of 1904, he finally settled in Paris, moving into a tumbledown residence in Montmartre known as the Bateau Lavoir, named for its resemblance to a laundry barge.
The Rose period was the time of increased personal joy and romance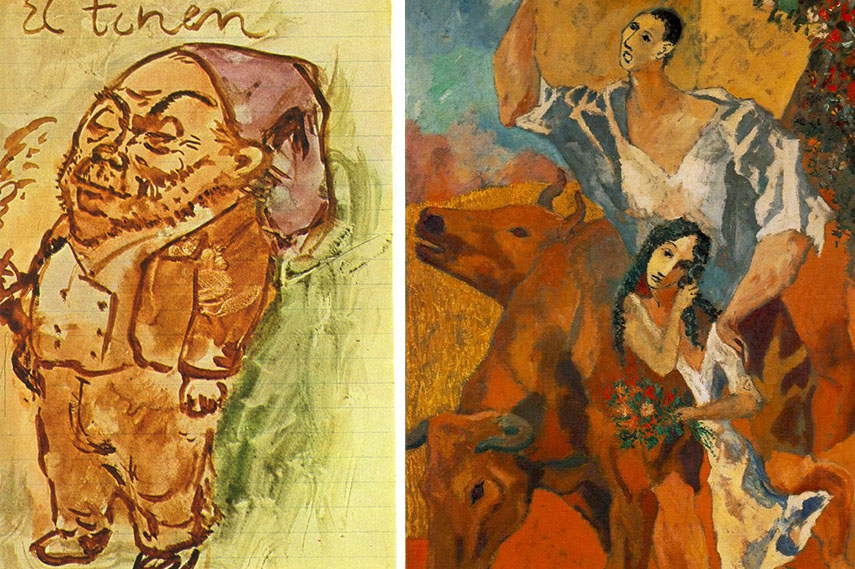 Picasso and The Stein Family
Another significant woman in Picasso's life was Gertrude Stein, an American writer of novels, poetry and plays as well as a collector, a muse and a phenomenon. By 1905, Picasso became a favorite of Stein and her brother Leo. Their older brother Michael Stein and his wife Sarah also became collectors of his work. The first work by Picasso that the Steins acquired was Harlequin's Family with an Ape.
The Stein family, especially Gertrude, became Picasso's principal patrons acquiring his drawings and paintings and exhibiting them in Gertrude's informal Salon in Paris. It was there where Picasso met Henri Matisse who became his lifelong friend and a rival at the same time. Eventually, Michael and Sarah Stein became patrons of Matisse while Gertrude Stein continued to collect Picasso. In 2003, a blockbuster show about the Matisse-Picasso relationship opened at New York's MOMA. The exhibition explored how each man's genius influenced and pushed the other man's practice in a cycle of rivalry and partnership.
The Stein family became Picasso's principal patrons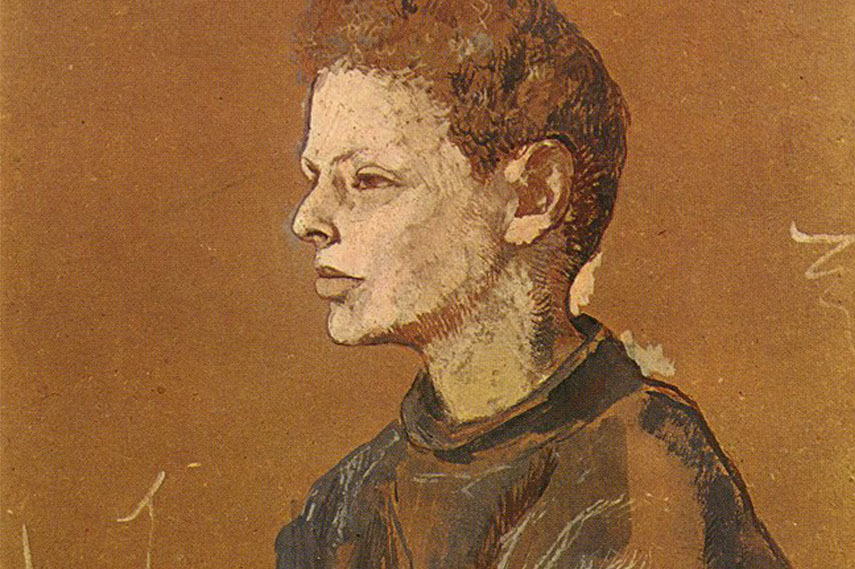 Les Demoiselles d'Avignon as a Portend of Cubism
The pivotal work Les Demoiselles d'Avignon from 1907 announced a brand new phase - Cubism. Even though there is an assumption that the artist never felt Les Demoiselles d'Avignon to be finished and kept the work rolled up under his bed until he sold it in the 1920s to the collector, fashion designer, Jacques Doucet - this work is considered as the very beginning of Cubism. To be more accurate, it was the beginning of the so-called Proto-Cubism (1907-1910), the early formative period that includes Les Demoiselles d'Avignon and Braque's reaction to the painting, Grand Nu.
Les Demoiselles d'Avignon is considered as the very beginning of Cubism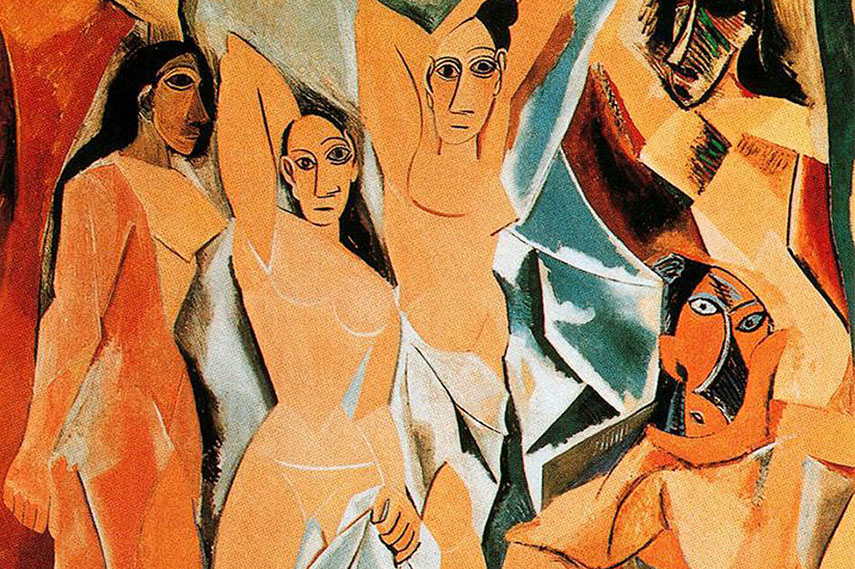 Picasso's African Period
From 1906 to 1909 Picasso painted in a style strongly influenced by African sculptures and particularly the traditional African masks brought to Paris museums in consequence of the expansion of the French empire into Sub-Saharan Africa. While visiting African art section at the ethnographic museum at Palais du Trocadéro, Picasso experienced a revelation, as he said. This Proto-Cubism phase is called the African Period, Negro Period, or simply the Black Period. It started with a painting Les Demoiselles d'Avignon where the two figures on the right are clearly the very beginnings of Picasso's Proto-Cubism. Since 1909, Picasso began creating Cubist Sculptures in a technique he kept using throughout his career. His first cubist sculpture was the bronze bust of Fernande Oliver titled Head of a Woman. He also made constructions from odds and ends of wood, metal, paper, and non-artistic materials.
This Picasso's Proto-Cubism phase is called the African Period, Negro Period, or simply the Black Period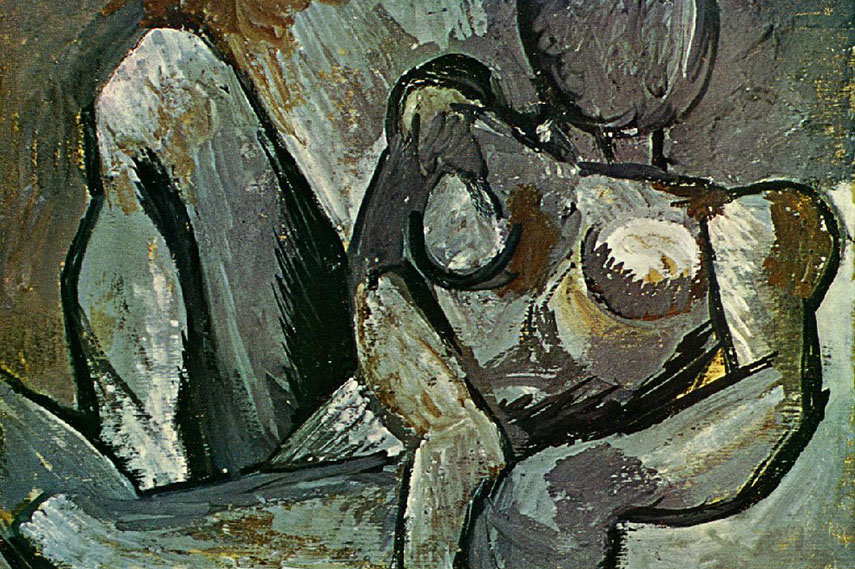 Picasso and Apollinaire: The Theft of Mona Lisa
In 1911, one mysterious event cast a shadow on a friendship Picasso had with Apollinaire ever since La Banda Picasso days. Guillaume Apollinaire was arrested on suspicion of stealing the Mona Lisa from the Louvre. The thief turned out to be a bisexual con man named Honoré Joseph Géry Pieret, a secretary of Apollinaire. It was him that had implicated Apollinaire in the thefts in the first place. Four years earlier, Picasso had bought from Pieret two stolen sculptures, Roman-era Iberian heads from Louvre, so Apollinaire pointed the finger at Picasso who was brought in for questioning. However, prosecutors couldn't build a case that either Picasso or Apollinaire had stolen the heads, much less the Mona Lisa, and both of them were set free.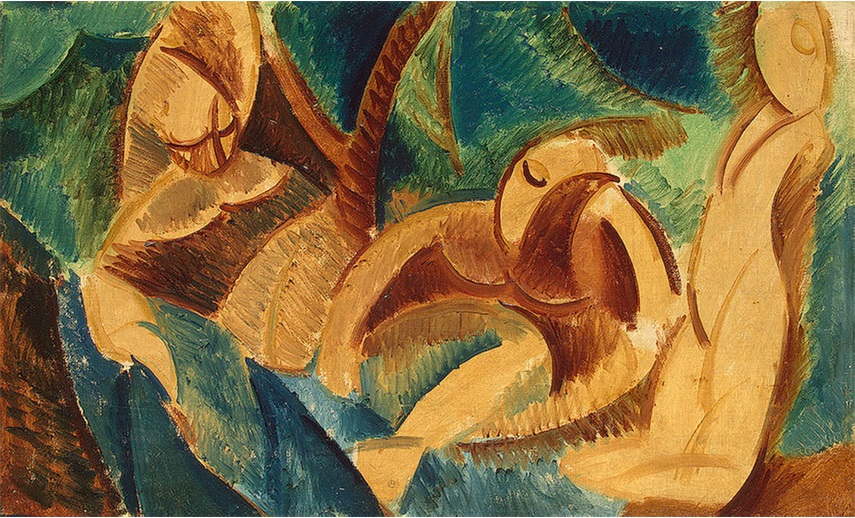 Picasso's Many Ways of Cubism
Picasso and Braque worked together closely during the next few years (1909 - 12), which was the only time Picasso ever worked with another painter in this way, and they developed what came to be known as Analytical Cubism. Analytical Cubism is a branch of Cubism developed between 1908 and 1912 in which artists "analyzed" natural compositions and reduced the forms into basic geometric parts on the two-dimensional picture plane. A monochromatic scheme was used, often including gray, blue and ochre.
In 1912, Synthetic Cubism phase started when Picasso began pasting paper and pieces of oilcloth to his paintings, painting either on them or around them. His collage work came to the throne and Picasso just kept using this technique all throughout his career, although never exclusively. In collage, Picasso abandoned the idea of the picture as a window on objects in the world and began to think of it merely as an array of signs that used different, sometimes metaphorical means, to refer to those objects. This phase was much more decorative and colorful in style than others; even though shapes remained fragmented and flat.
Later on, somewhere between 1915 and 1917, Picasso created a series of paintings of highly geometric and minimalist Cubist objects - a pipe, a guitar or a glass, with an occasional element of collage. This phase was titled Crystal Cubism, due to one letter Picasso wrote to Gertrude Stein calling them little gems, hard-edged square-cut diamonds. Picasso might have created those little gems as a response to critics who had claimed his defection from the movement, because of his experimentation with classicism within the so-called return to order (Retour à l'ordre) after the war. It was a European art movement that emerged as a reaction to the War and it was rejecting the extreme avant-garde art while taking its inspiration from the traditional art source instead. This return to order is evident in the work of many European artists in the 1920s including André Derain, Giorgio de Chirico, Gino Severini, and Jean Metzinger. After Cubism, Picasso went on to embrace a more Classical style in his paintings, drawing and sculpture and this period is known as his Classicist period. However, he would keep coming back to cubism from time to time.
Synthetic Cubism phase was much more decorative and colorful in style than others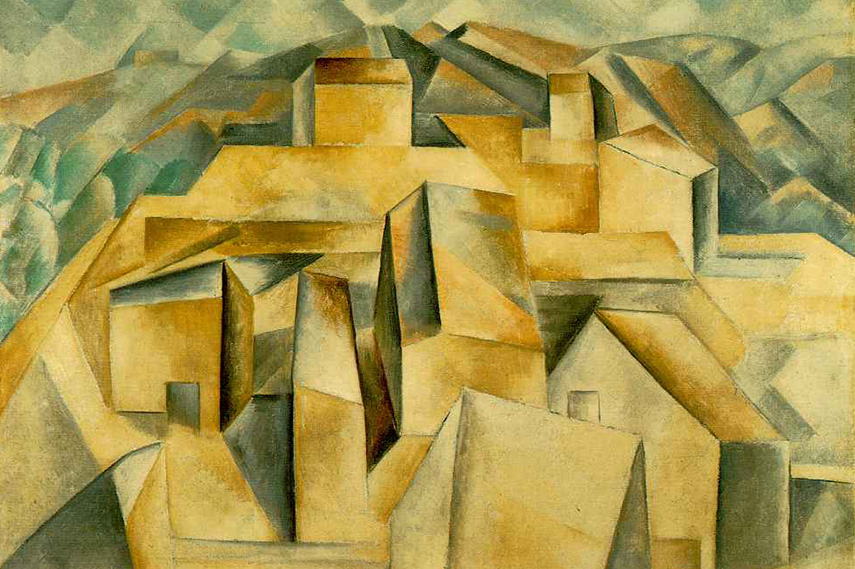 Picasso and Russian Ballet
Picasso's collaboration with the Russian Ballet began in 1917. In the 1920s, he worked on the décor for Stravinsky's ballet Pulcinella. Picasso also started creating neoclassical paintings of women and paintings inspired by Greek mythology alongside some strange pictures of small-headed bathers and violent convulsive portraits of women - often thought to have indicated the tension he was experiencing in his marriage. After 1927, his work became more and more fantastic and visionary. Woman with Flower from 1932 is a distorted and deformed portrait of Marie-Thérèse done in the manner of Surrealism that was growing in strength at the time.
Woman with Flower from 1932 is a distorted and deformed portrait of Marie-Thérèse
Guernica
Bringing together the symbols of horse and bull that are highly valued in Spanish culture, Picasso created perhaps one of his most popular works - the Guernica, his most powerful political statement, painted as an immediate reaction to the Nazi's devastating casual bombing practice on the Basque town of Guernica during Spanish Civil War. He chose to paint the Guernica in various shades of white, gray, and black, leaving enough room for the narrative to dominate the piece. Once, when asked by Gestapo officer who was pointing at the photo of this piece during the search of his apartment, "Did you do that?" Picasso answered: "No. You did."
It was the government of the Spanish Republic that acquired the mural for Guernica from Picasso to be part of the Spanish Pavilion at the International Exposition in Paris in 1937. Two years earlier, in 1935, Picasso had done the etching Minotauromaquia, Guernica's most direct relative. It brings together all of the symbols that Picasso had been portraying in the cycle dedicated to the mythological creature, condensing them into a single artwork.
Guernica brings together the symbols of horse and bull that are highly valued in Spanish culture
World War II in Paris: Poetry and no Exhibitions
During the WW II, Picasso stayed in Paris even though the Germans occupied the city. He did not exhibit during this time but he did not quit painting, and some of the works made in this period include Still Life with Guitar from 1942 or The Charnel House 1944–45. As for his sculptures at the time - even though the bronze was forbidden by Nazis, Picasso managed to keep getting it from the French Resistance so he continued to create. Picasso started writing his poetry in this period. He wrote more than 300 poems until the 1960s.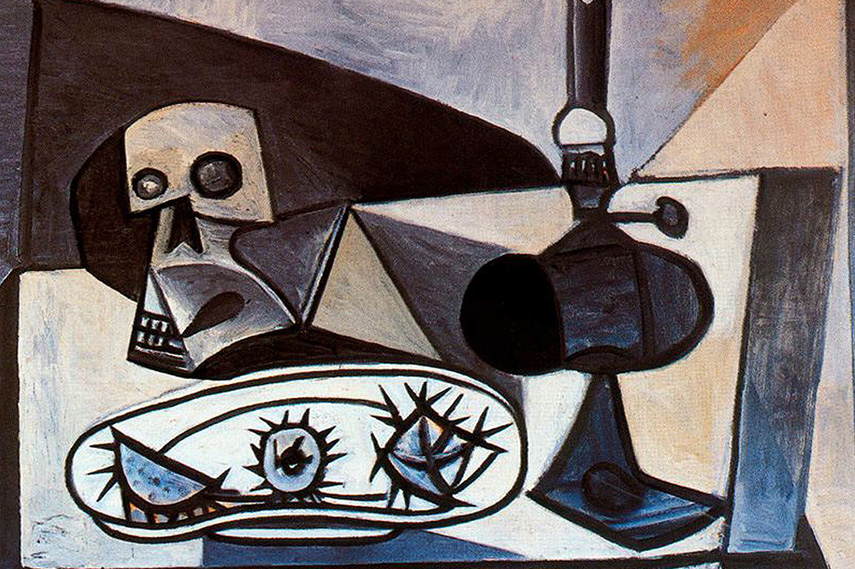 Picasso and Madoura Ceramics
At the end of the 1940s, Picasso started creating ceramic works. He was inspired by the clarity of the light and the bright Mediterranean colors while he spent his summers on the Cote d'Azur, South of France. Picasso visited Vallauris for the annual pottery exhibition in 1946 where he met the owners of Madoura ceramics. Madoura works fascinated him so much that Picasso made an arrangement with the owners Suzanne and Georges Ramié: they gave him access to all the tools and resources he needed to express his creativity with ceramics, and in exchange, the Ramié family would produce and sell his ceramic work. This collaboration with the local ceramicists spanned 25 years.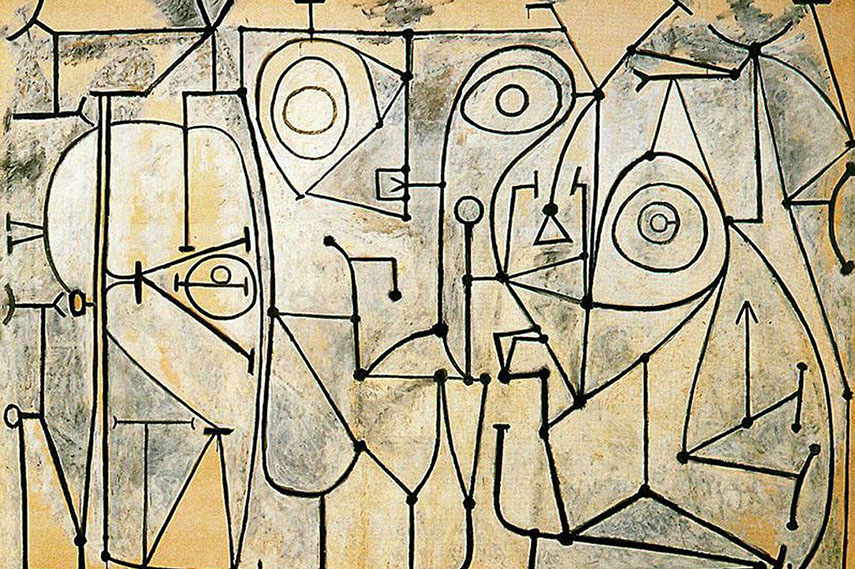 Reinterpretations of the Great Masters
Picasso's style had changed once again in the 50s. He started producing reinterpretations of the art of the great masters. Maybe the most famous is a series of works based on Velázquez's painting of Las Meninas. Paintings from this period are based on works of Goya, Poussin, Manet, Courbet and Delacroix. Eugène Delacroix's Women of Algiers in their Apartment became an obsession for Picasso. In 1954, he began the first of 15 oil paintings and hundreds of sketches that would make up his Women of Algiers, Versions A through O. The last was completed on Valentine's Day 1955. By that year, Picasso had settled in the south of France, and would return to Paris only once more before his death.
Women held a special place in his life and his art. "Women are machines for suffering," Picasso told once to his mistress Françoise Gilot in 1943. He had two wives (Olga Khoklova, a ballerina from the Ballet Russes and Jacqueline Roque) and four children by three women. The list of Picasso's women is long: his first long-term relationship was with the model Fernande Olivier, who was at the same time the subject of many of Picasso's Rose Period paintings; Eva Gouel received quite a bit of attention in his work; Dora Maar, a painter and photographer, documented his Guernica painting, and other notable women of that time left an impact on his life and practice.
"Women are machines for suffering," Picasso told once to his mistress Françoise Gilot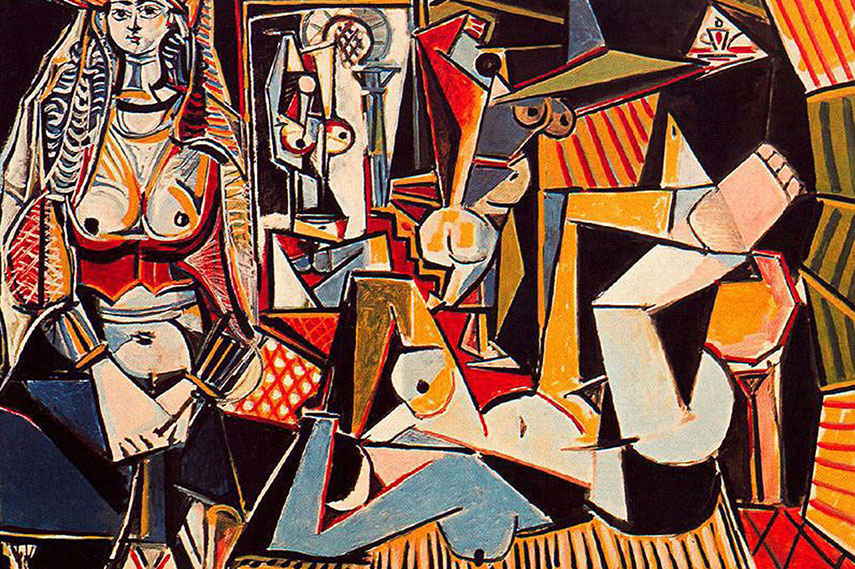 Picasso as a Pioneer of Neo-expressionism
An architect who created Daley Center in Chicago asked Picasso to make a sculpture by writing him a poem! Picasso was 82 years old at the time and he was living on the French Riviera. Before his sculpture - the public artwork in Chicago mainly depicted historical figures. Picasso worked on Chicago commission for two whole years. Tete (Maquette pour la sculpture en plein air du Chicago Civic Center) is one of two iron and sheet metal maquettes that Picasso created between 1962 and 1964. One was sent as the model for Daley Center sculpture. In 1967, the design was enlarged and cast in welded iron and on the 15th August that year the final work was unveiled in the plaza outside the Civic Center building in Chicago. In 2013, Tete maquete was sold for 8,885,000 GBP at Sotheby's. This first monumental outdoor Picasso in North America was an unpainted, three-dimensional, cubist sculpture standing 50 feet tall and weighing 162 tons, made of Corrosive Tensile ("Cor-Ten") steel, the same material used to build the Daley Center. For this mysterious statue (it is still uncertain whether it depicts a bird, a woman or a horse) Picasso refused to collect $100,000, donating it to the people of the city.
Picasso's final works were a mixture of styles, he became more daring while his works more colorful and expressive. From 1968 through 1971 Picasso had produced many paintings and hundreds of copperplate etchings. The public and even some critics saw his work of that time as banal pornographic fantasies of an old man who was past his prime. However, after Picasso's death, the critical community realized that Picasso had already discovered neo-expressionism and was, as so often before, ahead of his time. Pablo Picasso had a 78-year long career; he left behind 13,500 paintings, 100,000 prints and engravings, and 34,000 illustrations. He also produced 300 sculptures and ceramic pieces. More than 350 pieces which he created during his career have been stolen.
After Picasso's death, the critical community realized that he had already discovered neo-expressionism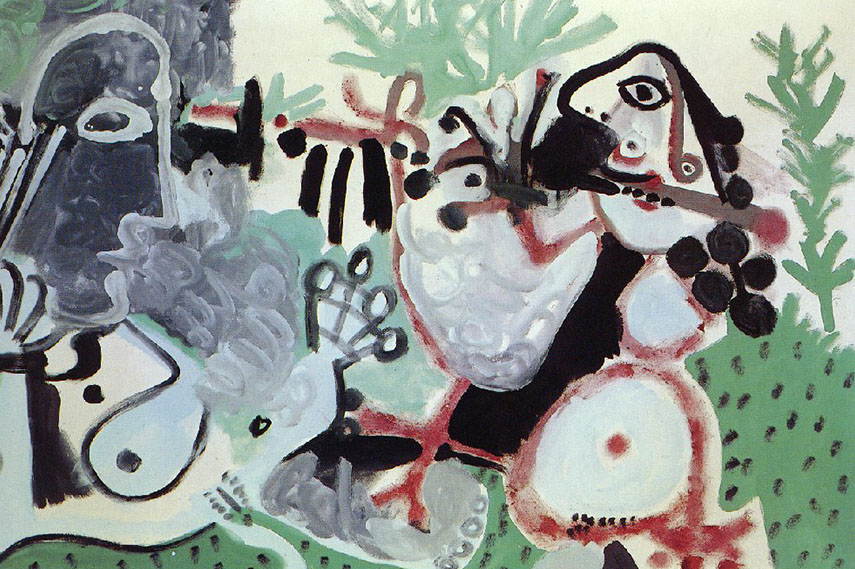 An Ageless Legacy
With so many brilliant artworks made spanning across so many different directions and styles that he helped create, Pablo Picasso did more than just mark an era - he forged and directed the path for future generations. Ahead of his time in so many fields, his name is today known even among those that are no fans of art, which speaks of the weight of his influence and legacy. He truly was a one of a kind, and we are lucky that he saw it so fitting to produce as much as he did. Pablo Picasso died on April 8th, 1973 in Mougins, France, leaving behind a rich oeuvre that will dictate the quality in the art world for a long time.
The artist is represented by Galerie Fluegel-Roncak and Puccio Fine Art.
Featured image: Pablo Picasso. All photos credit wikiart.org.
All images used for illustrative purposes only.