Widely recognized for his language of reduced figures and simplified symbols, A.R. Penck was a German artist whose career spanned over six decades. Fond of concepts emerging from the primitive and Art Brut styles, A.R. Penck developed his unique pictorial and sculptural techniques after he rejected the terms of art academies in Berlin during the 1950s. In a way, his visual vocabulary can also be interpreted as a response to social and political control within the mid-20th-century art and culture. With his art, A.R. Penck attempted to give an ordinary man a voice within the numbing collective[1]. It should also be noted that this artist's real name is Ralf Winkler - he changed it to Albrecht Penck to evade East German authorities during his younger life.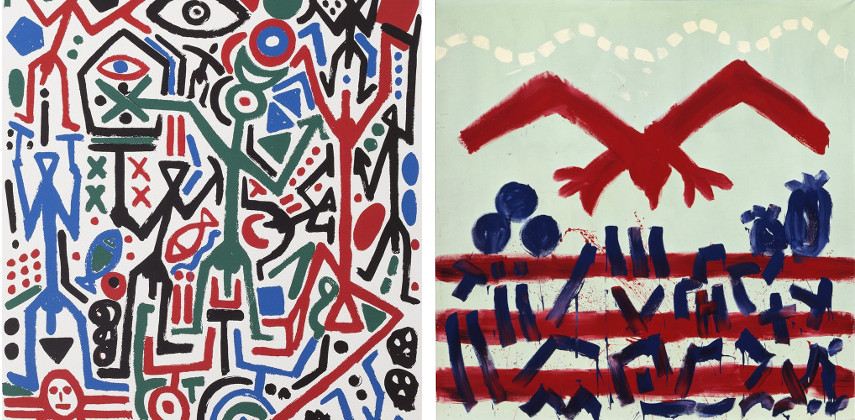 Embracing the Pseudonym of A.R. Penck
Ralf Winker was born in Dresden, Germany, during the year of 1939. He studied arts together with a group of other painters in his hometown and Ralf quickly became one of the foremost exponents of the new figuration style alongside Jörg Immendorff, Georg Baselitz and Markus Lüpertz. As they were developing and maturing under a harsh Eastern German communist regime, Winker and his colleagues were seen as dissidents by the authorities and were watched by the secret police. Nonetheless, Ralf and his friends managed to exhibit their work via pseudonyms and smuggling - they were included in many shows in West Berlin during the 1970s and were seen as exponents of free speech in the Eastern Germany. Their work was included in a number of important shows including the famous Zeitgeist exhibition in the well-known Martin Gropius Bau museum and the important New Art show at the Tate in 1983. He was featured in a few New York exhibitions as well. By that time, the artist already adopted his pseudonym inspired by the work of the geologist Albrecht Penck. Soon, A.R. Penck was enjoying a worldwide attention for his paintings with pictographic, primitivist imagery of human forms and other totemic designs.
A.R. Penck gained recognition on an international art stage thanks to the works he was smuggling out of East Germany during the 1970s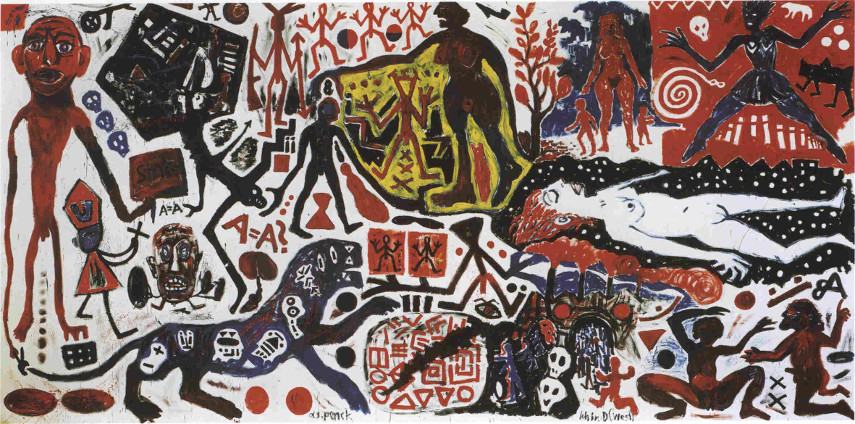 His Paintings and Sculptures
A.R. Penck's paintings are influenced by Paul Klee's work and were a mix of the flatness of Egyptian writing and the crudity of the late black paintings by Jackson Pollock. On the other hand, A.R. Penck's sculptures, although a lot less familiar, evoke the same primitive themes as his paintings and drawings.[2] In order to make them, the artist relied on everyday objects and materials such as wood, bottles, cardboard boxes, tin cans, masking tape, tinfoil and wire, all crudely painted and assembled. These features were responsible for regular connections between Ralf and the early avant-garde works, such as the readymades of the famed Marcel Duchamp. Despite their anti-art aesthetic and the questionable quality of construction, A.R. Penck's sculptures were quite similar to his flat symbolic paintings[3]. It should also be noted that Winkler is a keen drummer and was a member of the free jazz group known as Triple Trip Touch (aka T.T.T. or TTT).
For the majority of his career, A.R. Penck was interested in proving that the academic gallery and museum standards were not up to par with his own visual language

Artistic Contributions of A.R. Penck and His Portfolio
Ultimately, A.R. Penck managed to establish himself as a key figure of Neo-Expressionism, placing himself alongside authors who shaped this movement. His paintings and sculptures, characterized by simplified shapes and forms, marked a pivotal time for modern art that was reaching its peak of creativity. And by authoring these pieces, A.R. Penck secured his legacy as one of the authors who dictated the course and tempo of the his particular branch of modern art[4], massively contributing a collective process of getting it to a point we can now call contemporary art.
References:
Yau, Y., A.R. Penck, Harry N Abrams; 1st edition, 1993
Guidieri, R., A. R. Penck Sculptures (Repères), Galerie Lelong, 1988
Darragon, E., Penck, A.R., A.R. Penck: Felt Works and Drawings 1972-1995, Walther König, Köln; Mul edition, 2011
Graw, I., Kunde, H., Pfeiffer, I., Rathgeber, P., Penck, A.R., A.R. Penck. Retrospektive, Richter Verlag; Bilingual edition, 2007
Featured image: A.R. Penck - Photo of the artist - Image via pinterest.com
All images used for illustrative purposes only.