Equipped with next to nothing besides his beloved duck tape, Aakash Nihalani is a unique artist from The United States appreciated for his ability to playfully transform and manipulate environments, creating the illusion of 3D geometric platforms and objects. With a masterful control over the concepts of perspectives and angles, Nihalani gave birth to hundreds of pieces which are both fascinating and entertaining. It only takes one glimpse at Nihalani's work to remind us of one aspect art should always have, even though it often seems to fall behind other priorities - the ability to catch someone's attention at a moment's notice. This, combined with the pure entertainment it offers, is the true essence of Aakash's work.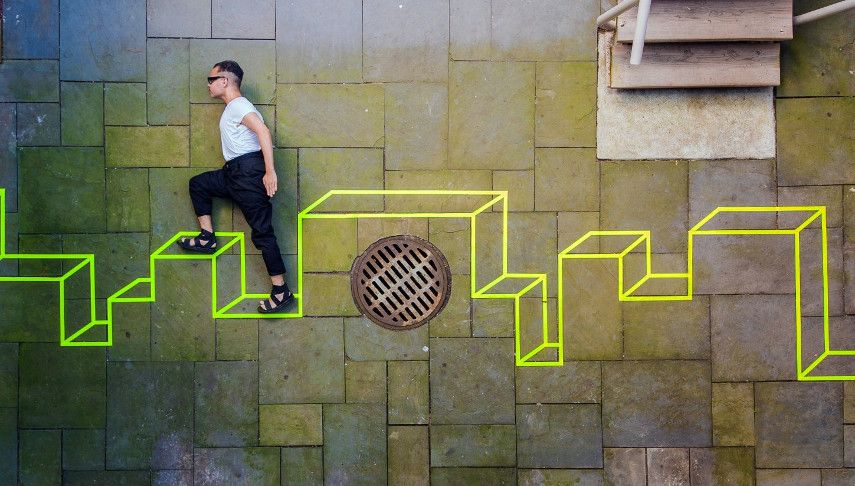 Nihalani Never Left His Home Town
Aakash Nihalani was born in the heart of Queens, New York during the year of 1986. Although he is still very young, it is truly remarkable that Aakash never left The Big Apple, spending the majority of his career in this great metropolis. Nihalani acquired his education at the Steinhardt School in New York, where the artist received a BFA during the year of 2008. Although his future method would prove to be almost one hundred percent original and his own, studying at this institution provided young Aakash with a superior understanding of art in general - something that will prove to be very useful in the days to come. In 2012, Aakash was awarded a residency at the Willem de Kooning studio, given to Nihalani by no one other than the daughter of the legendary painter, Lisa de Kooning. This studio can be found in East Hampton, New York, and it has served as Nihalani's atelier ever since it came under his ownership. From here, Aakash has been creating some of the most impressively original art pieces we've seen in a long time. From the very start of his career, this artist relied on his tape which is attached to different surfaces and arranged in a way that provides the viewers with an opportunity to see different kinds of optical illusions, depending on which effect Nihalani wanted to achieve. Through the usage of methodical angle placements and layouts, Nihalani portrays both action and depth that easily captivates the viewer. Before we venture forth to the detailed analyses of Aakash's art, we should state that this artist is responsible for creating many installations, but is often titled with the adjective of urban for his routine of placing his work all over the streets of The Big Apple. For that reason, we warn you to not be tricked into thinking Aakash likes to paint graffitis of tags - for his work is far superior to that kind of creative expression. He frequently uses buildings, sideways and doorways among other objects as a channel to deliver his art's message: train your mind to look beyond the mundane in life and allow it to become something extraordinary.
Aakash Nihalani uses duck tape and perspective to achieve the desired effects of optical illusions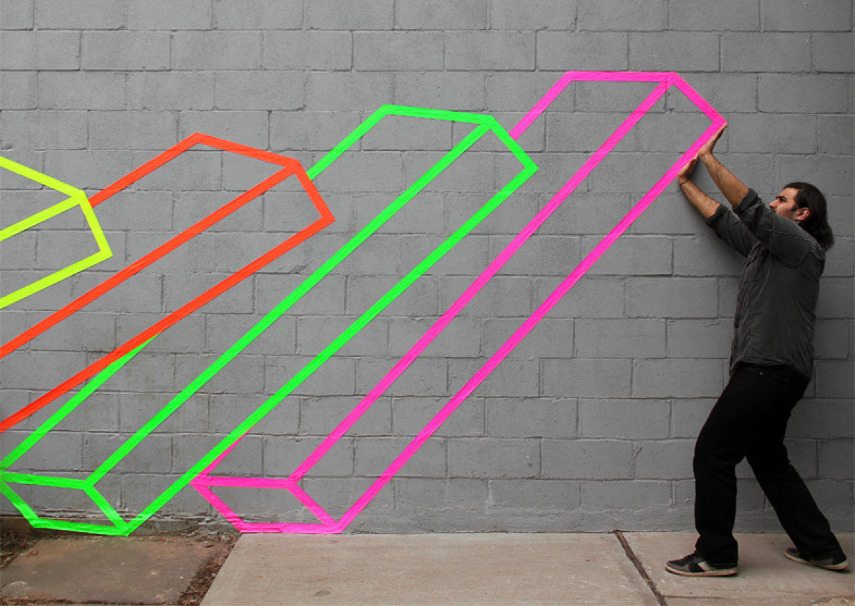 A Closer Look at Aakash and His Colossal Achievements
Nihalani utilizes bright, bold lines at the forefront of all of his creations as a means of visually creating 3D images on two-dimensional surfaces. Armed with his trusted tape, Nihalani does not really require much else in his artistic arsenal to create his trompe l'oeil scenes - a French term that stands for an art technique that uses realistic imagery in order to create the optical illusion that makes the depicted objects seem as they exist in three dimensions. In that sense, Aakash's art can be considered to be very close to architecture, as the medium of constructing objects often applies similar techniques. Nihalani carefully considers given perspectives and angles prior to taping his piece together, after which the artist takes a camera and makes photos of his work from a thoughtfully chosen van­tage point. The results of these efforts are engag­ing, vibrant and fun. The repetition of isometric squares and rectangles becomes visually pleasing to the eye, conveying complexities such as movement and space by something so simple as the placement of a line. After your eyes are settled with the effect Aakash has placed before then, you might notice another common element of this artist's portfolio - he regularly puts live models inside his pieces, successfully delivering an additional blow to the perception of the audience. It should be noted that Aakash Nihalani has been exhibiting his work via numerous shows of both the group and solo character, always attracting mass attention and great success wherever his art was displayed. Besides the various international exhibitions, the work of Nihalani was featured in a number of publications as well, including the prestigious companies such as The New York Times, The Times of India, Vogue India, ARTINFO and The Huffington Post. Aakash also received a large variety of different commissions, through which the corporations such as AOL, Facebook, Lacoste, Rag + Bone, William Sonoma and more have been reserving the brilliant mind Nihalani for themselves.
Nihalani often incorporates live models inside his pieces, furthering the already impressive effects of his colossal art and taking it to another optical level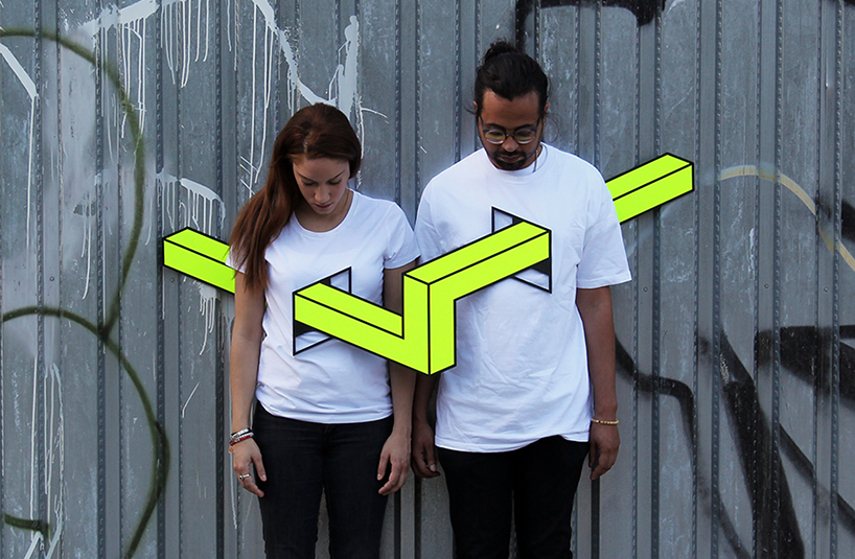 No Identity Troubles in This Biography
Before we continue towards the conclusion of this short biography, it should be noted that Aakash Nihalani never took his art too seriously, refusing to treat it as some sort of high brow technique of higher meaning and deeper psychological life. Instead, the street art of Nihalani do not have any troubles with its identity - they are brought from his mind in order to be entertaining and outstandingly awesome. Aakash's capability to give birth to his optical illusions shows a rare blend of seemingly opposite abilities - a complete control over organization and chaotic appearance that gives his art an overwhelming look the audience will remember for a long time.
This artist is represented by Wunderkammern Milan and Wunderkammern Rome.
Aakash Nihalani lives and works in New York, United States
Featured Image: Aakash Nihalani - Photo of the artist - Image via Storyboard
All images courtesy of Aakash Nihalani