Aaron Kinnane is an Australian artist, born in 1977. He is known both for his vibrant paintings with an equine theme, and the new body of work, entitled Sunset Studies, which explores the natural world of landscapes.
The artist attended Newcastle University, and obtained a BA in Visual Art in 1998. His cousin was working for Sandro Chia, one of Italy's most noted contemporary artists, and Aaron Kinnane went alongside with his cousin to Tuscany in 2000, to work as an assistant to the famous Italian artist. Kinnane claims that it was the most formative year of his life. He lived in a castle, learned from one of the members of Andy Warhol's clique, and traveled throughout Europe.
2010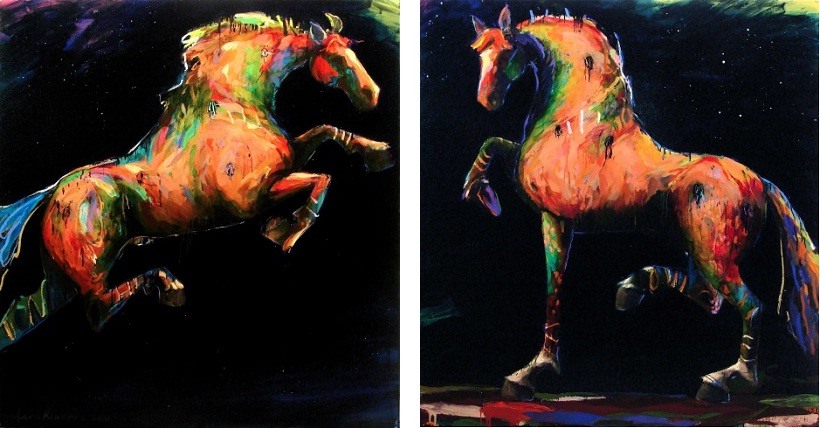 Another important event in his life was his trip to India. He was invited by musician Ben Lee to his wedding in an Ashram Village in the south of India. The trip was subject of his Archibald Prize entry and the place where he met his future wife.
Kinnane, who initially wanted to pursue a career with horses, became known for his works with equestrian subjects, painted in bold colors against a dark background. However, his new 2014 series is drastically different from the previous work. The palette is subdued, consisting of mauve, grey, green violet and black, and his subjects are now visceral, blurry landscapes, smeared with a palette knife on the canvas.
2011
The artist was selected as a finalist in Tattersals Landscape Prize in 2014 and 2015. In 2015, he was also selected as the finalist in the annual Wynne Prize at the Art Gallery of New South Wales, with the painting Called down from the mountains, written in the sea. The prize is awarded every year to an artist from Australia for a figural sculpture or a landscape painting.
 2014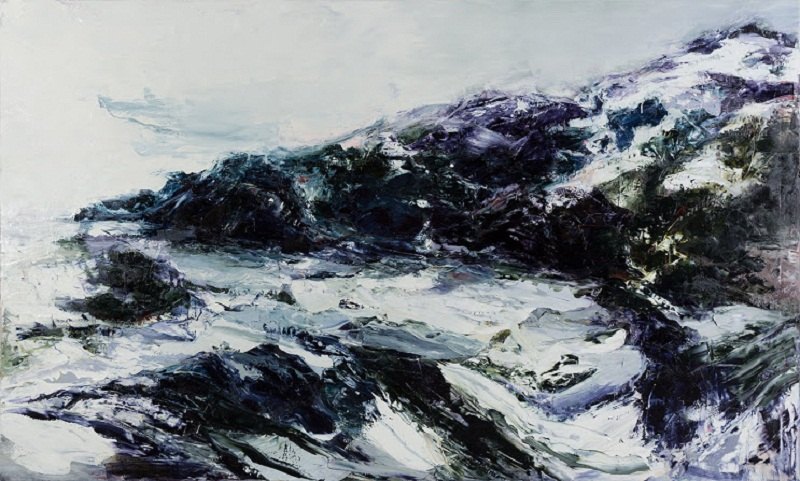 He is represented by The Cat Street Gallery in Hong Kong, and Arthouse Gallery in Sydney.
Aaron Kinnane lives and works in Sydney, Australia.
Featured image Copyright © Aaron Kinnane and Arthouse Gallery
Images Copyright © The Cat Street Gallery and Aaron Kinnane