Connecting the modern approaches with the earliest beginnings and first techniques that announced photography, Abelardo Morell became recognizable for his employment of the variety of unusual methods, such as tintypes, glass negatives, wet plate collodion, cyanotypes, cliché-verres and, most famously, the camera obscura. Deftly balancing the philosophical thoughts, scientific severity, and modern traditions, his images evoke the Impressionist paintings where beautiful landscapes are juxtaposed with unexpected and innovative elements conjoined into the new realities. Spending a lot of time with his son, the artist started to show an interest in the exploration of the world from a child's perspective, approaching common objects in a different way by distorting angles, exaggerating the close-ups, and changing perspectives, challenging the viewer's perception of the things he sees. His fascination with reality and illusion is the most obvious in his Camera Obscura series, which remained his most ambitious projects and the landmark of his career.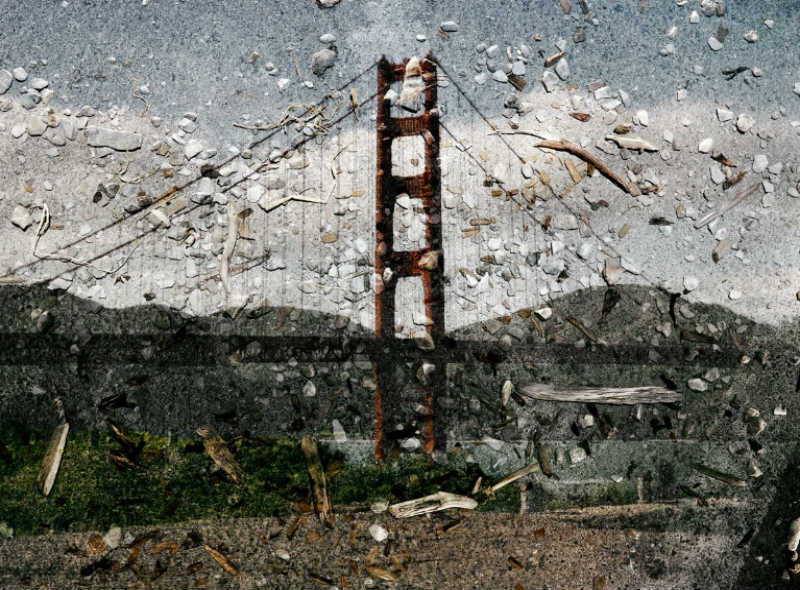 Early Life, Related Influences, and Discovery of Camera Obscura
Abelardo Morell was born in 1948 in Havana, the capital of Cuba. During his early childhood, he has already discovered his love towards photography, spending many hours looking at pages of photographs in National Geographic magazines he has found in his uncle's house. In 1962, his family immigrated to the United States, which later greatly influenced his approach to art and creativity. Although scared and insecure because of the new environment where he faced conflicts of cultures and languages, Morell has also felt some kind of encouragement and wish for adventure. Not knowing the language turned out to be an advantage, enabling him to explore alternative ways of making impressions of his new country, employing his senses. Pursuing his artistic strivings, the artist earned his undergraduate degree at the Bowdoin College in Maine and an MFA in Photography at the Yale University School of Art in 1981. The photography classes he attended underlined the passion he felt for this medium, confirming that it had the power to make him express his deepest feelings of alienation and absurdity bottled up through the years. During his developing years, he was mostly influenced by greatest names of the street photography, such as Henry Cartier-Bresson and Robert Frank. After the great success with Light Bulb, that confirmed that any room and space could be used as a camera, in 1991, Morell started to work on his landmark series, Camera Obscura. In that time, he held the teaching position at the Massachusetts College of Art where actually began his lifelong artistic journey. At one of his classes, he was demonstrating to his students the basic principles of photography – the illumination passing through an aperture projecting the image. In order to produce a camera obscura image, Morell had to cover all windows with black plastic to get a total darkness. After cutting a small hole in the material, the inverted projection of an outside world – street, cars, people and buildings – appeared on the wall. In the beginning, Morell used a large-format 4×5 view camera with black-and-white films, spending a whole summer trying to figure out the correct exposures in order to capture camera obscura effect with the best results. Extremely long, those exposures took from five to ten hours.
For his more recent body of work, Morell began to experiment with color film, using Mamiya 645 camera equipped with a digital back. As the result, new images appear sharper and more detailed, with increased brightness. The employment of prism enabled him to render the incoming projections right-side up and with help of digital technology the artist managed to shorten the exposures considerably, making it possible to catch more passing temporary light[1]. From the first disorienting impression when the viewer seeks for something familiar, minds need to take a moment to comprehend that image actually presents the exterior world projected upside down on an interior setting. Sometimes contributing to initial disorientation, Morell includes elements such as painting on the wall with an inverted image, or opened door as a passage to whole new reality. The principle behind his distinctive technique has been known for centuries. There are records where Aristotle mentions this phenomenon and the first detailed explanation was given by Muslim scholar Abu Ali Al-Hasan Ibn al-Haitham in the 10th century. In the past, camera obscura was used for different purposes, to depict the world outside the dark chamber, while Morell has a totally different approach and goal, combining the exterior with the interior world, changing the way of perception of both[2]. Mechanically simple, these images are technically sophisticated and artistically subtle and surprising, characterized by playful sensibility hidden behind its initial confusion. Once he tried to include himself in the photograph, but considering the fact that each exposure for the Camera Obscura series requires approximately eight hours, he became exhausted and started hallucinating and the effect on the image was the only almost visible trace of the human figure which thwarted his idea of including people in his work.
In 1991, Abelardo Morell started to work on his landmark Camera Obscura series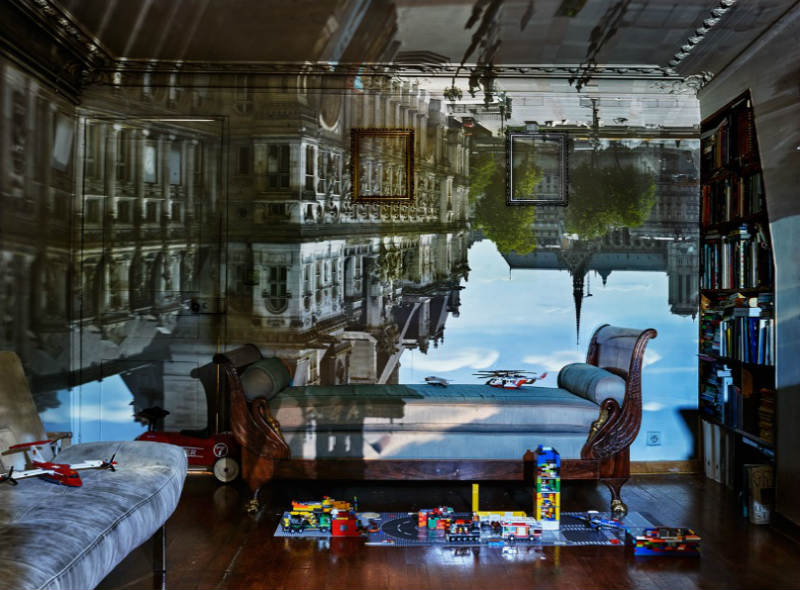 Photograms, Cliché-Verres, and Book Illustrations
Skillfully balancing philosophical approach with a scientific precision, Morell continues to experiment and play, creating various collages, Photograms, cliché-verres, improving camera obscura technique and developing new methods such as adopting a tent so that he can take the images outdoors. Merging the drawing, painting, and photography, one of the most unusual techniques he uses, cliché-verres, literally means glass picture and originates from the 19th-century practice of making handmade negative. The original process of creation includes a piece of flat glass smoked with a lit candle, whose surface is then scratched with a sharp pointed instrument. After making drawings on a glass, the surface is placed over a sheet of photographic paper and exposed to luminescence, giving the interesting lines in black on a white background. In a similar manner he creates Photograms, the photographic images made without the camera, but with the use of light-sensitive material, commonly photographic paper on which is placed some object later exposed to illumination. The resulting negative shadow image represents the various tones, depending upon the transparency of the used object. Morell uses this technique to produce handmade negatives with 8x10 film, creating captivating pieces after exposing negatives to light.
Besides photography, Morell is also active in the fields of illustration, publications, and book publishing, and since 1995 when he issued his A Camera in a Room by Smithsonian Press, the artist created several successful publications and monographs, such as Camera Obscura printed in 2004 by Bulfinch, and Abelardo Morell, published by Phaidon in 2005, and a limited edition book by The Museum of Modern Art – MoMA in New York about his cliché-verre photo series, with a text written by Oliver Sacks. His most interesting and at the same time most famous book is a photographic illustration of Alice's Adventures in Wonderland published in 1998 by Dutton Children's Books. For this project, the artist had in mind that books themselves should form the architecture and landscapes of the places described in Lewis Carroll's famous novel. Morell made photographs that visually suit the tale of Alice well – his illustrations merge drawings and the book itself, making the feeling of how the traveling to Wonderland could really seem. Having an interesting life and career, Abelardo Morelli was a subject of the documentary Shadow of the House, filmed in 2007, which explored his artistic experiences and life's turmoil related to the sense of identity, familial commitment, and cultural politics between Cuba and the United States. Following the artist and his family for over seven years, film director Allie Humenuk worked completely alone on this achievement. One of the most interesting details during the filming was the occasion when Morell decided to return to Cuba, for the first time since his escape in 1962 and more than forty years of living in exile, which provoked a stream of disagreement and fear in his family. Film's title refers to several meanings, pointing out the term of shadows as an inseparable part of his person – it could be said that he has spent his life living in a shadow of Cuba and eventually it became the key ingredient for his artistic process and technique. Elegantly crafted and complex, this in-depth documentary also represents a rare look into Morell's past and his unique artistic vision. The beauty of the Shadow of the House lies in the way it gives shadows their due, but at the same time not losing sight of the predominance of light in both Abelardo Morell's art and life.
Besides photography, Morell's work also includes illustrations and books publications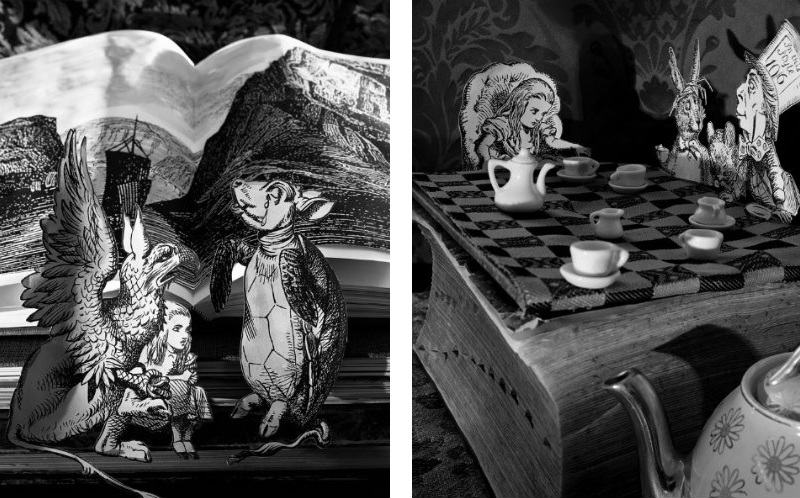 Exhibitions and Recognitions
During his long career, Morell's work has been featured in numerous group and solo exhibitions, at the renowned art venues and institutions such as Museum of Modern Art – MoMA in New York, The Whitney Museum of American Art, the Metropolitan Art Museum in New York, The Chicago Art Institute, The San Francisco Museum of Modern Art, The Houston Museum of Art, The Boston Museum of Fine Art, and The Victoria and Albert Museum in London. A major retrospective dedicated to his achievements titled The Universe Next Door was firstly on display at the Art Institute of Chicago in 2013 and later touring to the Getty Museum in Los Angeles and The High Museum in Atlanta. The exhibition included over 100 pieces made from 1986 until 2013, embracing a wide range of works, from his earliest series to Photograms, cliché-verres, to the new, digitally manipulated color photographs. His opulent oeuvre was recognized and confirmed by a number of honors and grants, including a Cintas grant in 1992, a Guggenheim fellowship in 1994, a Rappaport Prize in 2006 and an Alturas Foundation grant in 2009, and most recently the International Center of Photography Infinity award in Art, in 2011[3]. In 1997, Morell received an honorary Doctor's degree in Fine Arts from Bowdoin College.
Abelardo Morell currently lives and works in Boston.
References:
Woodward, R. B. Abelardo Morell, Phaidon Press, 2005
O'Neill, T. (2011) Bravura Camera Obscura, The National Geographic [September 10, 2016]
Anonymous. Biography, Abelardo Morell, [September 10, 2016]
Featured image: Abelardo Morell - Artist's portrait - Image via alturasfoundation.org
All other images copyright of the artist