When someone is as talented as Abigael Whittaker, then working in several fields and with several mediums is a reality. Not only the artist working mostly in figurative painting and illustration, Whittaker also tackles fashion choices, working as a stylist and a Creative director at Tree of Life. The artist combines collage, gouache, graphite pencil and watercolor to explore the themes of cracked innocence and abandoning the naivety of trust.
The artist explores themes like innocence and trust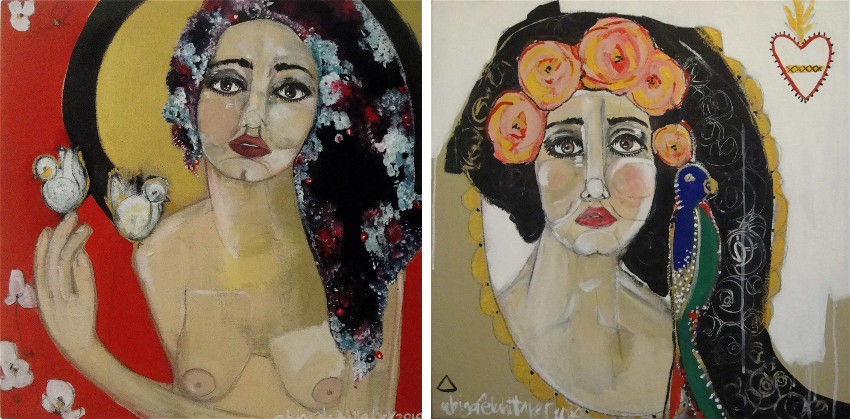 Whittaker's Work Possesses Autobiographical Elements
She earned a Bachelor of Fine Arts in Fashion Design from the Queensland University of Technology. Her figures are inspired by fashion. They have faceted flesh tones and the expressions that haunt the viewers, but their mouths are closed tightly, as if every single one of her figures holds a secret. It's up to the viewers to try to decipher and understand her work, to look in the eyes, explore the expressions, read the body language. Whittaker is making the audience actively participate in creating the stories behind her artworks. All of the models are female and possess a certain autobiographical elements. The artist uses metaphors and allegory to uncover the stories and dreams of human experience.
Every single figure looks like it holds a secret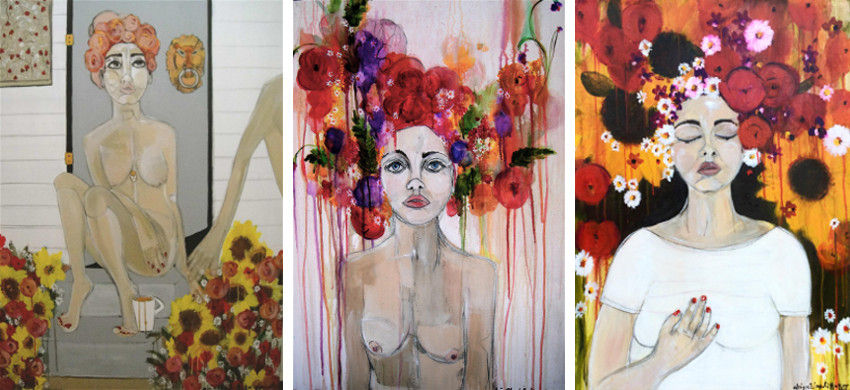 Acclaim and Recognition
In 2010, she was one of the artists included in the 'I used to skate 06', a showcase of humble beginnings that has become a must-see event in Brisbane. As a designer, she won the People's Choice Award at the Youth Week Fashion Parade in 2006. Whittaker has exhibited throughout the Australia, and had several successful solo exhibitions, most recent one called "Paper. Fish. Tree.", at the 19 Karen Contemporary Artspace in Gold Coast, in 2012. Also, in 2010, she was a finalist in the Lethbridge 10000 Small-Scale Art Award.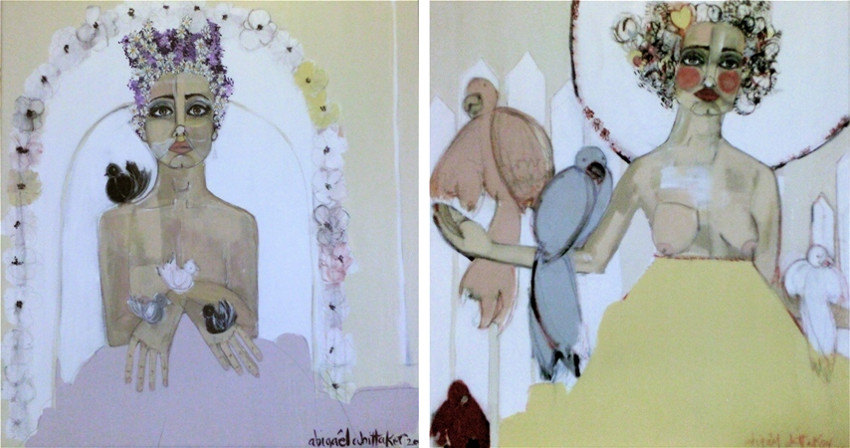 Figurative Should Blossom Out of the Real
It would be a shame if in the future Abigael have to make a choice between fashion and painting, because she is very good in both fields. Work in fashion allows her to express on a different level. Her paintings carry strong messages, and even though they are open for individual interpretation, some universal themes can be read. Her figurative artworks blossom from reality, emphasizing both the weakness and strength in women. Inspired by the poetry and fairytales, artist's work tells stories that we all face in real life. All that is left for the viewers is to relax and enjoy in Whittaker's beautiful artworks.
She is represented by 19 Karen Contemporary Artspace in Gold Coast, Australia.
Abigael Whittaker lives and works in Brisbane.
Featured image photo credits Kylie Cox.
Images courtesy 19 Karen Contemporary Artspace.