Tavar Zawacki, also known as Above, is a Berlin-based international contemporary artist who is primarily interested in creating street art. He is known to work in a multitude of different mediums, with a rare constant being the fact he is fond of using multiple layers. Interested in exploring social and political topics, Tavar Zawacki treats an arrow pointed up as a symbol of his art - therefore the Above alias. Although his visuals display a fascinating technical ability, Zawacki usually relies on large witty portions of text to conceptually carry the majority of his murals and paintings. If we were to divide his body of work, Tavar's output can be split into three different categories - his multi-layer stencils, colorful abstract arrow compositions and large text-based murals. This artist's work can be seen all over the world as Above has been known to travel and work abroad on a regular basis.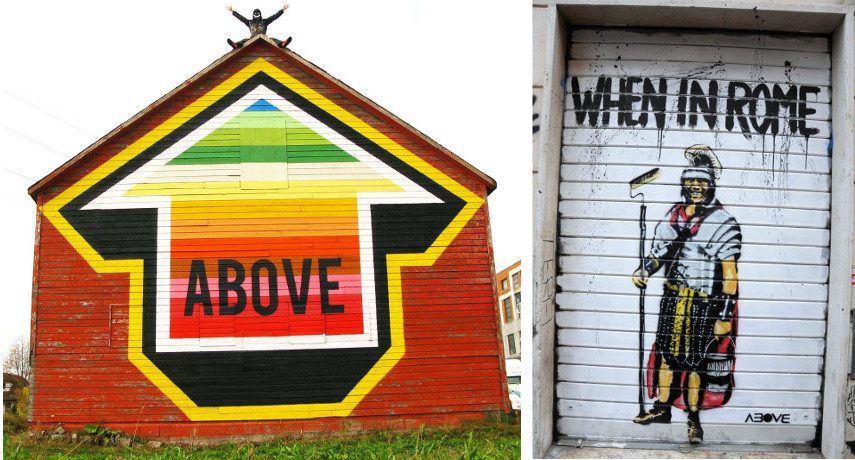 Tavar Zawacki a.k.a. Above
Like so many of his contemporaries, Tavar Zawacki as well started out by tagging freight trains in California with graffiti. When he was nineteen years old, he moved to Paris, France - it was here that Tavar Zawacki started painting his trademark arrow icon pointing above. Since then, Above has worked on the streets of over 90 cities in over 60 different countries - truly astonishing numbers any street artist would like to have in their urban curriculum vitae. Since the year of 2001, Zawacki has financed annual street art tours around the world - each tour had a duty of exploring a new part of the world and often a new medium or style of artwork.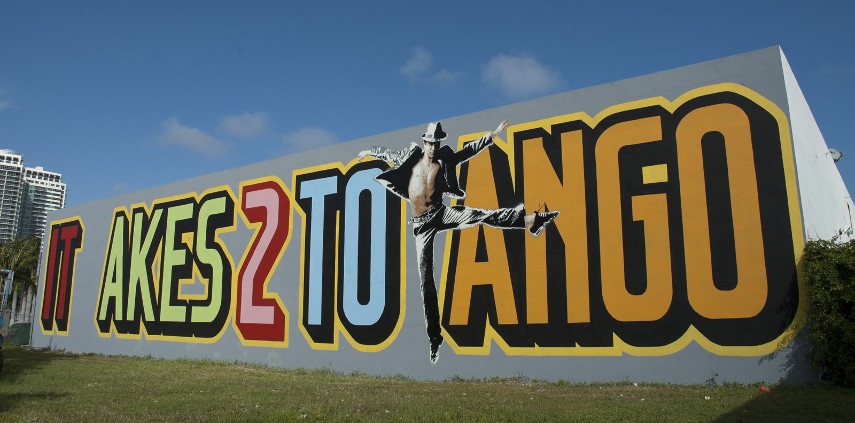 Most Notable Tours, Shows and Projects
As it was already said above (no pun intended), Tavar Zawacki was at the helm of many international tours that had the job of raising popularity and improving street art on a worldwide level. The U.S.A. Tour (2004) saw him drive 5,000 miles across the United States and hanging 300+ arrow mobiles in 14 major cities. Interestingly enough, Above has declined to this day to respond to questions about how he is able to hang his mobiles so high, saying the following: I value and respect that we all have imaginations and for me to interfere with what your imagination is creating, or thinking, would be wrong. Sign Language Tour (2006) spanned 6 months and 26 countries as Above focused almost exclusively on his wordplay sign language arrow mobiles. In 2010, Above and Blek le Rat did an indoor show together at the White Walls Gallery in San Francisco - this show was the first time Tavar Zawacki officially worked in a gallery space.
Tavar Above Zawacki dedicated the majority of his life to developing his street art portfolio, working on multi-layer stencils, vivid arrow compositions and large text-based murals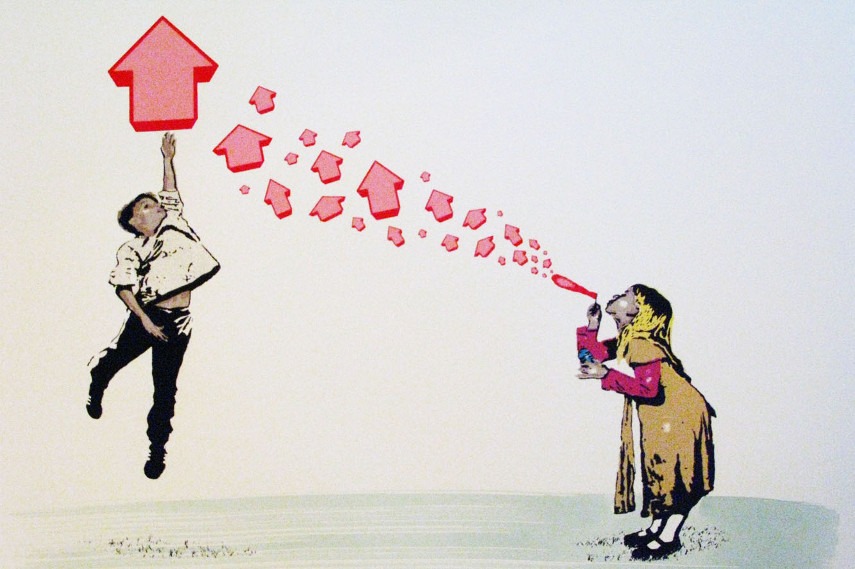 Revealing His Identity
Interestingly, Tavar Zawacki insisted for the majority of his career that his true identity must remain a secret, letting the Above name further develop the mystic of his street art. By doing so, the artist wanted to let his work do all the talking. However, Tavar decided to reveal himself and take deserved credit after being in the shadow for so long - Zawacki is now rightfully held in an extremely high regard by his colleagues and street art pundits, and is treated as one of the legends of the urban art world.
This artist is represented by Urban Spree Galerie.
Tavar Zawacki lives and works in Berlin, Germany.
Featured image: Tavar Zawacki - portrait of the artist
All images used for illustrative purposes only.