Adam Lister is an American artist, born in 1978, in Fairfax, Virginia. He is known for exploring pop culture and art history through creating pixelated images of famous paintings, inspired by his love for the 8-bit graphics of the Atari and Nintendo game consoles.
Lister went to School of Visual Arts in New York, and obtained his Bachelor of Fine Arts in 2003. Since then, he has exhibited his works in numerous exhibitions throughout the United States, but also in the Netherlands, Germany and the United Kingdom.
Adam's biggest supporter is his family – his wife and son, who inspire him to work hard.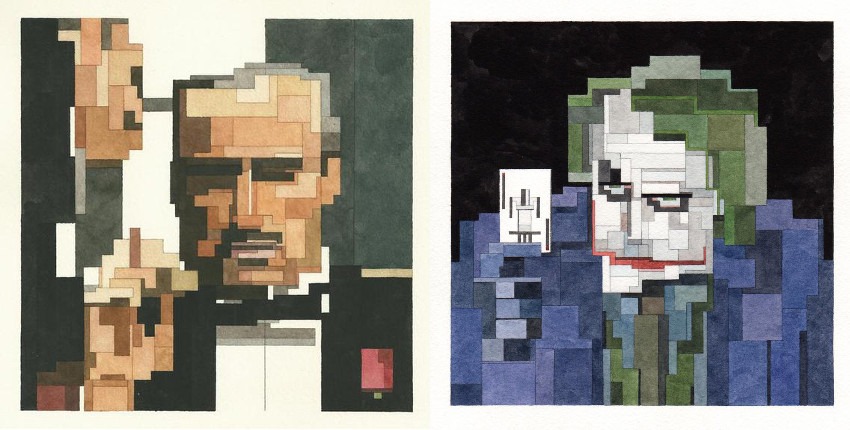 Amazing Pixelated Watercolour Paintings by Adam Lister
Adam Lister combines the deconstructed and minimal aesthetic of old-school video games with famous artworks, such as the Mona Lisa and pop-culture characters, such as Batman or the Simpsons.
His engaging visual compositions are inspired by the 8-bit games he used to play in his childhood. Using the principle of pixelated images as a guideline, he juxtaposes Cubism with the school pastime, in order to break down, rearrange and reference iconic images. Lister explores the connection between past and contemporary modes of representations, thus creating paintings and prints that possess both the hard edge geometry of old-school video games and the softness of watercolor paintings.
His works provoke the sense of bittersweet nostalgia, as our favorite childhood characters, the artworks we learned about in school and video games are all fused together. Adam Lister also produces textured sandstone sculptures of the same images, with the help of 3-d printers and the painter and designer Isaac Budmen.
Recent Work by Lister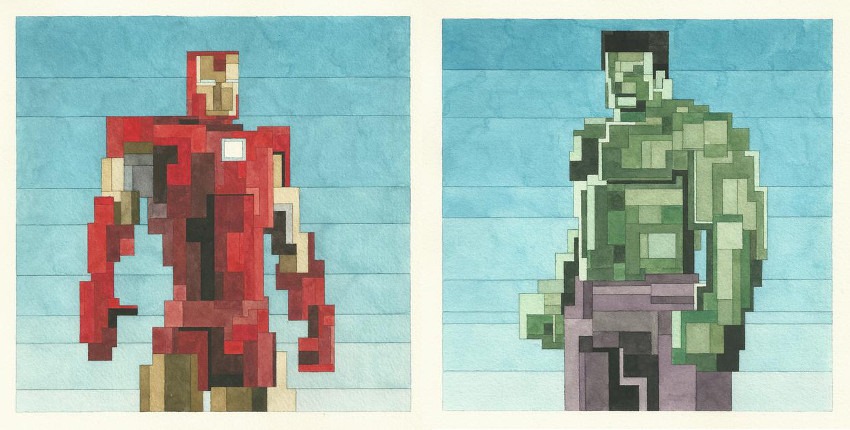 The Characters
Lister's images are either taken from the pages of a comic book, the walls of the Louvre, or a Holywood blockbuster poster. In his works you can see both the worlds of Star Wars characters, Alice in Wonderland, Iron Man or Harry Potter, and the renowned art pieces such as Dali's The Persistence of Memory, Munch's Scream or Van Gogh's self-portrait.
Pixelated Images of Famous Paintings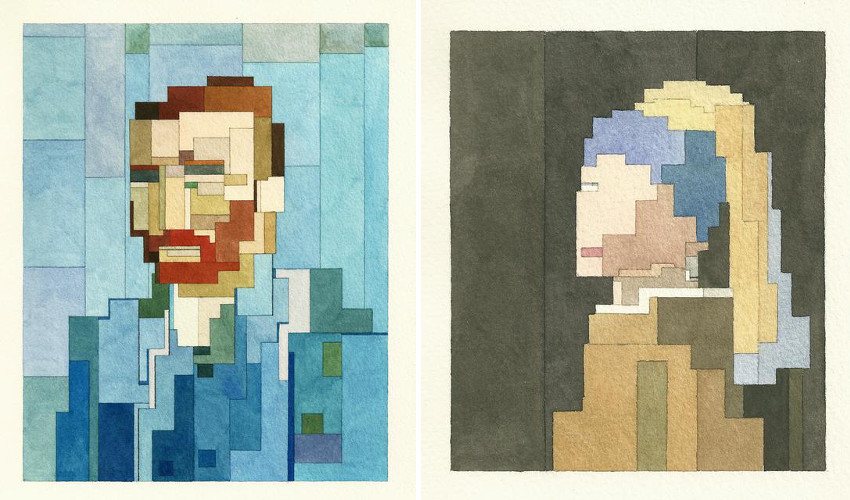 The Process
From Round to Squared
Lister begins his work with a recognizable image, such as Wonder Woman or Gustav Klimt's The Kiss, and then turns it into a bunch of angles, by drawing with a pencil and building the initial sketch into a completely angular and geometric representation of the subject. He uses only vertical and horizontal lines, so that a circle becomes a square, and a diagonal turns into a staircase.
Sometimes, there are images which just cannot be translated as well as others and require a lot of work. Although pixelated and lacking details, the familiar images are still very recognizable. The flatness of watercolor is perfectly fused with digital aesthetic.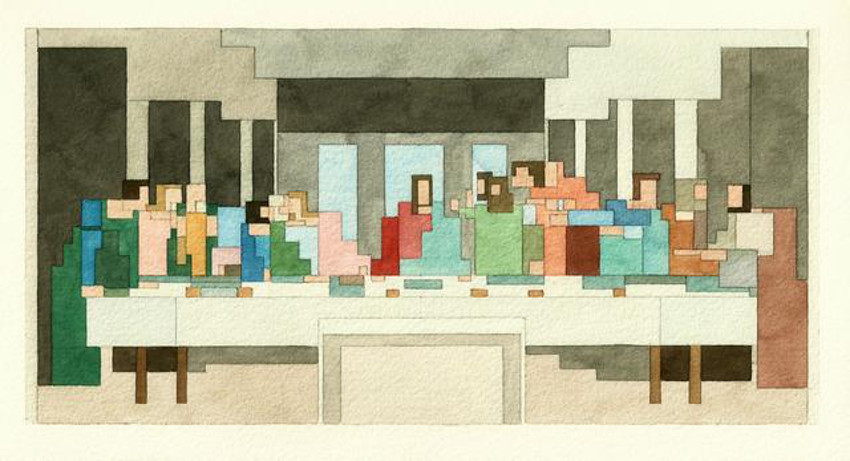 Lister's Exhibitions
Vertical Gallery Representation
Lister has been exhibiting his works since 2003, mostly in his home country. The long list of venues where the visitors could see his nostalgia-evoking and heart-warming paintings include Joseph Gross Gallery in New York, USA; Catalyst Gallery, Beacon, NY; Kunstlerhaus Dosenfabrik in Hamburg, Germany; The Gallery On The Corner in London, UK; Dalet Gallery, Philadelphia PA and Shooting Gallery in San Francisco, USA. One of his latest solo shows Wet Geometry was held at Shooting Gallery in San Francisco, CA in 2014.
He is represented by Vertical Gallery in Chicago, Illinois. In March 2015 his work was included in group show Heroes & Villains at the gallery located in Chicago.
Adam Lister works and lives in Beacon, New York.

All images copyright © the artist