Using a wide range of media from painting to photography, performance to video art, a Virginia-born conceptual artist Adam Pendleton draws his themes and iconography from the experience of the Conceptualism, Dadaism, Minimalism and experimental literature. He is referring to cultural movements from the 1960's to today which includes mostly the ones from African-American political and social history such as Civil Rights Movement, Black Power and Black Arts Movement. He is best known for his paintings exploring politics and language through historical and modernist imagery.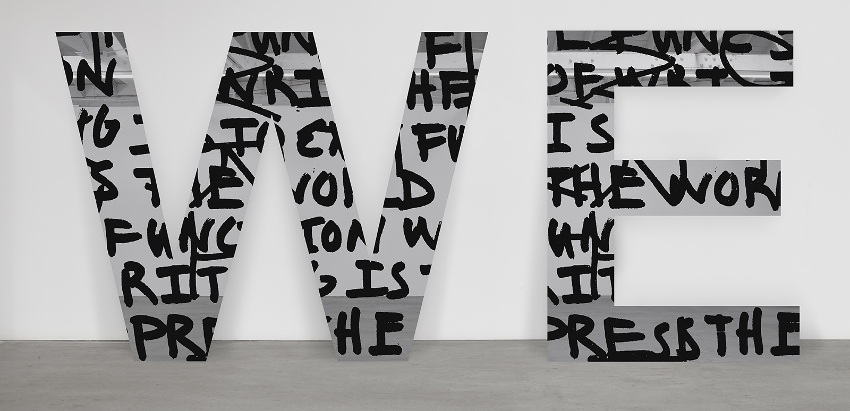 Beginnings and Early Career
As a young boy, Adam Pendleton used to spend hours in the basement of his family's house in Richmond, Virginia, painting and studying art by artists such as Jasper Johns and Robert Rauschenberg. While attending the private Collegiate School in Richmond, Pendleton traveled alone and with his father to galleries and museums in New York. In 2000, he studied in an international art program in northern Italy. Two years later, when Pendelton was at the age of 18, he moved from Virginia to New York with the intention of becoming an artist. There, Adam would send slides of his works to New York galleries and follow up with phone calls. One dealer, who was also an assistant to artist Sol LeWitt, put Adam Pendleton in a group show. When LeWitt came to the gallery, he spotted Pendleton's painting. Impressed by the work of young Pendleton, LeWitt bought the piece by trading one of his own pieces for it, becoming Pendleton's first collector. In 2005, Adam Pendleton had his first solo show titled Deeper down There, at the Yvon Lambert Gallery. The show featured two-color canvases with silk-screened lines from modern African-American literature and music, as well as paintings resembling enlarged record album covers.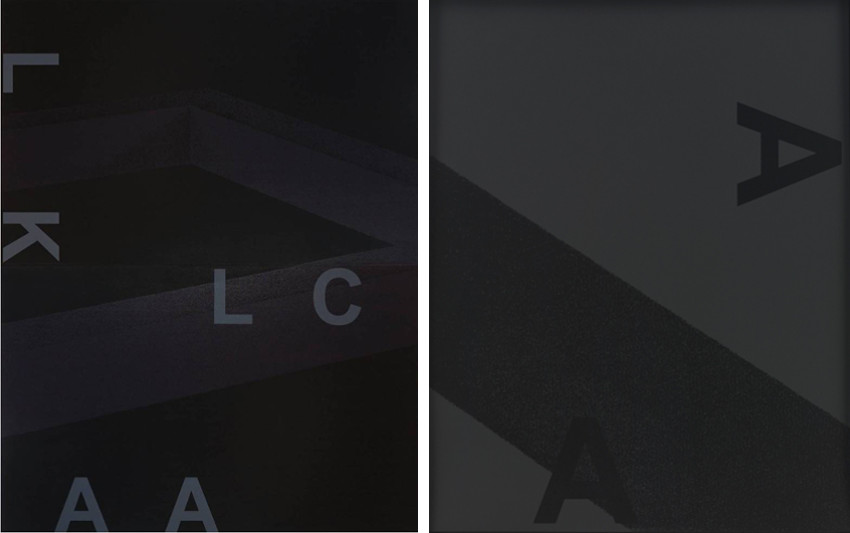 Black Dada
Adam Pendleton's work often involves the investigation of language, in both the figurative and literal senses and the recontextualization of history through appropriated imagery. Much of Pendleton's art is underpinned by an idea artist calls Black Dada, which fuses race with the early 20th-century avant-garde. The title of Adam Pendleton's series of paintings, Black Dada, 2008-2009, is borrowed from a 1964 work by the Beat poet and activist Amiri Baraka, Black Dada Nihilismus. Baraka's poem Black Dada Nihilismus became a point of departure for paintings that presented fragments of the text through conventions of Conceptual and Minimal art of the 1960s. The Black Dada paintings contain a partial view of Sol LeWitt's cube sculptures, accompanied by one or more letters derived from the phrase "Black Dada".
"Black Dada is a way to talk about the future while talking about the past. It is
our present moment" - Adam Pendleton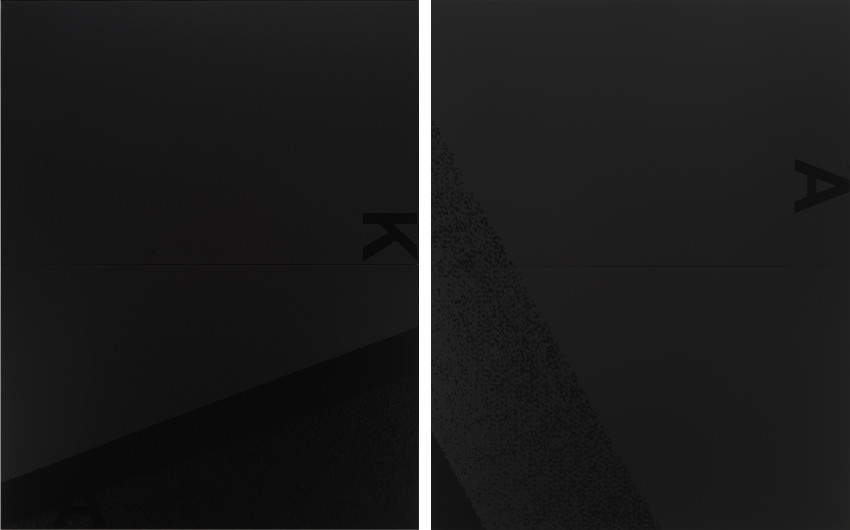 Large-Scale Performances and Installations
Adam Pendleton's large-scale performance, Revival, 2007, established his artistic style as modern and abstract. In the Revival, Pendleton presided over a 30-person choir and presented testimonials from poets such as Liam Gillick and Jena Osman. The piece was part of Performa Biennial 07 and was performed at Stephan Weiss studio. In Adam Pendleton's performance works, but also through his printing projects and his installations such as System of Display, the artist reflects on social movements and questions of historical representation through procedural methods. System of Display is a series of works involving mirrors, letters and silkscreened images appropriated from art publications, among other sources. The images include photographs of the Fridericianum during the 1955 Documenta and of a couple dancing in the street during a celebration of independence in Congo, as well as stills of Anna Karina from Jean-Luc Godard's film Made in U.S.A.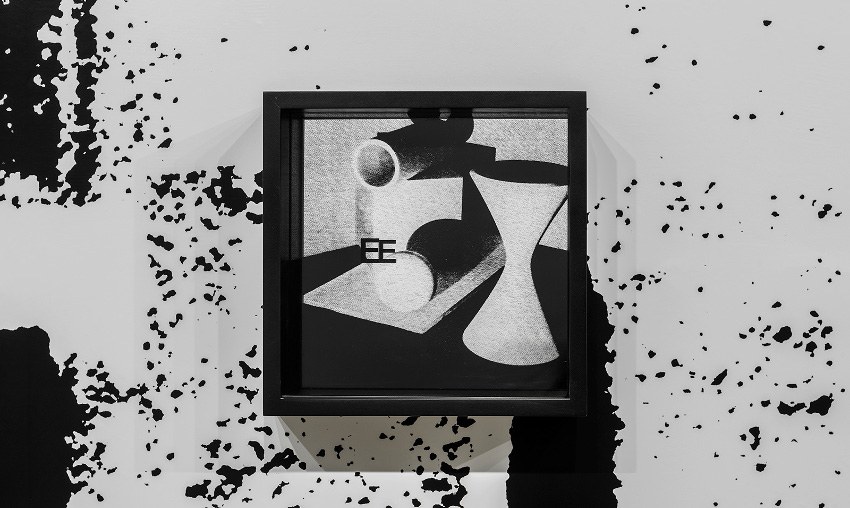 Band - Video Installation
Adam Pendleton's three-channel video installation entitled BAND, 2009, tracks the process of the indie rock, post-punk band Deerhoof working on and recording a new song, I Did Crimes for You. This approximately 12-minute video is loosely based on Godard's film Sympathy for the Devil, which features The Rolling Stones recording their song of the same name. In BAND, footage of Deerhoof rehearsing is edited to include fragments from a 1971 documentary Teddy, about a young member of the Black Panther Party in Los Angeles. The resulting video follows the formal logic of Godard's film, but the scenario it presents is strikingly more ambiguous. The song's lyrics consist of confrontational rhetoric characteristic of the late 1960s while the voiceover from the documentary speaks of the prospects of change and the efficacy of such violence.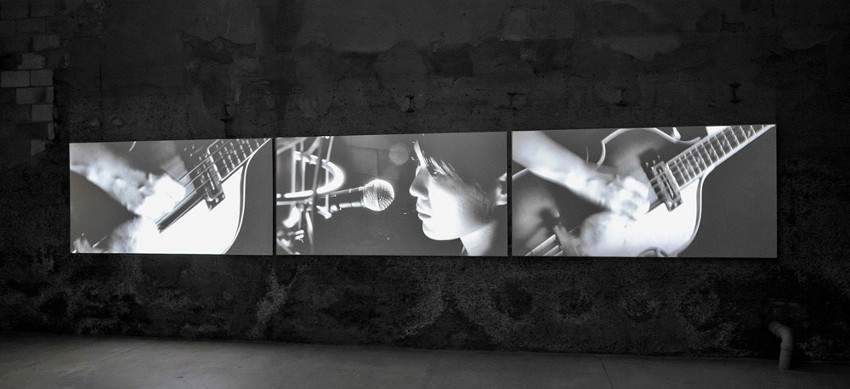 Black Lives Matter
In one of Adam Pendleton's latest series titled Black Lives Matter, the artist is exploring the relations between race, politics and language, while keeping in mind the burden of the history on the present comprehensions of such relations. Pendleton is sending a clear message that, even in the United States, the idea of equal rights has only been recognized, but not yet accepted. He is referring to more recent events such as the political riots that burst out after the death of an eighteen-year-old African-American citizen in Ferguson, Missouri. Pendleton's paintings from the series have a unique surface that lies between handmade and machine-made. The machine sprays the phrase on an abstract ground, creating a tension between overt and abstract modes of representation. Adam has also created a wall work that is an enlargement of a collage featuring the phrase Black Lives Matter.
Through his work, Pendleton is sending a message that the idea of equal rights has only been
recognized, but not yet accepted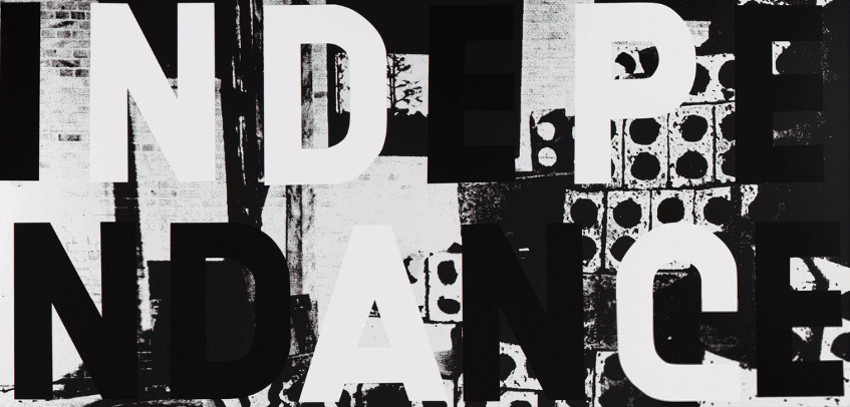 Exhibition and Collections
Born in 1984, Pendleton is already a widely recognized artist. His installation Abolition of Alienated Labor, was featured in MoMA PS1's Greater New York exhibition in 2010. Two years later, he signed with Pace Gallery at age 28, the youngest artist to do so since the 1970s. In 2015, at 31, he was the youngest artist to represent the Belgian Pavilion at 56th Venice Biennale. His work is included in the permanent collections of some of the most notable museums around the world including the Museum of Modern Art, NY, Museum of Contemporary Art, San Diego, and the Museum of Contemporary Art Chicago. The artist's largest solo museum presentation Adam Pendleton: Becoming Imperceptible has been opened at the Contemporary Arts center in New Orleans in April 2016 and it will be on display through June 16, 2016.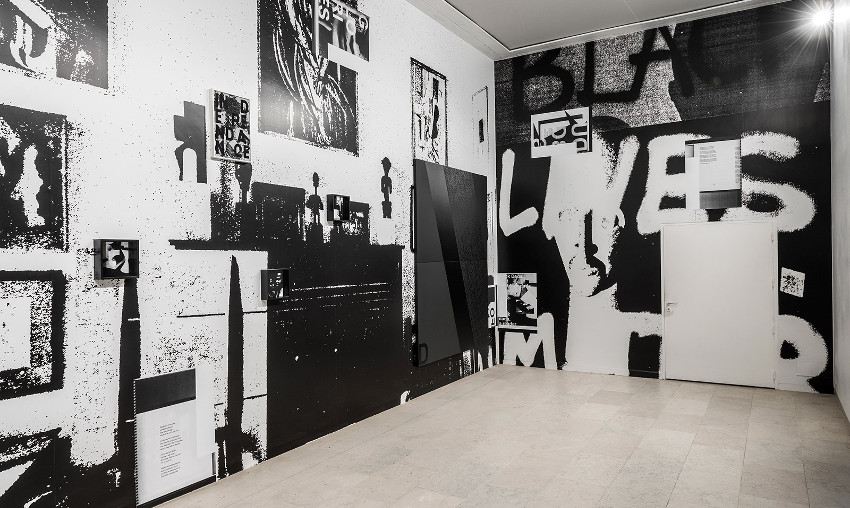 Critique of Racial Prejudice
Known for his engagement with language and re-contextualization of history through multi-disciplinary practices, Pendleton not only captures a moment in history but also uses his work to invite global conversations around social and racial controversies in the US. By creating work that often blends facts, ambiguous dates, found text, and appropriated images, he challenges and critiques the prevailing systems of racial prejudice. His art ultimately depicts the artist's view of the world.
The artist is represented by Pace Gallery, London; Pace Gallery, Beijing; Pace Gallery, Hong Kong; and Pace Gallery, Menlo Park.
Adam Pendleton lives and works between New York City and Germantown, New York.
Featured image: Adam Pendleton - portrait, photo credits Observer
All images copyright © the artist