Paintings of the Romanian artist Adrian Ghenie have a sense of darkness that is beyond the usual eerie or displeasing. The scenes he's depicting are strangely disturbing and make us wonder what is the exact reason of our mental turbulence provoked by Ghenie's works. Through his art, the Romain painter is telling stories about personal and collective memories and fears of the European modern world. His work is inspired by ideologies such as communism and eugenics, but at the same time, it is highly personal, almost like a diary of the metamorphosis in the artist's inner world.
Ghenie's work is inspired by ideologies such as communism and eugenics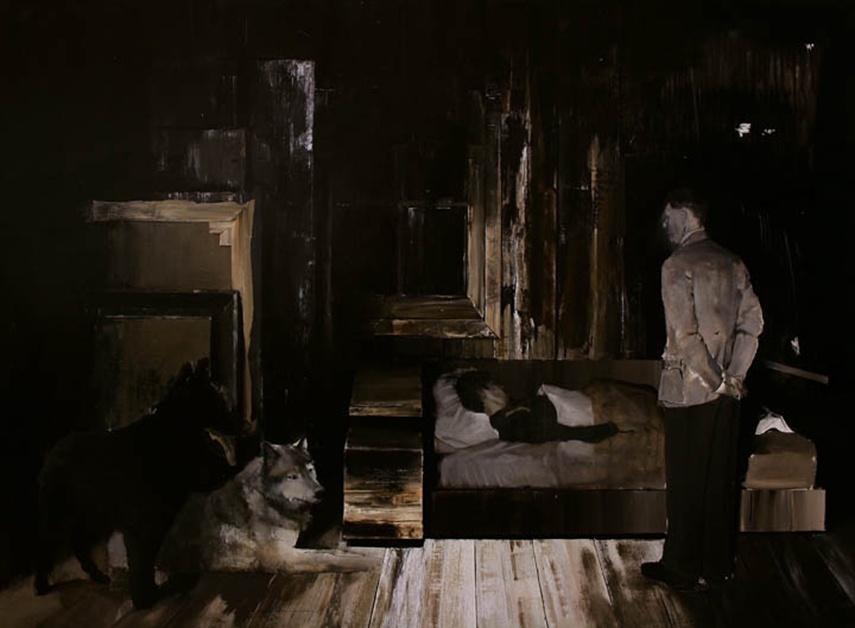 Turbulent childhood
Ghenie was born in the city of Cluj in Romania in the late 70s and he used to move between Cluj and Berlin until 2013 when he finally chose to move permanently to Berlin. His childhood had a strong effect on his artworks, particularly the stories his parents told him, about their life and often travels across Eastern Europe in the 60s and the 70s. There were a lot of financial and existential insecurities in the life of his parents, who were again raised by the old-fashioned generation and learn to loved the traditional values, only to face the abruptly changing world of the 70s, with all of its confusing new values, such as the importance of individualism. The stories of Ghenie's parents were not the only source of his artistic tendencies. What was more inspiring for the artist are the actual differences in the interpretation of the modern Europe, when it comes to the artist himself and his parents. Ghenie is extremely curious about the differences among facts, fiction and memories and he is exploring these realms through the uneven and confusing textures in his paintings.
Ghenie is exploring differences between facts and fiction through his confusing, uneven textures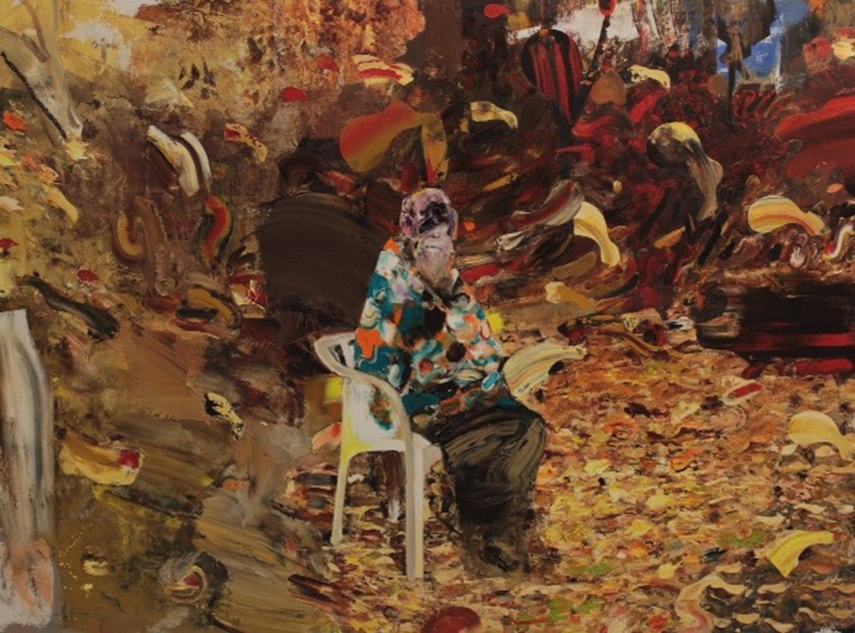 Staged Accidents
Ghenie's work is quite unconventional when it comes to the tools he uses to paint. For example, palette knives that painters are normally using to mix colors became Ghenie's primary and most favorite tool to paint with. The result is a figurative imagery brought on the very verge of the abstract, with its varying levels of clarity and decay. Ghenie is letting his paints drip and pour and he's scraping surfaces with his palette knife, creating something known in painting terminology as staged accidents. Also, he's often creating dramatic effects with his strong chiaroscuro technique. The main topics and subjects of his paintings are the 20th-century historical figures who caused a lot of suffering, such as German officer and physician Josef Mengele, or scientists with breakthrough discoveries, such as Charles Darwin. Ghenie's also pointing out at the preeminent artists, such as Marcel Duchamp and Van Gogh while creating their schizoid portraits. Ghenie is interested in those associated with genocide and mass suffering or revolutionary discoveries, but the main criteria would be, to put it simply, people who were both very influential but at the same time famous for their troubled minds. The various states of decay and clarity on Ghenie's canvases are representing, quite directly, the wide amplitude of various states of mind.
Ghenie is depicting people who were influential but also famous for their troubled minds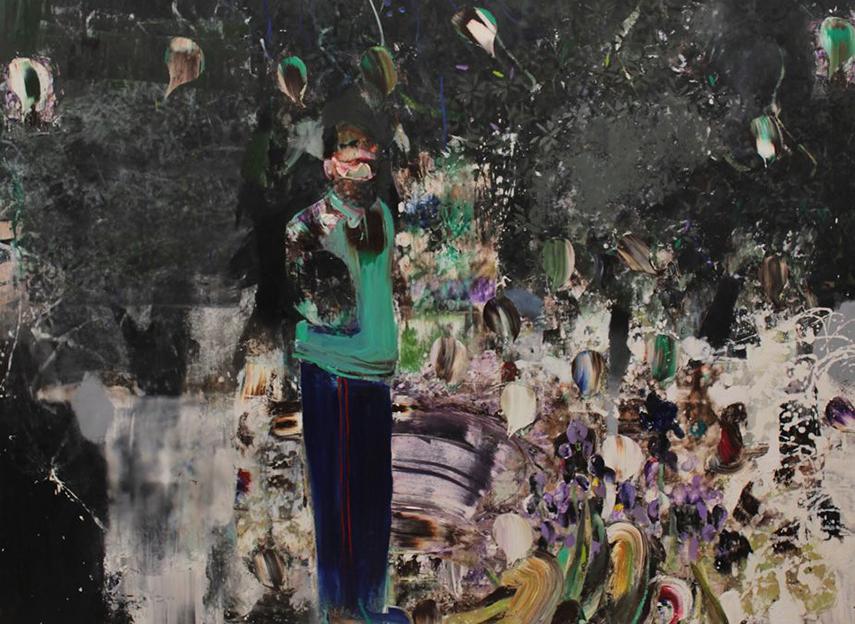 Worldwide Success
Ghenie's work has become internationally famous for its dark and disturbing character. It has been widely shown in group and solo exhibitions, including renowned galleries such as Tate Liverpool, San Francisco Museum of Modern Art and Palazzo Strozzi in Florence. In June 2014, Ghenie's oil on canvas The Fake Rothko was sold for £1,426,000. Two years later, in February 2016, the large oil on canvas painting The Sunflowers of 1937 inspired by Vincent van Gogh's Sunflowers was sold for £3,177,000 at a Sotheby's auction. This was the most expensive painting sold by the Romanian artist. Ghenie's work can be found in numerous important museums and public collections in Europe and the United States. Also, in 2005, Ghenie became a co-founder of Galeria Plan B in Berlin, which is a convenient location for artists, since it also serves as a studio.
Ghenie's painting is getting prepared for bidding at Sotheby's auction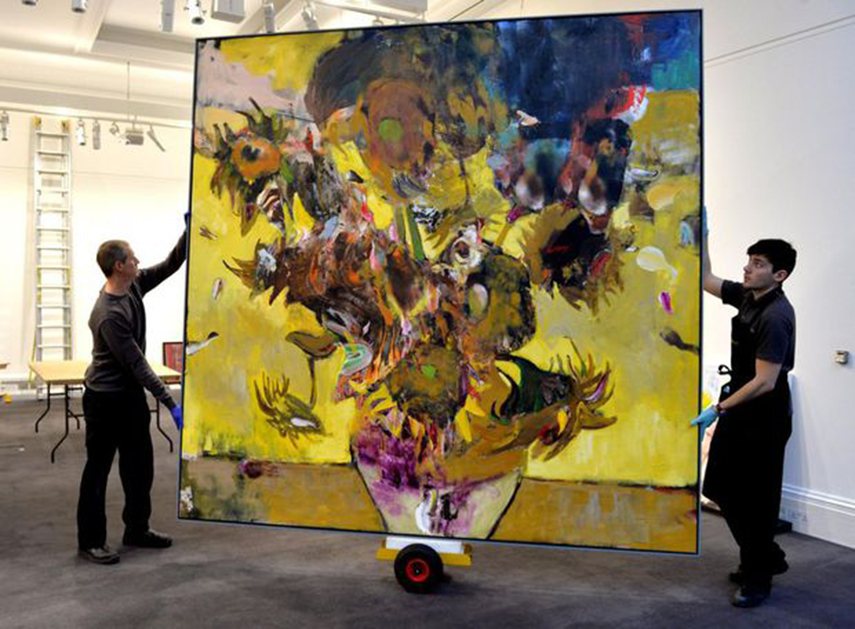 Thinking forward
Ghenie's disturbingly powerful work that found many references in the preeminent historical leaders and great minds will gain even more value and attention as the time goes by since it tells stories which are a fine blend of the artist's ingeniousness and actual history. Also, the artist's unusual skills when it comes to representing various mental conditions made him stand out and be admired and sought for at the auctions with the highest bidders.
The artist is represented by PACE GALLERY.
Adrian Ghenie lives and works in Berlin.
Featured image: Adrian Ghenie portrait
All images courtesy of the artist.