Living in the world of the past times, discovering the space of grandparent's garage, Adrian Landon Brooks has always been curious about old artifacts in which he was finding interesting details and styles now replaced by their digital imitations. Tracing the images from men's 1950's catalogs and logos from rusty paint buckets and oil cans was a great practice which marked his first artistic steps. And now, Brooks continues to produce simple but very effective works. His images are beautiful with a tinge of fantastic. Setting himself a challenge with one bold line or limited color pallet, Brooks strive to strip painting down to the core, so he could create concise work, starting from its primary elements.
Inspiration is in the Folk and Sacred Art
He is finding his inspiration in traditional folk art, and also in sacred art, regardless of religion. In Warpaint series, he was using old cabinet photos which he had painted over, with the aim to celebrate the past times and permanent beauty. The female portraits remind of Virgin Mary or woman in traditional Muslim vesture. The Form of his images focuses on a central figure on a minimal, usually blank background. Adrian Landon Brooks studied painting at San Francisco Art Institute. Considering the stagnation of his career after the studies, he moved to Austin where he found better conditions and more satisfying environment for his creative work. Some of his main influences include Egon Schiele, Barry McGee and Lance McMahan. Brooks is involved with the mixture of techniques and mediums and his most recent focus is on the gouache and pen illustrations on paper of wooden surfaces. He is trying to group together different forms, so they could contribute together to the same meaning of the whole picture.
His illustrations carry mysterious and strong message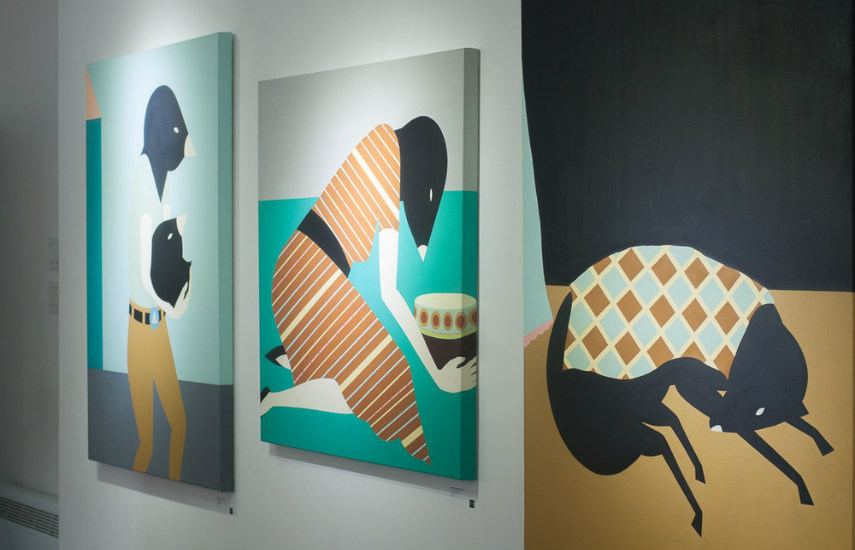 Paintings Reveals Personal Stories
Drawing inspiration from life experience, Brooks considers his work as kind of a diary, a personal visual presentation where the viewer can follow all his thoughts and feelings. Being honest in representations, he is equally focusing on positive and negative emotions. His illustrations of idols, icons and strange figures carries a mysterious but strong message. Committing himself to his work, Brooks creates in his inner realms, putting outside world on pause. His art was liberating and it was always helping him to get through destructive thoughts. Looking through the years, Brooks' paintings are following the constant change and maturing of his personality and artistic spirit. Beginning with the dark and chaotic images, his style was refined with the mixture of techniques and mediums.
Adrian Landon Brooks is represented by Stephanie Chefas Projects.
Adrian Landon Brooks lives and works in Austin, US.

Featured image: courtesy of the Stephanie Chefas Projects