Renowned for his striking visual imagery, Aleksei Bordusov aka Aec Interesni Kazki is a Ukrainian street artist whose surrealistic works grace walls across the globe. His bright, intriguing murals—inspired by science, religion, mythology, cosmology, myths and times past—are filled with color, and often accompanied by black and white drawings of his own. Aec's highly detailed pieces appear like they come from a fairy tale populated by colorful imaginary creatures that often seem to be in motion. The comparison with fairy tale characters is not unintentional as his nickname Interesni Kazki literally means Interesting Fairytales and it also stood as a crew name of an artistic duo composed of Aec and Vladimir Manzhos Waone.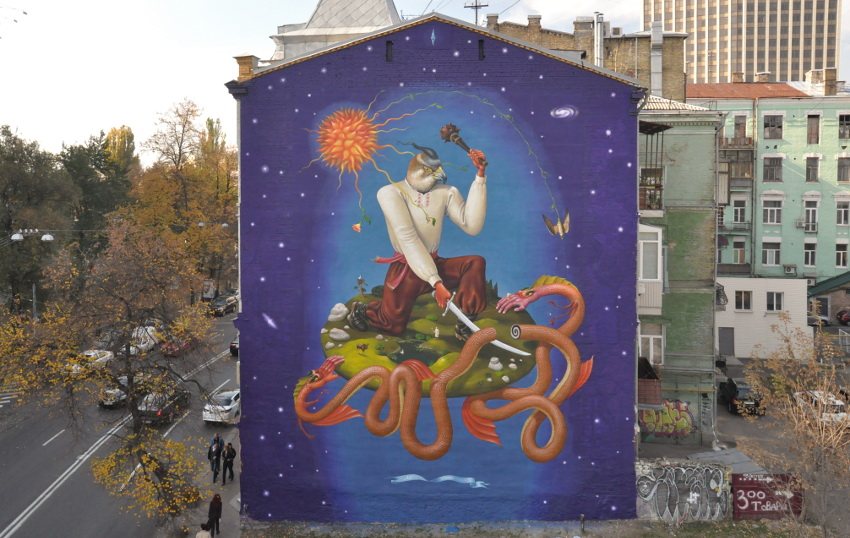 Artistic Beginnings and Interesni Kazki
Aec Interesni Kazki got basic knowledge and skills of drawing and painting during his studies in architecture at Art Academy. Upon graduation, he realized that he doesn't want to pursue a career as an architect but wants to focus on art only. It was in the late 1990s that he started painting on the streets of Kiev as a part of big graffiti crew Ingenious Kids (IK). However, after several years of city bombing, painting public walls and trains, he got bored of letters. In 2005, Aec teamed with one of IK members Waone in creating pieces composed of characters without letters. Inspired by murals from other parts of the world, and in particular, Brazil, Aec and Waone formed Interesni Kazki duo that became known for their unique style of contemporary muralism with graffiti roots. Merging science fiction, fantasy, and Ukrainian religion and culture, they created their own dreamlike universe inhabited by mysterious subjects.
Aec Interesni Kazki started painting on the streets of Kiev in the late 1990s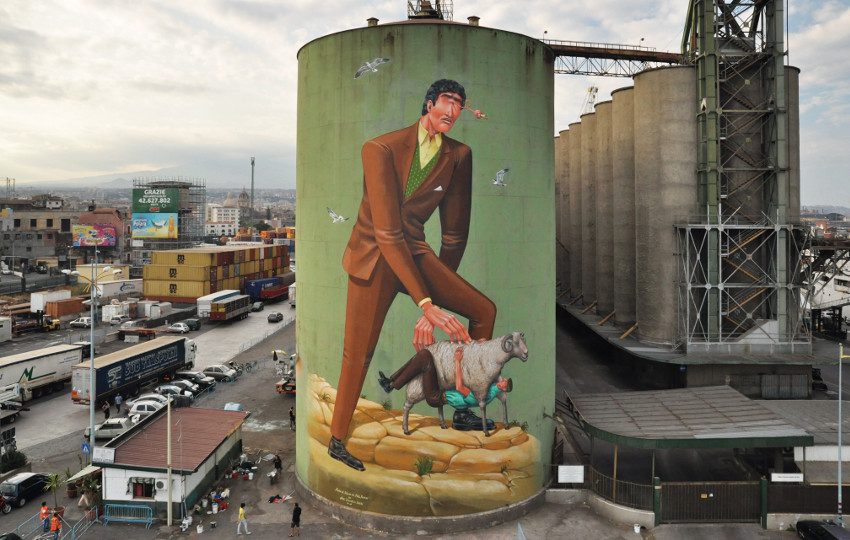 Colors, Shades and Forms
After more than a decade of fruitful collaboration and numerous street pieces made by Interesni Kazki, the duo split in May 2016 and both Aec and Waone decided to follow their dreams as solo artists. Over the years of artistic work, Aleksei has developed his own technical skills, and moved from stylization to more realistic and anatomic images, focused on colors, their shades and forms. Although he experimented with different techniques, he realized that the traditional paint brush technique gives him more opportunities than others, so today he mainly works with rollers, brushes and acrylic paints. Aec also works with acrylics and brushes on canvases and uses ink liners to do drawings on paper. Some of them he colors with watercolors, being inspired by a technique of old book illustrations of past centuries.
Aec recently visited Mexico where he created an interesting new mural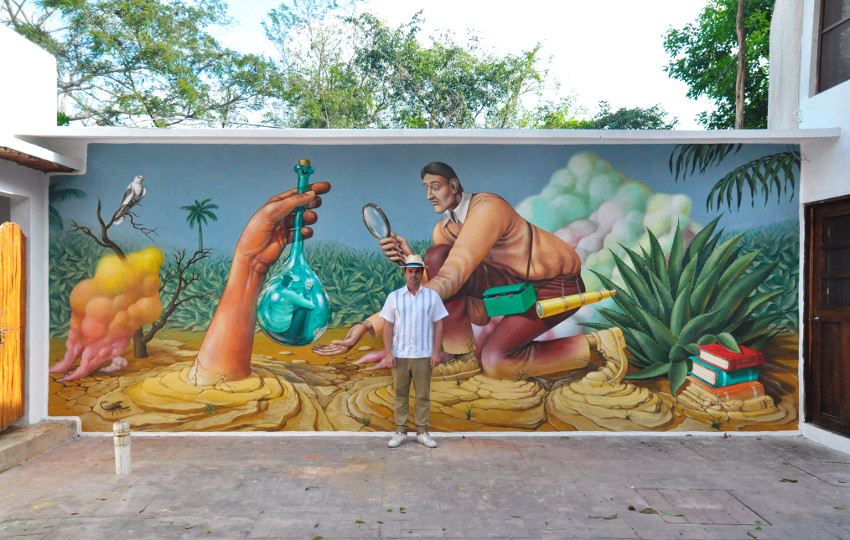 Sacred Gravitation
As one of his most important projects, the artist highlights Sacred Gravitation, the last show of Interesni Kazki duo that was held at Manhattan's Jonathan Levine Gallery in January 2016. For this exhibition, Aec worked a lot on his personal pieces creating three big canvases - Last Day of the Babylon, Temple of the Time and The Genesis. It took him two months to create each of these huge and extremely detailed paintings, so he spent half of a year working on them. In addition to these three paintings, his exposition for this show included ten ink drawings of different sizes, which he was drawing for another half of a year or even longer.
Aec spent six monts working on three paintings for Sacred Gravitation show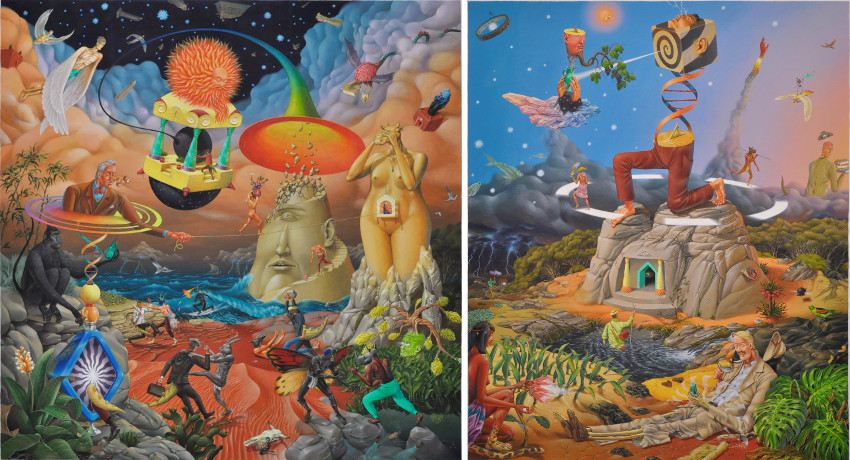 Allegorical Street Art of Aec
Through his striking artworks, Aec shows an amazing artistic ability to transform abandoned or natural environments into allegorical and figurative artworks without using direct imaginary, so people can understand it free, in their own way, according to their own imagination. He considers a creation of art as "an opportunity to understand mystical reasons of The Universe" as well as to rediscover topics that range from science and history to religion and myths in his own way. Aec's signature narrative-like style works can be found on walls throughout Europe, as well as beyond, in Australia, USA, Puerto Rico, India, Brazil, and more. He has participated in many street art festivals including Fame Festival in Grottaglie, Italy, Boombarstick in Vodnjan, Croatia, Life Is Beautiful in Las Vegas, USA and WEAArt in Aalborg, Denmark, among others.
Aec Interesni Kazki lives and works in Kiev, Ukraine.
Featured image: Aec Interesni Kazki - portrait
All images courtesy of the artist