Most recognized for her evocative paintings marked out with pale color washes and subtle pencil lines, Agnes Martin was a Canadian-born American artist, whose conviction of the emotive and expressive power of art shaped her career. She sought inspiration in the spiritual realm rather than the intellect and strongly believed that the works of art can't be made without awareness of beauty, happiness, and innocence. Diagnosed with schizophrenia, Martin led a life of solitude, having limited human interactions for the good part of her life, only abandoning the asociality in her later years. Even with a condition as severe as that, she managed not just to befriend some of the great artists of her time, but also to become one herself.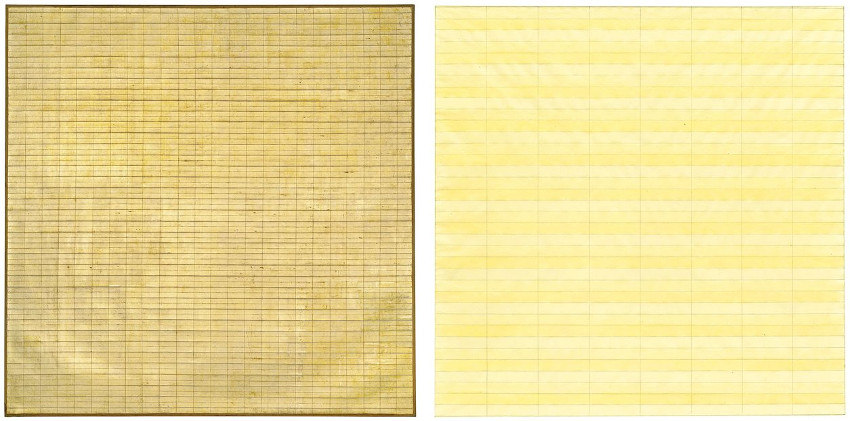 Early Life and Artistic Influences
Martin was born in Macklin, Saskatchewan, Canada. Her parents, Scottish Presbyterians, settled there and had three other children beside Agnes. After several moves that followed her father's death and her mother sale of the real estate, she finally settled in Vancouver in 1919. The relationship with her mother was more than complicated, and Martin immigrated to the United States in 1931, eventually taking the US citizenship in 1950. From 1935 to 1938, she studied at the Western Washington State College in Bellingham and received her BS in 1942 from the Columbia University's Teachers College in New York. She went on and earned her MA at the same institution in 1952. While she was studying, she developed an interest in Zen Buddhism as a result of her attendance to the lectures by D.T. Suzuki. Her personal scare of chaos matched the ideas of Buddhism, not as a religion, but rather as a code of ethics and a practical guide how to get through life.
Barnett Newman, Ellsworth Kelly, Robert Rauschenberg, Ad Reinhardt, who even became a close friend of Martin's, as well as the fields of abstract expressionism and color field painting, had some influence on her. Betty Parsons played a great role in the artist's life, first convincing her to move to New York and then helping launch her career, in a similar manner she'd already done with Jackson Pollock. In 1967, an exhibition titled 10, held at Virginia Dwan's gallery, included Martin's artworks, and this very exhibition is attributed with establishing the unofficial canon of Minimalist artists. Her later works were executed in a Minimalist tradition. Undeniably famous at the time, she doesn't seem to have reached a level of renown as her male contemporaries working in abstraction. There were substantial difficulties in reproducing the subtleties of her paintings in prints, as they were simply inadequate to fully present the scope of her ideas and abilities to a broader audience. Nevertheless, her works were sold for millions of dollars.
The exhibition "10" featured paintings of her fellow artists like Sol LeWitt and Donald Judd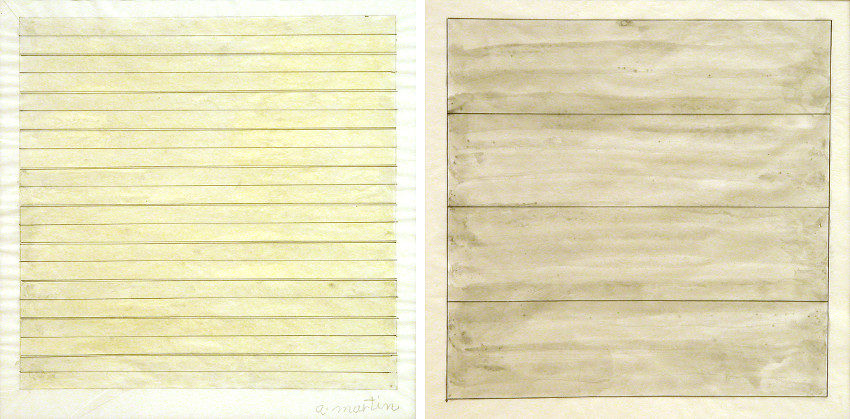 Biomorphic Style
The fact that Martin destroyed a large portion of her early works makes it a lot harder to discuss the style. Many curators insist on calling those early canvases biomorphic. They were very derivative, and could be perceived as mash-ups of surrealism, cubism, and expressionism, highly reminiscent of Mark Rothko and Joan Miró. Since the artist started painting relatively late in her life, these early biomorphic pieces were serious efforts in finding the appropriate visual language and vocabulary, a process that would last until the late 1950's. Having seen the biomorphic pieces in 1957, New York art dealer Betty Parsons made an offer to represent Martin, but also to fund her move to New York, the art capital of the world. Around this time, the artist's style began to further develop, adopting the linear and grid-like approach. This change in preferences caused the artist to grow to hate her previous artworks, destroying as many of them as she could. During the earlier period, Martin's style was relatable to the work of the Taos Moderns and some other artists who lived and worked in the deserts of New Mexico. Even though her style changed dramatically over years, her work has always been about emotions, and they were followed by the choice of the palette. Her dedication to blue and its many variations was apparent in the late 40's, especially present in the greenish teal blues of the New Mexico mountain landscapes. Among the few preserved pieces from this era, the Untitled (executed in 1949) is probably the most noticeable one. Martin's connection to surrealists and abstract expressionist is evident, and this artwork brings together the expressive qualities of those movements and the famous biomorphic elements, portraying the landscape of South-west. The triangle forms represent the hills of Taos while the color palette recalls the rusty, arid backdrop she had encountered on a daily basis. Nature also found its place in this piece, as well as the influences from the other artists that worked in Taos during the 40's and 50's.
The art of Agnes Martin was always about emotions, and they were closely followed by the choice of color palette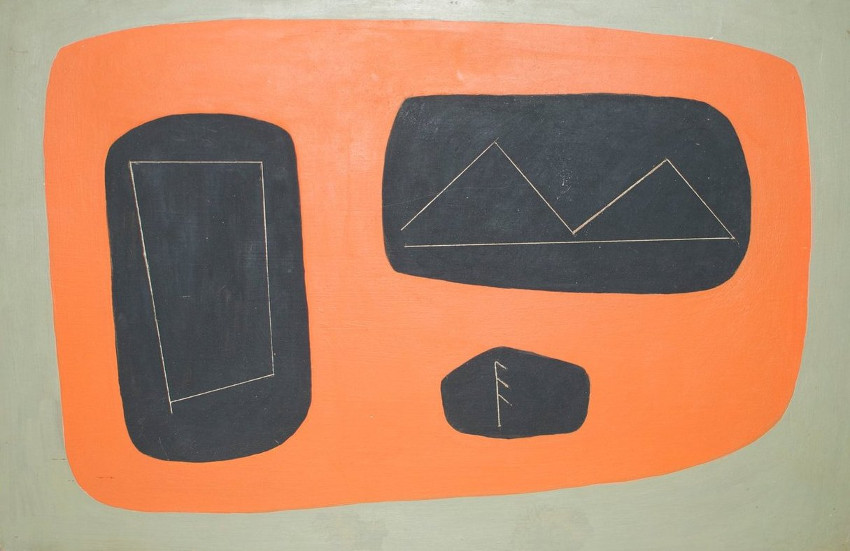 The Illness
Martin was one the most distinctive artists of her time. Extremely unobtrusive, she even asked the people who knew her better than most not to speak of her after she passes away. And many stayed true to their promises. But few talked, as there were a lot of misconceptions regarding the artist's personal life and they just wanted to make some things clear. Martin had to contend with mental illness (she was diagnosed with schizophrenia) and retrograde attitudes toward her sexuality as she was a lesbian, a fact that her fellow artists were aware of. Her mental illness, manifesting itself through the voices in her head, aural hallucinations, and culminating in several psychotic breakdowns certainly affected her work, not necessarily in a bad way. The medications and talk therapy were the constraints, but she claimed, at least to the people close enough to her to know about those kinds of things, that the illness had absolutely nothing to do with her work. However, it is possible that the nature of her art reflected an attempt to establish a sense of order in her visual world, but also in her perceptual and particularly her emotional world. The paintings she made, one after another, were out of necessity to reach transcendent calm. Some of the decisions she'd made in her life were attributed to the illness. For example, there is a tendency to describe her decision to go to New Mexico as taking the path towards becoming some ascetic saint of the desert. It wouldn't be fair to state similar things that are very simplified and possibly narrow-minded, as she was more complicated and more sophisticated than that. It is a mistake to blame her disease simply because it was a part of her life. It was a big part indeed, but it's not who she was and it certainly didn't define her.
She had to cope with mental illness and retrograde sexual attitudes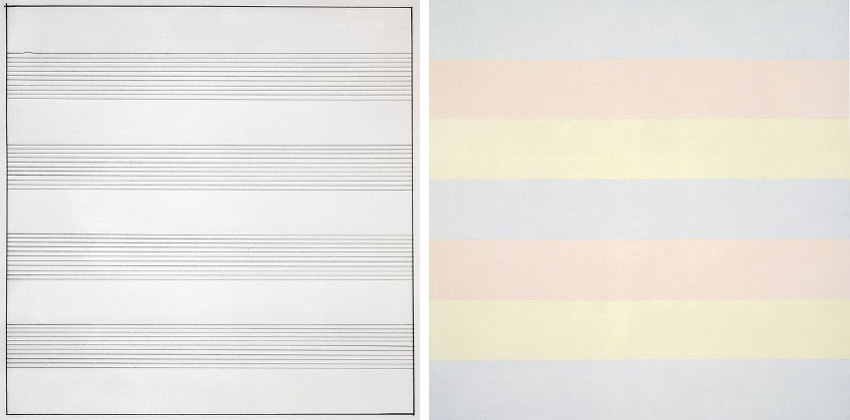 The Big Return in 1973 and the Portfolio of Serigraphs " On a Clear Day "
A short time after the immensely popular 10, Martin's friend and confidant Ad Reinhardt passed away and that left a significant psychological impact on her. In addition to that, the building in which she had located her studio was demolished, so she used the money she had at the time, gave away all of her artistic materials, paints and canvases, and went on a trip with the idea of traveling through the West. She would eventually settle in New Mexico where the possibilities for human contact and interaction were reduced to the bare minimum, and she focused on her poetry. Martin didn't paint at all for about six full years before announcing her big return with a portfolio of serigraphs titled On a Clear Day. It was like she returned to the exact same place and simply started once again. She managed to open up her easily recognizable grids, but also make them look more compressed, with lines crossing the canvases like highways or musical staves. The paintings could be observed as contained waves of light, with the thinned paint going down a single layer, looking more like a subtle variation, a tone in the air, than a color on a canvas. The pieces demand to be examined in more detail, and you'll most certainly find yourself moving closer and stepping away, constantly looking for the artist's mistakes before coming to a realization that paintings breathe due to those exact imperfections in the hand-drawn lines and the slippage of paint over the borders of the canvas. Also, the dry desert air posed another kind of challenge, creating conditions in which the acrylic dries more quickly by evaporation. In order to get an even surface, the artist couldn't drag the priming brush, having only one attempt to lay down color evenly.
Agnes Martin: regaining pace after six years of no painting at all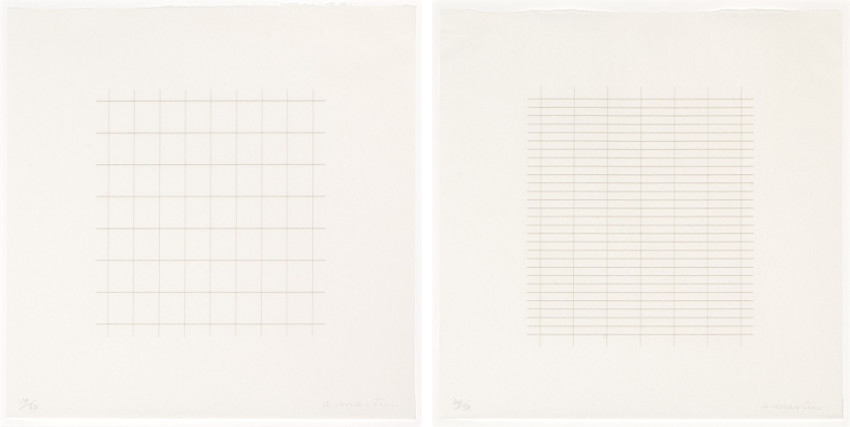 The Artistic Maturity
After spending a number of years in Cuba, New Mexico, Martin relocated to Galisteo in 1977, before eventually settling in Taos in 1994. The retirement community she joined was a perfect opportunity for her to abandon some of her asociality and be more engaged in human interactions as she grew old. Around 1995, the artist was forced to downscale her six-foot-square canvases she's been using since the 60', and started working on sixty-inch squares. Faraway Love is a typical painting from this period, with a recognizable blue-oriented color palette. The pictorial field is divided into five thin horizontal bands of white background paint and four thick rectangular blocks with light blue acrylic painted over, varying in size and divided by wavering graphite pencil lines. As with all the works from this period, the canvas was primed with an opaque coating of white acrylic gesso, never being covered completely by the layers of blue that followed. Due to this kind of technique, the piece becomes vibrantly luminous and visually sparse, while the gesso sealed and emphasized the slightly toothy texture of the linen canvas support. The pencil-made rectangular bands were drawn on top of this base and filled out with large blue segments. There are visible rough brushstrokes and some fingertips even, with Martin choosing to use different types of acrylic, giving the piece a light-reflecting and translucent finish. She completed the painting by reinforcing the pencil lines demarcating the surface of the canvas, drawn on top of the Liquitex, allowing some of the blue paint to escape underneath the lines. There was no intention for these lines to reach the edges of the canvas and they were actually drawn with small gaps which gave the impression that the lines are floating across the pale field. Martin drew her lines as perfectly as she could, even used a ruler, but it is simply impossible to make a perfect line in nature. So her lines were hand-drawn and possessed the quality of imperfection. This can be singled out as her fundamental approach to painting – always reaching for that flawlessness with the full understanding that is unachievable.
Knowing that it's unachievable was no obstacle in Martin's pursuit of perfection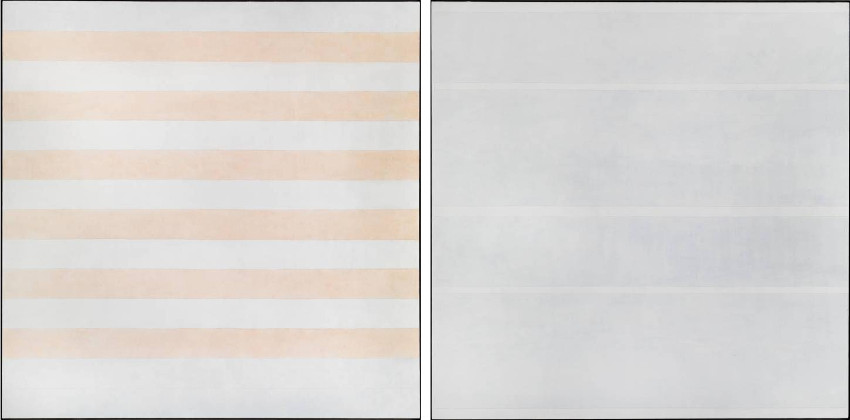 Agnes Martin – an Artist Until the End
Martin painted almost until the end of her life. Due to her grand age, which reached 92, she realized she was in the need for some help in order to handle her canvases physically. Even with the down-scaling, they were still quite big stretches and she was very old. So, the tough decision had to be made. Either she was going to get some help or she would keep her studio uncompromised by stranger's hand and leave painting for good. Sadly, she chose the latter. While she still painted, Martin began re-including the old and familiar shapes of trapezoids and triangles, reminiscent of the mountains. As an artist, she was single-minded, tough, and ambitious, forgetting about the fragility of her personal life. Even on her deathbed, she asked her friend to go into her studio and destroy the two of the last three paintings she worked on. Untitled, executed in 2004, was her final piece. A tiny drawing of a succulent in a pot, performing the role of a full stop in a room crowded with other works on paper. The piece consisted of five horizontal bands of dominant gray color. The darker gray spread unevenly, similar to the rain running off a windscreen, and the three light gray bands slip over the drawn lines dividing them from the near-white ground. The painting possesses a sense of directness and emphatic urgency. It's a summarization of her entire life and artistic experiences, a retrospective within a retrospective.
As an artist, she was tough, ambitious, and single-minded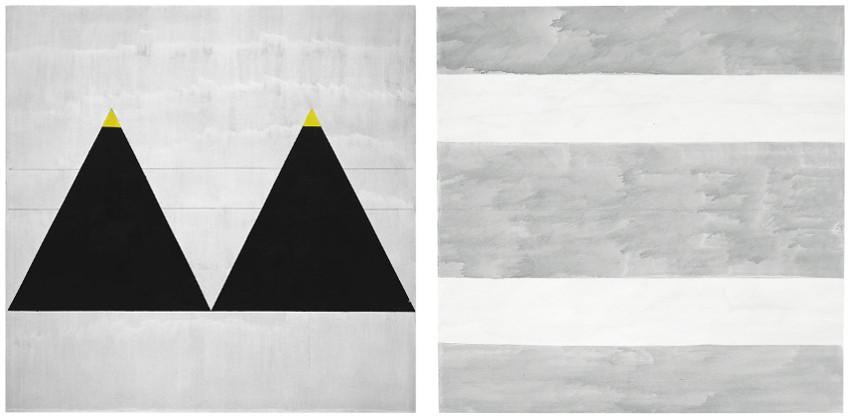 Between Happiness and Untitled
'In my best moments I think "Life has passed me by" and I am content.' It was a difficult life, full of struggles. Most of them came from within, making them extremely hard to tackle and overcome. Martin has frequently equated beauty and love with happiness, as abstract concepts not influenced by or reflective of her own personal life. Not completely true, as many of her paintings have a name that invokes happy feelings and thoughts. But many were simply left Untitled as if she was insecure of what she felt at the time of their creation. Whatever the case may be, whatever drove her to work and inspired her, no matter how much her illness could affect her work (if it did at all) - it is irrefutable that Agnes Martin was one of the best painters of the 20th century.
She is represented by Pace Gallery and Woodward Gallery.
Featured image: Agnes Martin - portrait, photo credits Mildred Tolbert/The Harwood Museum of Art