The most expressive part of the human face, eyes have had an extremely important role in visual arts for centuries. While in some ancient cases, that role was religious, in modern times, artists have used sparkling and bright eyes to show strong emotions of their subjects, as well as to make their painting come to life. Miami-based urban artist David Anasagasti, known better under his pseudonym Ahol Sniffs Glue, as well as Alouishous San Gomma, brought depiction of eyes to a totally new level. He became widely known for his stunning murals portraying expansive fields of drowsy eyes, reflecting his unique vision of life, labor and mundane life of the city he loves and calls home.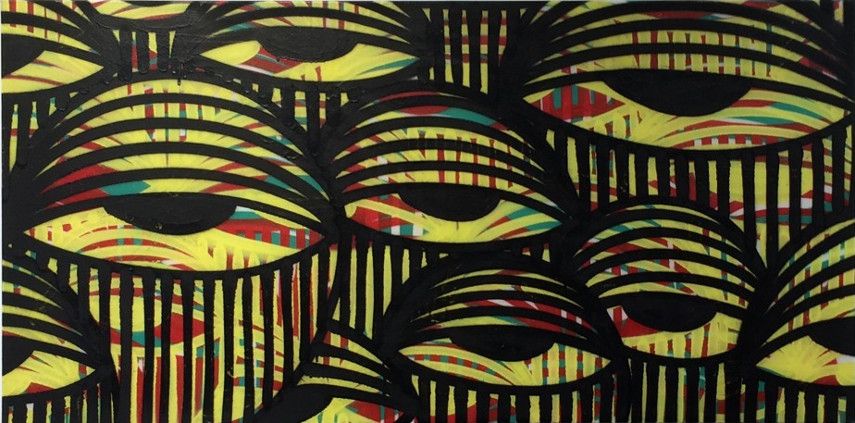 Ahol Sniffs Glue's Drowsy Eyes
Ahol Sniffs Glue has been creating his drowsy characters and wall-size eyes since his teenage years. After high school, Ahol played in a punk band called the Panty Raiders, but his passion for drawing replaced his desire to play bass. He drew tiny glue-sniffing monsters and particularly loved crafting their eyes, sometimes covering entire walls with them. Today, he is among the most prominent of the local street artist because of his seemingly omnipresent lazy and sleepy eyes on the walls of public buildings throughout Miami and especially Wynwood. The artist maintains that his eyes tell the story of the city's hardest-working people.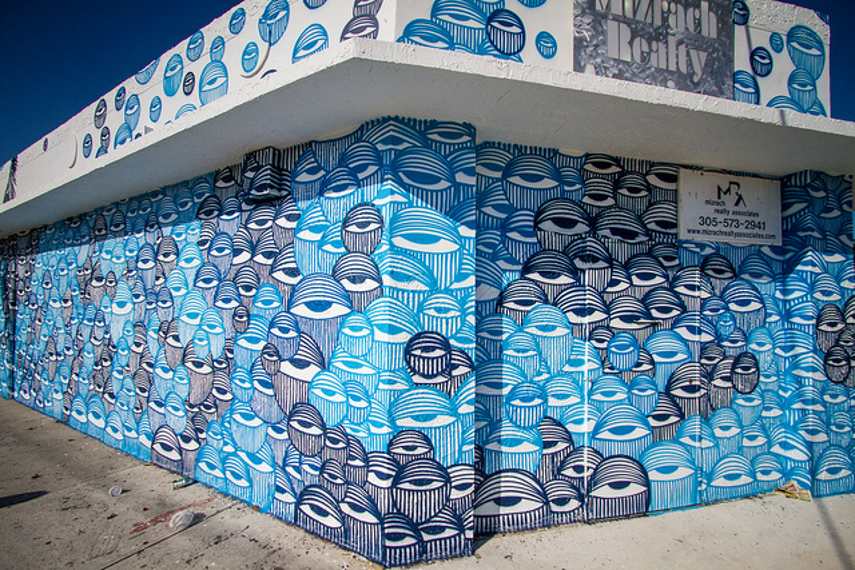 Biscayne World
His most famous series Biscayne World explores all the variety and wildness that flows up and down Biscayne Boulevard, including its inhabitants, nightlife, drug scene, glamor, grittiness, and latin culture. In late 2014, Ahol Sniffs Glue, along with Borscht's Michael Arcos and Marnie Ellen directed Biscayne World, a short animated documentary in which Glue's notorious graffiti eyeballs tell the story of the crazy interactions on busy Biscayne Boulevard. The movie was shown at the Miami International Film Festival, as well as in such places as New Orleans, Colorado, and Glasgow, while Vimeo recognized it as one of "the world's best videos".
Vimeo recognized Glue's short film about Biscayne Boulevard as one of "the world's best videos"
Recent Work
In his recent work, the Cuban-American artist has developed more complex work that evokes strong emotional reactions. As his art became more abstract expressionistic, Ahol Sniffs Glue has begun experimenting with new techniques including pastels, and charcoals that provide different textures and line widths. Inspired by the themes from mass media, popular culture, and marginalized groups within society, he creates art that highlights systems of society which contribute to the dehumanization of its inhabitants. Although he has developed the more intimate approach to art, the eyes of his characters are still the central focus of his work and Glue's trademark.
The artist is represented by Gregg Shienbaum Fine Art.
Ahol Sniffs Glue lives and works in Miami.
Featured image: portrait of the artist, photo credits GS Fine Art