Ai Yamaguchi is a Japanese contemporary artist, born in 1977. Her works are influenced by both traditional Japanese values and themes, and modern Japanese pop culture. Her powerful art depicts the lives of young female prostitutes and embodies the sexuality which was typical for the Edo period (1600-1868 AD). In 1999, Ai formed the group "ninyu works".
She attended Women's College of Fine Arts, Department of Crafts in Kanagawa, Japan, where she studied weaving. The artist trained under Takashi Murakami and worked as an assistant at Kaikai Kiki. She appeared at Murakami's Bravo exhibition in 1999.
Yamaguchi's art often focuses on female hair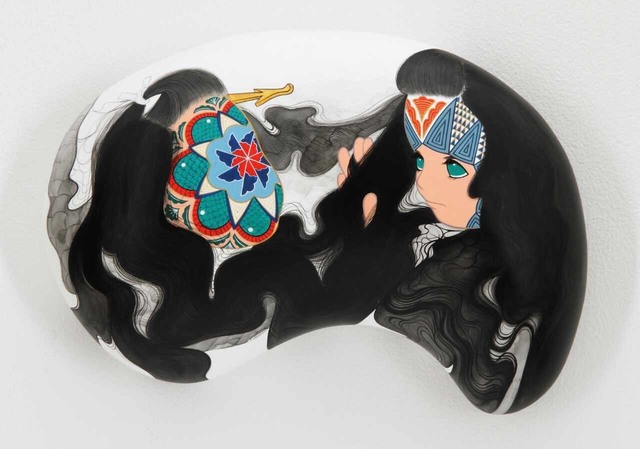 Yamaguchi's artwork is featured in the public collection of Art Gallery of New South Wales in Sydney, Australia.
She exhibited her works in numerous group and solo shows, both in Japan and internationally. The galleries where she had exhibitions include Mizuma Art Gallery in Tokyo, Japan; Chancery Lane Gallery in Hong Kong, China; NADiff modern in Tokyo, Japan; Aki Gallery in Taipei, Taiwan; and Roberts & Tilton in Los Angeles, United States.
Her vibrant and very two-dimensional works with delicately drawn lines combine the classical Japanese aesthetics with manga subculture. The main theme of Ai Yamaguchi's works is feminine beauty in the men dominated world of medieval Japan. She also incorporates Waka, Japanese poetry into her art, as well as kana and kanji words. The artist doesn't shy away from experimenting with new techniques and media, so she developed a unique canvas, using wood panels, a blanket and cotton fabric.
Vibrant and two-dimensional works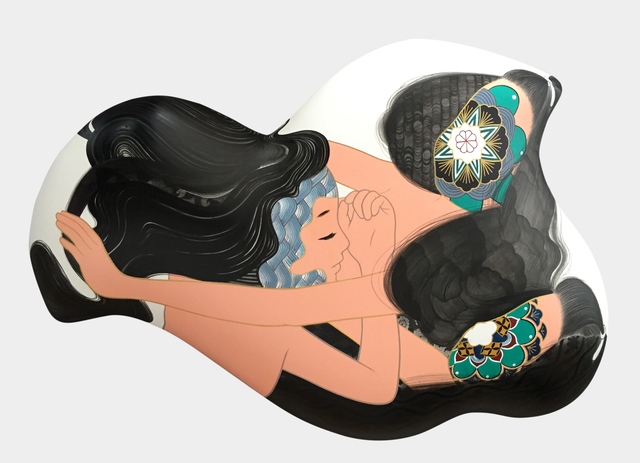 The artist is represented by Kumi Contemporary in London, United Kingdom.
Ai Yamaguchi lives and works in Tokyo, Japan.
All images copyright © the artist