Aiming For The Gut is a Canadian art duo, consisted of Jean-Sébastien Larouche – the poet, and Mivil Deschênes – the illustrator.
Aiming For The Gut's Inked Black Humor
The collaborative work of Jean-Sébastien Larouche and Mivil Deschênes is seen through Aiming For The Gut duo. Works that emerged from this partnership are characterized by intelligent black humor, unapologetically written in French-Canadian broken English and Québécois slang. Sometimes terrifying and disturbing, and at other times hilarious and charming, artworks of Aiming For The Gut satirizes, provokes and questions the most contemporary of subject matter. The process of creating is not collaborative itself – the work is derived sequentially, with one artist sending the other one texts or images without any explanation.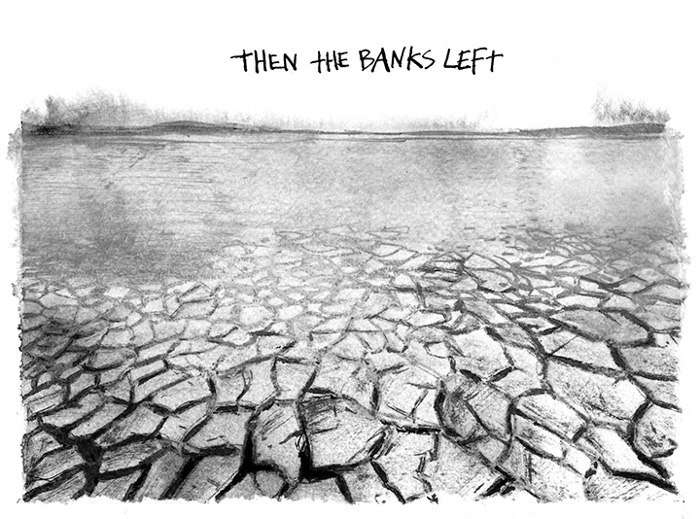 The Core of AFTG: Mivil Deschênes and Jean-Sebastien Larouche
One half of Aiming For The Gut duo is Mivil Deschênes, a visual artist and graphic designer. Born in 1975 in Alma, the artist is specialized in working with super black India ink. His mostly black-and-white illustrations complement satirical poems and phrases written from a pen of Jean-Sébastien Larouche. Apart from illustration, Deschênes also plays bass in the band The Accursed Share and works at the National Film Board of Canada. Mivil Deschênes lives in Montreal.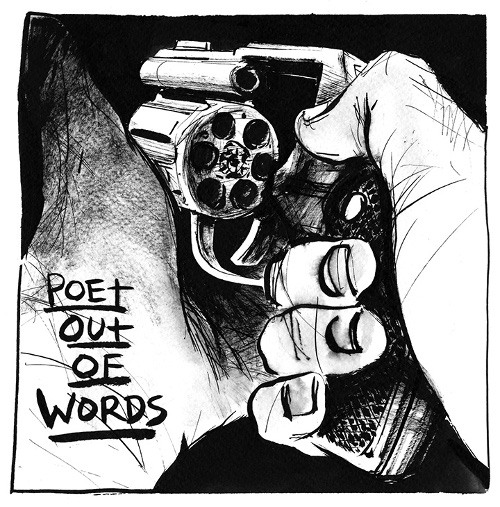 Jean-Sebastien Larouche, other half of this collaborative duo, is a poet, a co-founder of Éditions de l'Nut, and author of three books of poetry published in Lanctôt editions. His powerful and bold poetic language focuses on various modern themes and phenomenon, such as war, social media, isolation, loneliness, and aggression. As an accomplished poet, Jean-Sebastien was awarded with the National Poetry Grand Slam of Quebec. In addition to his writings, Larouche teaches, lectures, and sometimes performs on scene accompanied by musicians such as Nomad Nabo, Éric Goulet, Loco Locass, and The Accursed Share.
Larouche co-founded Éditions de l'Nut in 2009, a publishing house aimed towards the works of striking Quebec poetry that stirs, shakes, and moves. Born in 1973, Jean-Sebastien Larouche is based in Montreal.
A/F/T/G VOLUME
In 2013, the duo created their first book, titled A/F/T/G VOLUME. Published by l'OIE DE CRAVAN, this book represent a compilation of works created by Aiming For The Gut, filled with the insane fire of powerful poetry, side by side with witty illustrations that evoke the graphic punk spirit of Raymond Pettibon.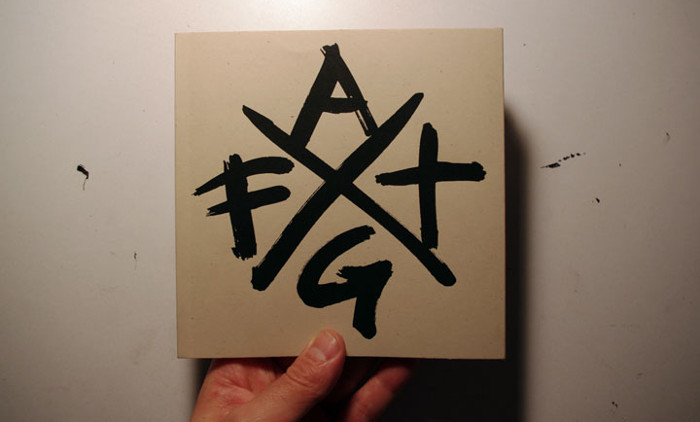 Aiming For The Gut is represented by the C.O.A. Galerie, located in Montreal, Quebec.