Royal Flyness Airborne Mark aka The Pilot is a British artist best known for his adage: Painting Songs, Singing Pictures For Eternity and Beyond.
Polish Post Communism Graffiti
Airborne Mark was born in Poland where he grew up close to a Soviet bunker in the era of iron curtain. Under those circumstances, the paint was really very hard to come by. Luckily for Mark, his father was first men to deal in paint when the wall came down – but even so, the paint was still too expensive and precious to simply put it on street walls. So, his journey with spray paint started not earlier than 1995 - fire at the paint shop was the catalyst for the young Mark's artistic career! He saved everything he could, creating a stash of paint for years to come!
Graffiti, immediately post communism, just wasn't really a thing due to the lack of concept of it being illegal. Reflecting on those years when he earned a nickname (that will stuck to these days) "notorious vandal" by the authorities who despaired of his prolific train painting in the goods yards of post-communist Poland. Even now he considers himself to be a graffiti artist, a graffiti purest!
The Pilot and The Man behind the Wall
Today, Mark is officially a British citizen as he moved in 2005 to London in, a place to which he has always been drawn and it is certainly home now. From the very beginning of his UK life, he has been very active on the graffiti and street art scene.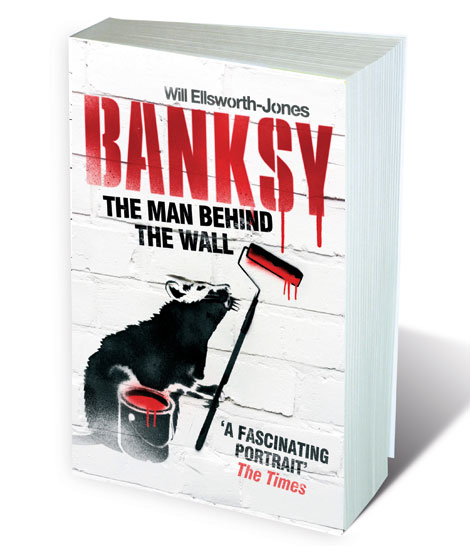 He is even mentioned in Banksy's unauthorised biography "The Man behind the Wall" by Will Ellsworth-Jones who caught him painting paper planes in the Leake Street tunnel just after the infamous CANS festival. His original artistic name 'The Pilot' was immortalised in this biography. However, Airborne Mark name take us back to his early years, when he lived near an airfield, and his father being a pilot. Mark first started using it on stage during his performances as a rapper.
Origamia by Airborne Mark
Mark's work is difficult to miss, and there is no doubting that his style is pretty unique - It's origami on the walls! Intricately layered animals and trademark paper folds are the key elements of his vibrant illustrative style coming directly from an imaginary world called "ORIGAMIA." Airborne Mark's technique is based on real life origami elements and figures, used as a realistic reference. His whimsical robots, gallant airmen and trademark paper planes are key elements of his illustrative style. According to Mark, the most interesting figures to paint are the most intimate ones - they often take years and years to be developed.
" I am learning a lot about paper folding. About how the light plays a part in creating the work and how the folds, so intricate can take years to master. Nowadays I tend to spend more time folding than I actually do drawing."
Airborne Mark and his Music
However, his inspiration recently has been increasingly expanding into uniquely designed paper styled fantastical pieces. For Airborne Mark those paintings are the next stage of his origami inspired art. Also, Airborne Mark alternates easily between pictures and sounds. For him there is no separation between his music and his art and that is what makes this notorious vandal riot.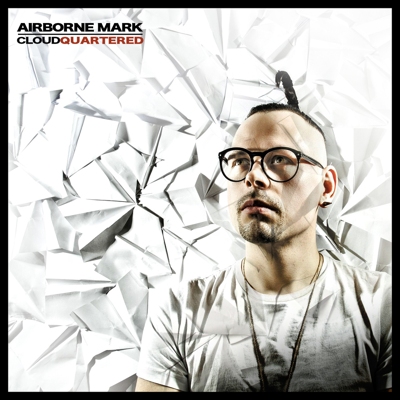 In 2010, he debuted with Six Folds and a Throw - the six track long EP that tells the story of an upcoming artist from one immigrant's point of view. Two years later, in 2013, Airborne Mark released his second EP Cloud Quartered. This comprised five cloud themed songs which cover very down to earth aspects of journeying through life. Relationships, identity and perseverance are the subject matter that echoes strongly throughout the record. Some of the lyrics were inspired by The Cloud Appreciation Society's Manifesto, the society that is fighting the banality of 'blue-sky thinking':
Clear blue skies are well overrated...
Ironically, having sunshine overhead day in and day out would be rather monotonous.
Clouds are Nature's poetry to be read like a person's countenance...
Cloudscapes are for dreamers and their contemplation benefits the soul...
Collaboration with Irony: Money Piranhas
In 2014, Airborne Mark joined forces with London based artist Irony on the underside of a bridge in Camden, at Torbay Street, creating piranhas shaped out of £50, £20 and £10 notes.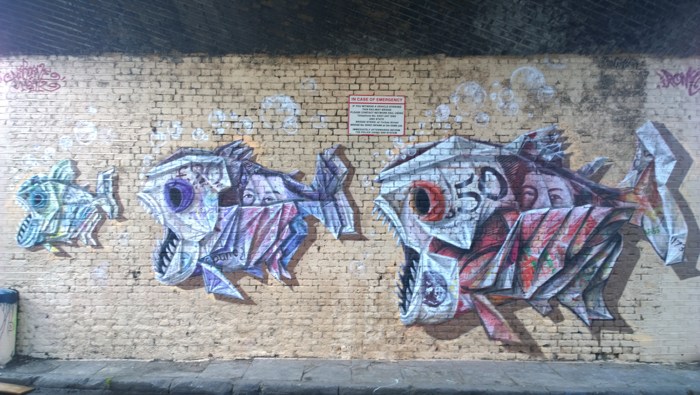 They were up-scaled versions of what origami piranhas shaped out of money would really look like. Further explication why this carnivore fish was animal of choice for money origami is quite unnecessary.
Airborne Mark at Street Fest 2015
At Street Fest 2015 Airborne Mark presented a work that depicted an origami spider. As always, very meticulous in his work, Airborne Mark's shadow and fold effect made his spider pop off the wall.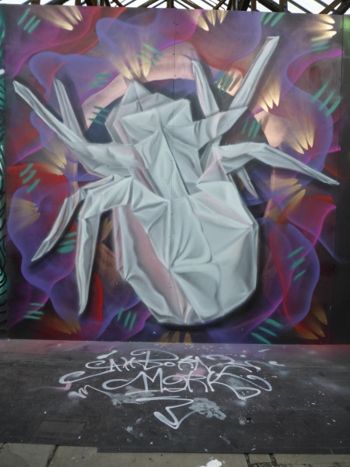 "All the animals I paint are totem animals. I speak in allegories it's about communicating with people on a subliminal level."
Airborne Mark exhibits works in galleries and takes part in major art festivals. His murals and commission based art can be found on walls, shutters and vehicles across the UK and Europe.
Airborne Mark lives and works in London, UK.